As an Amazon Associate, we may receive a small commission from qualifying purchases but at no extra cost to you. Learn more.
Cedar is a super useful material around the home. It is beautiful, durable, low-maintenance, and most importantly, eco-friendly.
You can use it as a roofing, linings, claddings, and joinery material.
Cedar is also a great material for making dog beds—for many good reasons:
I. Repels Critters
Cedar chips are rich in phenols (aromatic hydrocarbons), which many critters find repulsive.
In particular, a cedar-filled dog bed will repel fleas, ticks, cockroaches, snakes, moths, rats, and fire ants, all of which can interfere with your dog's peace of mind and even carry disease-causing pathogens.
However, you should note that cedar fillings are not a cure-all solution for keeping bugs off your dog bed—you will need to do regular flea and tick treatment as recommended by your vet.
II. Holds up to moisture very well
Cedar chips are excellent in whisking away any moisture left by your pup.
So, if your pup goes to sleep if he is damp (perhaps after taking a bath, playing in a puddle of mud, going swimming, etc), a cedar bed will absorb the excess moisture and release it the following day.
This can go a long way in preventing unwanted bacteria or mold buildup, which can compromise your pet's health.
III. Eliminates bad odors
While you absolutely love everything about your furbaby, your visitors may still get a whiff of your pup when they enter your home.
From drool, dirt, dander, and other types of grime, a standard foam-filled dog bed can soak up a wide range of odor-causing elements, which can cling to your pup every time he sleeps on the bed.
A cedar bed is a perfect way of containing such odors as the chips can naturally overpower all those odor-causing elements, leaving your dog—and your home—smelling fresh all day long.
IV. Biodegradable
Another benefit of cedar-filled dog beds is the biodegradability aspect of cedar.
In case you need to replace the chips, you can simply toss them in your yard or flower garden.
They won't harm your garden or the environment as they will simply decay naturally.
However, before you get your pup a cedar bed, it is important to note that not all dogs are ideal candidates for these types of beds. You should forget about investing in cedar beds for dogs if:
You have a hunting dog: The smell of cedar can interfere with your hunting hound's ability to detect scent.
You have a dog who's allergic to cedar: Coming into contact or inhaling cedar aroma can cause allergy symptoms if your dog is sensitive to cedar.
Your pup isn't potty trained: Although cedar can whisk away moisture and eliminate odor, allowing your pup to have accidents on it regularly is going to defeat the purpose of getting your dog this type of bed in the first place.
Best Cedar Beds for Dogs: Our Top 7 Picks
The markets abound with cedar dog beds of all shapes and sizes. Shopping for one can be quite the task.
Lucky for you, we are here to help. We looked around and came up with this conservative list of 7 best cedar beds for dogs in the market today:
Our favorite cedar bed in the market right now is none other than the Petmate Quilted Multicolored Applique Bed.
The number one reason for this is that the bed is handcrafted. Every detail is carefully worked via human hands rather than a machine. You bet the quality is guaranteed.
The material of construction, high loft recycled polyester, also makes the bed durable, tear-resistant, and easy to clean.
Inside the polyester covering are cedar fillings. These help make the bed cozy, warm, odorless, and unfriendly to insects.
The bed measures 27 x 36 inches and is large enough to accommodate a small-medium pet.
The Dallas Manufacturing Co. Camoflauge and Khaki Dog Bed measures 36 x 45 inches and offers enough room for a small to medium pet.
You can also choose the larger bed measuring 40 x 30 inches if you have a much larger dog at home.
The bed is made using a water-resistant camo oxford on one side to ensure it stays dry all the time.
The other side has a matching khaki fabric to provide warmth to your dog.
With recycled polyfiber fill with cedar shavings, you know the bed is super comfortable.
It is also incredibly easy to clean. All you have to do is wipe it down with a damp cloth.
This brown cedar dog bed from Woodlore is a haven for any small dog.
It is a complete bed with a frame and a matching mattress. The frame is made from natural aromatic cedar, meaning it is fresh and insect-free all day long.
The mattress, on the other hand, is made with a 2-inch poly pad and has cedar infusion.
It is then covered with a washable cotton-blend liner that is zipped on the mattress.
Just by looking at this bed, you know it is designed for toy breeds.
If you have a do under 15 pounds, this is perfect for him.
Give your furry friend a warm and luxurious bed to rest on by getting him this Snoozer Cozy Cave Pet Bed.
This one takes warmth and comfort to the next level. It is a good bed to have if your dog is okay with being covered when sleeping.
The plush microsuede cover and the cedar filling will ensure he gets his beauty sleep uninterrupted by cold.
The bed is impressively durable, machine-washable, and odor-resistant.
Who said all dog beds must be rectangular or square-shaped? This Snoozer Waterproof Dog Bed will prove to you that a round bed does the job just fine.
The bed is basically a big ball filled with cedar shavings with a durable waterproof enclosing.
A brass zipper keeps the contents of the bed in their place. It is a great bed for outdoors or for dogs suffering from bladder problems.
To clean it, simply unzip it and throw the cover in your washer. Please be sure to hang it dry afterward.
The bed comes in four different sizes, so you should be able to find the perfect size for your pup.
The DOSKOCIL MANUFACTURING Cedar Dog Bed is a simple yet highly functional product for dog owners.
The construction includes a durable cover with sufficient cedar and polyfoam filling inside.
Both the cover and the filling go a long way in keeping your lovely pet warm and snuggly as he sleeps.
The best thing about it is that the cover is machine-washable for your convenience.
The bed measures 30 x 40 inches and comes in a number of colors.
Our last product on this list is the Snoozer Wicker Pet Basket and Bed.
From the name, you know this bed is some sort of a basket. You are absolutely right.
This hand-woven traditional willow basket with a cedar and poly filled cushion is a worthwhile investment. It is warm, water-resistant, and fresh.
For ease of cleaning, the micro fiber cover is removable and washable.
This bed comes in the navy color and is ideal for pets under 20 pounds.
Bonus Buy
To keep your cedar dog bed in the best condition for the long haul, you need to refill the cedar shavings from time to time. This helps to keep it warm and snuggly for your pet.
The Kaytee Red Cedar Bedding is a good product to have. Made from natural, cleaned, and filtered red cedar, it is environmental-friendly and dust-free.
It is also perfect when it comes to controlling odors. If you have a smelly canine, this can be a pretty big deal.
The bedding measures 1250 cubic inches but can be expanded to 3200 cubic inches.
As aforementioned, a cedar dog bed may not be appropriate for a dog that is not potty-trained.
A better alternative for a dog with incontinence issues is this lounger bed from Dog Gone Smart Products.
It features state-of-the art bacteriostatic and repulsive nanoprotection technology to resist a wide range of doggie messes—dirt, urine, drool, stains, bacteria, and dog odors.
Plus, the fabric is 100% cotton canvas and can withstand any kind of wear and tear from an average dog.
The cover zipper is also located on the bed's underside to prevent potential chewing at the zipper.
And for your pup's utmost comfort, it comes with siliconized polyfill to maintain a high loft and reduce fill bunching.
Important Factors to Consider When Buying Cedar Beds for Dogs
The Right Size
A good cedar dog bed should be spacious to allow your dog to sleep comfortably without his head or limbs hanging off the edge.
The best way to figure out whether a given cedar bed will fit your pup is to measure the space that he typically sleeps and narrow your search to products that meet the dimensions.
Your dog's weight
Besides your dog's size, you should keep your dog's weight in mind.
Heavier dogs require beds with thicker cedar fillings to support their weights while lighter or smaller breeds need moderate amount of fillings.
An elderly dog may also need extra cedar filling to alleviate joint pressure.
Washability
Your dog is going to vomit, drool, occasional urinate, and wipe his oily eyes and ears on the cedar bed.
So, opting for a bed with a machine-washable cover is critical.
Your dog's slumber habits
Your dog's sleeping style should also dictate the type of cedar-filled dog bed that you choose.
If your dog likes to curl up, a bed with bolsters is more appropriate. Bolstered beds are also recommended for anxious dogs who like some form of privacy.
If your dog loves to stretch or roll around, a mattress style bed is more suitable.
Your dog's aggressiveness
If your dog likes to chew and dig things, choose a bed that is made of durable materials that can withstand his behaviors.
Canvas and corduroy are some of the best fabrics to consider if you have a heavy-chewer.
Removable Cover
If your dog is a puppy or an older dog with bladder issues, a removable cover will allow you to wash it and keep it smelling fresh without the need to wash the entire bed.
If possible, consider purchasing extra covers so that you can switch them when one is being washed.
Non-skid bottom
Cedar dog beds that come with non-slip bottom often stay in place, preventing your canine from wandering around the home.
A dog with mobility issues may also find it a bit challenging to climb a bed that slips or slides.
Design and appearance
If you want a dog bed that will match your home décor, things like design, colors, and patterns might also be critical considerations.
The good news is that cedar dog beds come in a wide range of colors and considerably many pattern choices.
So, you will definitely find something that will complement your home décor.
How to Take Care of Your Cedar Dog Bed
Replace the Chips regularly. Over time, the cedar chips will lose their scents. But since the scent is what repels the critters, you should regularly replace them with new ones lest they get moldy and not provide any protection. Consider replacing the shavings as regularly as once a month depending on their conditions.
Besides replacing old chips with new ones to maintain their protection integrity, strive to add new cedar shavings to ensure that your dog bed is filled as desired. Additional chips will provide a fluffy cushion to your dog, making him feel comfortable while resting or sleeping on his bed.
Ensure the liner is sturdy and in good condition. The liner should always be free of any holes to prevent the cedar chips from leaking out for your dog to chew on. If your dog chews the cover, replace it immediately.
Place the cedar bed away from high-traffic areas in your home so that nobody trips on it or your canine friend.
Consider putting a dog blanket or sheet over the cedar bed. This adds a plush layer for your pup and makes it easier to maintain the bed as all you need to do when the bed is soiled is to wash the cover instead of the entire bed.
Final Thoughts
As a responsible pet owner, you want the very best for your four-legged member of the family.
Cedar beds for dogs have tons of benefits that many other dog beds lack.
As long as you keep the filling in top shape, your dog will always have a warm and cozy place to call home.
If you have been skeptical about getting your pup a cedar-filled dog bed because you didn't know its benefits, you don't have an excuse now.
Who knows, it could be your dog's favorite place to snuggle on at night!
Last Updated on July 19, 2022 by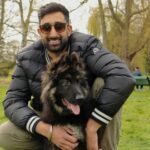 Sable McNeil is a canine chef, professional pet blogger, and proud owner of two male dogs. I have been an animal lover all my life, with dogs holding a special place in my heart. Initially, I created this blog to share recipes, tips, and any relevant information on healthy homemade dog treats. But because of my unrelenting passion to make a difference in the world of dogs, I have expanded the blog's scope to include the best information and recommendations about everything dog lovers need to know about their canine friends' health and wellbeing. My mission now is to find the most helpful content on anything related to dogs and share it with fellow hardworking hound lovers. While everything I share is in line with the latest evidence-based veterinarian health guidelines, nothing should be construed as veterinary advice. Please contact your vet in all matters regarding your Fido's health.