As a pet parent, it is your sole responsibility to ensure your fur baby is happy and healthy round the clock. Part of doing that is making sure he gets a good place to sleep or nap. Why let him sleep on a cold, hard floor when you can get him a plush, fluffy, and soft faux bed instead?
Not only are these types of beds warm and soft but they are also comfortable. Dogs with short hair and thin coats will also appreciate beds made of fluffier, cushier materials. Fluffy dog beds are also highly recommended for elderly dogs. As dogs get older, they need beds that are softer and fluffier to prevent putting a lot of pressure on their bodies. Besides, a fluffy bed is a good choice for a dog that doesn't have specific needs but may enjoy some form of support than a regular pillow bed. These beds also look incredibly cozy!
The market comes with different fluffy beds, each with different features, style variations, color options, and more. To help you choose the right product for your pup, here is our picks of the top 15 best fluffy dog beds.
The Best Friends by Sheri Shag Vegan Cuddler Bed is a clear winner on our list. This fluffy bed is designed to make your pet feel like a million bucks during sleep. First of all, it comes in a round donut shape that is perfect for a dog that enjoys curling up while sleeping. With a soft filing and raised rim, your dog will enjoy head and neck relief as well as joint and muscle relief.
This bed is made with faux shag fur for ultra-comfort. It even has a design that allows your dog to burrow in for a snuggly nap. To crown it up, the bed is durable, beautiful, and machine-washable. Available in different sizes, you will get the right size for your pup no matter his size.
Secondly, we have another donut-shaped, fluffy dog bed by MIXJOY. If you have a small pup (under 25 lbs) with joint pain, this bed will help him with that. It is designed to support both the head and neck and offer some relief with muscle and joint pain. The faux shag fur is warm, soft, and luxurious. Being lightweight and portable, the bed makes transportation easy. You can use your machine washer to clean the bed although hand-washing is highly recommended. This dog bed is available in a number of beautiful natural colors that will complement the décor of your house.
Give your Fido a luxurious sleep with the Friends Forever Faux Donut Dog Bed. Made from plush fur, you bet it is nothing short of comfort and warmth. Like the first two entries, this bed features the round donut shape that dogs enjoy curling up in so much. The shape also helps to relieve joint pain and supports a dog. The material of construction is non-toxic and washer-friendly. Friends Forever is available in small and medium sizes as well as pink and tan colors.
As the name suggests, this bed is a true fuzzball that looks and feels snuggly. Your small or medium pooch will feel absolutely great when curled up in one. It is super comfortable, warm, and cozy, thanks to the faux shag fur fabric used to design it. The bed comes with an anti-slip feature to keep it stable. It is also machine-washable and water-proof. To assure you that this bed is high-quality, the manufacturers of Fuzzball include a 100% money-back guarantee on this sale. If you feel dissatisfied, just request for a refund and it will be given to you.
Your four-legged friend deserves to sleep in a bed that gives him the ultimate comfort and support. The Furhaven Pet-Round Supportive Cuddler is designed to do just that. Made from faux fur, your dog will absolutely love the soft and warm feel of the bed. The round shape is excellent at giving support to the joints and muscles. This one even has a nice opening to help a sick or disabled dog get to bed easily. To make your life convenient, the bed features a cover that is both easy to remove and wash. With multiple sizes and color variations, you will be spoiled for choice trying to get the right fit for your needs.
BODISIENT Soft Plush Pet Bed is designed with a small dog in mind. If you have a Bichon Frise, French Bulldog, Corgi, Shiba Inu, or Dachshund at home, this bed will add comfort and luxury during sleep. Made in the popular donut shape, it is ideal for a pooch that enjoys curling up in bed. This one is even filled with high-loft recycled polyester fiber to enhance warmth. When temperatures dip, your pup will enjoy a warm and cozy night of sleep. The bed is also non-skid, water-resistant, and easy to clean.
With soft cushioned walls all around, your pup will feel comforted and loved curling up inside the FOCUSPET Donut Dog Bed. Both the interior and exterior of this bed feature an ultra-soft and fluffy faux far material that is impressively soft to touch. With a raised rim all the way around, the bed is designed to offer support to the head, neck, and joints. The durable nylon keeps moisture and water out and creates some stability for the bed. This product comes in five different sizes and is ideal for dogs weighing 18-100 lbs.
Whether he is curling up for a night's sleep or taking a snooze in the afternoon, the ALLNEO Shag Faux Donut Bed will make the experience worthwhile. The bed features a round design that creates a secure and cozy atmosphere. Your dog will feel protected and ultimately enjoy a calming and peaceful rest in it. The bolstered edge offers orthopedic support while the faux fur material adds on comfort and warmth. The PV plush is non-shedding and non-balling which is a major plus for pet owners. This bed comes in different color variations and sizes. Ideally, it is ideal for pets up to 35 lbs.
Make sure your dog gets a good sleep or nap with the XIAJIE Round Pet Bed. Designed for maximum comfort and warmth, the bed features a round design that allows a pet to burrow inside and curl up for a relaxing sleep. The bed utilizes both faux and nylon for comfort and durability respectively. Surrounded by a cushioned wall around the circumference, your dog will feel protected and loved during sleep. The bed also has a non-skid and water-resistant bottom and is machine-washable. It is available in 23 different colors and five sizes.
The SHU UFANRO Dog Bed is round, cute, and super functional. Whether you have a dog with a clean bill of health or one with disability issues, he will appreciate the orthopedic benefits offered by this bed. The bed is filled with faux fur and bolstered. This gives your dog the feeling of safety while keeping his joints, neck, and neck supported. Ultimately, this will result in better sleep and naps. Like many fluffy dog beds on this list, this bed has a water-resistant and non-skid bottom. It is also lightweight and portable. You can machine-wash it using the gentle cycle or hand wash it. The bed comes in three colors and two sizes and is ideal for pets of up to 45 lbs.
Here's another round fluffy dog bed to give your pup a chance at a calm and cozy night. The Nononfish donut bed comes with a number of features, both for warmth and comfort. The pillow has a raised rim which offers both neck and head support while the soft filling ensures relief from joint pain. With a high-density fabric and sticky heads at the bottom, this dog pillow is anti-skid and water-resistant. Finally, this bed can be thrown in the washer. With a sweet pink color, your small princess will look forward to sleep.
Measuring 24-36 inches, the ANWA Round Bed is a paradise for a small to medium dog. It is designed with premium soft fabrics that don't disappoint when it comes to warmth and comfort. Your canine-buddy will truly appreciate the feeling of support and coziness offered by the bed. It comes with a waterproof and non-skid bottom meaning your pup will stay dry and have an easy time getting into the bed and coming out of it. This bed is washable and comes in a calming grey color.
Donut-shaped dog beds are great but when you have a pup that sleeps in a straight position, you are left to try other options. The Treat A Dog Orthopedic Bed has a simple look but offers lots of benefits for your dog. The bed is made with a soft and plush faux fur material and filled with orthopedic memory foam. The former is responsible for keeping your dog warm and cozy while the latter helps to relieve joint and muscle pain. The faux fur cover is removable and easy to clean. This bed comes in three sizes and two styles. Regardless of the size of your pup, you will find a good fit for him.
KAMA BRIDAL Marshmallow Dog Bed utilizes bright rainbow colors and is hands down one of the cutest donut-beds out there. Beauty aside, this bed is the true definition of comfort. The round shape allows for burrowing while supporting the neck and the back. Made from plush material and filled with high-quality polyester, you bet this bed is fluffy, soft, comfortable, and warm. The bed is also anti-skid, waterproof, and machine-washable.
With two sizes – small (measuring 30 x 20 inches) and giant (measuring 60 x 35), the iHappyDog Faux Fur Fluffy Orthopedic Dog Bed fits all breed sizes. It is made with a faux fur cover that is fluffy and a memory foam base. The former offers the ultimate warmth and texture for a good night's sleep while the latter keeps the shape of the bed, reduces joint pain, and improves your dog's mobility. Transportation is a breeze with this bed, thanks to its lightweight feature. Being waterproof, it will ensure your dog stays dry at all times.
Fluffy Dog Beds: Final Thoughts
Pets change our lives in so many positive ways. They love unconditionally, protect fiercely, and offer reliable company always. Nothing can really pay back all the kisses, snuggles, love, and loyalty. However, you can try to say thank you by giving your pup a fluffy dog bed that will ensure he gets quality sleep every night of the week.
Last Updated on September 18, 2020 by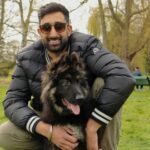 Sable McNeil is a canine chef, professional pet blogger, and proud owner of two male dogs. I have been an animal lover all my life, with dogs holding a special place in my heart. Initially, I created this blog to share recipes, tips, and any relevant information on healthy homemade dog treats. But because of my unrelenting passion to make a difference in the world of dogs, I have expanded the blog's scope to include the best information and recommendations about everything dog lovers need to know about their canine friends' health and wellbeing. My mission now is to find the most helpful content on anything related to dogs and share it with fellow hardworking hound lovers. While everything I share is in line with the latest evidence-based veterinarian health guidelines, nothing should be construed as veterinary advice. Please contact your vet in all matters regarding your Fido's health.