As an Amazon Associate, we may receive a small commission from qualifying purchases but at no extra cost to you. Learn more.
Tactical dog harnesses are super beneficial during dog ownership. Your dog doesn't have to be a service dog to sport one. If you enjoy going hiking with him, you should definitely get him one—if you haven't already. People in extreme sports and who bring their dogs along are perfect candidates for it as well.
A tactical harness offers a host of benefits. For one, it gives you better control than a traditional collar without straining the pup's neck. A full tactical harness will also protect your dog against injuries and harm if other animals attack him, keep him warm during bad weather, and protect from potential injuries during training.
These harnesses feature MOLLE (or Modular Lightweight Load-carrying Equipment) systems, where you can attach a leash, add bait, match, hook, toy, or a bottle of water. So, for a large breed, you can train him to transport his sleeping bag, your tactical flashlight, and other supplies for hiking.
Benefits of Tactical Dog Harness with Pouches
As hinted above, you can attach your flashlight, magazine pouch, water bottle, or your pup's sleeping bag on the MOLLE system, but what about other tiny supplies that can't be directly be attached on the MOLLE?
This is where the pouches come in handy. You can comfortably stuff all your smaller appliances or items (like cell phones, wallets, pens, note pads, bandages, medications, foam dressings, etc) on the pouches before attaching them on the MOLLE system.
Best Tactical Dog Harnesses with Pouches: Our Top 12 Picks
Let's now go over 12 leading tactical dog harnesses with pouches in the market today.
The Vivoi Tactical Military Training Service Harness is designed to give your dog maximum comfort and safety outdoors. It is undoubtedly one of the best options out there in terms of quality, durability, and efficiency. It is made from 1050D Nylon. So, no matter how active or strong your pup is, this harness will be around for an impressive amount of time. The mesh interior will always improve air circulation so your dog isn't too hot. The laser-drilled holes also help with ventilation. This harness also features neat stitching and soft padding both of which promote comfort greatly.
Made from high-grade nylon, this tactical harness is a quality and durable product. The nylon also acts as a tough protective barrier while the mesh lining on the inside keeps the harness breathable and ensures it doesn't slide backwards. The product comes with two MOLLE pouches so you can have your pet carry one or two things. It also has a special holder for a water bottle on the side.
When going hunting, hiking, camping, or travelling, the pouches will come in handy. Attaching molle patches and utility pouches is an easy undertaking, thanks to the available webbing on the harness. You also have a metal V-ring and a handle for the dog leash. Plus, the buckles and adjustable straps ensure that putting the harness on your dog and taking it off is a breeze.
With this practical and excellent tactical harness, you will rest easy knowing your pup is comfortable and safe out there. The Nylon material is great for breathability, comfort, durability, and overall quality. It is also waterproof, which means you can use it in wet conditions. The Molle system design is fitted on both sides of the harness. Whether you want to transport water bottles, first aid kit, treats, poop bags, or dog toys, the harness has got you covered. There are Hook &Loop panels at the top to accommodate more items such as ID badges and patches. Finally, the harness has adjustable straps that make it easy to put on and take off.
Bring your pup with you every time you go hiking, mountain climbing, or camping as long as he wears the Tri Cloud Sports Dog Tactical Harness. Utilizing the Molle system, this product can accommodate a number of essentials such as treats, food, toys in its three pouches. You even get a collapsible water bowl to ensure your pup has access to water the entire time. The pouches are all detachable. If you feel that they are too heavy for your pooch, feel free to remove some of them. Maintain control over your dog via the two-point handle bungee leash available. The package includes the nylon vest, a leash, 3 pouches, and a collapsible BPA-free water bowl.
The VICARKO Tactical Harness has all the attractive features a good harness should have. It is made of Nylon and thus scores high in the durability, comfort, and quality indexes. With the reflective lining used, you can keep an eye on your dog even in zero light conditions. It also has a carry handle, two V-rings, Molle design pockets, and crash-tested buckles. You also have four points of attachments, so getting a custom fit is possible. The buckles are quick-release to ensure safe-fastening, easy removal, and wearing.
This is one of the leading tactical harnesses used in police or military institutions. When your dog wears it, it follows his contour and shape for a perfect fitting. The adjustable neck straps also allow for a snuggle and perfect fit while the girth strap, located at the far front houses all the dog essentials. The harness also comes with top handles to attach the leash and maintain a good control of the pup. To avoid any injuries on the dog's skin, all the buckles are attached on top of the padding patches.
One of the major concerns dog owners have with regard to tactical harnesses is its weight. Many of them worry that these things are just too heavy for their adorable pups. If you are one of them, the Hangshengday Dog Backpack is designed with you in mind. The entire harness is constructed with nylon which is lightweight while still being sturdy. This one uses 1000D Nylon that makes it smooth and shiny. It has all the features required for hiking including molle design pouches, removable water bags, and Velcro stickers.
This cute dog harness is also made of 1000D Nylon and scores high when it comes to quality. When you buy it, you get durability and comfort in one. The super-soft padding boosts comfort to a great extent. Your pup will not beg you to get it off of him. Nylon also happens to be versatile as it is lightweight, strong, and waterproof. You want this combination for a dog harness especially when you are outdoors with your pooch. This tactical harness also has four buckles that release quickly. Putting it on your Fido and taking it off is pretty easy. The harness comes with a top handle and a V-ring both of which give you sufficient control during training. It also uses the MOLLE system on each side to accommodate essentials.
As the name suggests, this dog harness is fitted with everything to make sure your pup has safe and fun hiking or camping adventure. It is made from nylon which as we have established, is a fantastic material for a tactical harness. With it, you are guaranteed comfort and durability. This specific product utilizes sturdy stitching. You won't find sloppy seams and loose threads that can pose a hazard to your pup let alone shorten the lifespan of the harness.
The compatible Molle system makes sure you have pouches for your dog's essentials. The harness also comes with two handles; one in front and another one on the rear. The leash can be attached to any of the two attachment points available. Finally, this product has both abdomen and thorax straps. These allow for a snuggly fit.
Lifeunion Tactical Dog pack Hound makes hiking and camping with your dog a worthwhile and safe affair. For one, the product utilizes 1000D nylon as the material of construction. This means it is lightweight, sturdy, and durable. Like most of the products on this list, the harness has a soft pad on the inside that greatly promotes comfort. This one is an upgraded version and has two zipper side pouches for holding a range of things including water bottles, treats, snacks, waste bags, and more. The front and belly straps make adjusting easy.
Each strap of this harness is adjustable. Getting a good fit that is neither neither too tight nor too loose is simple. Simply keep adjusting until you are sure your dog is comfortable and snuggly. The Molle design fitted on the harness can hold a number of essentials on both sides. In total, you have 3 detachable pouches to play with. There are Hook and Loop panels on the top of the harness and the detachable pouches specifically for ID badges and a hoop for the leash. Made from 1000D nylon, you know this one is durable, comfortable, and waterproof.
One Tigris Dog Saddleback comes with two zipper side partitions with hook-and-loop pockets for holding snacks, poop bags, dry food, and more. One of the compartments has a built-in holder so you can access the waste bag quickly. There's also one clear zipper pocket at the top of the harness specially designed to carry ID cards and tags. With three adjustable straps, this tactical harness is perfect for medium-large dog breeds. You can bring it with you as you take long walks with your dog, go hiking or camping, and during travel. It is also made from Nylon, so quality is guaranteed.
Important Factors to Consider When Choosing a Tactical Dog Harness with Pouches
To help you choose the right tactical harness with pouches for your pup, here are some of the most important factors that you should keep in mind:
Size and Fit
A tactical dog harness that doesn't fit properly may rub against your dog's shoulders and cause health issues. For instance, it can scrub the fur off, leaving your pup's skin bare and exposed. Ensure that you measure your dog before purchasing a harness. Alternatively, go for harnesses that has a custom fit—you can adjust these to a comfortable fit for your dog.
Durability
Like any other doggie item, you want an item that will serve your pup for long—a harness that will be able to withstand rough environments and weather elements. The best harness to opt for should, therefore, be durable and robust enough to handle harsh treatment that your dog can throw at it. We recommend tactical harnesses made of Cordura 1000D Nylon because they have been proven to last long enough to fulfill their worth.
Pouch Size
As you can guess, the pouches that the tactical harnesses come with vary in size. Before you settle on a product, ensure that it is large enough to hold the supplies that you and your Fido may need when you leave for the outdoors.
Weight
Choose a tactical harness with overall weight that your dog can handle. A harness that is too light is likely to tear easily while one that is too heavy will tire your dog before you even put supplies into it. Have your dog's age, size, and breed when purchasing a tactical harness. Bigger and stronger breeds can handle well heavier tactical harnesses than smaller breeds or puppies.
Handles
At times, your dog may pace or attempt to snap at strangers, especially if he becomes nervous. In such situations, a tactical dog harness with a convenient handle can come in handy. The handle of some harnesses even feature places where you can attach a leash for more control.
Ventilation
Full tactical harnesses or those designed for bigger breeds may cover the whole back of your dog. If you choose one for your dog, ensure that it is well-ventilated (feature space mesh) so that your canine friend can have enough space to dissipate heat from his body.
Color
This is not extremely important, but if you are a fashion-conscious dog owner, you may want to consider the color that your pup's tactical harness comes in.
Final Thoughts
A tactical harness with pouches is a necessary accessory to have as a pet parent. You never know when you will need it. It offers amazing benefits for your pup when you are out and about with him. Hopefully, we have highlighted for you the best options in the market. All you need to do now is choose the best for your Fido and enjoy going camping, hiking, travelling, and taking long walks. Begin by making a list of the best features you want then choose a product from our list that best offers them.
Last Updated on December 19, 2020 by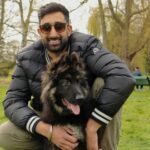 Sable McNeil is a canine chef, professional pet blogger, and proud owner of two male dogs. I have been an animal lover all my life, with dogs holding a special place in my heart. Initially, I created this blog to share recipes, tips, and any relevant information on healthy homemade dog treats. But because of my unrelenting passion to make a difference in the world of dogs, I have expanded the blog's scope to include the best information and recommendations about everything dog lovers need to know about their canine friends' health and wellbeing. My mission now is to find the most helpful content on anything related to dogs and share it with fellow hardworking hound lovers. While everything I share is in line with the latest evidence-based veterinarian health guidelines, nothing should be construed as veterinary advice. Please contact your vet in all matters regarding your Fido's health.