As an Amazon Associate, we may receive a small commission from qualifying purchases but at no extra cost to you. Learn more.
Dog weight pulling is not only a champion sport that's recognized by many kennel clubs and canine associations across the globe but also an incredible way to bond with your dog. It involves attaching one end of a special harness to your dog and tethering the other to a cart with wheels. The goal is to coach the dog to use his body strength to pull the load, usually a couple of concrete, bricks, or a car tire.
As a sport, the harness is attached to a load, which the competing dogs are required to pull for about 60 seconds or 16 feet. Like in tractor pulls, the dogs are separated by weight classes and often pull weight several times their body weight—some dogs have been reported to pull up to 90 times their body weights.
The participating dogs are rewarded based on the amount of weight that they pull as well as how fast they pull the weights. The most common types of awards are qualifying scores, champion points, and trophies. Dog owners or trainers are not allowed to have any physical contact with their owners but may stand in front of them or coach them forward.
Benefits of Dog Weight Pulling Training/Exercises
While some dog lovers deem the activity to be cruel and inappropriate, weight pulling for dogs can have several benefits when done the right way, including:
It ensures that your dog gets the exercise he needs in a way that takes much less time from you and without a lot of investment in terms of money and equipment.
It is excellent for building lean and healthy muscles in dogs. Other exercises like running, jogging, or swimming are majorly cardiovascular in nature and don't stimulate muscle growth to a level that weight pulling does. Weight pulling is great for muscle growth because it allows you to add resistance (or load) over time, triggering new muscle growth in your dog.
Certain dog breeds like the American Bulldogs, Bernese Mountain, and Alaskan Malamutes among others have traditionally been working dogs. They were not only bred for their high energy and strength but are also used to labor and a lot of exercises. If you own one of these breeds today, it can be tough to ensure that they get the amount of exercise that they need. This is where dog weight pulling training comes in handy—when you train your dog to pull weight, you are providing him with lots of exercises and giving him an opportunity to use his high energy.
Dogs that pull weight for work like those involved in search and rescue operations can also benefit from dog weight pulling training. The same is true of dogs that assist people with mobility issues by helping them pull braces or wheelchairs.
Weight pulling is also great for strengthening the owner-dog bond. You'll be your dog's coach during the weight pulling sessions, encouraging him and congratulating him until he finishes a milestone or reaches the finish line. Put simply, the two of you will work as a team, which boots a greater sense of trust and friendship.
Weight Pulling Harness for Dogs: Our Top Picks
To ensure the safety of your dog during weight pulling sessions, you need to get him a specially constructed harness, which can hold his body in a manner that minimizes the risk of injuries or potential physical damage. A pulling dog harness help distribute the weight of the load (being pulled) across the dog's body, especially to their legs where they are strongest.
Another benefit of pulling dog harnesses is the fact that they come with a bar across the harness rear to prevent the straps from squeezing against your pup's legs while pulling weight. Some also feature extra padding to ensure comfort and safety during pulling.
Before you buy a dog weight harness, you have to choose a product that is not only of good quality but also fits your pup well and meet other personal preferences. To make your work easier, here is a list of the top 10 weight pulling harnesses for dogs that will ensure that your newest bonding adventure with your canine friend is successful.
Whether you are looking for a weight pulling harness for dogs or a dog harness for pulling sled, this harness from Dogs My Love has you covered because the manufacturers have integrated all the vital aspects of a good harness for the two activities: comfort, durability, and functionality. It features extended chest plate padding and X-back style for maximum comfort and performance. In particular, X-back design distributes the pulling force across your dog's body, preventing potential back injuries. The harness is also light-weight and constructed with high-quality nylon webbing that's moisture and ice-resistant. It comes in 5 different sizes—from small to extra large—allowing you to choose what fits your dog breed.
For a weight pulling harness that is designed to help you grow your dog's muscles, this is one of the best in the market. It is padded with wide chest straps to ensure that your dog's neck area doesn't get hurt while pulling. Like the previous harness, it features the X-back style to distribute the pulling force evenly across your dog's body. It is designed for large dogs with around 31.5 inches neck circumference—think of American Bully, Rottweiler, Alaskan Malamute, Boxers, Siberian Huskies, American Pit Bull Terrier, and other large breeds. The product is also made of durable 50mm nylon webbing material to withstand extreme weather elements. There is also a 100% quality guarantee against this harness, so you can always return it and get your money back if you are not satisfied with its features or performance.
Neewa Sled Pro Dog Pulling harness is not only designed for sled pulling but also for all dog pulling activities you can think of—from weight pulling, canicross, dog trekking, bikejoring, to skijoring. One feature that makes it ideal for all those pulling activities is durability. It is made of polypropene material, which is extremely durable and can withstand even extreme weather conditions. For extra comfort of your dog while pulling, the harness comes with padding on the chest, rib cage, and shoulder area. Like the previous tow harnesses, it features X-back construction to ensure even distribution of the pulling force on your dog's back down to the legs. Other features that we loved in this pulling dog harness include the fact that it is made with non-allergic materials and that it comes with reflective inserts for easy visibility at night.
Finally, it is worth mentioning that this particular harness is designed specifically for wolf-shaped breeds like the Alaskan malamute, Siberian husky, and Greenland dogs among others. So, if you own a different breed, you may consider their Perfect-Fit or Adjustable Option.
Another weight pulling harness for dogs that we highly recommend is this Freemotion Pulling Harness due to its unique design, which takes the pressure off your dog's neck. Whether you plan to use it to pull carts, exercise weights, for bikejoring, scootering, or skijoring, the harness will not limit your pup's movement. It also comes with adjustable side straps to ensure that it fits perfectly on your dog's back. The adjustability feature also prevents unnecessary compression of your dog's respiratory tract, so your dog will remain as comfortable as possible when pulling weight.
Canine Equipment Pulling Dog Harness is an excellent harness for weight pulling and everyday dog walking. It has a heavy foam-reinforced chest pad to distribute weight or pulling force evenly across your dog's body, avoiding putting unnecessary pressure on your pup's back and throat. The harness also comes with a fleece lining to boost traction and minimize unnecessary shifting while your dog is pulling weight, running, walking, or hiking. Besides, this harness features the adjustable straps and anti-slip sliders, which helps keep it in place during use. Finally, it comes with a safety shackle snap to help you release it quickly from the cart or your joring system in case of an emergency.
The FrontPet Explorer Pulling Harness is another excellent harness for weight pulling. It comes with three pulling D-rings to help you clip a leash or the end of your cart for stress-free pulling. The harness also has adjustable side straps to ensure that the harness fits your dog perfectly, allowing your dog to pull comfortably without feeling a yanking on his neck. Consider measuring your dog before buying the harness to ensure that you choose the right fit. The FrontPet Explorer Pulling Harness is also constructed with thick chest padding to keep make your dog as comfortable as possible during pulling. The material used in the construction of this versatile harness is also durable and feature reinforced stitching to allow it to withstand vigorous pulling. For your dog's safety, this harness also includes a pull tab, which you can release during an emergency.
This is another dog harness that is specifically designed for weight pulling. As you can see, the harness comes in an X-back design to ensure optimum power transfer and distribution across your dog's body, ensuring that your dog remains as comfortable as possible during his weight pulling sessions. The neck and chest areas are padded with soft and breathable materials that also feature extra stitching to boost the overall durability of the harness. The extra padding on the neck and shoulder region also helps your dog feel comfortable and secure even under increased tensile load. And to ensure that your pup is visible at night, the X-back is fitted with fabric reflectors.
You'll always find Dean and Tyler harness among dog owners who loves professional competitions of weight pulling, cart pulling, and sledding. It is constructed with durable nylon material to handle big weights. Like other weight pulling harnesses we have reviewed so far, it has an X-back design to allow even distribution of the pulling force on your dog's whole body, preventing potential back injuries. Although the harness is designed for big weights, it is made of lightweight materials, so even if you don't participate in professional sledding or weight pulling, you can still use it to grow your dog's muscles. The dog harness is available in medium and large sizes, allowing you to choose what fits perfectly for your dog.
Like Neewa Sled Pro Dog Pulling harness, Kurgo Pulling Dog Harness is designed for all dog pulling activities you can think of—carting, weight pulling, skatejoring, bikejoring, skijoring, canicross, etc. It is constructed with sturdy materials to cater to any kind of rough use. It is lightweight and fully adjustable to ensure that your dog remains as comfortable as possible during pulling. The leash also features D-rings for attaching it to the cart or joring system and top handle for control. Finally, the harness features reflective trim for extra visibility, especially if you are conducting your training or pulling activities at night.
The last entry in our list is this multi-purpose weight pulling dog harness from Hurtta. You can use it for weight pulling training or for various pulling snow sports like dog sledding and skijoring. And during summer, it will still come in handy for cycling, kick biking, and running with your dog. It features Neoprene padding to ensure optimum comfort for your dog. It also comes in an X-back design to focus the pulling pressure at your dog's whole body, thus optimizing pulling strength and preventing potential back injuries. This harness also has built-in 3M reflectors for visibility at night. Finally, it comes in different sizes to allow you to choose the perfect fit for your pooch.
Factors to Consider When Buying a Dog Weight Pulling Harness
Here are some of the most important factors that you need to keep in mind when shopping for a dog weight pulling harness:
Design
To ensure your dog's safety, a weight pulling harness should come in a design that's specially adapted to weight pulling. To begin with, it should distribute the load evenly over your pup's body and shouldn't rub against your dog's skin. It should also keep the dog's head position as low as possible during pulling. The dog should be able to walk in a straight line and his nails should be digging into the ground for optimum traction.
So, the first thing you should remember when buying a dog weight harness for your pup is to ensure that it is specifically designed for the purpose. Obviously, a harness for dog walking will be different from one designed for weight pulling or sledding. A dog sled harness, for instance, is designed in a way that allows a dog to pull from the full length of his body. On the other hand, a search and rescue dog harness features pockets and hardware that can withstand harsh weather elements.
Measurements
A good dog weight harness should be tailored to your dog's size. A harness that doesn't fit well may not work perfectly. Your dog will pull out of it or will feel a lot of discomfort, which makes your weight pulling training or exercise unpleasant. In particular, such a harness will add extra pressure on your pup's joints and other weaker sensitive areas.
A good harness should fit snugly but not too tight. It should neither cut into your dog's skin nor shift when your dog is pulling. Your dog shouldn't wriggle free from the harness as well.
To be sure of the dimensions of the harness that will fit your dog snugly, measure your dog. Have someone help while at it so that the dog doesn't wriggle around too much. Consider measuring the broadest part of his chest by placing the measuring tape behind his front legs. Don't hold the tape too tightly.
Adjustability
Another way of ensuring that a harness will fit your dog perfectly is to go for adjustable options. An adjustable harness will not only fit your dog's size and shape but may also come in handy when you are training multiple dogs. However, you should always remember that no matter how adjustable a harness may be, you won't be able to adjust a German shepherd's harness to fit a Maltese!
Construction Material
Weight pulling harnesses for dogs come in a wide range of materials, including nylon, leather, and sheepskin. Before you choose a particular material, understand its pros and cons. Most dog weight pulling enthusiasts opt for nylon because:
Has high abrasion resistance
It is water resistant, making it suitable for places with lots of rain or high humidity
It is resistant to mold, fungi, insects, and many chemicals.
Sheepskin is great if you are looking for a harness with extra soft padding while leather is natural and rich-looking.
Weight
The load or weight that your dog will pull may also impact the harness you should get him. You need a strong, durable harness if your dog is going to pull heavier loads. The straps should also be made with a material that is sturdy enough to handle such a heavy load. You don't want to waste your hard-earned cash on a strap that will break after day 1 of training.
Webbing
Dog weight pulling harnesses come in narrow and wider webbings. While some dog weight pulling aficionados believe that wider webbings are better and stronger, this is not always the case. Wide webbings are not necessarily stronger than their narrower counterparts and may not sit flat on curved areas of your dog. This may cause the edges of webbing to cut into your dog's front leg, causing discomfort. It is also important to go for webbing that's a bit loose to avoid putting too much downward pressure on your pup's spine.
Length of the Harness
In most dog weight pulling competitions where dogs are expected to pull very heavy loads, the spreader bars are often positioned closer to the rear of the dog to minimize the risk of tangles, especially for dogs that tend to twist, jump, lunge, back up, pull off center or step out of the harness while pulling. As such, longer harnesses may not be necessary. Besides, for dogs that can lean in and pull in a steady motion, harness length is not as critical.
On the other hand, for training or drag work, where a dog may be required to pull at a faster speed, it is advisable to choose a harness with an extra length between the spreader bar and your dog's hind leg to allow for full extension of your dog's hind legs.
Extra padding
Harnesses with extra padding are comfortable for dogs to wear and protects them from potential rubbing and skin irritation. However, weight pulling harnesses with extra padding tend to come at higher price points but they are worth it as you don't want to compromise the safety and comfort of your dog.
Ease of use
If you are going to pull a heavy load, putting a harness incorrectly on your dog is going to hurt him. One of the ways of avoiding this is to choose a harness that is easy to use. Most importantly, follow the manufacturer's instructions that often specify how to use the harness properly.
Extra features
Other features you might want to consider are color and things like spreader kits. Yes, some dog pulling harnesses come with spreader kits, which can come in handy when you are just starting the sport. And some manufacturers design harnesses of varying colors to cater to different dog owners' preferences. Some harnesses also come with slots for putting custom dog IDs. Others are also made of deer hides. If you are looking for something a bit flashy, you may consider these extra features.
Most importantly, if you are new to dog weight pulling and unsure about which harness will be right for your pup, consider asking an expert who sells these types of harnesses or a professional weight pulling trainer.
Getting the Most Out Of Dog Weight Pulling Training: Expert Tips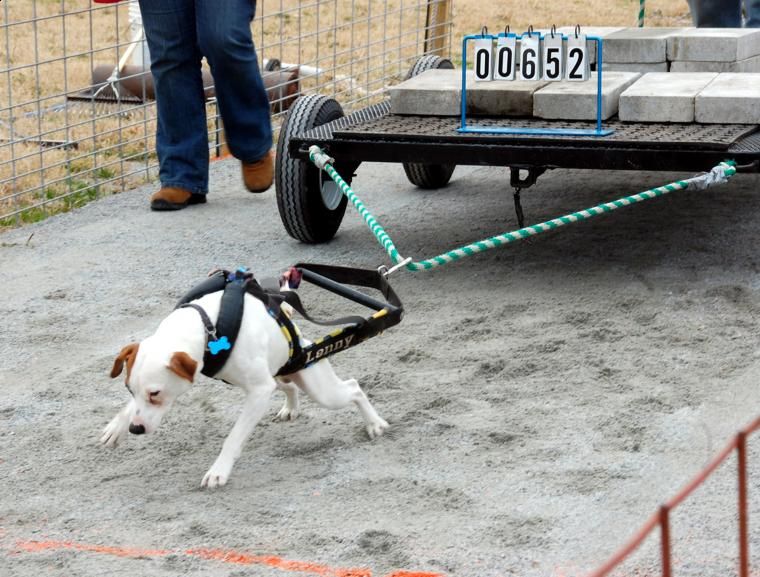 Always check your dog's footpads to ensure that they are in great shape. Ensure that they are not too long, clipped too short, or caked with ice before any pulling exercise to avoid any form of discomfort or pain. Split toenails are painful and you shouldn't allow your dog to pull weight if he's not well healed.
Some dogs take to their weight pulling harnesses right away while others take time to adapt or learn to use them. If your dog falls in the latter category, consider brushing up on some proper training techniques before you allow your dog to pull any weight.
Be a responsible dog owner when training your pup to pull weight. Always remember that the health of your dog comes first. If the weight is too heavy for your dog or if he doesn't want to pull for any reason, he will quit. So, always pay attention to your dog's needs and aim at working with him to become the best teammates.
Consider taking your dog for a light walk or jog before pulling weight. The more active your pup is, the stronger will be his muscles, bones, tendons, and ligaments, which can also go a long way in helping him pull more weight with less risks.
Take your time to establish whether weight pulling is something that your dog can do or benefit him. This may call for speaking to your vet first. Your vet will help you determine whether or not your pup is healthy enough to pull heavy weights. A vet will also tell you how much physical activity the dog needs so that you can be sure not to overwork him.
You should always be ready to do first aid to your dog if he suffers any injury while weight pulling. We suggest arming yourself with a doggie first aid kit every time you are training your dog to pull weights.
FAQs
Q. Is Weight Pulling Bad For Dogs?
A. Unfortunately, there is no perfect answer to this question as the canine fraternity seems to have divided opinions. Some people believe that weight pulling comes with a wide range of perks, including helping high-energy dog breeds clam down or vent their excess energies, boost behavioral issues in dogs, build lean and healthy muscles, and creates a strong bond between a dog and his owner.
The fact that many kennel clubs around the globe recognize weight pulling as an international sport also lends some professional facet and credibility to the activity. These organizations have strict rules that not only ensure that the activity is safe for dogs but also that the rights of the dogs are protected.
On the other hand, there are opponents of the activity who argue that there is a high risk of injury when a dog is made to pull heavy loads. In particular, they worry about muscle strain and a wide range of health hazards like dysplasia.
The bottom line is: weight pulling can be dangerous for dogs if proper care, training, and supervision aren't provided. There are also concerns when dog owners become more interested in winning championship awards than their dogs' health and safety.
Q. At what age can dogs start pulling weight?
A. Most weight pulling organizations and kennel clubs suggest that dogs should be allowed to pull weights when they are at least 9 to 12 months of age depending on the dog's breed.
It is also important to note that many organizations don't recommend the activity or sport to female dogs. In particular, nursing or pregnant dogs are never allowed to participate in weight pulling competitions.
Q. How much weight should a dog pull?
A. This often boils down to individual dogs and how physically strong and healthy they are. While many dogs can pull 3 or times their body weight, there are accounts of dogs that have pulled 90 times their body weights! On average, dogs that make it to weight pulling championships pull between 25 and 40 times their body weights.
So, how much weight a dog can pull or how strong a dog can pull depends on how good he is trained, the care he is given, his body weight, and individual strength.
Q. What diet should you feed a dog that pulls weight?
A. The most important thing to do if you are going to allow your dog to pull weight is to closely monitor his weight and overall health. Even for athletic dogs that are already well-built, care must be taken when it comes to what they are fed and in what quantities. Here are some of the most recommended diet routines for weight pulling dogs:
Protein-heavy diets for building their muscles
Little to moderate quantities of complex carbohydrates to maintain their energy levels
Essential fatty oils from coconut oils, fish, peanuts, etc to ward off joint and skin disorders
Fiber-rich diets to support optimal stool quality
Final Thoughts
There you have it; 10 of the best weight pulling harnesses for dogs on the market right now. Hopefully, you've identified a harness that will make weight pulling endeavor for your pup stress-free. If in doubt, ask your vet to help you choose the right weight pulling harness for your pup. A vet can also advise you on whether or not your dog is a good candidate for weight pulling. Regardless of the harness brand you choose, always keep your canine friend's comfort and safety in mind to ensure that weight pulling activity is rewarding for your dog.
Last Updated on December 19, 2020 by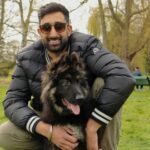 Sable McNeil is a canine chef, professional pet blogger, and proud owner of two male dogs. I have been an animal lover all my life, with dogs holding a special place in my heart. Initially, I created this blog to share recipes, tips, and any relevant information on healthy homemade dog treats. But because of my unrelenting passion to make a difference in the world of dogs, I have expanded the blog's scope to include the best information and recommendations about everything dog lovers need to know about their canine friends' health and wellbeing. My mission now is to find the most helpful content on anything related to dogs and share it with fellow hardworking hound lovers. While everything I share is in line with the latest evidence-based veterinarian health guidelines, nothing should be construed as veterinary advice. Please contact your vet in all matters regarding your Fido's health.