As an Amazon Associate, we may receive a small commission from qualifying purchases but at no extra cost to you. Learn more.
If your dog is about to go through a heat cycle for the first time, it is vital to know what to expect and how to prepare for a smooth experience. One of the biggest issues dog owners have to grapple when their dogs are in heat is bleeding. Heat cycle can turn out to be a messy time for your female dog. One week after a female dog's vulva begins to swell, you will notice a bloody discharge that will last for about 10 days. The discharge, which often ranges from deep red to pink to white, can stain your furniture, bedding, and floor. Fortunately, you can prevent the mess by using a dog diaper for periods (also known as dog heat panties). A period diaper will also prevent constant licking of the vulva that your dog might engage in. And if there are male dogs lurking in your neighborhood, a heat diaper can help you protect your dog from getting pregnant considering that it can somehow prevent penetration.
Pro Tips:
A period diaper is not a reliable canine contraception as there are creative male dogs that will still find their way around these diapers.
Putting a period diaper on your pup when you notice the 'in heat' signs so that the initial drips can be caught in the diaper is better than finding the drips later to know it is time to get a period diaper.
10 Best Dog Diapers for Periods
One of the best ways of ensuring that your dog's heat cycle is as smooth as possible is to make her feel calm and comfortable. These colorful reusable female dog diapers from CuteBone will help you achieve this and more, thanks to their ultra-comfortable and lightweight designs. They come with sewn-in diaper pads, which imply that you don't need to invest in an extra sanitary pad for your dog unless she is experiencing a super heavy flow. There is also waterproof outer shell with a polyurethane laminate (PUL) layer to prevent potential leaks and damage to your carpets and furniture. To ensure that the diapers fit properly on your dog, CutBone designed them with Adjustable Velcro Closures that are easy to secure and don't stick on your pooch's fur. The diapers are also machine-washable and come in a pack of three to ensure that there is always a back up when one is being washed.
Some dogs hate wearing diapers, especially disposable options, due to uncomfortable texture and the "crinkly" sound that they make. Wegreeco female diapers are soft and made with comfortable materials to boost your dog's comfort and acceptance. They also have hook and loop closures, making them easy to secure on your dog and not to stick on your pup's fur. Like CuteBone diapers, they have sewn inner pads to prevent potential leaks. There are also elastic hems to ensure close fit, prevent leaks, and help your pup move around with ease. They come in multiple colors to allow you to choose what suits your dog.
If you don't have time to wash your dog's period diapers, this is one of the best disposable diapers to consider. It is designed with 3600 leak-proof technology and moisture-wicking edges to ensure optimum leak protection. The diapers also feature channeled core design for improved absorbency and comfort. And if you are sensitive to smell, this is still the best disposable heat diapers to opt for because it comes with baking soda for odor control.
Another excellent reusable dog heat diaper that we had to include in our list because of its quality, style, and ease of use is this amazing female dog diapers from BWOGUE. The diapers are designed with high-quality soft cotton materials to make them more comfortable and easy to wash. They also feature Velcro closures for easy fit and to prevent them from sticking on your dog's fur. Their ergonomic designs also make them suitable for daily use, especially for dogs in menses. Besides, they are available in multiple sizes and colors, so you shouldn't have trouble finding what fits your pup perfectly.
Simple Solution Disposable Female Dog Diaper is another excellent option if you are looking for a temporary solution to your dog's menses. It features InstaShield absorbent core to wick away moisture, ensuring that your dog remains dry and comfortable throughout the day. For extra absorbency and leak prevention capabilities, the diapers come with leak-proof barriers and absorbent tail hole. It is designed to fit female dogs with 12-19 inches and feature adjustable waistband to ensure snug fit and comfort. Unlike other heat diapers that we have reviewed so far, Simple Solution diapers feature a wetness indicator to alert you when it is time to change diapers, ensuring that your canine friend stays dry and comfortable.
PETTING IS CARING female dog diapers are designed to make your dog's experience during her period a breeze. It is made with soft mesh fabric with a double-layered, highly-absorbent pad to wick away moisture, guaranteeing your dog pleasant experience while wearing the diapers. The outer layers are also 100% waterproof to prevent leaks and potential damage to your furniture and floor. The diapers also feature a tail hole, elastic waist bands, and adjustable Velcro closures to ensure easy and fast handling. Like most of the period dog diapers on our list, they come in a set of three to ensure that you have a back up when you wash one.
BINGPET Female Reusable Dog Diapers are some of the best dog period pads that you will find in the market today. They are made of high-quality polyester materials with absorbent outer layers to prevent potential leaks. Like many diapers on our list, they feature Velcro closures for a better fit and to ensure that they don't stick on your dog's fur. They are machine-washable and come in three different colors to allow you choose what's best for your dog and to ensure that there is always a back up when you wash one. They are recommended for dogs with waist sizes of between 11 and 15 inches.
If you are looking for period dog pads for your female dog in heat, Teamoy Washable Female Dog Diapers are your best bet. They are made with breathable, good permeability fabric mesh to boost their absorbency. They also feature removable pads that are fastened by four snaps to prevent potential leaks. And if you want a dog heat pad that your dog can use overnight or something that can cater to your dog's heavy flow, Teamoy Diapers still have your back because they are made with proprietary PUL outer layers to prevent spills and leaks. They also come with tail holes and elastic edges to provide extra snug and comfort for your dog. Finally, the diapers feature elastic belly bands with long fastening strips to help you adjust them to the right size for your pup.
Another reusable female dog period panty that we had to include on our list due to its uniqueness and excellent usability features is this amazing set from Kyeese stores. They are designed with smart inside pockets, making them easy for you to add panty liners, sanitary pads, or napkins based on your dog's flow volumes. They are superlight and made with breathable sportswear fabric, making them one of the best dog period diapers for daily use. They are machine washable and come in three different color variations to allow you to choose what suits your dog's occasion.
The final entry on our list is this stellar dog period diaper designed to serve both you and your canine companion justly. It features a sewn inner pad and a soft inner material that's often used in athletic jerseys to help prevent potential leaks and keep your dog dry for long. There is also an extra detachable microfiber diaper which can come in handy for heavy flows or nighttime wetting. The diapers also come with hook and loop closures as well as elastic tail holes to ensure a perfect fit. And like most of the dog heat pads we have added on this list, they are machine-washable and come in multiple sizes (six sizes) to help you choose an option that will fit your pup perfectly.
Disposable vs. Reusable Dog Period Diapers
Disposable dog diapers for periods are used once and then disposed of. One of the benefits of using a disposable heat diaper is that it eliminates the hassle of having to clean up or wash your dog's diapers after use. However, they are expensive in the long term and are only ideal for dog owners who are looking for a temporary solution.
On the other hand, reusable diapers are washable, which implies that you can use them again and again. Considering that a dog in heat will bleed for one to two weeks or more, reusable period panties tend to be more cost-effective. Once you buy one for your pup, you can rest easy knowing that she won't need another over a long period. They are also free from the noise of disposable diaper materials, which tend to be bothersome to some dogs. The biggest issue with reusable diapers is washing. If you are busy and can't find time to get to the laundry, disposable diapers are a better option.
Choosing the Right Size of a Dog Heat Diaper
Like any other dog clothing, choosing the right size of a dog diaper for periods is very important. Period diapers that are too small will be uncomfortable for your dog while those that are too big will mess your floor and furniture. So, how do you choose the right fit for your dog? There are two steps that you can always leverage:
Know your pooch's weight: Most period diapers come in sizes that correlate to dogs' weights. Knowing your dog's weight will, therefore, go a long way in helping you choose fitting heat panties.
Measure your pup's waist: Measuring your dog's waist before you buy a period diaper is the best way of ensuring a much more precise fit. Take the measurement when your dog is standing and use a flexible tape. In case your dog's waist falls in between the ranges, consider going for a size up.
How to Get the Most Out Of Dog Period Diapers
Period diapers come in varying absorbency. Choose appropriate absorption level based on your dog's bleeding pattern (some dogs tend to bleed more than others).
To avoid diaper rash (which can cause itching, burning, inflammation, and bacterial infections), change the period diapers frequently—at least once a day if not more. Consider taking it on and off as well so that your dog can use the bathroom.
Wear gloves when changing the period diapers to avoid coming into contact with your pup's blood discharge. And if possible, use baby wipes to clean your canine friend when changing her.
Most dog diapers for periods come with holes for your pup's tail. If your breed is tail-docked, consider covering the hole with a tape to prevent leakages.
It is also judicious to get some extra couch covers when you know your dog's heat cycle is approaching. This will go a long way in helping you mitigate potential damage to your furniture and valuables. Check the best options here: 16 Best Dog Proof Couch Covers (Including Clear Options)
Conclusion
Caring for your female dog during her periods should be a wonderful experience. Your dog needs some extra comfort, love, and attention during this phase, and one of the best ways to guarantee her all these is to get her a period diaper. The good news is that finding the best dog diaper for periods is easy as we have highlighted a few excellent options on this post that you can choose from.
Last Updated on October 5, 2020 by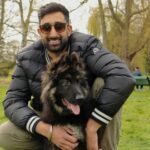 Sable McNeil is a canine chef, professional pet blogger, and proud owner of two male dogs. I have been an animal lover all my life, with dogs holding a special place in my heart. Initially, I created this blog to share recipes, tips, and any relevant information on healthy homemade dog treats. But because of my unrelenting passion to make a difference in the world of dogs, I have expanded the blog's scope to include the best information and recommendations about everything dog lovers need to know about their canine friends' health and wellbeing. My mission now is to find the most helpful content on anything related to dogs and share it with fellow hardworking hound lovers. While everything I share is in line with the latest evidence-based veterinarian health guidelines, nothing should be construed as veterinary advice. Please contact your vet in all matters regarding your Fido's health.