As an Amazon Associate, we may receive a small commission from qualifying purchases but at no extra cost to you. Learn more.
Although dog diapers seem like amusing products to non-dog owners, they are worthwhile purchases, particularly for senior dogs with incontinence issues as well as puppies and other dogs that can't retain their business. A dog diaper may help your pup avoid unwanted accidents and regain the freedom to roam around your house again. Dog diapers may also come in handy for dogs that are in the process of being potty trained, likes peeing on the wrong spots, are on heat, or suffering from some medical conditions.
But which dog diaper is best for your dog? Well, when it comes to choosing the right diaper, your dog's comfort is vital. You want something that is as normal as possible on your doggo without causing any of kind irritation or discomfort.
Dog Diapers for Males
Due to differences in anatomy, male and female dogs tend to have different diaper needs. A male dog has a penis that is situated ahead of the crotch—near his belly. So, a traditional dog diaper may not contain all his messes, including his pee. For a male dog, therefore, you need a belly band that can also take care of your pup's pee. A belly band or male wraps are like wide belts and fit snuggly around the dog's waist, covering his penis. Male dog diapers also tend to have longer waists and wider bases, allowing the front of the diapers to cover the urethra and take care of the differences in anatomy.
Female dog diapers can work for male dogs but you have to ensure that it wraps your dog's belly far enough to provide complete coverage. If you can't find an option that can come far enough, you may need to use both diaper and belly band.
To avoid the hassle of finding the right diaper that fits the above description or buying both diaper and belly band, we recommend just going for diaper brands that are specifically made for males. Here are the best brands that we recommend.
Best Dog Diapers for Males: Our Top 12 Picks
The first male dog diaper that we recommend is this comfort-fit diaper from Vet's Best. Some of the unique features we loved in this diaper include the repositionable fasteners that are designed to give your pup optimum fit, absorbent core that will go a long way in protecting your dog from diaper rash, and a wetness indicator, which will help you figure out the right time to change the diaper. It is recommended for medium-sized male dogs with waists of between 18 and 23.5 inches.
One of the simplest but most efficient male dog diapers in the market, these AmazonBasics diapers are designed to offer your dog maximum leak-proof protection while eliminating urine messes fast. They feature repositionable fur-resistant fasteners for maximum and comfortable fit, absorbent core and breathable layers to ensure efficient soaking of your dog's urine, and a wetness indicator to help you know when it is time to change the diapers. They come in a pack of 30 diapers and there are sizes for small, medium, and large dogs, including toy breeds.
Teamoy is one manufacturer of wrap diapers for males that understands all the needs of your incontinent dog. Their diapers are primarily focused on two aspects: comfort and functionality. For maximum absorption, the diapers feature padded inner liners that are designed to stay as close as possible to your dog's skin, providing maximum permeability. Outer layers are also waterproof to prevent unnecessary leaks. And when it comes to comfort, the diapers have elastic edges to provide a snug fit around your pup's waist. The diapers are also designed with a large square tape to help you adjust the size to what fits your dog best, preventing unnecessary slip offs no matter how your pup wiggle or slide across your floor.
All-Absorb dog diaper is one of the best male dog diapers that are designed with your dog's marking behaviors in mind. They feature unique stretchy fabric, so no matter how high your pup lifts his leg while marking, the diaper is still going to contain his urine. The diapers also come with 360 degrees leak-proof outer layers and highly absorbent inner core to keep your dog dry and prevent any accidental leaks. To ensure that they fit your dog perfectly, the diapers feature fur-safe, adjustable fasteners to ensure that your Fido is just wrapped right. Besides, these diapers have a wetness indicator to help you figure out when it is time to get your doggie a fresh warp.
If you have a male dog who can't stop marking or tinkling in the wrong spots, you should consider investing in these amazing male diapers by OUT! They are designed to stay securely in place no matter how your little guy lifts his leg, thanks to the unique stretchy fabric that they are made with. They also come with fur-safe, repositionable fasteners, allowing you to adjust them to sizes that are perfect for your dog. Finally, like other diapers on this list, they feature two-layered, absorbent inner core to prevent potential leaks.
Paw Legend Washable Belly Wraps is another reusable diapers that make for an amazing solution for your male dog's elimination issues. They are made with high-quality materials for maximum comfort of your dog and come with Velcro closures to make them easy to wear. Like other washable male dog diapers we have reviewed so far, they feature a super absorbed pad sewn at the center and 100% waterproof outer layer to prevent potential leaks. Besides, they come in trendy colors—sky blue, black, and dark blue—allowing you to change them for your doggie based on the occasion.
If you are looking for washable male dog diapers that will make your dog stand out, your search should end with these flashy diapers from Wegreeco. They have sewn middle microfiber layers to wick away urine easily and fast. There is also outer waterproof lamination fabric to protect your furniture, floors, and other belongings from accidental leaks. Like other washable male dog diapers in our list, they are machine-washable, making them easy to keep fresh. For your Fido's comfort, these male diapers have a wide hook and loop to ensure a secure fit. They are recommended for puppies and small dogs of waist sizes 11'-14".
JoyDaog Jean belly bands are one of the best dog diapers for males that are designed with strong absorption capabilities. It features a diaper pad sewn in the middle plus two layers of microfibers to provide maximum protection from urine leaks. The outer layer is also waterproof to keep your pup dry for long and protect your furniture and floors from accidental leaks. For maximum comfort, these fashionable male dog diapers come with open-closed straps and adjustable waist that not only prevents unnecessary slip offs but are also easy to secure. They are machine-washable, making them easy to maintain.
These are other cute, washable belly wraps that will protect your dog from occurring accidents and make your dog-owning experience smooth. They are designed with premium mesh-lined materials plus middle layer microfibers that are not only absorbent but also breathable and friendly to your pup's skin. The outer layers not only come in cute colors but are also 100% waterproof, adding extra protection to your carpets and furniture. To ensure that your dog remains as comfortable as possible, the diapers feature a large Velcro that you can adjust to a size that fits your pup best.
Designed for small and medium male dogs, these new design diapers are all you need for a male puppy that has not mastered his potty training, dogs that suffer from excitement urination, or a male dog on heat. The diapers come with a double-layered inner pad to absorb your dog's urine and protect your belongings from potential damage. It is made with high-quality, soft cotton material that is not only comfortable for your dog but also easy to secure around your Fido's belly. It is machine-washable and comes in a pack of three—with different colors to match different occasions.
Being a disposable diaper, Paw Inspired Male diapers makes it super easy to cope up with your pup's accident issues. Once it is soiled, all you need to do is remove it, safely discard it, and put a fresh one. One of the unique features that we particularly liked about this male dog diapers is the proprietary DrySpeed technology that converts your canine friend's urine into a gel, ensuring that your dog remains dry and comfy throughout and eliminates the potential for leaks. It also comes with super-absorbent core, leak-proof edges, and breathable bottom layers to ensure maximum absorption. For extra comfort and fit, it features with fur-resistant, repositionable strips.
The last entry on our list is this amazing disposable male dog diaper from pet soft. Unlike other disposable diapers, it features 3 patterns in one pack, allowing you to choose based on the occasion or your pooch's mood. They are made of lightweight microfiber fabric that can absorb your dog's urine fast and prevent any accidental spills. Finally, one pack contains 72 diaper pieces, making them one of the most economical male dog diapers in the market.
Factors to Consider When Buying Dog Diapers for Males
There are a few factors you need to keep in mind when choosing a dog diaper that will be perfect for your male dog, including:
Size
The best dog diaper should fit your pup snugly to contain all the moisture in. If you have a toy breed, you need extra small diapers while for large breeds, extra-large diapers will suffice. To be sure of the right size of diaper that will fit your dog perfectly, you need to measure him. Measure around his waist, ensuring that you include his penis. If the measurements fall in between inches, we recommend choosing the next size up or an adjustable option for optimal comfort.
Absorbency
We consider this to be the most important factor to consider when choosing a dog diaper. The best diaper should wick all your dog urine and prevent any potential leaks. It should also keep your dog dry when wearing it.
Comfort
A good dog diaper should never agitate your dog. This is even more important if you are introducing your dog to diapers. It shouldn't fall off either, especially if your dog wiggles a bit. For male dogs, we highly recommend a belly band that wraps around your pup's waist securing it in place.
Disposable vs. Washable
How you are going to use dog diapers should also dictate the type of diaper to buy for your dog. If you are not going to use the diapers on a daily basis or when you are in the process of housebreaking your furbaby, disposable diapers may be a good option. However, for long term use like for protecting a senior dog with incontinence issues, washable may be a better option. They are cost-effective in the long run, environmentally friendly, fit better, and more comfortable. And if the crinkling noise of disposable diapers is bothersome to your dog, a washable option automatically becomes a better option.
Breed
Diapers are available with or without tail holes. If you own breeds that don't have much tail like English bulldogs, Boston terriers, French bulldogs, corgis, and others, you can choose dog diapers with no tail holes to prevent potential leaks via the hole. On the flip side, if your dog has a long tail, dog diapers with tails are better to ensure a snug fit and keep the tail clean.
Best Dog Diapers for Males: Final Thoughts
Don't limit your dog's freedom to roam around the house because of hygiene concerns while there are practical solutions that you can leverage. Get your dog one of the dog diapers for males we have reviewed and enrich your moments with your four-legged friend as well as save your home belongings from the unpleasant odor of dog urine.
Most importantly, remember that incontinency could be a symptom of an underlying health problem. So, while dog diapers are great and sometimes very necessary, they shouldn't be your first response to incontinence.
Last Updated on August 25, 2020 by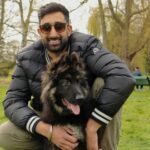 Sable McNeil is a canine chef, professional pet blogger, and proud owner of two male dogs. I have been an animal lover all my life, with dogs holding a special place in my heart. Initially, I created this blog to share recipes, tips, and any relevant information on healthy homemade dog treats. But because of my unrelenting passion to make a difference in the world of dogs, I have expanded the blog's scope to include the best information and recommendations about everything dog lovers need to know about their canine friends' health and wellbeing. My mission now is to find the most helpful content on anything related to dogs and share it with fellow hardworking hound lovers. While everything I share is in line with the latest evidence-based veterinarian health guidelines, nothing should be construed as veterinary advice. Please contact your vet in all matters regarding your Fido's health.