As an Amazon Associate, we may receive a small commission from qualifying purchases but at no extra cost to you. Learn more.
The thought of scooping down to pick dog poo is appalling. The irritable smell, disgust, and the possibility of coming in contact with germs is loathsome even to the most dedicated dog owners. Luckily, brilliant dog product manufacturers have come up with an ingenious solution for a bearable waste cleanup in the form of self-bagging pooper scoopers. Essentially, these are pooper scoopers that are fitted with a bag from where you can directly dump the poo in. This saves you from having to touch and smell the poo. They also help you clean up the waste quickly without a mess.
We reviewed the available self-bagging pooper scooper in the market and came up with this conservative list.
Having a 2ft handle and sturdy design, the Nomad Pets' Complete Pooper Set for Dogs is designed to make poo cleaning a breeze. The long handle takes care of your posture while the serrated teeth and non-stick bucket is perfect for scooping any load size. Whether you have one dog or a few of them, trust this pooper scooper to handle the load effortlessly. You can either use the shovel without the bag or attach the bag for an even cleaner and sanitary experience. In the former case, simply scoop the poo, throw it in the right spot and give the plastic a quick rinse. Alternatively, attach the bag using a rubber band and get cleaning.
The GoGostik Clean Pooper Scooper is yet another popular dog pooper cleaners that make cleanups easy without straining your back. With a handle that extends from 25-36 inches, you don't have to bend the least bit to clean the mess. The cleaning arm is also wide enough to cover a larger area with minimal effort. Your order will come with 10 eco-friendly bags so you will be sorted for a while. When the bags are used up, an ordinary trash bag will do the job just fine.
Dara Giants LLC Bag Scooper has an adjustable range of 27-33 inches and weighs only 1.25 pounds. This means your back will be happy as you walk around cleaning your pup's waste. The rake itself is made from ABS plastic which is highly durable and easy to recycle. It is also very effective in scooping poo and directing it into the bag. Ultimately, the scooper and your hands will be exempted from touching poo. The package comes with 50 free bags that fit the pooper scooper perfectly. When these run out, don't worry; just use your standard grocery bags. The scooper is designed to handle 15-20 dog poops of medium size and works on all surfaces.
The Petmate 71034 is a basic bin and rake scooper setup with high efficiency. Basically, the popper consists of a 32-inch pole with a plastic handle and a separate rake for, well, scooping the poo. The design is sturdy and its storage compact. All you do is sweep the waste into the bag, seal it and dispose of it. For those with a tight budget, this would be an awesome tool to get. The only disadvantage is that it can be quite brittle since it is made of plastic. However, it will do everything a scooper can.
The Doody Digger is slightly different than the other products on this list. It features a single-hand design that uses gravity to pick up poo. The recycled polythene handle suctions the waste from the ground at a 450 angle and thrushes it into a doody bag attached to its upper end. With the absence of a tray, you are guaranteed of an odorless cleanup.
Portability meets functionality in this grey and bright green scooper from DogBuddy. It is made from plastic and weighs only 11.7 ounces. Forget about wrapping plastic around your hand; this one has a hook that can be attached on a leash during walks, making transportation pretty easy. The scooper has a bag compartment from where poo is stored. Simply roll your bag out and use it to scoop the maximum waste. The only disadvantage with this poop scooper is that you will have to bend down to pick up the waste. If you have back problems, you might want to purchase the other scoopers on this list.
Small Pet Select HandiScoop is simply that – a handy tool for dog owners. The selling point of this scooper is that it uses biodegradable bags. What better way to take care of the environment while having an easy time cleaning up your space! The other awesome thing is that you can use multiple bags at the same time with each bag carrying up to four medium-sized poo sizes at once. It comes with a rake with perforated jaws so you can use it for virtually any surface.
The no-touch, reusable dog poop scooper from HealthPro is another excellent tool to have for effortless cleanup. It is made for a single operation. It can collect the poo, seal it, and dispose it off. Thanks to the cardholder fitted in the pooper scooper, your hands will not come into contact with the poo. It is a highly sanitary and effective self-bagging poop scooper in the market today.
Parachute Dog Waste Bags allows you to clean your pup's waste quickly and easily without touching it. It features an interesting design that opens, separates plastic, and seals shut in a matter of seconds. With this wholesome solution, you don't require extra tools to use with it. If you don't fancy opening rolling bags every time your dog goes to the bathroom, this is definitely the solution for you. The other great thing about this tool is that it is lightweight and compact. You can carry it around your home or the park. What's more, everything is made using recycled material. You'll be doing Mother Nature a huge favor by using this self-bagging popper scooper.
Here's another easy-to-use doggie pooper scooper to make your life a whole lot easier. Whether you are headed to the park, going for a walk, or just having a good day at home with your furry friend, you can bring the Poop-N-Scoop tool with you. It is lightweight and can be carried in just about any poop bag. The scooper is a single-hand unit made to eliminate waste without needing to be cleaned later on. Plus, your hands will be saved from warm, smelly poo the entire time.
The manufacturers of FOCUSER Pet Dog Pooper Scooper took creativity and design to a whole new level with this awesome product. The arc-shaped humanized handle boosts comfort in more ways than one. To scoop the trash, reach out for the spring inside the handle, press it and let it grasp it and throw into the bag. The custom sacks that come with it fit perfectly so you should have a mess-free cleanup. However, if the poo is squishy, you might have some residue on the non-stick shovel. In such a case, a quick rinse will restore it to its default settings.
Stay Clean features a lightweight 25-inch scooper with a 19- inch handle. This makes it easy to use around the yard or park. Throw your usual grocery bag over it and get cleaning. Our favorite part about it is that it can hold a lot of waste before dropping through the scooper. This makes it one of the most effective, sanitary tools to have on hand.
Conclusion
A smelly scooper is a major turn off during dog ownership. This is why you need a poop cleaner that will keep it clean all the time. Having one doesn't necessarily make you look forward to cleaning waste; it makes the chore a little less detestable.
Last Updated on July 11, 2020 by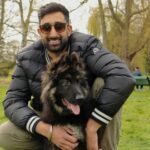 Sable McNeil is a canine chef, professional pet blogger, and proud owner of two male dogs. I have been an animal lover all my life, with dogs holding a special place in my heart. Initially, I created this blog to share recipes, tips, and any relevant information on healthy homemade dog treats. But because of my unrelenting passion to make a difference in the world of dogs, I have expanded the blog's scope to include the best information and recommendations about everything dog lovers need to know about their canine friends' health and wellbeing. My mission now is to find the most helpful content on anything related to dogs and share it with fellow hardworking hound lovers. While everything I share is in line with the latest evidence-based veterinarian health guidelines, nothing should be construed as veterinary advice. Please contact your vet in all matters regarding your Fido's health.