As an Amazon Associate, we may receive a small commission from qualifying purchases but at no extra cost to you. Learn more.
Dogs that gobble down their foods are not only at risk of overeating but also suffering from a wide range of gastrointestinal issues such as poor digestion, bloat, chocking, increased regurgitation, twisted stomachs, and general poor gut health. A slow dog feeder solves all these problems by restricting your dog's teeth or tongue from accessing the food directly.
When shopping around for a slow dog feeder, you will come across a wide variety. Besides choosing a slow feeder that can hold the right volume of food for your canine friend, other factors may also come into play. If your dog is a heavy chewer, for instance, you should probably opt for stainless steel bowls because of their durability and strength. With a stainless steel slow feed bowl, you can rest easy knowing that your dog won't chew or break it when he accidentally steps on it or drops it (in case it is a raised option).
To help you get started in choosing the best stainless steel slow feed dog bowl, we'll go over some of the best options in the market today. But before then, let's highlight a few basics.
Choosing the Right Bowl
When you decide to get your pup a stainless steel slow feed bowl, there are a few factors that you need to keep in mind to select the best fit:
Size: Consider the capacity of the bowl you plan to purchase based on the size of your dog and his eating needs. Ensure that the bowl you choose is a comfortable fit.
Anti-Slip Design: A silicon or non-slip rubber bottom will protect your dog bowl from slipping or tipping if your dog becomes aggressive with his food. It will also keep noise levels down. Keep in mind that some brands also cater to the risk of tipping and slipping by designing weightier bowls. A tray or non-slip mat may also provide this function.
Specialty Bowls: If your dog has joint issues, it is advisable to go for elevated bowl options. They are designed to relieve pressure on your dog's neck, legs, and back. And if your dog has long ears, go for deeper bowls. On the flip side, choose a shallower bowl if your pooch has a wide face.
Puzzle Style: Puzzle styles of most stainless steel slow feeders differ slightly, so choose something that will be comfortable for your dog. Most dog parents like puzzle shapes and designs that move foods towards the center of the bowl as they tend to be less messy. Over time, your dog may get good at one particular puzzle style, so consider buying bowls of different puzzle shapes to present your pooch with a new challenge from time to time.
Best Stainless Steel Slow Feed Dog Bowls
Neater Pet Brands stainless steel slow feeder features a dome at the center to keep the food rolling around the ring, slowing your dog's eating pace. Although the dome won't really slow your dog's voracious appetite compared to designs with more challenging puzzle designs, your dog will still need to turn around to access food from the rest of the trough area, slowing his speed of eating. The bowl is 2.75 inches high and 8.25 inches wide and has the capacity to hold 4 cups of food. It is also made of premium-quality stainless steel that makes it easy to wash and sanitize it in a dishwasher. The bowl also fits well in most elevated Neater Pet Brands feeders.
This amazing stainless steel bowl comes with raised plastic interior sections to prevent your dog from gobbling down his food fast. The plastic sections are removable, which means that you can easily turn it into a convenient bowl for holding your dog food or for other purposes. The fact that the plastic inserts are removable also makes the bowl easy to clean. It also features a skid stop rubber to prevent it from moving around while your pooch is eating.
The sloping walls and the central dome of this OurPets Durapet stainless steel slow dog feeding bowl mean that your dog has to keep chasing his treats around. Unlike the Neater Pet Brands feeder, it comes with heavy stainless steel and non-skid rubber ring to keep the bowl in one position during feeding sessions. The premium stainless steel is shatter-proof, non-toxic, and dishwasher-safe. It, therefore, provides a health-safe slow eating environment to your dog. The bowl also comes in three sizes—3 -cup small, 5-cup medium, and 8-cup large model—to fit the different size preferences of your dog.
Mr. Peanut's design and functionality are more or less the same as OurPets or Neater Pet Brands bowls—the interior has a dome to force your pooch to chase his kibbles around, slowing down his gulping tendencies. The main difference (and why we've decided to include it in our list) is the fact comes with a more traditional shape that's wider at the bottom for greater stability. Besides the wide base, it features a non-skid ring made of silicone (instead of rubber). For starters, silicon is five times durable than rubber. Besides, the ring is removable, so you can easily remove it and clean trapped food particles. It's available in 1-2 cup medium size and 2.5-3.5 cup large models. Mr. Peanut's bowl is made of food-grade, toxic-free, stainless steel that can be washed easily with hand or using a dishwasher.
ProSelect's slow feeding bowl features three protrusions (stanchions) strategically placed to reduce a dog's feeding pace. It's available in small, medium, and large sizes that hold 1.5 cups, 5 cups, and 8 cups, respectively. The bowl also features an anti-skid rubber base. The construction with high-quality stainless steel means that the dish is durable, dishwasher-safe, chew-proof, and won't leave chemical residue on your dog's food. Besides, the bowl' stanchions are removable, unlike barriers in several other slow feeding bowls for dogs. However, you should avoid over-tightening the stanchions when screwing them into position.
This slow feeder works a bit differently from the options we have listed so far. The dome insert is removable, so what you need to do is to put it over your dog's favorite treat in a bowl and then fill the bowl with his normal food. Your dog will eat the food while trying to reach his favorite treat. After your dog has finished eating his normal food, you can reward him by lifting the dome insert so that he can access the treat. The dome, therefore, not only makes your dog eat along the edges, slowing his feeding routine, but it also makes his feeding more interactive. Like other stainless bowls on this list, it is dishwasher-safe and rust-resistant.
Although this HomeRoots bowl looks like other bowls that we have reviewed on this post, it stands out from the crowd due to its amazing pink color. The lovely shade of pink will grab not only your dog's attention but also other dog lovers'. It is sturdy and comes with a non-skid rubber base to prevent it from slipping while your dog is eating. This also helps prevent unnecessary spills and messes on your floor. It is dishwasher-safe and comes with high-quality, anti-corrosion stainless steel.
While the ability of elevated dog bowls to reduce the risk of bloat is debatable, raised bowls come in handy for dogs with orthopedic issues. So, if you have a large or giant breed that cannot comfortably bend or kneel down when eating because of orthopedic issues, this is the best slow feeder dog bowl stainless steel option to get him. It comes with double slow feed bowls, making it a great option if you have multiple pets or for serving your dog food and water at the same time. Each bowl also comes with a non-skid plastic base to prevent them from topping over.
Advantages of Stainless Steel Slow Feeders
Durability: Compared to plastic and ceramic bowls, stainless steel dog bowls are sturdier. They can withstand a couple of accidental drops, scratches, and aggressive pushing (while your dog is eating) without needing replacements.
Non-porous: There are no holes in stainless steel bowls, making it more difficult for mold and bacteria to develop on your dog bowl. Besides the bacteria-bashing benefits, stainless steel bowls don't impact your dog's food flavor. Since they don't have protective coatings, there is no risk of foreign materials coming off in your dog food.
Chew-proof: Because of their sturdier construction, stainless steel bowls are chew-proof, making them an excellent option for dogs that like to chew things around them. In addition, considering that they feature smooth textures and some brands are weighted to cater for toping and slipping issues, they can also come in handy for dogs who like to push or carry their bowls around the house.
Easy To Clean: With smooth and hard surfaces, these bowls can easily be cleaned with mild soap and warm water. They are also dishwasher safe.
No chemicals: Some brands of molded plastics are manufactured with chemicals, which may expose your pooch to dangerous toxins. Stainless steel options don't present such hazards, making them safe for your dog.
Appearance: Stainless steel bowls are pretty and it is fairly easy to maintain their looks for a long time. Their mirrored finishes only require gentle wiping or rubbing to bring them back to their pristine conditions.
Heat-resistant: Unlike some cheap plastic bowls that tend to melt in the dishwasher, stainless steel bowls are heatproof. So, when you are cleaning your dog's stainless steel bowl in the dishwasher, you can rest easy knowing that there won't be release of foreign particles that can harm your dog.
Recyclable: If your dog does manage to dent his bowl, you can easily salvage it by other means. If you are concerned about waste, these are the best type of slow feed dog bowls to invest in.
Affordability: Since they are durable and long-lasting, you will not need to replace stainless steel bowls often. This (plus the above-highlighted benefits) implies that you'll get very good value for your money in the end.
Disadvantages of stainless steel slow feed bowls for dogs
Although there aren't many shortcomings to using stainless steel bowls for your dog, they are not perfect. So, there are cases when they may not be the best options. Here are a few factors you should keep in mind before buying stainless steel slow feeder bowls.
They can be noisier: Slow feeder dog bowl stainless steel options can be a little bit noisier compared to plastic and ceramic bowls. Although this is insignificant, it could be a deciding factor for some dog parents.
They may rust over time: Although stainless steel is known to be rust-proof, poor-quality stainless steel bowls may rust after long-term use. To be safe, choose bowls that are made of high-end stainless steel materials.
Heat/cold: During warm months, water or food left outside in stainless steel blows may get hotter fast and may not be refreshing and flavorful to your dog, which implies that he might eat or drink less. Similarly, during winter, these bowls may be extra cold and may harden wet foods, making it difficult for your canine friend to access or drink less (in case of water).
Conclusion
Stainless steel slow feed dog bowls offer a unique set of advantages, especially when compared to other types of slow feed bowls. We hope that this guide helped you identify the best slow feed bowl that will allow your four-legged friend better enjoy his meals, feel less hungry after meals, and beat other potential problems associated with fast eating.
Last Updated on September 20, 2020 by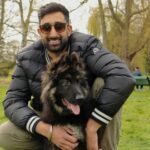 Sable McNeil is a canine chef, professional pet blogger, and proud owner of two male dogs. I have been an animal lover all my life, with dogs holding a special place in my heart. Initially, I created this blog to share recipes, tips, and any relevant information on healthy homemade dog treats. But because of my unrelenting passion to make a difference in the world of dogs, I have expanded the blog's scope to include the best information and recommendations about everything dog lovers need to know about their canine friends' health and wellbeing. My mission now is to find the most helpful content on anything related to dogs and share it with fellow hardworking hound lovers. While everything I share is in line with the latest evidence-based veterinarian health guidelines, nothing should be construed as veterinary advice. Please contact your vet in all matters regarding your Fido's health.