As an Amazon Associate, we may receive a small commission from qualifying purchases but at no extra cost to you. Learn more.
Teaching a dog the art of self-control when he is in an arousal state is quite the task.
Breeds with a high prey drive are particularly the worst. Sometimes it seems like whatever you do, your pup will not follow any command. When a cat or bunny passes by, your Fido will completely go out of control and start the chasing game.
Enter the flirt pole.
Essentially, this is a long pole with an attached rope or cord containing a tug toy at its end. The tug or lure toy stimulates your dog's instincts and makes him want to chase after it and catch it.
Think of a dog flirt pole as some form of a fishing rod for dogs or a typical cat toy with feathers and balls attached to its end, only that it is bigger.
It's made of three simple parts: a long PVC pole, a cord/rope/string attached to the pole, and a tug or lure toy fastened to the end of the rope. The lure can be any toy that your dog loves.
A dog flirt pole is a good tool to have when training your pooch to play and exercise. It allows you to stay in one place and simply move the toy for your pup to chase, making it perfect for both indoor and outdoor use. It also ensures that your dog is rigorously exercised but with low physical input from you.
The market comes with all sorts of flirt poles. It can get confusing trying to make a decision on which one is right for your dog.
To make your work easier, we have rounded up the 10 best dog flirt poles in the market right now based on features, customer reviews, durability, and quality among other factors.
Let's dive in…
This tail lure flirt pole Outward Hound is a clear winner in its category. It consists of a 36 inches pole with a 45 inches long cord plus a cool fuzzy tail toy at the end.
If you are looking for an exercise tool built to give your dog maximum fun indoors and outdoors, this flirt pole fits the bill. Your Fido will enjoy chasing and jumping up to catch the rattle and squeak tail at the end of the teaser wand.
Made of nylon, the cord is both strong and convenient. When using it, you will not need to touch slobber from your dog, courtesy of the nylon pole.
The kit is lightweight and can easily be set up. Feel free to use it on a dog at any stage of life.
The Squishy Face Studio Flirt Pole boasts 4.7 out of 5 stars on Amazon. Customers are going crazy over how effective this dog flirt pole is during training and giving a dog his daily exercises for the day.
The first product from Squishy Face was very wanting when it comes to strength and durability. However, this new and improved version is strong and built to last. For that reason, it is perfect for powerful pups such as Pitbulls. So, if you've been scouting for the best flirt pole for Pitbulls, your search should end with this Squishy Face pole.
The handle is soft and provides a good grip when your dog pulls the toy with all the strength he's got.
What we love about this flirt pole is that it uses a bungee-style cord rather than a standard rope. This helps to prevent snapping if your dog pulls too strongly.
The lure is available in two color options: orange and yellow or aqua and blue. No matter the size of your pup, you will find a good flirt pole for him from one of the two pole sizes.
Another popular flirt pole with amazing features is the Jalousie Dog Flirt Pole. For one, the rope is thick and therefore stronger and durable.
The kit includes two ropes (one acts as a replacement product) and 3 squeaky toys. Each of the toys has a durable liner to boost stimulation during playtime.
All the seams are also reinforced for durability.
You can use the toys separately or together with the rope.
Lastly, this rope is collapsible and great for camping trips and other outdoor occasions.
Made of nylon, the ASOCEA Dog Extended Dog Teaser Wand doesn't disappoint with regard to quality.
The cord is extendable, so you can switch from a long to a short cord according to the size of your pup and the available space.
You have two rope toys, both of which are carefully designed to encourage physical and mental stimulation during play and training.
The holder measures 10 inches but can extend all the way to 35 inches while the rope is 40 inches. This means it can be used on all dog sizes
The ANG Interactive Dog Tug Toy comprises a bungee cord and telescopic pole made from an aluminum alloy. The cord stretches and reduces the likelihood of an injury compared to a rope.
The pole's handle is non-slip, so you can have a good grip when playing with your dog outside.
One package has two lures made of cotton blend. When one gets dirty, simply make the switch and let your pup keep playing.
The rope is lightweight and folds very well for easy storage and transportation.
Measuring 31 inches long, the Pet Fit for Life Flirt Pole is one of the longest wands on Amazon. It offers plenty of room and flexibility during play.
The rope is braided and super strong giving value for your money.
Alongside the rope, your pup gets to have a plush squeaky toy to make training interactive and fun for your Fido.
This product is also very lightweight while being durable.
The Pet Qwerks Tug & Toss Interactive Dog Toy utilizes a sturdy and strong knotted rope. Regardless of your pup's activity level, the rope will stand up to strong pulling. An aggressive chewer will have to toil overtime to work his way through the toy.
It is a wonderful product for playing Pickle and Fetch with your canine buddy. If you have two pups, they will enjoy pulling the ends of the rope in a game of tug of war for hours on end.
The rope is made of TPR for both flexibility and quality.
Have a pup with extremely high energy levels? Looking for a flirt pole for Pitbulls? Try using the Flirt Pole for Dogs from YES4QUALITY when training him. This product was designed by a Pitbull owner, so you are guaranteed of its strength, quality, and durability.
The non-bungee and non-elastic cord don't snap back during play causing some injury to both you and the Fido.
The material of construction, aluminum, gives the pole the advantage of being very lightweight. Add this to its telescopic design and you know transporting the pole is a breeze.
To enhance a good grip, the pole's handle is non-slip. The toy that comes with the pole is attached using a special mechanism devoid of fasteners known to harm a dog.
Whether your dog needs the motivation to go out and play or can't play without losing control, the KOOLTAIL Dog Flirt Pole Toys will not disappoint you.
With a total of three toys to play with, he will get tons of fun. When he bites on the toy, it will emit a sound that makes your Fido very stimulated and happy.
The wand can adjust from 9.8 to 48 inches long while the rope length itself is 19 inches. This gives enough room to play catch and fetch with any size of Fido.
The toys are made of durable stainless steel to keep them in top shape for longer.
The REDLINE K-9 Puppy Flirt Pole is another bestseller on Amazon.
The Lexan stick measures 23 inches long while the nylon cord is 44 inches long.
Your dog will enjoy catching the leather toy at the end of the rope because it is fairly easy for him to bite into it.
To help you have control over your dog's training session, the pole comes with a non-slip handle.
It is certainly an amazing tool to have when teaching your dog basic training commands.
Benefits of Flirt Poles for Dogs
Helps with Impulse Control: A dog with sharp impulse control is more confident in his abilities to heed to cues in busy or dangerous situations. Moving the tug toy fast and unpredictably can go a long way in helping your dog eliminates distractions and focus on cues.
Boost Stamina: Considering that it is a fast-moving game, a flirt pole can enhance better cardiovascular functioning of your pup, lower his heart rate, and improve his stamina. In particular, the chasing, leaping, and jumping not only build your pup's hind muscles but also improve his core strength and overall health.
Boost Cognitive Abilities: Since you are in control and can make the game as unpredictable for your dog as possible, your dog will have to use his 'grey matter' to catch the lure toy. This stimulates his ability to think and problem-solve.
Great For Teaching Your Dog Various Obedience Commands: A flirt pole can help you teach your furbaby commands that are important for obedience and safety like 'drop it', 'sit', 'wait', 'take it', 'leave it', etc. Remember that you have control of the lure, so you can determine how fast it moves and where it moves as well as change the difficulty level of the game to suit the behavior you want to impart in your dog.
Perfect for Small Spaces: With a dog flirt pole, you can encourage your dog to jump, chase, lunge, and leap, making it a perfect way to help your pup exercise and burn excess calories even in small spaces. Your dog won't run off with the toy either—he will chase it while remaining close to you.
Great for Dogs That Like To Bite: A flirt pole may also be a big life-changer if your dog is fond of biting your hands and ankles. It enables you to play with your dog without putting your hands close to your dog's mouth.
Disadvantages of Flirt pole toys for Dogs
As with all any doggie item, there are a few shortcomings of flirt poles as exercise or training tools for dogs:
You have to be present for your dog to play with the toy. This means that your dog won't be trained or entertained if you are busy. A good alternative to dog flirt pole that we recommend for a busy dog owner is a spring pole. This is a flexible rod staked into the ground with a cord attached to it to allow your Fido play tug of war.
If your dog is a heavy chewer, you may need to replace the lure often, which can drain your wallet in the long term.
It is not recommended for arthritic, elderly, or dogs with injuries because the jerky movements could irritate such dogs' joints.
It may not work with a dog that cannot respond to cues like 'wait', 'leave it', 'drop it', 'take it', etc. You may need to train your dog to master the cues first before using a flirt to exercise him.
It is not recommended to use the toy with a dog you don't know well. It is very unsafe to rave up an unfamiliar dog.
It can stimulate a dog to the point that he can't calm down afterward.
It may not work with dogs that don't enjoy tug, fetch, and chase games.
Choosing the Best Flirt Pole for Your Dog
Here are the most important factors to keep in mind when buying a flirt pole for your pup:
Length of the Pole
Most dog owners report having had significant success with flirt poles that are approximately 48 inches long with ropes or cords of between 12-24 inches.
A pole that is too short for a dog's experience level or temperament will limit the movement of the lure toy, making the dog lose interest in the game fast.
On the flip side, a pole that is too long may be too heavy for you (the handler), interfering with your ability to ensure ideal lure/pray movement for your pup.

Length and strength of the cord
A cord that is too long is difficult to manage and tends to tangle easily. Go for a pole with cord length that you can control easily.
But when purchasing a flirt pole, consider adding a little extra length as you measure/determine the appropriate length so that you can shorten it to the appropriate length once you have experimented with it.
And always go for a medium or heavy-duty chord that your dog can't break easily. In fact, if you own a big dog breed, we suggest opting for a heavy-duty flirt pole.
Collapsible Pole
A flirt pole with a collapsible pole or handle is not only easy to store but is also easy to adjust depending on the space you want to use it—indoor or outdoor.
A collapsible pole is also easy to fine-tune for a variety of commands.
A variety of lures
Depending on the commands you plan to teach your dog, you may want to use different prey toys at the end of your flirt pole.
The best product is one that includes a variety of lures, including tug, plus, rubber toys, etc.
Quick Tips for Maximizing your Fido's Flirt Pole Experience
Here are some of the tips that you should keep in mind to help your pup get the most out of his flirt pole:
While making the chase challenging can boost your dog's cognitive abilities, make it attainable for your pup to keep him interested in the game for long. Your dog will lose interest if it is too difficult to catch the lure toy.
Always tug gently and reinforce your dog's pulling action. In other words, allow your dog to pull you a bit by the pole or let the toy safely slide through your fingers so that your dog feels like he has 'won'.
Avoid the temptation of moving the lure in a circle as it prompts the dog to plant himself in the middle of the circle to cut off the lure, eliminating the chase element which is important for your dog's stamina and calorie-burning needs.
Give your dog some cool-down time between play sessions.
To avoid distracting your dog, be quiet while he's chasing the lure. Instead, save your enthusiasm for when he has held the lure.
Experiment with a variety of lures—stuffing free toys, leather scrap pieces, plush toys, etc—to see what works best for your dog.
Use the toy on cushioned surfaces like artificial grass to prevent potential injuries, especially when your dog jumps too high.
A flirt pole is not a 'tug' toy. So, making your pup to pull the lure so hard can make him pull the pole from your hand, injuring you in the process.
Have a cue for starting, resting, ending the game, and taking the toy away from your dog.
Consider using a flirt pole with commands that your dog is already familiar with as it can be difficult for your dog to achieve the above-highlighted benefits of flirt poles with commands that are new to them.
Always try to keep the tug toy close to the ground to prevent your dog from jumping too high and landing poorly, injuring himself. The lure is also more interesting when it is skittering close to the ground like a prey.
How to Make a Flirt Pole for Dogs
In case, you missed an important feature in some of the flirt poles we have reviewed on this post, you can always make a customized one for your dog.
A DIY dog flirt pole comes with a number of perks, including the liberty to customize the length of the pole and the string, the opportunity to use a lure toy that suits your dog, and the chance to replace any part when it is worn out.
Plus, making things for your canine companion is always satisfying.
Here is a good video on how to make a flirt pole for dogs, courtesy of Fred Duran from Primo Line Kennels
Conclusion
Most pet owners are yet to embrace the effectiveness of dog flirt poles when playing with their canine buddies or training them. Don't be one of them. Get one and experience the positive vibes it brings to you and your Fido.
Whether you are looking to reinforce a good exercise/training session, develop your pup's prey drive, or just looking for a fun new toy, a dog flirt pole will never disappoint.
Last Updated on July 4, 2021 by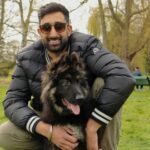 Sable McNeil is a canine chef, professional pet blogger, and proud owner of two male dogs. I have been an animal lover all my life, with dogs holding a special place in my heart. Initially, I created this blog to share recipes, tips, and any relevant information on healthy homemade dog treats. But because of my unrelenting passion to make a difference in the world of dogs, I have expanded the blog's scope to include the best information and recommendations about everything dog lovers need to know about their canine friends' health and wellbeing. My mission now is to find the most helpful content on anything related to dogs and share it with fellow hardworking hound lovers. While everything I share is in line with the latest evidence-based veterinarian health guidelines, nothing should be construed as veterinary advice. Please contact your vet in all matters regarding your Fido's health.