As an Amazon Associate, we may receive a small commission from qualifying purchases but at no extra cost to you. Learn more.
When you adopt a dog, one of the first things that comes to mind is the name of the newest member of your family.
Although it may seem like a simple task, it can be quite challenging.
Many people go with the history of the dog, naming them based on the qualities they displayed throughout their experiences. Others try out different names and choose the one their dogs respond to.
But have you ever stopped to consider naming your dog based on his coat color?
Sable, with its characteristic hair shaft being lighter at the base and darker towards the tip, creating a lovely ombre effect, is one of the most stunning coat patterns out there.
Whether you have a cuddly lapdog or a big mastiff rocking this amazing coat pattern, here is a rundown of unique names you can consider.
1. Cute Male Sable Dog Names
If your dog is playful and always energetic, you may want to give him a name that not only complements his cuteness but also encourages a more rugged demeanor. Here are cool names for your male sable dog:
Shickers
Oakley
Foxy
Bailey
Camo
Whiskey
Butterscotch
Copper
Brandy
Cider
Jet
Stoney
Fawn
Teddy
Coffee
Espresso
Rusty
Brandy
Java
Mocha
Kona
2. Cute Female Sable Dog Names
We all know girls love feeling pretty, which is no different for your female dog. Give your female sable dog one of the following cool names, and you'll be surprised to see her bark and walk it:
Hershey
Fawn
Bindi
Dolly
Betty
Cinnamon
Ginger
Amaretto
Coco
Dove
Honey
Franny
Bambi
Cassey
Chai
Cora
Mabel
Nutmeg
Fern
Brandy
3. Unisex Sable Dog Names
Got a dog whose character and appearance leave their sex undefined? How about picking a unisex name and let them choose who they want to be?
Spruce
Ash
Gunner
Sam
Shay
Kim
Nicky
Ren
Rebel
Kara
Hops
Mars
Heidi
Kona
Mocha
Russet
Reef
Oso
Jenga
Tiki
Sol
Pluto
4. Animal-Inspired Sable Dog Names
Does your dog exhibit wild or animalistic behavior? Perhaps they even resemble a specific animal. Here are some animal-inspired names that are just as cool for your dog as any. These names draw from a variety of animals, featuring a blend of different colors on their skin. You can choose one that mirrors your sable pal's coat.
Sable
Moose
Camel
Falcon
Hawk
Eagle
Hamlet
Flounder
Haddock
Alpaca
Orca
Halibut
Beaver
Shark
Carp
Mackerel
Seal
Muskrat
Bear
Yak
Cod
Llama
Condor
Osprey
Starling
Sparrow
Quail
Parrot
Canary
Finch
Swan
Pelican
Toucan
Emu
Cockatoo
Kookaburra
Wombat
Koala
Kiwi
Wallaby
Bush-Baby
Sloth
Panda
Gorilla
Dingo
Macaque
Chimp
Lemur
Fox
Wolf
Jackal
Squirrel
Badger
Otter
5. Food-Inspired Sable Dog Names
What's that dish or spice you smell when you look at your furry friend? Don't just name your dog after any random food. Here's a list of awesome food-inspired sable dog names
Cocoa
Brownie
Chip
Caramel
Cookie
Waffle
Chestnut
Toast
Pretzel
Peanut
Butterscotch
Maple
Chestnut
Oreo
Taco
Bean
Peach
Mochi
Tofu
Lemon
Butter
Bagel
Basil
Clove
Chilli
Barley
Almond
Olive
Mung
Hops
Noodle
Nugget
Kimchi
Sugar
Honey
Panini
Pepper
Cheerio
Bacon
Tuna
Salami
6. Tipped Sable Dog Names
Tipped sable dogs have a variety of color shades throughout the head, back, and tail.
Slate
Mink
Bourbon
Cider
Hugo
King
Monty
Olympia
Ophelia
Pandora
Beowulf
Gordo
Porter
Rex
Fuzzy
Gus
Zsa Zsa
Charmin
7. Shaded Sable Dog Names
Shaded sable dogs have more dark hair on the head and back than the rest of the body. The following are names suitable for their color shade:
Pine
Powder
Smokey
Ash
Tanner
Ebony
Jax
Leo
Milo
Effie
Fifi
Giselle
Gucci
Harper
Ming
Dusty
Rupert
8. Clear Sable Dog Names
A clear sable dog has a full-body red color coat whose color intensity changes throughout the body. Suitable names for a clear Sable dog include:
Copper
Blaze
Pinot
Zinfandel
Cabernet
Merlot
Shiraz
Malbec
Flash
Phoenix
Flame
Ruby
Scarlet
Cherry
Strawberry
Rose
Burgundy
Wine
Marigold
Ember
Hazel
9. Sable Dog Names Inspired By Famous Human Names
We love and celebrate celebrities who touch our hearts. One way of honoring them is by naming our pets after them. Some unique celebrity names for your Sable dog include:
Apollo
Sienna
Rowan
Mosaic
Penny
Woody
Woodrow
Sadie
Caesar
Aston
Benson
Beckham
Carter
Cartier
Gigi
Nero
Athena
10. Nature-Based Sable Dog Names
If you are a lover of nature, why not pick a name from creation and its marvels? Here are some unique Sable dog names inspired by nature.
Autumn
Rocky
Dusty
Coal
Midnight
Stormy
Nugget
Forrest
Shadow
Thunder
Sky
Holly
Blossom
Poppy
Savannah
Boulder
Fern
Moon
Hilly
Ridge
Rowan
Stone
Woody
Cedar
River
Bamboo
Acacia
Elm
Jupiter
Maple
Cosmos
Gusty
Pacific
Valley
Ravine
Delta
Sandy
Yule
Dew
Cyclone
Quick Tips for Naming A Sable Dog
Naming your dog is an important and meaningful process. The following are helpful tips for picking a name that's right and perfect for your Sable dog.
Sable coats can range from light tan to deep brown with darker tips. Consider names that reflect the specific shade and pattern of your dog's coat. For example, "Amber," "Cinnamon," or "Shadow."
Consider your dog's personality, behavior, and any distinctive traits. Names like "Rascal" for an energetic pup or "Mellow" for a calm and laid-back one can be great choices.
While trendy names can be appealing, consider choosing a name that will stand the test of time. This ensures that your dog's name remains relevant and meaningful throughout their life.
Ensure the chosen name is easy to pronounce and won't be easily confused with common commands. This helps in effective training and communication with your dog.
Remember, the most important thing is that the name feels right to you and suits your dog's unique personality and appearance. Take your time and enjoy the process!
Last Updated on October 29, 2023 by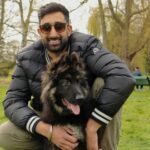 Sable McNeil is a canine chef, professional pet blogger, and proud owner of two male dogs. I have been an animal lover all my life, with dogs holding a special place in my heart. Initially, I created this blog to share recipes, tips, and any relevant information on healthy homemade dog treats. But because of my unrelenting passion to make a difference in the world of dogs, I have expanded the blog's scope to include the best information and recommendations about everything dog lovers need to know about their canine friends' health and wellbeing. My mission now is to find the most helpful content on anything related to dogs and share it with fellow hardworking hound lovers. While everything I share is in line with the latest evidence-based veterinarian health guidelines, nothing should be construed as veterinary advice. Please contact your vet in all matters regarding your Fido's health.