As an Amazon Associate, we may receive a small commission from qualifying purchases but at no extra cost to you. Learn more.
A dog is truly a man's best friend. From the undying loyalty to the endless cuddles and companionship, it is no wonder some people want more than one dog for a pet. The only challenge with having two pets is that you need plenty of space and money to accommodate them. While this may be true, using a bunk bed rather than two separate dog beds can help solve this challenge to a greater extent. Not only will it help you save some coins but it will also give your fur babies a chance to interact and be close to each other. If you are in the market for a bunk bed for your dogs, here's a list of the leading ones.
Best Bunk Beds for Dogs: Our Top 12 Picks
Merry Pet Wood Pet House is a stylish, functional, and multi-purpose product in its category. The construction is sturdy and comfortable. If you have small pets that deserve a comfortable and luxurious place to call home, this is the bed to buy. With two lounge areas, side steps, latticework, and a balcony, your pets will have a ton of space to rest and play. Both the roof and bottom panels can be easily removed for washing. Since the bed is raised, your pets will remain dry at all times. Made with wood, this bunk bed is friendly to the environment. It is also very easy to assemble and disassemble.
Here's an interesting bed to consider if you are a DIY enthusiast. Petsfit Wooden Pet Bed comes unfinished allowing you to paint it with a color that complements your home décor. With pre-drilled holes, assembling and disassembling it is a piece of cake. It is made from cedar which is resistant to rotting. This means it will stand the test of time. The bed also has side steps that are spacious and safe for small dogs. Please note that this bed is only ideal for dogs under 15 lbs.
Petique Bedside Lounge Bed is a great product for pet parents who are always on the road. It comes with four wheels and brakes, making it very portable. Additionally, it can be folded and set up fairly easily and quickly. We also love the comfort offered by this bed. It is essentially covered by polyester fabric with three zippered windows for ventilation. Both the upper and lower lounging environments have a mattress and a cover, both of which are machine washer safe. The side pockets also offer storage for small items and toys. This bed is suitable for both small and large dogs. The only problem is that it is not a very good fit for an aggressive chewer.
Here's another awesome bunk bed for dogs from Penn Plax Buddy. With a polished espresso finish and cream-colored cushion tops, it is arguably one of the most stylish beds out there. It effortlessly complements any existing décor. If you love to be near your pet at night without sharing a bed, this bed is certainly worth your consideration. It comes with safety bolters so you can position it near the bed. The spacious staircase ensures that your dog safely finds their way to the top bunk.
The Furhaven Pet House doubles up as a cozy space for your dog as well as a comfortable footstool for you. This rectangular bed is entirely covered with polyester canvas except for the entrance. As a result, it offers a perfect hideout for a small dog looking to block everything out and take a snooze. Inside, the walls are insulated with Sherpa fleece for absolute warmth. Whether your dog is resting atop the bed or inside it, he will experience a high level of comfort.
Provide your dog a safe and warm place to rest with the ecoFLEX Dog Bed. As the name suggests, it is made from ecoFLEX, a recycled wood and plastic polymer that is non-toxic. Apart from being friendly to the environment, this material is easy to clean. The bed comes with a removable cushion and a plush cover, both of which can be machine-washed. The bed can fit anywhere in the home.
Like the Furhaven Pet House, the PETMAKER can act as a nest for your dog or a footrest for humans. If you have two small dogs, one can use the top comfortable space while the other hides away inside. Being compact, this bed is big on space-saving. It is also collapsible for convenience while traveling and during storage. The bed is sturdy and can withstand the weight of your feet and any intense dog activity.
LazyBonezz Metropolitan Pet Bunk Bed is a sleek and quality product. The design is beautiful and unique. Pet owners who prioritize good-looking products around the home will find this bed quite eye-catchy. Besides its looks, this bed is truly comfortable and warm. Your dogs will enjoy a good night's sleep against the super soft cushions. The bed is made of wood and stainless steel and is therefore very sturdy and durable. It comes with two cushions and four covers of two distinct colors that blend well with the color of the bed. When not lying on the lounge areas, your dog will be busy enjoying the rough texture of the staircase.
Keter by Curver is a multi-functional bunk bed with a stylish appearance. Whether you are looking for a bed for traveling purposes or home use, this product fits the bill. It is a versatile, beautiful, and functional bed. Made with polypropylene plastic, it is resistant to the elements. When your dogs need some time away from each other, you can separate it into two beds. The bottom bunk is closed while the top one is open. Both have plush cushions for comfort purposes.
Arm's Reach Pet Bunk Bed may appear mundane and dull but it is certainly one of the most selling products in the market right now. The construction is sturdy and durable, supporting dogs that weigh up to 100 pounds. It is covered in a polyester fabric that can stand up to aggressive chewing as well as wear and tear. It is completely portable so you will have an easy time moving it from one location to another. Both the pillows and mattress can be easily removed for cleaning. If you are looking for a quality, versatile, and functional bunk bed for your large dogs, Arms and Reach doesn't disappoint.
Petsfit is a household name when it comes to dog products. Their indoor wooden dog house with stairs offers durability, safety, and comfort all in one! The material of construction is kiln-dried cedar which is highly durable. This bed will maintain its integrity through the years. What sets it apart is the latching door in its lower section that acts as a safety feature. If you have a rather stubborn dog that tends to let himself out as he pleases, this pet bed will certainly keep him contained. You have the option of either a painted bed or an unfinished one. In the former case, the paint used is water-based meaning it is 100% safe for your pet.
Giantex is a premium product for both indoor and outdoor uses. It is constructed with fir wood and treated with natural color making it not only sturdy but stylish as well. Like the Merry Products Bunk Bed, this one has one closed bottom bunk, an open-top bunk, latticework, and a staircase. When the weather is right, your pets can use the top bunk to enjoy an aerial view of the area or simply sunbathe. The floor is raised to ensure your dog is dry while the top can be easily removed for cleaning purposes.
There you have it – a list of 12 best bunk beds for dogs. If you are on a budget or have space limitations, having one of these can be a lifesaver. Just ensure it fits your dogs' needs and everyone will be happy.
Last Updated on September 17, 2020 by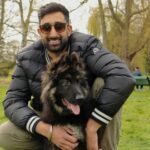 Sable McNeil is a canine chef, professional pet blogger, and proud owner of two male dogs. I have been an animal lover all my life, with dogs holding a special place in my heart. Initially, I created this blog to share recipes, tips, and any relevant information on healthy homemade dog treats. But because of my unrelenting passion to make a difference in the world of dogs, I have expanded the blog's scope to include the best information and recommendations about everything dog lovers need to know about their canine friends' health and wellbeing. My mission now is to find the most helpful content on anything related to dogs and share it with fellow hardworking hound lovers. While everything I share is in line with the latest evidence-based veterinarian health guidelines, nothing should be construed as veterinary advice. Please contact your vet in all matters regarding your Fido's health.