As an Amazon Associate, we may receive a small commission from qualifying purchases but at no extra cost to you. Learn more.
It is estimated that a single 75-pound dog produces about 500 pounds of poop a year. The Environmental Protection Agency also estimates that 2 days of dog poop from 100 dogs can contribute enough pollution to close a bay and all neighboring watershed areas within 20 miles radius.
As an environmentally-conscious pet parent, therefore, you have to figure out the best way to dispose of your dog poop. So, how do you handle your dog's waste?
Well, the last thing you can do is to leave your dog's waste on the ground. To begin with, it increases public health risk as the harmful bacteria and nutrients from the waste can easily get washed into storm drains and end up in local water bodies. Secondly, many cities have recently passed stringent local by-laws, making mandatory for any pet owner to clean up after their pets.
The solution? Every dog owner needs to equip him/herself with biodegradable dog poop bags. Not only do they work like your normal plastic bags, but they are also better for the environment. Dog owners should familiarize themselves with these environmentally-friendly bags and the best options to purchase for their furry friends.
What are biodegradable dog poop bags?
These are dog poop bags that are made from the same petrochemical-based materials as other conventional plastic bags but with special compounds that make them disintegrate easily in the presence of oxygen and light.
Biodegradable or compostable dog poop bags take less time to decompose fully—about 3-6 months—compared to their traditional bags that take several hundred years. Of course, certain factors like moisture and temperature may affect how long the biodegradable bags take to break down.
The Best Biodegradable Poop Bags
The eco-friendly dog waste bag features EPI technology plastic, making it highly durable and sturdy. The coreless dog poop bag is leak-proof, and it doesn't leave any waste behind. The bag is long, so there is minimal contact with your arm. Due to its tear-resistant nature, it can withstand bites from even the most destructive canines.
The dog waste bags offer a 100% leak-proof guaranteed, which keeps your hands clean and safe while handling Fido's waste. They come in a premium box carrying 900 dog poop bags, which ensures you have enough bags to deal with your pet's waste for months. They boast an odor-blocking lavender-scent, designed for locking in the stank for good. They are easy to open and simple to tie securely, helping you take a stress-free tour with your furry buddy.
Lower your carbon paw print with this eco-conscious dog poop bag. The 100% biodegradable dog poop bag allows you to dispose of your dog's waste sustainably and safely. Boasting a durable, tear-free construction, it has a strong but stretchy design, which helps you handle poop duty even for large dog breeds. With this leak-proof and odorless bag, you don't have to worry about the stinking dog poop while carrying the bag with you.
The biodegradable plastic poop bags are crafted from the highest-rated ASYM64OO Cornstarch, making them 100% biodegradable and compostable. Available in a set of 8 rolls of 15 dog poop bags, the bags are designed to fit regular waste dispensers, thus making them suitable for handling Fido's everyday waste. They are large enough to accommodate poop from big dogs. More importantly, these bags come with star sealed bases, something that helps to add additional layers of protection between the bags and the dog waste.
The 100% biodegradable and compostable dog poop bags are designed with environmental conservation and sustainability in mind. They are devoid of environmentally hazardous agents since they are crafted from plant-based ingredients like cassava and cornstarch. The bags are designed to make waste cleaning an easy process for dog owners since they are odorless and leak-proof. The extra-large bags are crafted to accommodate huge volumes of waste. They are also ideal for dogs of all sizes.
These special Amazon biodegradable dog bags aren't only 100% Oxo-biodegradable, but also feature heavy-duty construction, which makes them sturdy and leak-proof. They also feature unique tear perforations, making it easy to detach them from their respective rolls. They come in a premium pack containing 360 bags, ensuring you are ever ready for every walk with your Fido. The thick and large bags can accommodate waste from even the most massive canines.
The extra thick dog poop bags feature expandable side panels, allowing them to expand fully and provide maximum waste carrying capacity. The 100% compostable poop bags are ultra-safe for the environment since they decompose in just 90 days. They are super durable, and thus they don't break, leak or tear. Best of all, these bags are made to withstand even the most difficult dog waste duties.
These earth-rated compostable poop bags are spacious enough to handle dog waste, especially waste from large dog breeds. They are also extra thick to ensure that there are no messes. Their dispensing box is designed to make it easy for dog parents to grab a couple of bags before going out of the door. They are fresh powder scented, which helps to keep nose-shattering odors at bay. Moreover, these bags are highly sustainable, for they are crafted from recycled materials.
The leak-proof dog poop bags are designed for clean, sanitary dog waste handling. They come with 24 rolls containing 360 bags and a dispenser. The rolls fit all types and sizes of leash dispensers. The bags are easy to detach from the roll. The degradable poop bags feature EPI additive making them 100 environmentally friendly.
The earth-friendly dog poop bags are sustainably crafted with EPI technology. They are durable for dogs, even the most aggressive chewers, thanks to their sturdy, leak-proof feature. The bags are suitably perforated and quite easy to detach from the roll.
Why you should use biodegradable dog poop bags?
1. They are environmental friendly
Traditional dog poop bags are detrimental to the environment because they don't decompose easily. They tend to maintain their structure for long despite the weather elements that they come in contact with. They can, therefore, overtake landfills, clog waterways, and ruin biodiversity in general. They also interfere with animal and marine life because of the choking hazards that are commonly associated with them.
Using biodegradable plastic bags for dog poop allows you to protect landfills, water supply, and the entire ecosystem. And given that a dog's waste contains tons of harmful pathogens, using biodegradable dog bags help prevent the spread or transmission of disease-causing organisms.
2. User-friendly
Most of the biodegradable poop bags are also designed to carry large loads, so they are suitable for any dog. Even if you have more than one dog, these bags got you covered as they come in convenient rolls with user-friendly, perforated edges. So, you can easily tear off the roll as you do for a typical trash bag.
Petroleum-based Vs. Corn-based Bags
There are two common categories of biodegradable dog waste bags: petroleum-based and corn-based bags. As the name suggests, petroleum-based poop bags are made from petrochemical-based materials. On the other hand, corn-based bags are made from cornstarch and other plant-based materials.
While corn-based bags give off CO2 like other plastic bags when they decompose, they are merely expelling the CO2 that originally formed in the plant matter. The net effect of carbon on the environment is close to zero. They are, therefore, more environmental-friendly.
Corn bags also tend to meet more stringent compostable and biodegradable qualifications. For instance, they are required to meet the ASTM D6400 standard, which stipulates that a bag must disappear under certain conditions and timeframes.
Although they corn-based to come at higher price points compared to their petroleum-based counterparts, they are the best dog poop bags to go for.
Related Questions
1.What are flushable dog poop bags?
As you can guess, these are dog poop bags that you can flush. They are made of Polyvinyl Alcohol (or PVA), which easily dissolves in water just like your normal tissue paper. When it comes into contact with water, the PVA film dissolves but the rest of the content in the bag is believed to dissolve in about 30 days. Based on reviews of users of flushable dog poop bags on Amazon, there are a few measures that you need to take when using these bags:
The bags might start breaking down immediately its content becomes wet or if it gets rained on. So, to avoid any kind of a mess, keep it away from water before you are ready to flush it.
Avoid knotting it if you want it to flush easily.
You may need to flush twice or more for everything to go.
Be careful if you are going to use the bags in older homes with old piping systems as some users have reported that they clogged their pipes.
You should check with your local water and sewerage treatment company to be sure that they can truly handle these bags.
2. Why don't I just flush my dog's poop?
You can but ensure that you consult your local water treatment center. Some may not be equipped to handle pathogens in dogs' wastes.
3. Can I compose my dog's waste?
Generally, composting your dog's waste goes against good practices of compositing. Dog's waste contains tons of pathogens that are difficult to kill. So, adding it to your compost pile will simply contaminate it, which is even worse if you often put the waste on your food garden.
4. Can I put my dog's poop in municipal compost bins?
No. Avoid it as temperatures in the bins might not get high enough to kill the many pathogens in a dog's waste. Unless your municipal discourages it, you should put your dog's poop in plastic bags (biodegradable options highlighted above are recommended) and place it in the regular trash.
Final Thoughts
We love our dogs. So, we should always figure out the best way to dispose of their waste. Currently, biodegradable dog poop bags are the best options, even if you are going to toss them in the regular trash. They are better than leaving your dog's waste on the ground. What's more, there are even scented biodegradable poop bags as well as self-bagging scoopers and biodegradable dog poop bags with handles the make the depooping process easier.
Last Updated on July 11, 2020 by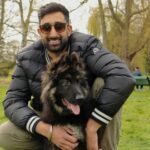 Sable McNeil is a canine chef, professional pet blogger, and proud owner of two male dogs. I have been an animal lover all my life, with dogs holding a special place in my heart. Initially, I created this blog to share recipes, tips, and any relevant information on healthy homemade dog treats. But because of my unrelenting passion to make a difference in the world of dogs, I have expanded the blog's scope to include the best information and recommendations about everything dog lovers need to know about their canine friends' health and wellbeing. My mission now is to find the most helpful content on anything related to dogs and share it with fellow hardworking hound lovers. While everything I share is in line with the latest evidence-based veterinarian health guidelines, nothing should be construed as veterinary advice. Please contact your vet in all matters regarding your Fido's health.