As an Amazon Associate, we may receive a small commission from qualifying purchases but at no extra cost to you. Learn more.
The average height of a normal bed is around 24 inches from the floor. However, if you have a very thick mattress, an antique bed, or a designer bed like Divan and Ottoman beds, the edge of your mattress could be 30 to 36 inches.
While a bed of that height may suit your height, preferences, and style, it can be challenging for your dog to navigate.
If you love snuggling up with your dog on your bed, it is going to be very dangerous for your dog to jump up and down such a tall bed. This is even worse if you have a smaller breed, a senior dog, or a dog with musculoskeletal issues.
Even a healthy dog can still suffer life-threatening injuries if he loses footing while trying to jump on and off a 30 inches bed.
There are several brands of pet stairs on the market today, but very few are designed to cater to extra tall beds.
In fact, you are likely to find 5-step or 6-step pet stairs that are still short for a 30-inch high bed.
Most importantly, remember that dogs use the steps not just to climb up your bed but also to go down. So, it may be easy for your pooch to jump off the last step onto your bed, but a different scenario for him to descend.
The best thing to do is to choose a tall dog stair that matches the height of your tall bed.
To make your work easier, we have rounded 10 of the best pet stairs for bed 30 inches high.
10 Best Pet Stairs for Bed 30 Inches High
Whatever size of dog you own, this sturdy stairs from Furhaven will allow him to reach the height he craves.
It comes in 3-step and 4-step options but for a 30 inches bed, the 4-step option, which measures 23.625″ x 15.75″ x 29″ is the best bet.
It features soft faux fur surfaces that not only increase grip but are also soft on paws and nose of your dog.
So, if you are looking for high pet stairs for a senior or arthritic dog, this is a great option.
The faux fur surfaces are also easy to clean as all you need is to wipe the dirt with water and you are done.
Besides, the stairs come in different colors to allow you to choose what suits your décor best.
If you have a large dog breed weighing over 100 pounds, this may be the best dog stairs for a high bed that you need.
With a dimension of 34 x 16 x 30.5 inches and made with heavy-duty, sturdy materials, this Pet Gear Easy Step IV stairs will never balk if your dog is less than 150 pounds.
It features innovative incline as well as deeper and wide stair landings to make it easier for your dog to climb.
It is also stable as it comes with rubber grippers on the bottom to secure it in place.
Lastly, it is easy to assemble and comes with removable carpet treads, which are easy to clean.
This amazing pet stairs from Pet Loader will not fit your 30 inches bed but can also come in handy for outdoor use as well as embarking and disembarking from your car.
The 5-step option is 29-40 inches high, so it will still serve you if you have a bed that is more than 30 inches high.
Don't worry about your dog becoming nervous to climb up and down a 30-40 inches height (especially if you are using it outdoors) because the stairs is designed with low incline angle and wider decks to eliminate anxiety.
It is sturdy, portable, adjustable, and feature non-slip steps with the right step width that suits most dogs.
The stairs also come with handles at the sides to allow you to transport or store it with ease.
Another great adjustable pet stairs that is suitable for tall beds is this foldable pet stairs by PawHut.
It comes with an extendable size of 27.5″L x 18.5″W x 36.5″H, which you can adjust according to the size of your bed.
Like the Pet Loader Light stairs, you can use this stairs outdoors or lift your dog up and down the rear of your SUV.
Don't let its image deceive you that it is bulky; the stairs is foldable and thus need minimal storage space.
For stability, it comes with foam handles and tethers to secure it in place.
Finally, the steps are waterproof, allowing you to use it in any weather condition.
The waterproof feature of the stairs also makes it handy if your dog accidentally wets the steps.
This is another pet stairs that suited for dog owners with larger breeds.
It is stronger than its counterparts in the market and can hold dogs of up to 150lbs.
Measuring 30x16x30 inches, it will enable your dog to jump up and down your tall bed safely without any stress.
It is beautifully designed with inlaid paw prints and comes in a tan color, which doesn't clash with many home décors.
Unlike dog stairs with similar designs that come with bare bottoms, this stairs' bottom is covered in carpet to prevent potential scratching of your floor.
Another pet stairs that we had to include in our list is this uniquely designed step bed stair from Pet Gear.
Although it is less than 30 inches tall (measuring 37.5 L x14 W x26 H inches), the stairs will enable your dog to reach your tall bed as any dog will find it seamless to jump up and down an extra 4 inches height.
The unique L shape saves a lot of space (especially if you fit it around the corners of your bed) while also making it easier for your furry baby to climb.
Each step is 5 inches, making the stairs perfect for both small and medium breeds.
And to give your dog a firm grip while climbing up and down, the stairs has rubber grippers installed at the bottom.
Arf Pets Wood Stairs is another excellently designed, foldable pet stairs that will enable your dog to reach your tall bed.
The stairs comes in sturdy wood constructions and high-end espresso finish that will match any home décor.
Measuring 21.5x17x25.5H inches plus ability to support over 100lb, this stairs is suitable for small and medium breeds.
No assembly is needed when you opt for this stairs and it is foldable for more convenient storage and transportation.
Besides, the steps are covered with soft fabric to improve grip for your dog and protect his paws.
The extra-large option of PetSafe Solvit PupSTEP will also assist your dog to access your 30 inches tall bed with ease.
With a dimension of 28 in L X 18 in W X 25 in H, this is another pet stairs that you should opt for when you own larger breeds as it can support up to 200lbs.
Ironically, it is light enough (weighs only 9lbs), so you don't need to worry about moving it from one location to another.
It comes with a non-skid surface, which allows your pooch to climb up and down comfortably.
The steps are large enough to cater for dogs with large paws and come with side rails to protect your pet from sliding.
Most of the pet stairs for beds 30 inches high that we have reviewed in this post are all made from rigid materials like plastics and wood—none is constructed with soft materials like foam.
But this doesn't mean that foam dog stairs are bad. Far from it, this sturdy foam stairs by Zinus Easy Dog Stairs may be all you need for your pup to jump and cuddle with you in your 30 inches tall bed.
We are talking about the extra-large version that measures 28in x 21in x 24in, so be sure to check the dimensions before you order.
The foam is a high-end CertiPUR-US certified foam that is known to keep its shape over time and can hold up to 130lbs, making it an excellent option if you have a larger breed.
Another unique benefit of this stairs (and by extension foam dog stairs) is the fact that it is gentle on your pooch's paws and offer better traction.
It is also easy to clean as it comes with a cover that is removable and machine-washable.
The last entry in our list is PetSafe CozyUp ramp.
With a dimension of 70 in L X 16 in W X 25 in H, this another excellent tool that you can use to help get your four-legged friend up your tall bed so that you can enjoy cuddle time together.
It is constructed with sturdy wood to support large dog breeds weighing up to 120 lbs.
To ensure that your dog is safe while climbing up and down the ramp, its surface is covered by heavy-duty carpet to prevent slipping.
The ramp also features beautiful wood finish, which will match most home décors.
Other Factors to Consider When Shopping for Pet Stairs for High Beds
Besides height, there are a number of other important features that you should keep in mind when looking for pet stairs for tall beds, including:
I. Safety
For 30 inches climb, the safety of the stairs is one of the most critical factors you need to consider before making a purchase.
Ensure that the stairs pack a wide range of safety features such as non-skid bottom or surface to protect your pooch from taking a tumble, guardrails to guide your canine friend up and down, and soft or foamy stairs if your dog has musculoskeletal issues.
It is also critical to check the height and width of each step to ensure that the stairs is stable, especially if your dog has larger paws.
II. Weight Limit
Most dog stairs for tall beds are sturdy enough to hold dogs that weight up to 300 lbs.
However, some dog stairs, especially those made of plastics and foam can be weaker.
So, ensure that you check the label of the stairs you are about to purchase to figure out whether or not it will hold under your Fido's weight.
III. Slope
The best pet stairs for tall beds should have gradual slopes, especially if you are getting them for dogs with musculoskeletal issues.
However, if you don't have a lot of space in your room, choosing pet stairs for a tall bed with a gradual slope may not be an option.
IV. Portability
There are high chances that you'll want to move the stairs from one location to another when cleaning or when you want to help your dog to climb another piece of furniture.
The stairs that you opt for should be light and portable to allow for easy transportation from one location to another.
V. Ease of Cleaning
Like all the items that your dog has access to, pet stairs are likely to get dirty.
So, when shopping for one, you need to go for options that are made of materials that are easy to clean.
VI. Easy To Assemble And Store
If you dread assembling things, it is advisable to go for stairs that are easy to assemble or don't require complex tools to assemble.
If possible, you can choose stairs that are already assembled for you.
Besides, consider the amount of space that you have and choose options that are foldable or collapsible if you don't have a lot of space.
VII. Aesthetics
If you care for your dog that you can get him stairs to help him climb your bed, you definitely care about your home décor.
Go for stairs that will match your room décor or at least a design and color that won't become an eyesore to your partner and other house occupants.
How to Train Your Dog to Use the New Dog Stairs
If it is your dog's first time to use dog stairs, you may need to train him to be familiar with climbing on and off the stairs. Here is a quick overview of how to go about it:
Ensure that the dog gets used to the stairs. Allow him to sniff the stairs and poke around. If he is skeptical or ignores it altogether, consider giving him his favorite treat and showering him with praises so that he can associate the stairs with happiness and comfort.
Once he becomes used to the stairs, you may start guiding him up the stairs. If possible, assign 'target' steps that he must accomplish before you reward him with a treat.
After he has mastered going up, it is now time to train him to descend. Like climbing, try coaxing him with his favorite treat. Whenever he attempts to descend, give him a lot of space to figure out how to do it effectively. Don't be tempted to force or help him climb down as he will be more fearful. Remember to reward him when he successfully accomplishes every step.
Repeat the above steps a few times until he becomes perfect in climbing up and down.
Training a dog to climb pet stairs that are 25-30 inches may be strenuous than other pet stairs with shorter heights.
To help your dog master the process fast, consider starting with shorter stairs or on lower objects like your couch.
If you have stairs that are adjustable, elongate it to shorter heights when you are starting and to full heights when your pooch is more confident.
DIY Dog Stairs for High Bed
If you are handy, you can also make your own DIY dog stairs for high bed.
The best thing with DIY pet stairs is that you can use locally available materials such as wood, plastic, and fabrics and end up saving a few bucks in the process.
Most importantly, you can customize it to meet your specific needs and details like adding a storage unit under it.
Using Handmade Rustic Crates or IKEA Knagglig Boxes, for instance, making DIY pet stairs is a breeze.
Check out this amazing video for tips on how to go about it.
Conclusion
Investing in dog stairs for your small dog breed or senior dog that may have trouble jumping up your bed is a great move.
As you can see, there are tall dog stairs out there that can fit or match the height of your tall bed and keep you and your pooch happy.
Hopefully, our guide has presented you with the best options in the world of pet stairs for 30 inches high as well as tips to look out for when you decide to narrow down your choices even further.
Happy shopping!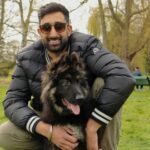 Sable McNeil is a canine chef, professional pet blogger, and proud owner of two male dogs. I have been an animal lover all my life, with dogs holding a special place in my heart. Initially, I created this blog to share recipes, tips, and any relevant information on healthy homemade dog treats. But because of my unrelenting passion to make a difference in the world of dogs, I have expanded the blog's scope to include the best information and recommendations about everything dog lovers need to know about their canine friends' health and wellbeing. My mission now is to find the most helpful content on anything related to dogs and share it with fellow hardworking hound lovers. While everything I share is in line with the latest evidence-based veterinarian health guidelines, nothing should be construed as veterinary advice. Please contact your vet in all matters regarding your Fido's health.