As an Amazon Associate, we may receive a small commission from qualifying purchases but at no extra cost to you. Learn more.
From undying loyalty to endless cuddles to security and absolute love, you can derive plenty of benefits from a dog buddy. This is why they deserve the best in life. If you are looking for a special crib for your furry friend, why not get them a beautiful, cozy, and functional castle, complete with a balcony and stairs. It will offer him protection from the elements and give him a home that is truly his.
There are insanely cozy models available in the market today. Lucky for you, we have done the homework and reviewed our favorite ones.
The Merry Pet Wood pet house is popular among many dog parents with small canines. It comes with everything a small dog loves in a house. For one, it is made from natural wood meaning it offers good insulation no matter the weather outside. This is a big deal especially if you live in a cold area. The best part about it is that the wood is stained and is therefore non-toxic. It doesn't only bring about a peaceful atmosphere in the house but keeps the bugs away as well.
Secondly, the house is relatively easy to assemble. With a few essential tools (mostly a screwdriver and sandpaper), you can put it together in record time. Furthermore, you can customize the dog house to add a personal touch and your dog's character and personality to it.
Last but not least, this beautiful wooden dog house weighs only 8.62 pounds. Being lightweight, it is very versatile. When it rains, you can easily grab it and run with it indoors. When the weather is perfect, quickly take it back outside and let your dog enjoy time outside. This is a huge advantage compared to the models that are permanently bound to the ground.
The Merry Pet Wood pet house comes with the housing unit, a balcony, side steps, and latticework. Sadly, it may not be a great fit for the outdoors because the balcony is too exposed. The solution to this is having it indoors when the need arises.
Another great dog house to look out for if you have a small pup is the Petsfit Indoor wooden pet house. This one is made specifically for the indoors but once in a while you can take it outside and have your pup breathe some fresh air.
Made from a kiln-dried cedar material, you are guaranteed of durability and sturdiness. The wood helps keep the condo safe especially when the weather is harsh. Not only is it cozy but it can comfortably sit two pets. Your doggies can play on the sturdy side steps, climb up the balcony or cuddle inside the indoor lounge.
If you are a DIY enthusiast, this model will definitely fit into your needs. It comes unfinished, so you can roll up your sleeves and get painting. The bunk bed is also easy to assemble and disassemble, thanks to the pre-drilled holes installed on it. It weighs 25.1 pounds which albeit is heavy, but it can still be moved from one location to another. The dog house is ideal for pets weighing 15 pounds and below.
The third entry on this list is the pet house from Tangkula. This model was designed with a nervous tiny pet in mind. It features a meshed and crimp meshed door design to add an extra layer of protection for the pet and his parent. You can use it for both indoor and outdoor use, thanks to the high-quality solid fur wood. Apart from being sturdy, solid fur wood is lightweight and durable. As a result, the dog house is very portable. It is also non-toxic for dogs and friendly to the environment.
Your dog will enjoy relaxing or playing on the balcony, restrooms, or the side steps. The house comes in grey and white colors—the two colors believed to be a favorite for many pets. Like the previous dog house, the Tangkula comes with pre-drilled holes to aid in easy assembly. All the hardware is included in the box, so you don't have to break a sweat looking for them. What is great about this dog condo is that it has thick walls for comfort and safety.
The two-floor wooden dog house by Aivituvin is beautiful to behold and perfect for one or two small pups. It offers plenty of space for your dogs to run around or simply rest after a long day in the sun. They can sleep on the two levels or cozy up together in one level. Both the walls and roofs on this dog house are waterproof. The floor even features a raised design to maintain a dry environment at all times.
If your dog is a little too naughty, this outdoor cum indoor dog house large option will take care of him. It is fitted with a door that can only be closed from the outside. Whenever you need to keep boundaries, simply lock things up and go about your duties. This feature also comes in handy if you want to protect your doggie from dangerous animals.
The ideal breeds for this house include Yorkshire terrier and Portuguese Podengo and Chihuahua mix. Anything below 18 pounds can comfortably fit in this pet condo.
When it comes to cute dog castle designs, very few models come close to the Tobbi pet outdoor shelter. It is a two-story design complete with a balcony, an indoor lounge, climbable stairs, and a rooftop fitted with a railing. The house is painted with pet colors—white and grey—except for the roof railing which is black.
Whether your dog wants to explore his little mansion or cozy up in one corner, this dog house has got him covered. Unlike other designs with open balconies, this one has an actual roof to keep the harsh weather away for good. This makes it great for the outdoors. Obviously, you will need to move it outside when it rains because the balcony isn't completely closed up.
This wooden dog house is weather-resistant and utilizes a water-based paint that is totally safe for dogs. The assembly is simple to whip up. You get all the instructions and hardware when you place your order.
A great dog house is spacious, versatile, and built from great materials for safety and durability. The ALEKO wooden cedar pet house is all that and more. The cedar used is kiln-dried and appropriately treated using natural stain to ensure durability. Plus, a natural stain is unique and beautiful. The wood also helps to keep the dog house warm and cozy throughout the year.
The floor of this model is elevated to keep the temperature high when things get a little cold or vice versa. It is, therefore, perfect for both indoor and outdoor use. The design is a good fit for small dogs and cats. If you have any animal larger than a Chihuahua, try a different design made for larger dogs. The balcony is also open and cannot protect your dog against harsh weather conditions.
Another cool dog room with stairs and a balcony that we had to include in this list is the Giantex Pet Dog House. It comes with a nice balcony where your pup can relax, play, sleep, or soak up some rays as well as small, pet-friendly stairs to help him climb to the top. The indoor lounge area is also spacious enough to allow your dog to play, stretch, relax, and have fun.
It is also slightly elevated off the ground to keep your canine friend from cold ground temperatures. Your dog can also comfortably hide in it while it is raining without getting wet or dirty.
One of the unique selling points of this dog house is durability. It is made of fir wood that has been coated with natural color stains to withstand weather elements. So, whether you plan to use it indoors or outdoors, you don't have to worry about it getting worn-out easily.
To make it easy to clean, the manufacturers of this dog house made it straightforward to assemble and included all the accessories that you may need for the assembly process. For dog parents who are not handy, there is a simple guide to take care of any assembly troubles.
The last item on our list is this large dog house with balcony from The Great Shopman. It is a good-looking quality dog kennel that a small pet finds useful both indoors and outdoors. The assembly consists of an indoor lounger, climbable stairs, a rooftop with railing and a balcony, all painted white and grey. The balcony is especially a great place for your dog to get a view of his surroundings while taking in some vitamin D and fresh air.
The dog house is manufactured using kiln-dried and non-toxic fir wood for longevity and sturdiness. It also needs minimal maintenance. This two-story pet castle has a wide door, so your dog can move from one place to the other without feeling limited.
Why should you buy a dog house with stairs and balcony?
When you decide to buy your dog an indoor or outdoor house, you are basically getting your dog a home or place where he can spend lots of his time sleeping and playing. With that said, here are the main reasons why buying your dog a dog house with stairs and balcony makes a lot of sense:
1.Dog's Privacy
A dog house gives your dog a space that is only his, which can go a long way in giving him a strong sense of privacy and security. Your dog will comfortably catch naps, take a break from his day-to-day activities, and have some "me" time without interacting with other pets or members of your family.
2. A Space to Sleep
Sleeping with your dog might put you at risk of allergies and contracting diseases. It also disrupts your sleep and may be hard to maintain. An outdoor or indoor dog house with stairs and balcony provides your pup a space to sleep comfortably without you getting worried about any health risks.
3. House Training Purposes
When your dog is bored and you haven't trained him well, he can do all sorts of things, including chewing your furniture and electronic cables. However, if you buy him an indoor dog house with stairs or simple outdoor pet home, you can train him to avoid such behaviors and respect the rules of your house.
4. Can Double Up As a Crate
If you live in an apartment or love traveling, an indoor dog house is an invaluable asset that you can get for your dog. A portable indoor dog house can double as crate when you are traveling. Worried about the stairs or the balcony features? Well, you can always remove them and assemble them back when you need them.
Factors to Consider When Buying a Dog House with Stairs and Balcony
Here are the most important factors that you should consider when choosing a house for your dog:
Ease of assembly: Go for a dog house that is easy to assemble and disassemble, especially if you plan to use the dog house as a dog crate as well.
Design and aesthetic appeal: You definitely don't want to distort your home décor or beautiful yard with an unsightly dog house. Go for a dog house that blends seamlessly with your home. This way, it will feel like a home to you and your dog.
Size of your dog: A good dog house should have enough space for your dog to relax and play. On the other hand, the wrong size of an indoor house can cause a lot of discomfort to your dog leading to unnecessary pain and aches. Remember to establish whether a dog bed can also fit in the dog house.
Ease of Cleaning: Dogs are playful in nature and are likely to leave mud, hair, and other types of mess in their houses. Choose a dog house that's made of easy-to-clean materials. The best options are houses with big doors or those with detachable rooftops/balcony.
Ventilation: Choose a dog house that's properly ventilated to protect your dog from heatstroke and other symptoms associated with a lack of fresh air. If the dog house doesn't come with enough ventilation openings, you can drill a few holes to allow free flow of air.
Portability: If you plan to use your dog house as a crate as well, ensure that it is easily portable. Portability is also important when you want to move the dog house around your house.
Available space in your house: If you don't have a lot of space (for instance, if you live in an apartment), choose an indoor dog house that is small to fit in your house yet have all the necessary features that you need.
Materials: The materials that your dog house is made of also matters. Opt for a dog house that is constructed with quality materials like hardwood, corrosion-proof materials, extremely strong materials, or materials that are coated to endure common weather elements.
How to Get Your Dog to Love and Sleep in a New Dog House
Since every dog has a unique personality, your dog may not automatically fall in love with his new dog house. In such a case, here are a few tips that you can use to change his mind:
1.Use treats
Put your dog's favorite treats inside the dog house and use words of encouragement to make him get the treats. Don't just put the treats and leave your dog to figure out where the treats are. Consider playing fetch and other related games with him but every time you throw a treat, toss it in the dog house. This will convince him that the new dog house is a safe place.
2. Make house inviting
If the house is big enough, make it more inviting with a cushy bed and a few of his favorite toys.
3. Put it in a warm place
Putting the dog house near a heat vent or throwing warm blankets from the dryer can also encourage your dog to get it the new house, especially if he loves warmth.
4. Give all the meals in the house
Giving most of your dog's meals inside the new dog house and allowing him to relax in the house after meals will also condition him to see the house as a safe place where he can get his food and relax.
Conclusion
Just like having a place to call home feels good to you, a dog equally enjoys having his own little kennel. These wooden houses are not only beautiful and pet-friendly but they are affordable too. Pick one that perfectly suits your dog's character and personality as well as your personal taste.
Last Updated on May 24, 2020 by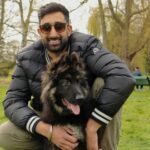 Sable McNeil is a canine chef, professional pet blogger, and proud owner of two male dogs. I have been an animal lover all my life, with dogs holding a special place in my heart. Initially, I created this blog to share recipes, tips, and any relevant information on healthy homemade dog treats. But because of my unrelenting passion to make a difference in the world of dogs, I have expanded the blog's scope to include the best information and recommendations about everything dog lovers need to know about their canine friends' health and wellbeing. My mission now is to find the most helpful content on anything related to dogs and share it with fellow hardworking hound lovers. While everything I share is in line with the latest evidence-based veterinarian health guidelines, nothing should be construed as veterinary advice. Please contact your vet in all matters regarding your Fido's health.