As an Amazon Associate, we may receive a small commission from qualifying purchases but at no extra cost to you. Learn more.
Potty training a puppy is no mean feat. One of the most challenging things throughout the process is actually getting your pup to relieve himself at the right spot. Most people give up after a few sessions. Luckily, a potty training spray can help take the burden off you. It features a unique formula with ingredients that attract your canine baby to pee at a specific location where it is sprayed at. In particular, the sprays are formulated with natural and synthetic pheromones that draw your dog to specific spots that are sprayed with these products. Others are also made with ingredients that mimic the smell of your dog's poop. Ideally, this results in your dog only doing his business in a particular spot.
Pheromones are chemical signals or carriers of information between individuals of the same species. They have stress-relieving abilities and that's why pets are naturally drawn to them.
There are two types of potty training spray for dogs: attractant and repellent sprays. Attractant sprays are nicely scented to lure your pup to a peeing spot while repellant sprays are formulated with unpleasant scents to tell your pup where not to potty.
In this post, we've decided to focus more on attractant sprays because we've already covered repellant sprays on another post on this blog. Here is the post: 6 Best No Marking Sprays for Dogs. You can use one or both of these categories of potty training sprays to encourage or discourage your pup to pee or poop where you want him to.
Like any other product out there, the market is full of potty training sprays. So, getting the right one is never an easy task. This is why we have decided to round up 7 of the best potty training spray for dogs.
Out of all the potty training sprays in the market, the Bodhi spray certainly stands out. Made to smell like urine, this product is perfect for stimulating your dog to pee right where you want him to. Pet owners specifically love the fact that it is easy to use, effective, and delivers quick results. It is also kid and pet-friendly which is an added bonus for large family settings. The spray comes in an 8-ounce bottle which may seem small but is quite sufficient.
Some people find the scent a little off but thankfully, this dissipates quite fast leaving your home smelling fresh. All the ingredients used to make this spray are non-toxic and eco-friendly. Besides helping you with potty training, it is infused with the bitter lemon extract to help dogs with allergies. Feel free to use the deterrent for both indoor and outdoor use.
The NaturVet Potty Training Spray has deionized water, preservatives, and a unique attractant scent, all of which are pet-safe. The scent works magic when it comes to encouraging your dog to use the bathroom. All you have to do is spray a few pumps over your preferred place daily and let the dog sniff it. As soon as he gets familiar with the scent, he will consider the spot as his little elimination location. The scent used is attractive and won't make your house stink for hours on end. Like the first product on our list, this one can also be used indoors and outdoors and is ideal for dogs of all ages.
OUT! is one of the leading pet care manufacturers with tons of amazing products. This training spray is another popular one among puppy owners. If you are looking to speed up the process of potty training, consider getting this one. It is designed for outdoor and indoor use. Whether you are looking to train your dog to eliminate on his pee pad, turf, or real grass, the OUT! Go Here Attractant Training Spray has got you covered. It is made with pet-safe ingredients geared towards attracting your pup to pee right where you apply it. Simply spray the product on the pad or grass consistently and introduce your dog there and let him take in the scent. Do this a few times until he recognizes the spot as his new and permanent bathroom.
The United Pet Group House-Breaking Training Spray is a concentrated formula that is highly effective when potty training a puppy. The pheromone scents used are only dog-specific. Although you may not smell it, your dog will absolutely be attracted to it. Once you spray it on your preferred potty location, your dog will look forward to relieving himself right there. The effects are quite long-lasting whether you use it inside the house or outdoors.
Does your puppy seem to enjoy urinating on your sofa and rugs? Don't sweat it or yell all day at him. Just buy the PET RELIEF Potty Training Spray and use it on the spot you'd like for him to urinate. The formula contains 100% natural ingredients that are safe for your fur baby and other members of the family. It is a great product with impressive quick results. If you have a pee pad, this spray will really come in handy but you can use it for other indoor surfaces as well.
Most potty training sprays bear scents that grab the attention of a dog and not humans. Well, this specific one from Pooch Pads has a pleasant floral smell that is sufficient and not overwhelming. In addition to the sweet irresistible smell, this spray actually works. One single spray will do wonders when it comes to potty training. With 16 oz of product in one bottle, you have enough to last you a reasonable amount of time. As the name suggests, this spray is great for pee pads or indoor turfs. With no harsh chemicals, your furry friend will not be harmed when you use this spray.
Simple Solution Puppy Aid Training Spray, 16 oz is also an awesome product in the market. Utilizing plant-based ingredients only, this attractant is both effective and gentle. It is 100% safe for use around pets and human beings alike. We also love the fact that it doesn't leave stains like other sprays in the market do. Spray it over your artificial grass or pee pads and enjoy the peace of mind knowing your possessions will remain stain-free. The spray is highly concentrated which means a little goes a long way. With one or two pumps, you should be able to see fast results as far as potty training goes. As usual, you might want to spray the product on the preferred spot on a daily basis to get your dog to really get into the swing of things.
Are Potty training Sprays worth your time?
If you check past customer reviews for these products, you will notice a few not-so-great reviews. Some people have had great results with the products and report that they made a huge difference in their potty training processes. However, other users have also left critical reviews, saying that the products didn't work at all for their dogs. This simply implies that potty training sprays are pretty hit or miss products.
So, should you try them? Our honest answer is: Yes, why not? They work for some dogs and you wouldn't know unless you try. Most importantly, the sprays are safe for your dog as most of them are formulated with natural, plant-derived ingredients. In other words, they are free of harmful chemicals and additives that can compromise the health of your pooch. This also means that you can use them everywhere in your house. Besides, the sprays only cost a few bucks. Even better, some manufacturers provide money-back guarantees on their products, meaning you can try them any time with nothing to lose.
Put simply, trying these products to train your pup makes a lot of sense. If they work for your pup and make your potty training easier, that would be great! On the flip side, if they don't work for your dog, then you can return them, especially if you chose a product with a money-back guarantee. Even if the product doesn't come with a guarantee, you'll only have spent a few bucks on a course that could improve your relationship with your dog. So, to us, these products are 100% worth any dog lover's time.
Tips for Getting the Most Out Of Potty Training Spray for Dogs
If you are sensitive to smell, consider using these sprays far from your living room to avoid lingering odors.
Only apply the sprays to exact spots you want your pup to go to the bathroom. This is the only way of ensuring that your dog is pooping or peeing on the spot you want him to.
Some toilet training sprays may damage your carpet or grass after prolonged use. For the best results, therefore, spray a little to test before using it liberally.
Given that these sprays may not work for all dogs all the time, it is recommended to combine them with other potty training products. We recommend the following:
*
Deterrents:
As aforementioned, these discourage your pup from doing his business in inappropriate places. If you missed our introduction, here is a post that can help you choose the best deterrents:
6 Best No Marking Sprays for Dogs.
*
Artificial grass:
You should consider this as an indoor potty area for your four-legged friend. You can train your doggo to use this for his potty breaks so that he doesn't mess on your floor. You should invest in this if you live in an apartment setting or if you have a sick or senior dog with mobility issues. Here are the best options:
15 Best Artificial Grass for Dog Potty (That Won't Soak)
*
Fire Hydrants:
Consider this as training spray reinforcement. It can guide your dog on the best spot to direct his urine. Check this post for the best options:
8 Best Fire Hydrants for Dogs to Pee On
Final Thoughts
When potty training doesn't seem to be forthcoming, using one of the above reviewed best potty training sprays for dogs to help your canine friend do his business in the appropriate place is an ingenious idea. Thankfully, the industry abounds with them. As you look around, focus on safe sprays that won't harm any member of your family. Stay away from those that use harsh chemicals in a bid to be extra effective.
We also have many other posts about dog poop and pee issues on this blog that you may find useful. Please feel free to check them out:
Image Sources: 1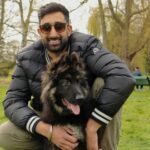 Sable McNeil is a canine chef, professional pet blogger, and proud owner of two male dogs. I have been an animal lover all my life, with dogs holding a special place in my heart. Initially, I created this blog to share recipes, tips, and any relevant information on healthy homemade dog treats. But because of my unrelenting passion to make a difference in the world of dogs, I have expanded the blog's scope to include the best information and recommendations about everything dog lovers need to know about their canine friends' health and wellbeing. My mission now is to find the most helpful content on anything related to dogs and share it with fellow hardworking hound lovers. While everything I share is in line with the latest evidence-based veterinarian health guidelines, nothing should be construed as veterinary advice. Please contact your vet in all matters regarding your Fido's health.