Besides being a sweet inclusion to your dog's diet, peanut butter treats have been shown to bring in significant health benefits. Peanut butter is a potent source of proteins and contains vitamins, niacin, and healthy fats.
As you probably know, proteins are essential for the building and maintenance of muscle. They are, therefore, critical in helping your dog perform their activities better.
Essential vitamins present in peanut butter are vitamins E and B, which aid in blood circulation and maintenance of fresh and clean fur and coat respectively.
Healthy fats enhance metabolism and control blood sugars, whereas niacin aids in the breakdown of fats and sugars into energy.
It's also worth mentioning that peanut butter contains antioxidants and has been shown to boost energy in tired dogs.
Best Dog Toys You Can Put Peanut Butter in
How do you give your dog peanut butter? If you are like many dog parents, you are probably putting peanut butter into your dog's bowl or using food can spoon. The goal is to ensure that your dog enjoys his peanut treat, right? It is okay but do you know there are dog toys you can put peanut butter in and let your pooch enjoy his treat like royalty?
Well, you should know that there are several options that you can buy for your canine friend. Most of the toys are irresistibly chewy on their own but stuffing them with peanut butter kicks up the fun. Stuffing a toy with tasty treats like peanut putter also sparks your dog's foraging instincts while stimulating his cognitive development at the same time.
Without further ado, here is our pick of the top 15 best dog toys you can put peanut butter in.
The Kong Classic is one of the most amazing dog toys available in the market today. It has been around for over forty years now and dogs absolutely love to chew on and simply play with it. The toy is made from original red rubber that is super bouncy and bright. The minute your dog lays its eyes on it, he will want to sink his teeth in there and run all over the place with it. That's not all; the toy is hollow on the inside so you can stuff it with peanut butter or your dog's favorite kibble or treat. If you want to play fetch with your pup, introduce this amazing toy and see just how much fun both of you will have.
Have a busy furry buddy around your household? You might want to order the PetSafe treat-dispensing toy to keep up with his energy and take care of his chewing instinct as well. As the name suggests, this one comes with a twist of its own. It is basically made from two distinct parts joined using screws. This creates a gap between the parts and from which the treat is dispensed. Twist one way to enlarge the gap and let out more treats or screw the other way to increase the challenge even further. Made from natural rubber, this toy is durable and high-quality. It is available in different sizes so you should be able to find one for your pup.
Even with the abundance of dog dispensing treats available in the market today, sometimes a dog just won't join the bandwagon. This toy was made with such canines in mind. It features an open that gives a chance for your pooch to see what awaits him if he manages to counter the challenge of getting the treat. This encourages him to work harder to get the treats out. You can load the ball with peanut butter or treats that your dog enjoys and have them fall out as it rolls around. Please note that this toy is ideal for mild chewers. If you have an aggressive chewer, get something else that will hold up vigorous chewing.
Featuring a beautiful design and bright colors, the Bojafa dog dispensing treat is an amazing dog toys peanut butter gift for any pooch. The rugged design will work on your pup's teeth, cleaning them and keeping plaque at bay. This toy is made from a high-quality rubber material that has been known to be sturdy and bouncy. It offers a dog plenty of mental stimulation, entertainment, and dental care all in one!
Nylabone is a household name when it comes to dog products, specifically dog toys. This one is one among many leadings toys in the market currently. It is designed to let a dog play, chew, and enjoy a variety of treats all at once. It has an interesting opening from where treats can be stuffed and where a dog can get access to them. You can add peanut butter, kibble, pumpkin seeds and other yummy treats that will stimulate your dog to get playing.
The Busy Buddy treat dispensing dog toy is a built-in multi-sensory system that keeps a dog engaged for long periods of time. It has the ability to catch his attention and motivate him to play with you or by himself. He can smell and see the treats stuffed in the toy as they rattle around so he will have enough drive to get them out into his mouth. The Tug-A-Jug is made from durable and organic plastic. Although great for playing and dispensing treats, this is not a chew toy.
Does your dog dread bath times? The Pawaboo Lick Pad may be what you need to get him to look forward to getting to the shower. Simply put, it is a red bath lick pad meant to provide distraction ease discomfort for a pooch. Just smear it with peanut butter, stick it on the wall then go ahead and bathe your dog. The product is made from a non-toxic, eco-friendly and soft silicone material that will last for a long time. The sides are serrated to ensure slow feeding and prevent food from spreading.
Another interesting dog toy peanut butter inside toy to look out for is this one from JW Pet Company. It is made from hard organic rubber so you bet it can withstand vigorous lifting and chewing. Its curious design looks like a dumbbell with distinctive centers that are responsible for keeping a dog's teeth clean and free from bacteria at all times. It is a great tool for a teething puppy of a dog who likes to play fetch or just play with a ball that can toss and bounce. It is even infused with vanilla extract to infuse flavor to it and comes in many vibrant colors.
Wobble Wag Giggle is an exceptional dog toy that is bound to keep a dog entertained, happy, and playful. As an interactive toy, this one produces exciting giggly noises when your dog pushes it around, shakes it, or picks it up in a straightforward clutch. It is designed with 6 clutch pockets to make it easy for a dog to pick it up. If you have a dog that needs a little more convincing to wake up and exercise, give this to him. The funny giggles plus its unique colors will provide him with sufficient entertainment for hours.
Chewing not only fulfills a natural instinct in dogs but gets them to exercise and even clean their teeth. The Kong Stuff-A-ball does that and even more. It is one of those toys that really motivate a dog to chew and, in turn, get rid of tartar and plaque from their teeth. Like other kong peanut butter toys on this list, this one is made from 100% rubber. This means it is resilient and bouncy – a perfect combination for dog games such as chase and fetch. The toy dispenses treats through its slots as it rolls around all the while entertaining your dog.
If you have been looking for the best peanut butter dispenser for dogs, your search should end with this Starmark's dog toys. The heavy toy is made predominantly from rubber meaning your pup will not get his jaws caught up in there. As you might have guessed, it comes with a Pickle Pocket that holds treats, peanut butter, and other dog favorites. Please note that the slits are too narrow for kibble. A dog will actually have to work very hard to get the treats out of the toy. If your dog lacks motivation, he might not enjoy playing with this product.
Here's another excellent, durable dog toy that is a perfect fit for any aggressive chewer. The Kong Tires Extreme can withstand vigorous chewing without breaking apart. The tire is designed both with you and your dog in mind. It is easy on the eyes and has enough space on the inside to hold peanut butter and other treats to keep your pup entertained for ages. Even when empty, this worthy dog toys peanut butter contender bounces and rolls making it a fun tool for play, specifically for dogs that get bored easily.
The Idepet dog toy ball is everything a dog would want in a chew toy. It is made from natural durable rubber so your dog can chew for days on end without breaking it apart. The soft and textures design is great for cleaning his teeth and gums. Besides using it as a peanut butter ball for dogs, you can utilize this IQ toy to train your pup and improve his intelligence.
Kong really is a reputable brand for dog toys with dispensing treats. The Kong Biscuit ball is a phenomenal toy that will instantly garner the attention of your fur baby. From the color to the design and functionality, there's nothing to hate about this toy. It is massive and red in color so you can identify it from afar. Of course, you can throw plenty of treats in it but even without treats, your dog will enjoy playing with it for hours. Play fetch with him or let him just chew on it. Made from rubber, you can rest easy knowing your lovely pooch won't rip pieces off of it.
The West Paw ZOgoflex dog toy is a tough and rough product suitable for aggressive chewers. What makes it one of the best dog toys peanut butter contenders is that it flies bounces and floats. This means it can be utilized for entertainment, fun, dental health, you name it. It also has a hollow space that can be stuffed with peanut butter and other treats to encourage more play. The toy is easy to clean and is pleasantly tough.
Is Peanut Butter Safe For Dogs?
Peanut butter is healthy and safe food for dogs when the right type is included in the proper measures.
In spite of your dog's unsalvageable love of peanut butter treats, you ought to take into consideration a few precautions.
Keep in mind that not all types and measures of peanut butter are safe for your dog.
There have been concerns over some manufacturers sweetening peanut butter with sugars such as Xylitol which are lethal to dogs. Avoid peanut butter with substances deemed unsafe for your canine friend's health.
To be on the safe side, stick to natural peanut butter free from artificial ingredients, or make your peanut butter at home. Healthier alternatives are those with low content of natural salt (sodium).
5 Things You Can Do With Peanut Butter Dog Treats
1. Training
Since dogs love peanut butter, you can use peanut butter treats to ease dog training by luring your pet to do a few things.
For instance, holding a treat close to your dog's nose and moving it gradually to the back of its head is an excellent trick of training your dog to sit. Use such methods to induce behaviors such as rollovers and sitting down.
2. Keeping Your Dog Busy
It's pathetic watching your dog grow sad and agitated when leaving it at home. Homemade peanut butter dog treats can ease such moments.
Buy toys and stuff them with treats to keep your dog occupied as he tries to grab the biscuits from the toys.
Use the rick to keep your pet occupied as you carry out some activities at your home.
3. Introducing Your Kids To Your New Dog
If your child is having a hard time socializing with your dog, it's time you incorporate peanut butter treats in the familiarization process. Teach your kids to feed your pooch with treats more often under your supervision to familiarize the two parties.
4. Luring your dog to take medicine
You know how sometimes it's hard to give medicine to dogs, whether in liquid or tablet form. Some dogs are a bit difficult to deal with when it comes to taking medication. If your dog falls in this category, try the magic of stuffing medicine in peanut butter treats.
Dogs devour treats and won't know that they are taking medication.
5. Inhibiting Mouthing In Puppies
Puppies love mouthing when they begin to teeth as they occasionally need something to chew on. However, they shouldn't carry on with this behavior until they are mature.
Use peanut butter treats to distract your puppy from mouthing by holding them or waving them around their heads.
Top precautions to consider when feeding peanut butter treats to dogs
Avoid incorporating salted peanut butter in your dog's treats daily. Excess amount of sodium is unsafe for your dog's health. Alternatively, purchase unsalted butter for daily consumption.
Moderation is key when it comes to peanut butter treats. Peanut butter should not exceed 10% of your dog's daily feed.
Avoid peanut butter brands that contain Xylitol, a natural sugar-replacement sweetener considered to be diabetes-friendly but utterly toxic to dogs.
Stop incorporating peanut butter in dog treats if you notice allergic reactions such as inflammation and itching. There may be internal bodily reactions such as breathing difficulties. It's advisable to take your dog to a vet when such symptoms appear.
Easy Homemade Peanut Butter Dog Recipes
To prevent your dog from getting bored of the same old peanut butter, get creative and try other peanut butter recipes. This is important if your dog is a picky eater. It is also a good way to ensure that your dog gets a complete and balanced diet. For inspiration, here are 12 recipes you can easily prepared at home:
1. Peanut Butter and Pumpkin Dog Treats
Ingredients
2 eggs
3/4 cup pumpkin puree
1/4 cup peanut butter
3 cups wholemeal wheat flour
Instructions
Heat the oven to about 175 degrees Celsius.
In a bowl, mix peanut butter, eggs, and pumpkin puree while stirring thoroughly.
As you stir, add two and a half cups of flour slowly until it gets incorporated in the mixture and subsequently add a half cup of flour when the dough is no longer sticky.
Knead the dough on a floured surface and then roll to a quarter-inch thickness.
Cut out your preferred shapes and place them on a baking sheet
Transfer the sheet to the oven and bake the treats until golden brown(about 20min)
2. Peanut Butter, Bacon Treats
Ingredients
2 eggs
3 cups of oat flour
1/2 cup of peanut butter
1 cup leftover bacon
1 cup of applesauce(unsweetened)
Procedure
Blitz the bacon in a food processor to obtain crumbles.
Add applesauce, eggs, and peanut to the processor's bowl and subsequently stir to combine.
Add oat flour in cupfuls while stirring. Leave about 1/2 cup of flour for rolling.
Having placed the dough on a rolling board, roll it out and cut into pieces using cooking cutters.
Bake for about 30 minutes when the treats turn golden brown.
3. Grain-Free Peanut Butter Dog Recipe
Ingredients
2 eggs
1 Medium size banana
½ cup peanut butter
½ cup coconut flour
½ chicken pea flour
¼ tsp. baking powder
Directions
Set oven to 3500F.
Mash the banana into a smooth consistency in a large bowl. Beat the two eggs and mix.
Add the remaining ingredients and mix.
Knead the mixture into a fine dough.
Roll the dough to ¼-inch thick before slicing into perfect shapes.
Bake the slices for 14 minutes.
Wait to serve when cold.
4. Peanut Butter Honey-Egg Recipe
Ingredients
1 cup wheat flour
1 egg
2 tbsp. honey
1 cup peanut butter
1 tsp. baking soda
1 cup of water
Directions
Set oven to 3500F.
First combine the flour, baking soda, and egg in a bowl before adding the other ingredients.
Stir and knead to form thick dough.
Roll the dough to ½-inch thick before slicing it into perfect shapes.
Bake the slices for about 20 minutes.
Wait to serve when cold.
5. Gus' Peanut Butter Biscuits
Ingredients
½-1 cup wheat flour
¾ cup fat-free milk
1 cup peanut butter
1 egg
1 tbsp. baking soda
Directions
Set oven to 3250F.
Whisk the egg, peanut butter, and fat-free milk in a bowl.
Add the other ingredients and mix to form stiff dough.
Roll the dough to ¼-inch and cut it into perfect shapes.
Bake for about 20 minutes.
Wait to serve when cold.
6. Peanut Butter Milk Recipe
Ingredients
1 cup wheat flour
½ cup milk
½ cup peanut butter
Instructions
Set oven to 3500F.
Mix the three ingredients before kneading them to a dough ball.
Roll the dough to ¼-inch thick before slicing into perfect shapes.
Bake for about 20 minutes. Wait to serve when cold.
Homemade Peanut Butter Dog Treats Without Flour Recipes
1. Peanut Butter, Banana Dog Treats
Ingredients
2 cups quick oats
I banana
1/3 cup peanut butter
Instructions
Preheat your oven to 176 degrees Celsius.
Blitz the oats in a mixer until you obtain consistent flour.
Add banana and peanut butter and process the mix until dough is formed.
Roll out the dough on a clean board up to 2.5 mm thickness.
Use a cookie cutter to cut the roll into your favorite shapes and proceed to place them on a baking tray lined with baking sheet.
Place the tray in the oven and bake for about 25 minutes.
2. Non-Bake Flax Seeds, Peanut Butter Treats
Ingredients
2 tablespoons ground flax seeds
1/4 cup oats
1/4 cup peanut butter
1/2 cup water
Instructions
Grind oats and flax seeds into powder and mix the results with peanut butter.
Stir the mix while adding sufficient water to create malleable dough.
Roll the dough in about 22 balls. You may consider oiling your hands to prevent dough from sticking to your palms.
Put the balls in a container and store in a refrigerator for about 1 hour before feeding them to your canine companion.
3. No-Bake Peanut Butter Balls Treats
Ingredients
1 cup beat pumpkin
¼ cup milk
3 cups oats
¼ cup peanut butter
Directions
Use an electric mixer to mix pumpkin, milk, and milk for about 2 minutes.
Slowly add oats as you reduce the mixing speed.
Use a cooking spoon to make balls out of the mixture.
Cover the balls with foil before refrigerating for 1 hour.
4. Peanut Butter and Pumpkin Treats
Ingredients
1 cup oats
¼ cup peanut butter
1/3 cup pumpkin puree
Directions
Set oven to 3000F. Crush the oats to a fine powder before adding peanut butter and pumpkin.
Blend the mixture to a thick batter.
Roll the batter to ¼-inch thick.
Cut into slices and bake them for 25 minutes. Wait to serve when cold.
5. Frozen Fall Pumpkin Treats
Ingredients
1 cup pumpkin puree
½ cup peanut butter
1 cup yogurt (plain)
Instructions
Blend the three ingredients.
Pour the resultant mixture in an ice tray and freeze for at least 12 hours.
6. Frozen Peanut Butter Yoghurt Treats
Ingredients
3-ounce yogurt (vanilla)
1 cup peanut butter
Directions
Put peanut butter in a microwave to melt it.
Add the yogurt to the melt and pour the mixture into cupcake folds.
Put into the freezer for a few hours.
Final Thoughts
Peanut butter dog treats are a healthy inclusion to your dog's diet as long as you incorporate the right type and measures of butter. Including peanut butter in dog treats will give your dog varied nutrients, including proteins, vitamins, and healthy fats. And with the above-highlighted dog toys you can put peanut butter in, giving your dog peanut, peanut butter related treats, or any other kind of treat will be a breeze. Just ensure that you keep in mind the precautions outlined above when giving your dog peanut butter treats or preparing homemade peanut butter recipes.
Last Updated on June 20, 2021 by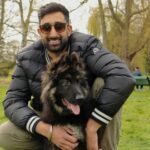 Sable McNeil is a canine chef, professional pet blogger, and proud owner of two male dogs. I have been an animal lover all my life, with dogs holding a special place in my heart. Initially, I created this blog to share recipes, tips, and any relevant information on healthy homemade dog treats. But because of my unrelenting passion to make a difference in the world of dogs, I have expanded the blog's scope to include the best information and recommendations about everything dog lovers need to know about their canine friends' health and wellbeing. My mission now is to find the most helpful content on anything related to dogs and share it with fellow hardworking hound lovers. While everything I share is in line with the latest evidence-based veterinarian health guidelines, nothing should be construed as veterinary advice. Please contact your vet in all matters regarding your Fido's health.