A squeaker toy is the ultimate source of entertainment for a dog. It occupies his mind when you aren't around or need some alone time.
However, if you've ever been woken up in the middle by the irritating noise of your dog's toy, you'll appreciate the makers of non-squeaker dog toys.
The frequency used in these speakers is out of the human range. What this means is that while your dog can hear the sounds from the toy, you won't hear a single thing. Talk about killing two birds with one stone!
Here's a list of the 15 best no squeaker dog toys. If you are in the market for one, these will give you value for money.
Hear Doggy! Flattie is the first on our list because it really is a masterpiece.
It is a super soft gator-shaped toy that your pup will enjoy cuddling and playing with. If you love stuffed toys, you might as well get an extra one for yourself.
Since it has a silent speaker, you can bring it alongside your pup to the office or a get-together.
Plus, it has reinforced seams and uses the Chew guard Technology for durability.
Chuckit! Indoor Ball is lightweight and shaggy, a perfect combination for a good plush toy.
It is specifically constructed to bounce quietly against windows, furniture, and walls without damaging anything or leaving marks along the way.
The ball is firm but soft enough to allow your dog to carry it around with relative ease.
Whenever you can, grab the ball and play fetch or tug-of-war with your pup. Both of you will enjoy the bounce of the toy during the game.
This gator toy is plush and has that floppy look that dogs love so much.
Apart from having silent speakers that won't make your eardrums go nuts, TrustyPup Gator is made using the Chew Guard Technology.
This adds an extra durable layer to the inside of the toy to make it more durable.
Ideal for both small and large dog breeds, TrustyPup Penguin makes for a wonderful addition to your dog toy box.
The fabric slobbers all over and it is designed to entice your dog deeply.
The cute toy is fitted with a silent speaker that only your dog will hear.
Most plush toys are made of cheap canvas with hard edges. These are the kind of toys that get damaged in record time not to mention unsafe for your dog.
Fluff & Tuff SQUEAKERLESS Red Squirrel toy solves the problem by using high-quality plush fabric that is indestructible.
The seams are double-stitched and a mesh liner added on the outer fabric to ensure longevity.
Made from a durable material jive, this is one of the most durable dog toys out there.
It is an inexpensive ball that bounces perfectly and makes for a great toy for fetch. It can float, so your dog can go swimming with it.
The best part about this toy is that it is made from eco-friendly recycled materials that can be recycled as well. And yes, it doesn't come with a speaker of any sort.
If you can't keep up with the mess left behind by stuffed toys, FGA MARKETPLACE Frog is definitely for you.
It is a funny-looking flat toy that is sturdy and guaranteed to entertain your pup for a long time.
The material used will keep your dog's teeth in perfect condition.
It is also quite easy to clean. Plus, the silent speakers are a major plus for your sanity.
Hear Doggy is one of the leading brands for silent squeaker toys. This one is a blue plush whale fitted with 24-28 kHz frequency ultrasonic speakers.
Whether you want to bring your dog t work or give her some quiet time without the disturbance, these speakers are only meant for a dog's ears.
The toy is made from impressive plush material and is ideal for large and medium-sized dogs.
KONG Comfort Kiddos features a low-tone speaker that satisfies a dog's curiosity without compromising your comfort.
The speaker can be easily removed for cuddle time. This adorable critter is made with a comfortable plush material to offer comfort while entertaining your lovely mutt.
It is available in two sizes and five shapes.
Booda Fresh N Floss Dog Tug Rope Toy is an exceptional rope made from durable cotton and uniquely twisted for ultimate entertainment.
Together with the mint-scented floss that comes with it, it will ensure that your dog flosses his own teeth.
The toy also features nylon strands that are coated with wax and baking soda to control tartar and fight plaque.
SmartPetLove is an adorable plush toy made with Tear Blok technology to guarantee strength and durability.
If you are tired of toys that don't last longer than a few hours, consider this one-of-a-kind toy.
It is soft and cuddly but can handle rough play as well.
Tender-tuffs don't have stuffing and have a space for a plastic water body.
If you are still unable to figure out the best squeakerless dog toy among the ones we have highlighted, try this amazing pack of chew toys.
Featuring 12 colorful dog training toys, you and your pup will get a chance to choose what suits you best. And yes, there several squeakerless options in the mix.
The toys are non-toxic and durable, which implies that your naughty pup can safely chew them while playing with them.
A squeaky toy with an easy mute button, SPOT Ethical Pets has become a pet owner's favorite. All you have to do is turn the speaker on when it is time for your pup to play.
When you need some quiet time, simply mute the speaker by pressing the button.
The toy is made from high-quality rubber and nylon straps and comes in three different colors.
An unstuffed toy is mess-free and totally safe for your dog. This is what makes 5-Pk Thinnies one of the leading silent toys available.
With it, you don't have to worry about cleaning up the mess or the risk of your dog ingesting the stuffing.
Plus, it is cute, flat, and plush perfect for cuddling. The toy comes in a pack of five, each one with two silent squeakers.
Here is another fantastic toy designed to satisfy a dog's natural instinct to chew while boosting his oral hygiene.
It is made of rubber and infused with baking soda to clean and freshen your pup's gums. As he chews away, the toy will massage his gums, reducing plaque and tartar buildup.
The toy also comes with a treat-dispenser to allow you to give a reward for a job well done.
Final Thoughts
A no squeaker dog toy strikes a perfect balance between your happiness and that of your dog. Having one keeps your dog entertained silently.
Buy any of these dog toys and say goodbye to the repetitive noise of squeaky dog toys once and for all.
Last Updated on July 6, 2021 by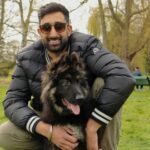 Sable McNeil is a canine chef, professional pet blogger, and proud owner of two male dogs. I have been an animal lover all my life, with dogs holding a special place in my heart. Initially, I created this blog to share recipes, tips, and any relevant information on healthy homemade dog treats. But because of my unrelenting passion to make a difference in the world of dogs, I have expanded the blog's scope to include the best information and recommendations about everything dog lovers need to know about their canine friends' health and wellbeing. My mission now is to find the most helpful content on anything related to dogs and share it with fellow hardworking hound lovers. While everything I share is in line with the latest evidence-based veterinarian health guidelines, nothing should be construed as veterinary advice. Please contact your vet in all matters regarding your Fido's health.