As an Amazon Associate, we may receive a small commission from qualifying purchases but at no extra cost to you. Learn more.
If you have a dog with an overbite, you must have noticed him having a hard time picking his kibble. This is because his upper and lower jaws are not properly aligned. This means the teeth overlap impairing his ability to bite. In this case, eating from a traditional bowl can be quite the task for him.
Generally, traditional dog bowls are designed to cater for dogs with longer snouts. This means that whatever positions the pieces of kibble rests inside the bowls, a dog with longer snout will reach them.
Dogs with overbites can also eat from traditional bowls, especially when they are full of kibble—by eating from the center. As the kibbles near the end, however, eating will become more of a struggle—they will end spilling most of the kibble but hardly get a decent bite.
That's where special bowls for dogs with overbites comes in. They are designed for these uniquely made pups to ensure easy breathing while eating and cleaner mealtimes.
So, what unique features come with these bowls?
Well, dog bowls for dogs with overbites should have the following features:
Wide and Stable: They should be wide enough to prevent your pup from squashing his face inside the bowls. They should also come with stable bases to prevent unnecessary movements while your dog is enjoying his meals.
Deep and Tilted: A deeper bowl will prevent your pup's food from spreading out into a thin layer, making it difficult for the dog to access all the kibbles. And a tilted shape prevents your pup from smearing his food all over his face and enhances easy breathing while he is enjoying his meals.
Appropriate Shape and Height: A good bowl for a dog with overbite issues should come in a shape that is proportionate to your dog's head and muzzle. If you own a large breed, going for an elevated bowl also make more sense considering that your canine friend won't have to stoop too low to access his food.
Material of construction: Considering that your dog's skin will rub against the bowl while he is eating, go for a bowl that will neither irritate him nor harbor bacteria between washes. The best dog bowls are manufactured by companies that are careful enough about the overall health of dogs to actually test for possible irritants and contaminants.
Versatility: If you are going to use a dishwasher to clean your dog's bowl, ensure that it is dishwasher-safe. If not, go for an option that you can easily clean without developing scratches. A dog with overbite problems is going to be a bit messy when eating, so he needs your help when it comes to the hygiene of his bowl. And if you sometimes microwave his food, consider choosing a bowl that is also microwave-safe.
Best Bowls for Dogs with Overbites: Our Top 10 Picks
In this section, we have a conservative list of 10 dog bowls that have the above features. But first, here's is an important disclaimer:
The most suitable dog bowl for your pup will depend on your dog's eating habits, size, and preferences.
So, your instincts should override all the factors we've mentioned when you are choosing a bowl for your Fido.
And before spending your money on a bowl with the hopes that it will make your dog's eating easier, we also recommend that you talk with your veterinarian first to ensure that there aren't other underlying health issues besides the uneven smile.
Without further ado, let's dive right in…
Any dog with a biting issue will find the WPC Bulldog Bowl very beneficial to them. It comes with all the features of making your pup's life easy during meal times.
For one, it is wide giving him plenty of room to maneuver his jaw and tilt his tongue to get a good bite. It is also angled to make the food run to the bottom for easy access.
The height of the base is adjustable so you can get the best height for your pup.
That's not all; the bowl boasts a teardrop shape to keep the bowl stable. No matter how hard your pooch pushes the bowl, it will hold still. It may tilt a little but it will not topple over or interfere with your pup's feeding.
Made from high-quality rubber, the bowl is also non-toxic, eco-friendly, and durable.
With a 4.4/5 star rating and 5,000 reviews on Amazon, the Super Design Mess-Free Slanted Bowl is hands down one of the best in the market right now.
As the name goes, it is tilted at a 15-degree angle to collect the food at the bottom. This gives your pup easy access to it. It is also quite high to ensure food doesn't overflow. As a result, clean-up is a stress-free affair.
The bowl is also fitted with a non-slip base and a heavy-duty stand to keep it from flipping over.
If you have an enthusiastic eater at home, this feature will definitely come in handy.
Its capacity is 1.5 cups of food and is thus ideal for small-medium dog breeds as well as puppies.
Give your pup an easy time during meals with the YMAXGO Ceramics Single Food Feeding Bowl. It features a sloping design that collects food at the bottom to prevent splashing.
It is also oblique to give him a healthy appetite.
The product is made from ceramic material which has been shown to be rust-free, durable, and odor-free.
It also comes with a non-slip mat to keep it in place as your canine buddy eats away.
The bowl has a capacity of 7 ounces and can handle 2 cups of wet food.
The Dogit Elevated Dog Bowl is a great choice for a large dog with an overbite or one with a long snout. It is extra deep to accommodate the length of the snout or misaligned teeth.
Besides making sure that the dog eats comfortably, the bowl also slows down the whole process of eating thereby preventing things like bloating, vomiting, and indigestion.
Being a stainless-steel construction, it can handle anything from kibble, wet food, and even water. It doesn't retain any smell or oil like other materials such as plastic and rubber.
The IVOLIA Dog Bowl features a 15-degree tilt design to ensure that dog food stays at the center of the bowl.
Add that to the fact that the bowl is also wide enough and you can be sure that food won't splash out as your pooch eats.
It is raised to achieve two things –reduce vomiting and make sure the dog eats in a natural posture thus reducing pressure on his neck.
The design of the bowl is quite stable and cannot be easily knocked over. Additionally, this is a PET construction, meaning it is quite durable and not as fragile ad glass and ceramics.
One of the best-selling features of Our Pets Durapet Tilt-A-Bowl is the rubber bonded ring at the base of the bowl. Very few products in the market have this amazing feature.
It is included to keep the bowl stable and still as the dog feeds. It also reduces noise during meal times.
The bowl is also tilted and wide enough—both of which help make the dog comfortable while eating. The width also ensures that he can navigate the bowl to direct his food to his mouth.
Constructed with stainless steel, it is easy to clean and durable as well.
Pet Junkie Santa Fe Elevated Dog Bowl is a modern design pet product for all dog breed sizes. It stands at a height of 10 inches and is perfect for your dog with an overbite as it reduces the strain on his neck.
The rough texture of the bowl coupled with its geometric pattern makes the product beautiful. You can use it as part of your overall home décor. Since it comes in stunning gray color, it will certainly blend with your existing décor.
The bowl is made from stainless steel and is thus very convenient when it comes to cleaning and doesn't allow rust to form on its surface.
Its base is also sturdy, making it difficult for your pooch to move, tip, or push the bowl.
Do you own a small pup (5-20 lbs) with an overbite? The Enhanced Pet Bowl is made with him in mind.
It can only handle up to two cups of food which is the perfect size for him. The bowl features a simple but oversized design with a ridge located at the back so the dog has good access to his meal.
The ridge is also added to keep messes at bay, minimize gas problems, and aid in better digestion.
This bowl is constructed from stainless steel and will make cleaning easy for you. Smells, rust, bad odors, and oil will also be things of the past for you.
The best part is that it can handle all types of food – wet, dry, and raw.
The Van Ness Jumbo Crock Dish is not elevated but it makes up for that with its depth and width. It is one of the widest and deepest bowls out there.
Dog owners with large dog breeds suffering from overbites love this bowl because it gives their pups plenty of room to look for the best angle for a good bite.
It can hold up to 106 ounces. This is plenty of food for a big dog.
Finally, the Mountainsmith K-9 Backbowl boasts a unique bowl construction.
It is basically a collapsible bowl made from 400D nylon and coated with TPU.
The material is both durable and waterproof, so you can be sure it will not let out any water on your car or surface.
The bowl easily folds and unfolds for easy transportation and cleaning. It is also wide enough to support a dog with an overbite.
Final Thoughts
Owning a dog with an overbite demands special care and attention. One of the best things you can get him is the right feeding bowl. That way, you can make the feeding experience a little comfortable and rewarding for him.
Don't forget to always consult your vet for professional insights on how to help your pup with overbite issues lead a healthy, fulfilling life enjoying every morsel of bite that you throw his way.
Last Updated on June 22, 2021 by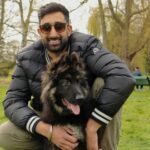 Sable McNeil is a canine chef, professional pet blogger, and proud owner of two male dogs. I have been an animal lover all my life, with dogs holding a special place in my heart. Initially, I created this blog to share recipes, tips, and any relevant information on healthy homemade dog treats. But because of my unrelenting passion to make a difference in the world of dogs, I have expanded the blog's scope to include the best information and recommendations about everything dog lovers need to know about their canine friends' health and wellbeing. My mission now is to find the most helpful content on anything related to dogs and share it with fellow hardworking hound lovers. While everything I share is in line with the latest evidence-based veterinarian health guidelines, nothing should be construed as veterinary advice. Please contact your vet in all matters regarding your Fido's health.