As an Amazon Associate, we may receive a small commission from qualifying purchases but at no extra cost to you. Learn more.
Some dogs get bored easily and can even resort to mischievous behaviors, including chewing things, pacing, and excessive barking as a means of relieving excess energy. For such dogs to live happy, calm, and fulfilling lives, they need to be constantly stimulated.
Depending on your dog's age and health, he may need 30 minutes to 2 hours of physical exercise or mental stimulation each day.
However, this can be difficult to achieve, especially when you are busy with work, kids, and other household chores. This is where a motion-activated dog toy comes in handy.
With these toys, you will not only give your dog the amount of exercise that he needs to keep his body healthy but also the mental stimulation that he may need to stay sharp.
Motion-activated dog toys require your dog's participation—they respond (by squeaking, moving, dispensing treats, emitting light, etc) to your pup when he approaches, touches, shakes, moves, or plays with them. As a result, your dog gets to spend more time with them, stimulating him physically and mentally.
The toys can, therefore, alleviate your dog's boredom, ease separation anxiety, and even lower the chances of your pup tearing up your valuables when he has nothing to do.
Here are the most popular motion activated dog toys:
When it comes to motion-activated dog toys, Pet Qwerks Babble Ball Dog Toy takes the cake, especially due to its high sensitivity. It is so sensitive that even the vibration of your dog walking past it will turn it on.
It comes with 20 funny animal sounds and will surely keep your pooch entertained for several hours.
The smooth round shape makes it a bit difficult for your dog to get his teeth around it, which is challenging enough to keep him engaged for long.
Plus, it automatically turns itself off when it stops moving or when your dog is done playing with it, saving you a great deal of battery life.
It is made of high-impact ABS material, which can withstand rough handling by your pup.
Designed for dogs of all sizes, Wobble Wag Interactive Giggle Ball emits giggling sound when your dog rolls, push, or shakes it, engaging his curiosity and instinct to play.
Whether your dog loves rolling, fetching, or shaking ball toys, Wobble Wag ball will catch his attention and get him entertained for hours on.
Unlike most toys on our list, it doesn't need batteries as it comes with an internal noisemaker.
And with six clutch pockets, your dog will have an easy time picking the ball up.
If you don't like leaving your dog alone for long, the toy you should invest in is this dog fitness robot from VARRAM. It is designed to intelligently interact with your dog by zooming around the house, evoking his interest with movement, and rewarding him by dispensing treats.
With 16 different play modes, the toy will take care of your pup's boredom, loneliness, sadness, and separation anxiety while you are not at home, discouraging any mischievous behavior.
It comes with an app, which allows you to schedule and monitor your dog's activities and rest times.
It is also manufactured with strong polycarbonate material to last long and handle any surface, allowing your pup to enjoy different environments.
It has also passed the IPX4 water resistance test, so you don't have to worry whether your dog drools over it or it ends up in a pool of water.
Besides, the toy comes with in-built AI capabilities to enable it to maneuver objects, handle different surfaces, and learn your dog's strengths while rewarding his interactions.
Another motion-activated toy that's sure to keep your pup busy for several hours is this automatic moving ball from PetDroid.
It is fitted with LED strips that have attractive and vibrant RGB colors to make it more appealing for your dog.
Unlike other plastic balls for dogs, the PetDroid ball is manufactured with durable TPU material, so you don't have to worry about your dog chewing or tearing it apart during play.
It also comes with a feather accessory to further attract and spark the interest of your dog.
The only downside of this ball is that it tends to perform better on hard floors only and may not handle well thick carpet surfaces.
With the shape of a good old dog bone, Wickedbone comes with several state-of-the-art features to cater to different actions of your pup, ensuring that he is entertained for long.
It comes with 12 emotionally driven modes to react to your dog's touch, chasing, avoiding, teasing, etc.
You can choose to control the toy with a joystick app on a phone or leave it on autoplay mode to entertain your dog without your direct input.
The surface and tires of the toy are constructed with food-grade polycarbonate material, which is not only durable but also safe for your pup.
Its batteries (470 mAh lithium polymers) also charge fast (for about 1 hour) and can last for up to a month in sleep mode.
Every dog parent knows how much dogs love chasing after balls. And if you have a ball with a built-sensor that quickly kicks into action when your dog comes close to it, you can imagine the curiosity it can leave in your pup's face.
This motion-activated ball is programmed to move randomly and unpredictably, enticing your dog's fancy and keeping him entertained when you are not at home.
To ensure prolonged playtime, the toy switches itself to "sleep" mode immediately after your dog stops playing with it or if it doesn't sense any movements from your pup.
Like other interactive balls for dogs, it comes with twinkling light and a funny babble sound to arouse your pup's interest to chase, keeping him fit and mentally stimulated.
If your ball is obsessed with fetch, then the toy you should consider getting him is this full-sized ball launcher from PetSafe.
Unlike other ordinary dog ball launchers, this launcher features a safety motion sensor that can detect if your dog is close, preventing him from getting pegged at close/dangerous range.
The motion-activated sensor can also trigger 15 minutes rest period after every 15 minutes of continuous activity, ensuring that your dog doesn't wear himself out so much.
You can load up to 3 balls at a time as well as use balls of any size, including standard size tennis balls.
Another cool feature about the ball launcher is the alert tones which lets your dog know when the ball is detected and is about to launch and when the rest period starts and ends.
There are also six "D" cell battery slots to cater to its power needs in areas where there are no AC power outlets.
Hyper Pet Interactive Plush Doggie Tail basically vibrates, wiggles, and barks, enticing your pup to play, chase, exercise, and have fun.
When you turn the toy on, it will wiggle, bark, and move around randomly for about 10 seconds before it stops. It will come to life again when it detects some action from your dog or when your dog shakes it.
So, it will capture your dog's interest for long, keeping him physically and mentally stimulated for an extended period.
And to maximize its battery life, the toy is designed to automatically shut off when your pup stops playing with it.
YOOGAO Interactive Squeaky Plush Dog Toy is another amazing bounce and squeaky toy that will excite your dog's instinct to chase and bite.
When you turn it on, it will bounce, shake, and make a squeaky sound for about 20 seconds. It will then get reactivated when your dog shakes it aggressively.
It comes with three replaceable, non-toxic plush covers to allow you to choose what suits your dog's occasion.
The last entry on our list is this amazing treat-dispensing toy from JW.
All you need to do for your dog to begin enjoying the fun that this toy provides is fill its wheels with your dog's favorite kibble and turn it on.
It is designed to move randomly (while distributing the treats) for about two minutes before it goes into 'sleep' mode. It then gets reactivated when your dog pushes or moves it.
It also features built-in sensors to ensure that it doesn't get stuck on objects or corners around the house.
While it doesn't come with an app like WickedBone or VARRAM, it works the same.
The toy is designed to handle all indoor floor surfaces and is constructed with non-toxic plastic materials to ensure your dog's safety.
Important Features to Look Out For in Good Motion Activated Dog Toys
Shopping for the perfect motion-activated toy for your canine friend can be daunting, especially if it is your first time.
To ensure that the product you choose fits your pup's personality, here are some of the most important factors to keep in mind:
Size Depending on how your dog is going to interact with the toy (biting it, holding it, playing with it using paws, etc), go for a toy that suits your dog's size. If you have a small breed, for instance, choose a toy that can fit his mouth.
Your dog's personality: Understand whether your dog is a heavy chewer, whether he gets bored with a routine fast, and what motivates him to help you choose the right toy for him. You may have an extremely intelligent pooch, but if he's always after instant gratification, he may not take his time to solve puzzles. Some dog breeds are not motivated by food, making treat-dispensing toys useless.
Material of construction: Most motion-activated toys that we have reviewed are made of three basic materials: plastic, rubber, and plush. The best toy should not only be made with durable materials that can withstand your dog's bite and aggressive handling but also safe for your dog.
Treat dispensing capabilities: Some motion-activated dog toys come with treat dispensing capabilities. Dogs love treats, and if you are looking for something that can make your pup continue using his toy for years on end, a toy that can dispense treats is the best bet.
Safety: Like other toys for dogs, a good motion activated toy should never present choking hazards and other health risks to your dog.
Final Thoughts
Keeping your dog physically and mentally engaged can be made a lot easier with the use of motion-activated dog toys.
If you want to curb any form of mischievous behavior when you are away, it makes a lot of sense to invest in one.
Just ensure that the product you choose is durable, safe, is of the right size, and meets the unique needs of your dog.
If possible, get your dog more than one toy and keep rotating them so that your furry friend doesn't get bored fast and always has something interesting to play with.
Last Updated on July 6, 2021 by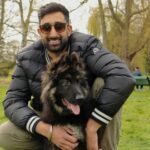 Sable McNeil is a canine chef, professional pet blogger, and proud owner of two male dogs. I have been an animal lover all my life, with dogs holding a special place in my heart. Initially, I created this blog to share recipes, tips, and any relevant information on healthy homemade dog treats. But because of my unrelenting passion to make a difference in the world of dogs, I have expanded the blog's scope to include the best information and recommendations about everything dog lovers need to know about their canine friends' health and wellbeing. My mission now is to find the most helpful content on anything related to dogs and share it with fellow hardworking hound lovers. While everything I share is in line with the latest evidence-based veterinarian health guidelines, nothing should be construed as veterinary advice. Please contact your vet in all matters regarding your Fido's health.