Shih Tzus are famed for their companionship, loyalty, and affection. These adorable canines are also always down to cuddle, which is one of the main reasons why they are famous among celebrities and across different class lines globally.
For people who have fallen in love with this breed, finding a special gift can feel like a kid in a candy shop. Because they are so cute, if you are going to spoil your Shih Tzu or a Shih Tzu owner, you should go for something that's not only personalized but also has special meaning for the gift recipient.
Without further ado, here are some cute Shih Tzu gifts that any Shih Tzu owner would love instantly:
Looking for a unique, no-fringe, sturdy poncho that can fit just about any dog? This handmade dog cloth is the definition of style, comfort, and warmth!
You can never go wrong with dog décor when trying to catch the attention of your pup. Grab this pillowcase from Redland and use it to decorate everything from your living room, bedroom, coffee house, and even your bar.
Even imagined drinking wine in a cute wineglass bearing the image of your Shi Tzu? Best believe this is a reality, thanks to this gift that serve as a constant reminder of how much your pup means to you.
Love silver jewelry that helps you make a bold statement everywhere you go? This delightful bracelet is made from a high-quality silver material and features an insanely sparkly and polished look perfect for any fashionable Shih Tzu-loving woman.
A Shih Tzu Christmas stocking complete with ornaments is a beautiful holiday décor that goes against the norm. It is a hand-painted full-bodied Shih Tzu tucked inside an elegant stocking with his head and paws peeping.
Shih Tzu is a special dog with special dietary needs. If you want to get the nutrition of your purebred mutt going, consider this uniquely formulated diet complete with all delicious and nutritious foods for his needs.
Even with the abundance of dog beds in the markets, it can be a bit challenging to get the best for your canine. If yours fits the description, try this unusually fluffy and bouncy self-warming bed that utilizes technology to its max.
With a new year comes the need to keep an organized schedule throughout the year. What better way than to do that through this fine calendar full of brightly-colored Shih Tzu dogs on every page?
Like human beings, dogs sometimes need to be in the company of friends that look just like them. This lifelike puppy bed breathes and produces snoring sounds and makes for a great companion for any dog.
This stuffed Shih Tzu animal is a great gift idea to your doggy to feel appreciated. When he's not busy exploring this seemingly quiet companion, you can use it as a décor element in your home.
Know a friend who loves to push her fashion buttons a little? These colorful and trendy socks from Foozys will melt his or her heart.
Sandicast animal sculptures look real and mind-blowing, particularly for a dog. This specific one resembles a Shi Tzu reaching out for a treat and will melt both your heart and that of your furry friend.
If you want people to know how obsessed you are with your dog, grab this décor that features a beautiful door sign that tells the world you are a proud Shi Tzu owner. Your pup will absolutely love it too.
One way to excite your Shi Tzu during the holidays is to get this hanging ornament on your Christmas tree complete with her face, name, and year of birth.
This playful and adorable Christmas stocking animal sculpture is an effortless way to let your Shi Tzu in on your holiday festivities.
Final Thoughts
There is no better way of showing off your love to your Shih Tzu or appreciating a Shih Tzu owner than giving a gift that's related to the breed. The above Shih Tzu gifts are all adorable and will definitely convince your recipient that you put an effort to choose for them a perfect present.
You only need to remember that if you are going to gift a friend or love one, take into account the hair color of their Shih Tzu. Most dog owners tend to be partial to colors, particularly if they match their pooches.
Last Updated on May 5, 2020 by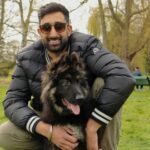 Sable McNeil is a canine chef, professional pet blogger, and proud owner of two male dogs. I have been an animal lover all my life, with dogs holding a special place in my heart. Initially, I created this blog to share recipes, tips, and any relevant information on healthy homemade dog treats. But because of my unrelenting passion to make a difference in the world of dogs, I have expanded the blog's scope to include the best information and recommendations about everything dog lovers need to know about their canine friends' health and wellbeing. My mission now is to find the most helpful content on anything related to dogs and share it with fellow hardworking hound lovers. While everything I share is in line with the latest evidence-based veterinarian health guidelines, nothing should be construed as veterinary advice. Please contact your vet in all matters regarding your Fido's health.