As an Amazon Associate, we may receive a small commission from qualifying purchases but at no extra cost to you. Learn more.
While a bigger percentage of coprophagia cases are behavioral, there are numerous diet-based factors that may also come into play.
Underfeeding, feeding your dog a poorly digested diet, and medical conditions that interfere with nutrient absorption could lead to malnutrition or mineral deficiencies, which could prompt your dog to eat his poop.
Your dog is also likely to be attracted to his poop if it contains large amounts of undigested material.
Dogs that are put on extreme calorie restriction or that are fed poor or wrong diet may also find their stools irresistible.
So, if your dog starts eating poop suddenly, changing his diet or feeding him certain foods may discourage the behavior, especially if the foods can address nutrient malabsorption or dietary nutritional deficiencies.
One of the potential reasons why dogs eat poop is the presence of beneficial microbes in their poops. It is believed that certain amounts of beneficial microbes get shed in dog's poop and that's why dogs get attracted to their poops.
Since probiotics contain a lot of these beneficial microbes, giving your dog probiotic-rich food like the Purina Pro Plan Savor can help stop his poop eating behavior because it somehow mimics what your dog may be looking for in his poop.
The probiotics in this amazing dog food formulation will also support your dog's gut health and boost his immunity.
Purina Pro Plan Savor also features Omega 3 &6 fatty acids, linoleic acids, which are great for your dog's skin and coat.
Like other Purina formulations, Purina Pro Plan Savor is highly digestible to promote maximum nutrient absorption, which can also go a long way in discouraging coprophagic behavior in your dog because he won't find any nutrients in his poop.
If you are used to big dog food brands, there are high chances that you've not encountered Lucy Pet Products. However, they are available from select dog food stores and online retailers, including Amazon.
Many dog parents are slowly falling in love with their products and they categorically state that their products neither include low-quality duck, chicken, beef, or salmon by-products nor contain low-quality grains like corn, wheat, or soy.
This particular formulation with duck, pumpkin, and quinoa, is worth including in your list of the best dog foods to stop your dog from eating poop, thanks to its notable portion of pumpkin.
Pumpkin is one of the best ingredients to add to your dog food if he manifests coprophagic habits because it apparently alters the taste of his stool, making it less delicious for him.
Formulated with naturally-sourced duck, this Lucy formulation is a great source of protein for healthy muscles, shiny skin & coat, and proper body functions.
The formulation is also designed for dogs of all stages—from puppies to adult dogs.
Some dogs get attracted to their poops and those of other animals because they contain undigested grains, husks, and hulls.
If your dog has a similar poop fetish, giving him this wholesome grain food from ACANA can help him stop his poop-eating behavior.
This dog food is formulated with wholesome sorghum, oats, millet, and ground miscanthus grass, so besides discouraging your dog from eating his poop, it will also supply him with high amounts of fiber, which is great for digestion.
For the best results, go for Duck & Pumpkin or Lamb & Pumpkin options because Pumpkin also alters the taste of your dog's poop, discouraging his coprophagic habit.
ACANA dog food with Wholesome Grains also features B vitamins, which are also recommended for dogs that manifest poop eating tendencies due to vitamin B deficiency.
Adding small amounts of dietary fat to your dog food can also discourage him from eating his poop.
Dog poop has some fats in it and if a dog craves some fat in his diet, he can be tempted to chow down his poop.
Evanger's Premium Dog Food is formulated with coconut oil, which can somehow replicate the fats that your dog may be tempted to look for in his poop.
Besides discouraging poop-eating habits, coconut oil will boost your dog's coat and skin health and promote digestion.
This Evanger's formulation also packs prebiotics and Caltech protonated trace minerals, which are all important in helping your dog stop his coprophagic tendencies.
Another great dog food that can help discourage your dog from eating his poop is this real meat recipe from Diamond Naturals, thanks to probiotic enhancement.
Like the Purina Pro Plan SAVOR, giving your dog this recipe will add beneficial bacteria to his diet, which not only promotes his gut health but can also go a long way in helping stop his coprophagic habit by mimicking what he may be looking for in his poop.
One of the most important aspects we loved about this particular formulation is the fact that the company processes their cultures under very strict quality and safety standards, so you can always rest easy knowing that your dog is getting high-quality probiotics.
Besides, the recipe is formulated with selenium, vitamin E, and Omega 3&6 fatty acids for skin and coat health.
Another great dog food that we had to include in our list because it contains carefully selected ingredients is this grain-free formulation by Castor & Pollux Organix.
If your dog is eating his poop because he is looking for beneficial bacteria, this formulation will come in handy since it is made with probiotics and prebiotics.
And if your dog's poop-eating tendency is due to lack of fiber in his diet, this formulation will still suit him because it packs prebiotic fiber as well as organic flaxseed and blueberries.
This formulation also features organic coconut oil and will, therefore, take care of your dog's coprophagic behavior if it is caused by a craving for dietary fat.
Like other dog foods we have reviewed so far, it is free of chemicals, artificial preservatives, pesticides, and growth hormones, making it 100% safe for your dog.
Finally, depending on your dog's diet, he may sometimes crave for poop to get some fiber. So, feeding him some green veggies can discourage his poop eating practice because it somehow mimics what's in his stool.
One of the best brands that are formulated with fruits and veggies that can add the right types of fiber your dog may be looking for in his poop is this Mix-A-Meal Fruit & Veggie Pre-Mix from Sojos.
This unique dehydrated dog food contains a blend of superfoods such as sweet potatoes, apples, carrots, parsley leaves, cranberries, and flax seeds, which can add different types of fibers to your dog's diet.
It is easy to prepare as all you need to make your dog a meal is to add poultry, meat, or fish of your choice and you are good to go.
It is also free of soy, artificial flavors, colors, or preservatives, making it safe for your dog.
Conclusion
Coprophagia is a common problem in dogs but it often clears with good nutrition and proper training.
There are several ways of breaking this behavior in dogs but if you are trying to discourage it by changing your dog's diet, the above-reviewed dog food for poop eaters will come in handy.
We have tried to explain why every formulation can help stop the coprophagic behavior, so if you don't like a brand we have listed in this post, feel free to replace it with your favorite brand (with similar ingredients).
We also have several great posts on coprophagia on this site. So, if you would like to learn more about poop eating behavior in dogs, here are a few posts that you may find useful:
Last Updated on July 10, 2021 by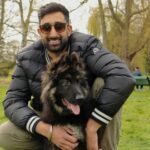 Sable McNeil is a canine chef, professional pet blogger, and proud owner of two male dogs. I have been an animal lover all my life, with dogs holding a special place in my heart. Initially, I created this blog to share recipes, tips, and any relevant information on healthy homemade dog treats. But because of my unrelenting passion to make a difference in the world of dogs, I have expanded the blog's scope to include the best information and recommendations about everything dog lovers need to know about their canine friends' health and wellbeing. My mission now is to find the most helpful content on anything related to dogs and share it with fellow hardworking hound lovers. While everything I share is in line with the latest evidence-based veterinarian health guidelines, nothing should be construed as veterinary advice. Please contact your vet in all matters regarding your Fido's health.