As an Amazon Associate, we may receive a small commission from qualifying purchases but at no extra cost to you. Learn more.
A pin brush is a dog owner's best friend. From detangling minor mats and tangles, removing loose hair, getting rid of dirt and debris to smoothing out coats (leaving them looking healthy and glossy), it can do it all. Without one, keeping your dog's coat healthy, shiny, and beautiful will be quite the task. Thankfully, the market comes with all kinds of pin brushes for our fur babies. Whether you are looking for the best pin brush for your Fido, you will have endless options to choose from. To make your life easier, we have compiled a list of the 10 best pin brushes for dogs in the market. But before we check them out, let's go over a few basics.
What Is A Pin Brush? Are They Different From Slicker Brushes?
While slicker and pin brushes are often used hand in hand, they are different types of brushes and sometimes a grooming job may require one particular brush—and not the other.
Generally, slicker brushes have short pins that are positioned together on a flat surface or slightly curved base while pin brushes look more or less the same as human brushes that we use on our own hair. They have wire pins just like slicker brushes but with protective balls at the end of the pins for gentler brushing (see the pictures below).
The best time to use a slicker brush is when you want to detangle your dog's fur or get rid of dander and trapped dirt from his undercoat. Slicker brushes penetrate deep into your pup's undercoat, messaging his skin. This boosts blood circulation, moisturizing the fur and keeping it glossy and healthy. They are, therefore, recommended for dogs with medium to long coats or dogs with thick and curly coats that require more rigorous brushing or grooming. Don't use them in short-haired breeds (like dachshunds, Jack Russells and Chihuahuas) though because the long bristles can irritate and even hurt these dogs.
On the other hand, pin brushes have wider spaces and feature different length pins, making them suitable for all fur types—wire haired breeds, thick or double coats, short haired breeds etc. However, they don't penetrate deep into your dog's coat, so may not be highly effective in removing malted hair and skin.
They are often used in the final step of grooming process—to fluff dogs' coats. You can also use them to pick your pup's lose hair before it is shed on your floor and furniture. Another area where these brushes come in handy is grooming show dogs with long fur coats. Considering that they have wider gaps than slicker brushes, they allow gentle brushing without causing damage to the dog coat or causing unnecessary statistic charges.
Best Pin Brush for Dogs: Our Top 10 Picks
This double-sided dog brush from BV scores the top position on this list for all the right reasons. For one, it is truly a quality and effective product. On one side you have nylon bristles designed to get rid of mud, dirt, and loose hair. Once you are done removing all the unwanted stuff, you can turn the brush to the second side which detangles the coat and massages the pup's skin causing it to release its natural oils. Both sides do the job to perfection. To make your work easier, the pin brush comes with a comfortable handle. The manufacturer even fitted a convenient eyelet to make storage easier for you. BV dog brush is suitable for all coat types, making it even more valuable.
Here is a quality de-matting tool that can make your grooming sessions much more rewarding. With two sides each with differently-sized teeth, you can do so much more with this product. The bristle brush side is ideal for getting rid of loose hair, mats, and dirt while the pin brush is good for finishing the job of combing the hair out. All the nylon pins are soft and have rounded ends to reduce the likelihood of hurting your pet. With a comfortable handle, you will have such an easy time sliding the brush through your pup's coat.
The ConairPRO Dog Pin Brush is made for small dog breeds. If you have a Pug, Papillion, or Frenchie, this is the product to go for. The pins will get down to his undercoat and rid it of awful stuff that shouldn't be in there. We are talking dirt, mud, loose hairs, dander, you name it. It is also an expert detangling tool separating large chunks of matted fur on your baby's coat. As you work your way on the fur, the pins will stimulate blood circulation and a release of natural oils on the skin. The pins are rounded which means they are totally safe for your pup's skin. This brush comes with a soft and ergonomic handle made of memory foam. Not only does it fit well in your hand but it will help you hold a firm grip.
Dog brushes made with wood are great as they brush gently and safely than wire brushes. This pin brush from Chris Christensen is one such product. As you brush your dog's coat with it, the pins will lift the hair above and away from dirt, dander, and loose fur. With 30% more pins than your average brush, trust this product to be effective and efficient. Since the pins are made of wood, they have no static electricity. Plus, the handle is ergonomic and convenient to use. Whether you are looking to detangle your dog's locks, release his natural oils, massage his skin, remove loose hair, or get rid of dander, this pin brush can do it all.
The Hertzko Pin Brush has all the features of a good grooming brush. For one, it features pins that are effective in removing loose hair, trapped dirt, and dander from your dog's coat. The pins have rounded tips to ensure that your fur baby's skin is not damaged or scratched during grooming. As you brush your dog with it, it also massages him and increases blood flow. The result is a healthy, shiny, and smooth coat. This product also has a durable, comfort-grip, and anti-slip handle to enhance your comfort and convenience during grooming.
If you have a large heavy shedder at home such as a German shepherd, Chow Chow, or Husky, you know the importance of having the right grooming tools. This brush from Safari by Coastal has wire pins designed to help get rid of tangled and loose hairs from your fur baby. In addition to removing hair, the brush also distributes your dog's natural oils along his skin leaving his coat smooth, shiny, and beautiful. Made with a wooden ergonomic handle, you will have an easy time working your way on your dog's fur. It comes in two sizes making it ideal for dogs of any size.
When you have two or more dogs with different coats, you want an all-purpose pin brush that can take care of all your babies. The Fast and Good Professional Double-Sided Pin Brush is a combo brush designed to handle all types of hair. One side has pin brushes that are slightly bent and rounded on the tips. From detangling mats, getting rid of dirt and dander, to massaging the dog's skin, the pins can do all without scratching or injuring him. The bristle side is more geared towards combing the hair out and removing loose hair. You also get a durable slider storage bag along with the brush for easy storage.
Do you own a Golden Retriever or the Poodle and have no idea which pin brush suits him the best? The Stainless Steel Grooming Brush is made with such a long-haired breed in mind. The bristles are long and straight penetrating through the thickest of fur to get rid of loose undercoat, dander, dirt, and grime. It also helps to untangle long hair and remove all mats. The brush is made from premium materials to keep it steady and sturdy throughout the grooming exercise. Its handle is made of rubber which is both comfortable and non-slip.
A curly-haired dog breed is beautiful to behold. Unfortunately, taking care of his coat can be quite the task. You need the Ancol Ergo Pin Brush to keep the coat in tip-top shape. The pins are gentle and long to get deep into the undercoat without injuring your pup's skin. To use it, run the brush over the coat in the fur's direction. Gently tease the tangles without pushing the brush inside the coat. Since the pins are rounded, you can trust that your pup is safe and comfortable.
On the last spot, we have the JW GripSoft Pin Brush Dog Brush. It is great for everyday use for both medium and long-coated dog breeds. The brush comes with an oval head consisting of long rounded bristles used to untangle fur and smooth the coat. The round ends keep your fur baby's skin safe as the pins work their way on the fur. Its handle is ergonomically designed to enhance comfort and convenience.
Conclusion
A good pin brush for dogs can make or break your grooming efforts. With one on your hand, you will have an easy time keeping your dog's coat looking great all the time. If you are looking for the best product for your dog, this list is a great place to start.
Last Updated on April 6, 2021 by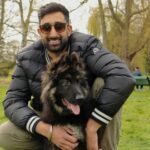 Sable McNeil is a canine chef, professional pet blogger, and proud owner of two male dogs. I have been an animal lover all my life, with dogs holding a special place in my heart. Initially, I created this blog to share recipes, tips, and any relevant information on healthy homemade dog treats. But because of my unrelenting passion to make a difference in the world of dogs, I have expanded the blog's scope to include the best information and recommendations about everything dog lovers need to know about their canine friends' health and wellbeing. My mission now is to find the most helpful content on anything related to dogs and share it with fellow hardworking hound lovers. While everything I share is in line with the latest evidence-based veterinarian health guidelines, nothing should be construed as veterinary advice. Please contact your vet in all matters regarding your Fido's health.