Your dog is part of your family and leaving him behind when you are traveling may be hard on you both. But with a lot of portable pet carriers on the market, it is now easier than ever for your fur baby to accompany you. Whether you are heading off on a vacation, taking a road trip, or simply want to take your dog to your vet, pet carriers (especially those with wheels) can make your life a lot easier. Pet carriers can also offer temporary shelter for your dog, particularly in emergency situations.
While some pet carriers function more like your typical backpack or purse carrier, some have wheels and handles for easy maneuverability and convenience. And if you have a weak shoulder or experiencing a shoulder-related condition, it is better to opt for pet carrier with wheels and handles over conventional over-the-shoulder style pet carriers.
After extensive research on the types of pet carrier with wheels available in the market today, we found 15 carriers that are not only convenient for you but also safe and comfortable for your canine friend. Instead of checking tens of online stores to find the best pet carriers, you can simply go through our list below and pick the right option for you.
Let's dive in.
15 Best pet carrier with wheels and handles
The travel-friendly pet carrier offers a spacious, comfy space for kittens, dogs, and puppies. Its top has a thick wire frame designed to give it extra stability, thus preventing it from sagging when expanded. It can safely and comfortably accommodate pets that weigh up to 15 pounds. The fact that it is expandable from both sides means that it leaves plenty of space for pets to move around.
The pet carrier is ideal for the traveling pet parent. It comes with recessed wheels that are designed to enhance easy-glide motion. It can accommodate pets weighing up to 25 pounds or even more. Its adjustable shoulder strap can be converted to a comfortably padded pull handle. It is approved for carrying pets on prominent airlines.
The pet carrier seeks to change the way you carry your pet for the better. It can comfortably fit two pets weighing up to 12 pounds each. The lightweight carrier is particularly perfect for transporting dogs and other larger pets. Its unique and sturdy construction makes it great for wheeling your pet whenever you go. It is suitable for carrying sick and elderly pets.
The pet carrier boasts a versatile design, which means it can be used as a tote, pet car seat or a backpack. Its telescoping handle makes it quite easy for pet parents to maneuver with it, especially in small, tight spaces. Its front door coupled with mesh side panels provides adequate airflow and further ensures your pet is acquainted with his surroundings. The stylish rolling backpack is available in blue, black, pink and green.
The pet carrier is a perfect selection for pet parents who seem inseparable with their pets. The multi-functional pet carrier acts as a rolling carrier, backpack, car seat carrier, and tote carrier. It accommodates pets weighing up to 10 pounds. It is ultra-comfortable, and it comes with an interior latch you can use to hook your pet to stop him from jumping out of the carrier abruptly.
The durable pet carrier is suitable for moving your pet from one airport to the other. It is designed from a highly durable and waterproof material, which is lined with a mesh for added breathability. The fully collapsible pet carrier has a soft, comfortable microfiber lining, giving your pet a comfortable place to take a nap while you are traveling. It comes with a seat belt strap designed to keep your pet safe while riding with him in the car.
The lightweight yet quality pet carrier is tailored to making traveling with pets easy. Its versatile 4-in one-design enables it to convert into a car seat, backpack, and pet bed. This makes it easier for pet parents to bring their furry friends almost everywhere they go. It is incredibly spacious and sturdy, making it an excellent carrier for large dog breeds. The wheeled pet carrier is suitable for wheeling your pet in airports. Besides, it has been approved by major airlines.
The innovative pet carrier doubles as a backpack, car seat, tote, carrier and roller bag. It features a leash that can be attached to pets' harness for added safety. Its expandable sides can be stretched to add additional space. It is particularly perfect for small pets such as kittens and puppies. The fashionable carrier comes with a removable pad that is designed for easy cleaning
Carry your pet in style with this functional carrier. Its smooth spinning wheels are crafted to allow easy maneuvering through malls, airplane aisles, supermarkets, and airports. It offers three different ways to carry your furry friend, thanks to its strap handle, backpack straps, and telescoping handle, which are designed to provide 3 convenient and easy pet carrying solutions. It has three ventilation mesh panels crafted to provide easy visibility and a calm environment to your pet.
The pet carrier comes with smooth and silent swivel wheels to provide you with a smooth ride when moving with your pet. The detachable carrier is easy to fold for convenient storage. Its outstanding structural design makes it sturdy and extra durable. The robust and durable carrier is excellent for transporting aggressive chewers and other stubborn pets.
If you are looking for a pet carrier with wheels that also save you space, then you will never go wrong with FrontPet airline-approved rolling pet carrier. The carrier can be rolled or folded into a backpack to save space or to allow for maneuverability, especially in cramped spaces. It comes with high-quality mesh and openings to allow your dog to breathe with ease and feel comfortable throughout the journey. It is also airline-approved, which implies that you can travel with your dog on major airlines.
The lightweight but compact carrier ensures you don't leave your pet behind while traveling, shopping, or moving about outdoors. Its smart design prevents your pet from tipping over when you are pulling him in the carrier. It can easily and quickly convert into a spacious backpack. It is equipped with a safety leash to keep your pet safe whilst you are moving with him.
The wheeled pet carrier is ideal for small pets. The stylish and super-strong carrier offers a smart solution to pet travel. It has a sturdy construction, thanks to its super-strong metal frame coupled with durable materials. It is designed to provide your pet with ultimate comfort while you are on the move.
The carrier allows you to take your pet anywhere you wish. Its roomy design makes it perfect for large pets, especially dogs. It is equipped with adjustable seatbelt loops, making it suitable for car rides. The interior heavy-duty rubber mesh offers optimum ventilation and enables your pet to view his surroundings with ease.
With this collapsible and convertible pet carrier, you don't have to purchase four differently configured pet carriers. Assembling the carrier is easy, thanks to the assembly manual. It has a large opening to ensure your pet can get in and out with ease. Its sturdy mesh window, as well as perforated holes, guarantees your pet great visual-ability and ventilation. Is can comfortably carry any pet irrespective of its size, thanks to the fact that it can be resized to match the size and weight of any pet.
Choosing the Right Pet Carrier with Wheels and Handles
There are a few parameters that you should always keep in mind when choosing the best pet carrier, including:
Size: Go for a pet carrier that is large and spacious enough to accommodate your dog. To figure out whether a carrier is suitable for your dog, measure your dog and check dimensions of the carrier you plan to purchase. Choose a carrier that is large enough to give your dog enough room to lie, turn, and twist comfortably.
Durability: The material used to make your carrier will determine its strength. Considering that the pet carrier will go through a lot of stress while you are traveling, choose carriers that are made of sturdy materials that can serve you for long.
Type: There are hard-walled and soft-walled pet carriers. While hard-walled options tend to be more robust than their soft-walled counterparts, they can be heavy to pull. On the flip side, soft-walled are lightweight hence easy to pull but may not be sturdy enough to withstand stress or scratching and chewing by your dog.
Ventilation: Breathability is a critical factor when choosing pet carriers. A good carrier should offer your dog sufficient ventilation to ensure that your dog is comfortable.
Extra Pockets and Compartments: Pockets will allow you to easy store treats, toys, first aid kit, and other dog supplies. Go for pet carriers with more pockets and compartments.
Washable Floorboard: Another crucial factor that you should consider when choosing a pet carrier with wheels is its floorboard. It should not only be sturdy but also removable to allow you to wash it separately without the hassle of having to clean the entire carrier. Machine-washable floorboards are the best. Alternatively, consider wrapping a chew proof dog blanket around it to make it easier to clean.
Wide entry: Some dogs may be anxious about getting inside the carrier, especially if it is their first time. The best pet carriers in such situations are those with wide openings to allow your dog to easily hop in without much prodding. If possible, go for pet carriers with multiple entryways as it will be easier for you to convince your pooch to hop in.
Can you put two dogs in one carrier?
While it is technically possible if you have smaller breeds, it is not advisable to put two dogs in one carrier. Your dogs may become stressed and display aggression and other weird behaviors.
How long can a dog stay in a pet carrier?
It is recommended to put your dog in a pet carrier if you are going for a short trip. If it is a long trip, consider taking your dog out of the carrier for short breaks to stretch a bit, eat, and drink water.
What supplies should you include to ensure that your experience goes smoothly?
Treats and food: These are pretty much a no-brainer, especially if you are going for a long trip. While how much of either you need to pack will depend on how long your trip is, it is always advisable to pack more than you will need.
Water: Whether you are going for short or a long trip, don't forget to carry water. Ensure that you pack an extra doggy water bottle as your dog may need more water when traveling than you imagined.
Toys: Bring a few safe chews to ease your dog's mind if he gets anxious during the trip.
Conclusion
The best pet carrier with wheels and handles ensure that you conveniently carry your dog with you while traveling. The above-highlighted pet carrier options will do exactly that and ultimately give you and your pooch value for your money. Choose one option that matches your needs, taste, and budget. Oh, and don't forget to include a leash and poop bags in your supplies.
Last Updated on March 20, 2020 by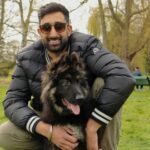 Sable McNeil is a canine chef, professional pet blogger, and proud owner of two male dogs. I have been an animal lover all my life, with dogs holding a special place in my heart. Initially, I created this blog to share recipes, tips, and any relevant information on healthy homemade dog treats. But because of my unrelenting passion to make a difference in the world of dogs, I have expanded the blog's scope to include the best information and recommendations about everything dog lovers need to know about their canine friends' health and wellbeing. My mission now is to find the most helpful content on anything related to dogs and share it with fellow hardworking hound lovers. While everything I share is in line with the latest evidence-based veterinarian health guidelines, nothing should be construed as veterinary advice. Please contact your vet in all matters regarding your Fido's health.