As an Amazon Associate, we may receive a small commission from qualifying purchases but at no extra cost to you. Learn more.
If you own beagles, cocker spaniels, hounds, pit bull terriers or labs, probably you fell in love with their beautiful, ultra-velvety floppy ears.
However, like everything else in life, these cute ears come with a few pain points.
For instance, floppy dog ears tend to be more prone to infections, which if left untreated may cause a wide range of health conditions such as aural hematoma.
Plus, keeping floppy ears clean is never a walk in the park considering that they pick anything on the ground and land in water and food bowls.
Why You Need Dog Bowls That Are Designed For Dogs with Long Ears
Allowing your dog's ears to droop in water and food on a daily basis exposes them to ear infections and chronic ear flap skin conditions.
The shapes of creased or floppy ears tend to trap moisture due to lack of airflow in the ears.
As a result, dirt and bacterial can easily build up under these types of ears.
Besides trapping dirt and bacteria, these ears can also become a breeding ground for ear mites, which can cause more health issues.
Even worse, puppies can accidentally bite their ears if dipped in food, causing infections.
If you have a dog with floppy ears, therefore, it is critical to keep their ears out of their water and food bowls.
This can be achieved by choosing dog bowls for dogs with long ears.
These bowls are narrow, allowing your dog's floppy ears to stay outside his food or water.
8 Best Dog Bowls for Dogs with Long Ears
The first bowl that we can recommend for dogs with long, floppy ears is this Fed "N" Bowl from Sharples N Grant.
It is oval-shaped and narrow to keep your pooch's ears out water or food.
Its height is also just perfect to cater to even tall dogs.
The bowl is a bit tapered towards its top to prevent tipping it over.
It is also made of sturdy material and comes in a wide range of colors to suit you and your dog's preferences.
To prevent unnecessary falls and slips, the bowl comes with a molded, non – slip rubber base.
If you are always worried about your dog's long ears getting wet and messing your floor after enjoying their favorite meal or drinking water, this PETISH Spaniel Bowl may be what you need.
It is narrow and slightly raised to protect your dog's ears from being soaked with food or water.
Unlike plastic bowls that are often associated with slime, this bowl is made with brushed stainless steel to keep your dog food or water fresh for long.
Stainless steel is also easy to clean.
The bowl also comes with a rubber, non-skid bottom to cater to dogs who like running their bowls into anything stationary while eating.
The company offers bowls of different sizes and heights to cater to your dog's age, size, and eating habits.
This is another premium choice when it comes to dog bowls designed for dogs with long ears.
Like other dog bowls that we have reviewed, its top is a bit narrow to prevent your dog's ears from getting into contact with food or water.
It has a non-slip bottom to prevent slippage and protect your floors from drags or slides.
It is lined with stainless steel, making it rust and puncture-resistant. It can hold about 3.75 cups of water, making it a great choice for traveling, especially hunting and camping.
The bowl's openings and height are 6" and 4" respectively, so it can hold treats and kibble as well. This height may not be ideal for puppies though.
This is a heavy dog bowl made from ceramic, so you can rest assured that you're purchasing a strong, durable, and chew-proof bowl.
One of the top benefits of this bowls besides its potential to keep your dog's floppy ears dry is its weight.
It doesn't shift easily if your dog tries to push it around.
One disadvantage of ceramic dog bowls is their potential to chip and break, especially when being used by destructive dogs.
This is not the case with this particular dog bowl because it is designed with thick sides to prevent unnecessary chipping.
We also like the fact that the bowl is made of lead-free ceramic to keep your dog safe and healthy.
It is also dishwasher, microwave, freezer, and refrigerator safe.
Another great bowl for long-eared dogs is this Non-Skid Spaniel/Cocker Bowl from Iconic Pet.
Made of stainless steel, you can be sure that the bowl won't hold bad odors for your pooch.
You can also clean or wipe down this bowl fast.
Like other bowls that we have reviewed so far, it comes with a non-skid rubber bottom to prevent unnecessary spills and protect your floor from mess and potential damage.
The bowl is suitable for treats, wet and dry food and will look great with any home décor.
What we like most about this dog bowl is its amazing design.
It features narrow and elevated bowls to keep your dog's ears clear of food or water, protecting him from ear infections.
And if your dog is a fast eater, you don't have to worry about getting him a slow feeder dog bowl because this bowl is also designed to slow down eating, preventing nausea, bloat, and obesity in dogs.
It comes with two bowls, making it ideal for dog parents with multiple pets.
Unlike other plastics that are prone to chipping, this bowl is made with high-density polyethylene plastic (or HDPE) hence will serve your pooch for longer.
Another cool stainless steel dog bowl that is designed for dogs with long ears is this Indipets bowl.
It is simple in design, making it easy to use and clean.
It is rust-resistant, dishwasher safe, and will blend well with any décor.
Unlike other stainless steel bowls that are lightweight and can be dragged around with dogs, this particular bowl has a sturdy, wide base to increase its center of gravity, making it hard for your dog to topple it over.
Most importantly, the base also features a non-skid rubber to prevent skidding.
The last entry in our list of dog bowls for long-eared pups is this spaniel dog bowl from Bauer Pottery.
The bowl comes with heavy-duty earthenware, so you don't have to worry about skidding issues that are common with certain types of plastic dog bowls.
Its glaze is lead-free to keep your dog healthy.
By the way, Bauer Pottery has a rich history of creating high-quality and functional pottery, so rest assured that you will be buying a high-end dog bowl if you decide to buy this dog bowl.
It comes in a wide range of dog-friendly colors to brighten your dog's eating experience. The bowl is also dishwasher-safe.
Precautions to Take When Cleaning Your Dog's Floppy Ears
Besides buying your dog narrow water and food bowls, you need to clean his ears regularly to keep them healthy.
The best way to do this is to wipe your dog's ears clean with a washcloth to remove any visible debris or dirt.
This will go a long way in preventing dirt from accumulating in your dog's ear canal.
To thoroughly clean creases or crevices inside the ears, use cotton balls that are moistened with appropriate ear wash.
Here are a few Dos and Don'ts that you need to keep in mind when cleaning your dog's ears:
Do use tree oil or vinegar-water solution (mixed in a 1:1 ratio) to clean your dog's ears. These solutions will alter the pH within the ear, inhibiting the growth of yeast.
Do use clippers to remove hair inside the dog's ears. This will go a long way in preventing dirt and moisture from being trapped inside the ears.
Put cotton balls in your dog's ears when bathing him to prevent water from entering his ears. Remember to dry the ears after bathing him.
Don't use hydrogen peroxide or alcohol to clean your dog's ears as they can cause tissue damage and burn even the slightest irritation in your dog's ears.
Don't use cotton swabs to clean the ears as they can accidentally go too deep into your dog's ears causing damage and even hearing loss.
Don't use the same washcloth to clean both ears to avoid spreading the infection to the healthy ear in case only one ear was infected.
Conclusion
Caring for your best canine friend's long lobes may require some small investment in appropriate bowls and ear cleaning supplies but it is worth it in the long term.
Your dog's ears will always stay clean, free of pain, soft, and appealing.
If you notice adverse symptoms like discharge, foul smell, redness inside the ears, rubbing head on objects, and excessive scratching of ears, contact your vet immediately for help.
Last Updated on September 8, 2021 by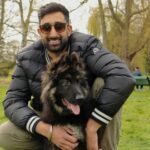 Sable McNeil is a canine chef, professional pet blogger, and proud owner of two male dogs. I have been an animal lover all my life, with dogs holding a special place in my heart. Initially, I created this blog to share recipes, tips, and any relevant information on healthy homemade dog treats. But because of my unrelenting passion to make a difference in the world of dogs, I have expanded the blog's scope to include the best information and recommendations about everything dog lovers need to know about their canine friends' health and wellbeing. My mission now is to find the most helpful content on anything related to dogs and share it with fellow hardworking hound lovers. While everything I share is in line with the latest evidence-based veterinarian health guidelines, nothing should be construed as veterinary advice. Please contact your vet in all matters regarding your Fido's health.