If you've been a pet parent before, you know the reality of urine stains and odors around your home. No matter how well you potty train your canine friend, accidents are bound to happen at one point or the other. It's all part of the process. Dogs eliminate in inappropriate places for different reasons. Often, anxiety, improper training, loneliness, and health problems are the biggest contributors. Sometimes, they pee on your carpet or furniture for no reason at all. Thankfully, an enzyme cleaner is a natural and effective solution for lifting stains and odors left behind by a dog's urine. The enzymes present in the cleaner break down the stains turning them into water and carbon monoxide. We have rounded up a list of 15 best enzyme cleaners for dog urine as well as a comprehensive guide on how to use these enzymatic cleaners, tips for choosing the best, and how to get the most out of these amazing cleaners. Let's begin with the best enzymatic cleaners.
Best Enzyme Cleaners for Dog Urine: Our Top 15 Picks
One of the most versatile, safe, and truly effective enzyme cleaners in the market today is the Rocco & Roxie Enzymatic Dog Urine Stain & Odor Remover. Its formula is the most potent. If you use a black light, you can watch the urine dissolve within a few minutes of applying it. What's more, you don't need to blot the cleaner out after it has done its magic. It simply disappears on its own together with its strong scent. We also love the fact that it is color-safe and can be used on many surfaces including wood floors, carpets, and certain textiles. It has the strength to penetrate through stain in your bathroom grout leaving it spotless and odorless.
Pet Stain & Odor Miracle is another effective enzymatic cleaner available in the market today. Rather than covering odors with powerful perfumes, this cleaner actually eliminates stains and odors leaving your surfaces spotless and smelling fresh. Sunny & Honey, the manufacturers of this cleaner are so confident of their product that they have a 60-day money-back guarantee. They are also passionate about dogs as they offer 10% of their profits to animal shelters and rescue. By buying this great cleaner, you will be contributing to their charitable deeds. You can use the cleaner around humans and pets as well as a number of surfaces including tiles, hard floors, furniture, and carpets.
With a powerful pre-bacteria formula that is unbeatably effective, the Simple Pet Stain and Odor Remover deserve a spot on this list. It is very affordable compared to other products on the market. Whether you want to eliminate the stain and odor on your fabrics, upholstery, carpets, or bedding, you will find this cleaner to be beneficial. The contents are packaged in a spray bottle with three different nozzle settings – foam, steam, and mist. You can switch from one setting to another depending on the stubbornness of the setting and the specific surface you are working with. The good thing is that you can use this product around children and pets.
The BUBBAS Super Strength Commercial Enzyme Cleaner is another awesome product for tough, old pet stains. Utilizing a dormant bacterial formula, this cleaner is very potent, dissolving dog urine in record time. To stimulate its cleaning abilities, you have to wet your rugs, textiles, and surfaces first. This way, the product will penetrate better. It has a pretty harsh and strong scent but thankfully, this goes away after the cleaning action is over. The advantage of this cleaner is that it has a long shelf life. Because it requires prior soaking, a little goes a long way.
Nature's Miracle is truly that; a miracle in the world of stain removal. When you want to rid your rugs and carpets of dog urine, this powerful shampoo formula will prove useful. It comes in a 1.5-gallon container and a battery-powered sprayer. This is good news for pet parents who are tired of the regular manual spray bottles. This enzymatic cleaner is biodegradable and works effectively on old carpet stains. It is also gentle on colors and doesn't contain chlorine. However, it doesn't essentially remove the odor but masks it. The principle behind this is to discourage your dog from eliminating in the spot again. As a result, this cleaner tends to leave a strong smell that lingers in the house for quite a long time.
When looking for a stain remover for pet stains, it is important to buy a non-toxic formula that is easy to use. The TriNova Pet Stain and Odor Remover promise to do that and more. Using only natural ingredients, this cleaner is safe to use around humans and pets. You can also use it on most surfaces except wooden surfaces. It is enriched with mint and bamboo extracts to deliver a fresh scent. With easy-to-follow instructions, you won't need another person to interpret anything for you.
Mister Max Original Scent is a unique enzymatic formula that gets rid of odors and stains brought about by dog's urine, poo, and vomit. What sets this product apart from the rest is the anti-lcky-poo feature that corrects the pH of the stain before the application of the cleaner. This important step helps the formula to deliver optimal results. It is available in scented and unscented versions with the first option being mild and friendly to both humans and pets. This cleaner can be used on all surfaces and doesn't require mopping, blotting, and scrubbing.
Even if you are on a tight budget, you can still get a high-quality and effective odor and stain remover. OUT! Advanced has been designed to attack dog urine and other pet stains without causing you to break the bank. It utilizes the power of enzymes and bacteria and creates a concentrated formula to break down various stains effortlessly. As the stains are removed, the odors are neutralized as well. The result is a lingering fresh smell. All you have to do is first clean the spot, spray it with the cleaner, let it sit, and then blot it out with a dry rag. OUT! can be used for a number of surfaces such as carpets, tiles, fabric, mattresses, upholstery, and grout. It is totally safe around children and pets.
If you are looking for an enzyme remover that will completely remove pet stains and odors from your surfaces, the Emmy's Best Powerful Cleaner is one of the best choices out there. It utilizes a three-step formula that gets rid of stain, odor, and repeated soiling. The best part about it is that it is lavender-scented. Not only is the scent pleasant but lavender has been shown to calm anxious dogs.
This enzyme cleaner from Amaziing works wonders when it comes to cleaning surfaces stained with dog urine. It is made with plenty of enzymes that both dissolve stains right before your eyes and neutralize bad smells from a wide range of surfaces. It is gentle and can be used on a number of surfaces, including carpets, hardwood floors, car interiors, clothing, and upholstery. If you are concerned about quality, this product carries a lifetime satisfaction guarantee. Most importantly, it is a pet and human-friendly product. Plus, it doesn't require scrubbing after application.
Angry Orange is a biodegradable non-toxic cleaner that delivers great results when it comes to pet stain removal. As the name suggests, this cleaner is made from peels of orange fruits hence bears a light citrus scent. After cleaning your surfaces, the sweet orange scent will linger in your house for a few hours before it dissipates completely. The cleaner has a very strong formula that targets methane and ammonia odors and stains. It comes in a spray bottle and requires no mixing whatsoever. Being non-toxic, Angry Orange can be used for just about any surface.
Created with a potent multi-surface formula, the Pet Stain Enzyme Cleaner and Odor Eliminator is one of the best-selling products in the market. You can use it to get rid of any pet stain including urine, vomit, and feces. It has a sweet minty scent that dissipates in a couple of days leaving behind zero smell and stain. The cleaner can be used on pet beds, crates, hardwood, furniture, and carpets. However, it is not very effective on hard floors.
Another enzymatic cleaner that's ideal for dog urine stain and odor removal is the Life Miracle Concentrate. Unlike many products in the market that use harsh chemicals, this is an all-natural cleaner that is just as effective. Apart from being non-toxic, Life Miracle is eco-friendly, color-safe, allergy-free, and kid-friendly. It comes as a concentrate that is diluted with water before use. Feel free to use it in a machine washer to remove removes stains and odors from your clothing.
The Black Diamond Stoneworks uses active enzyme technology to remove stubborn stains from surfaces. It is powerful enough to wipe away stains and odors of all kinds permanently. You can use it to clean many surface types such as furniture, carpets, pet bedding, grout, and concrete. Being biodegradable, you don't have to worry about adding toxic chemicals to the environment. The cleaner is pet and kid-friendly. The only problem is that it has a strong scent that many people find very harsh and unpleasant.
Lastly, we have the PetSafe Enzyme Dog Urine Cleaning Solution as a good cleaner for dog urine. The manufacturer has a reputation for making high-quality, effective, and safe products. This one is no exception. It is devoid of harsh chemicals that pose a threat to the environment, pets, and people. This enzymatic formula neutralizes all odors and eliminates stains without leaving anything behind. Plus, it is multi-functional. Use it for the outdoors, carpets furniture, and floors.
Bonus Buys
Besides enzymatic dog urine cleaners, consider using other tools and products to help you completely get rid of urine stains. Here are a few tools we recommend:
Bissell Steam Mop: This is great for hard surfaces such as tiles, laminate, or hardwood. It not only helps you remove urine stain but also eradicate up to 99.9% of bacteria and germs. It also features fragrance discs for clearing unwanted urine odors.
Bissell Spot and Stain Deep Cleaner: For getting rid of stains soaked deep into the carpet fibers. The product cleans, deodorizes, and has built-in components to stop the growth of bacteria, mold, and mildew.
TaoTronics LED Flashlight Detector for Pet Urine: For detecting urine accidents that have dried. This is particularly handy for furniture, carpets, and around the toilet areas where drips and flashes of your urine may be challenging to detect.
How Enzymatic Cleaners Work
Enzyme-based dog urine removers contain specific types of enzymes, which break down the staining agents like fats, starch, proteins, or oils. So, instead of just wiping away the stains, the enzymes attach themselves to them the surface contaminants and continue to break them down into things like carbon, hydrogen, and oxygen.
In order for enzymatic cleaners to work, they have to saturate the surface contaminants or the area stained by urine. So, if the urine has dried, the cleaners need to remain in contact with the urine crystals for some time until they are all dissolved. This implies that there are instances when you may need to apply the cleaners repeatedly, but don't worry; the products will do their job.
Additionally, while most cleaners with enzymes are designed to work on both soft and hard surfaces, manufacturer's instructions vary and may also depend on whether the stain is dry or fresh. So, if you want the product that you have purchased to be effective, always strive to follow the manufacturer's directions.
Benefits of Enzymatic Pet Urine Cleaners
One of the main benefits of enzyme-based dog urine cleaners is safety—they are safer for dogs and the environment than their chemical-based counterparts. Our dogs are much closer to the ground or our floors than we are, so harsh chemical products are likely to affect them more. Dogs are also naturally curious and may be tempted to lick the cleaners that we apply on our floors. To ensure that your dog remains safe, it is important to avoid harsh chemicals, and this is where enzymatic cleaners come in handy. Some cleaners also use bleach, which your dog can pick on his paws and track to other areas of your home, leaving unsightly spots. Besides, the enzyme cleaners can get into even tiny spaces, ensuring comprehensive stain removal or cleaning.
What is the difference between enzymatic and probiotic pet urine removers?
Enzymatic cleaners use enzyme blends, which breaks the organic staining agents. Essentially, the enzymes work with biocatalysts to speed up the reaction that turns the offending stains into things like carbon and oxygen. Enzymatic cleaners can be used to eliminate a wide range of stains, including urine, blood, vomit, food particles, and even mildew. However, they may not be very effective on chemical stains given that there is no organic matter associated with these types of stains.
On the other hand, Probiotic cleaners work like their enzymatic counterparts but are designed to eliminate specific types of stains. In other words, they are designed to eat specific proteins in the offending stain. A probiotic stain remover designed for urine stain may not be effective for vomit stain because vomit has a different set of proteins. Probiotic cleaners are, therefore, recommended if you want to remove a specific type of stains.
Factors to Consider When Buying Enzyme Cleaners for Dog Urine
1.Type Of Enzyme Cleaner
Different types of enzymes break down different kinds of staining agents, so if you are looking to eliminate other stains besides urine stains, opt for a cleaner that will help you eliminate the stain in question. Here are the main types of enzymatic cleaners.
Lipase Enzyme Cleaner: Works on fats or oil-based stains like oil and grease.
Amylase Enzyme Cleaner: Tackles starch, including sugar, eggs, and sauces.
Protease Enzyme Cleaner: Breaks down protein-based stains, including urine, wine, and blood.
2. Concentration
Enzymatic pet urine cleaners are listed as "commercial/industrial strength" or "normal strength" depending on their concentrations. If you are dealing with light stains, opt for the latter. For stubborn stains, 'commercial strength' cleaners will suffice because they have higher concentrations.
3. Scent
While a majority of enzymatic dog urine cleaners are not scented, some come with infused scents. If you want to add some touch of luxury to your urine stain removal process, you can choose scented options. However, if you or your dog is sensitive to smells, go with non-scented options.
4. Dry Out Time
Most enzymatic cleaners take about 12-24 hours to dry completely. It is critical to allow for maximum dry out time for the cleaner to attach itself to the staining agent and break it down. Steer clear of products that boast of fast dry out time because they are probably not effective.
5. Pour Versus Spray Bottle
Enzyme cleaners for dog urine come in two main types of bottles: spray and pour bottles. Spray bottles are more precise, making it easy to control how much of the cleaner you want to go in a given area. However, they are small in size. On the other hand, pour bottles are larger and are recommended if you are looking for the best value. To get the best of both worlds, consider buying a pour bottle and transferring its content to spray bottles that you can use in smaller doses.
6. The Cleaning Surface
Finally, consider the type of surface you plan to clean. Some enzymatic dog urine removers are designed to work best on hard surfaces while others are meant for soft surfaces. A cleaner that is designed for carpets, for instance, may not be very effective for tile or hardwood surfaces. Before you purchase enzymatic urine removers, therefore, check the usage instructions on its label to be certain that it will help you remove the type of pet pee stain you are looking to remove.
Tips to Get the Most Out Of an Enzyme Cleaner for Dog Urine
Act fast: It is recommended to clean urine stain as soon as you notice that your fur baby has 'had an accident' to prevent the urine from getting soaked into the padding of the surface. Acting fast will allow you to remove the stain easily without incurring the cost of additional removal methods like water extraction.
Always follow the manufacturer's directions. These cleaners require very specific conditions to work optimally.
Old messes may require multiple treatments or cycles to clear out. So, don't be frustrated if they don't clear after the first treatment.
Apply the pet urine cleaner first! Other household cleaners like vinegar can act as enzyme inhibitors
Always allow the area being treated to dry completely as it is part and parcel of the process.
Consider covering the area being treated with plastic to create a warm environment for the good bacteria to act on the staining agent.
To ensure that the cleaner will not cause an excessive color run, consider testing the cleaner on a small, hidden area first. Apply the cleaner on the test area, leave it for 5-10 minutes, and then wipe with a colored cloth. A small amount of color on the wipe is reasonable but a large amount of color is an indication that the cleaner may cause permanent discoloration and should be passed for another option.
Tips for Preventing Future Incidents
Once you have removed the urine stain, you need to put measures to prevent future incidents from happening. One way to do this is to make the area unattractive or unavailable for your canine friend. Remember that as long as your dog can still smell the urine, he is more likely to return to the "accident spot".
Invest in a natural no marking spray. This is a plant-based deterrent that can discourage your dog's marking habit by replacing the smell of the urine that keeps your dog returning to the 'accident spot' with a bitter scent (which is usually undetectable to humans but unbearable to dogs).
Additionally, probably there is a reason why your dog chose to relieve himself in the wrong place. Try to understand your dog's motivation to figure out how you can get him on the right track again. Consider getting a training tool like a fake hydrant to train your pup to do his business in the right place. Here are the best options: 8 best fire hydrants for dogs to pee on.
Finally, have your dog checked by a local vet to ensure that he is healthy and to ascertain that the accident wasn't caused by a medical condition.
The Bottom line
It doesn't matter where it is; dog urine is unsightly and foul-smelling. Since you can't predict when and where your fur baby will eliminate next, it is best to arm yourself with a good enzyme cleaner at all times. This gives you the peace of mind that your floors, furniture, and cars will be safe from stains and odors. Hopefully, you've found the right cleaner among our list of the best enzyme cleaners for dog urine. Whatever brand you choose, remember to re-check the label and ingredient list to ascertain that they are safe for your four-legged friend and everyone else in the house.
Last Updated on June 17, 2021 by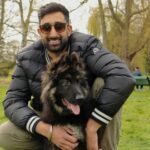 Sable McNeil is a canine chef, professional pet blogger, and proud owner of two male dogs. I have been an animal lover all my life, with dogs holding a special place in my heart. Initially, I created this blog to share recipes, tips, and any relevant information on healthy homemade dog treats. But because of my unrelenting passion to make a difference in the world of dogs, I have expanded the blog's scope to include the best information and recommendations about everything dog lovers need to know about their canine friends' health and wellbeing. My mission now is to find the most helpful content on anything related to dogs and share it with fellow hardworking hound lovers. While everything I share is in line with the latest evidence-based veterinarian health guidelines, nothing should be construed as veterinary advice. Please contact your vet in all matters regarding your Fido's health.