As an Amazon Associate, we may receive a small commission from qualifying purchases but at no extra cost to you. Learn more.
Hunting is still very popular and avid hunters are still using gun dogs to help them track and retrieve prey. To effectively hunt with a gun dog, however, you need to know how to keep your dog safe.
Irrespective of the amount of safety gear that you put on your dog, accidents are bound to happen in the field. For instance, the dog might encounter a poisonous snake, can have a run-in with a porcupine and come out with a snout full of quills, and briars can lacerate his paws or legs.
If you are out on a hunt with your dog, therefore, you need to prepare adequately before you get out there. You need to equip yourself with a high-quality first aid kit for your hunting buddy so that you can handle any kind of medical emergency that may arise.
To make your work easier, we have compiled a list of the best hunting dog first aid kits that include many of the most commonly used products.
The first aid kit is excellent for pet parents who love going for outdoor adventures with their pets. It is designed to treat cuts, strains, scrapes, and sprains.
The kit comes with a wide array of pet medical supplies such as an emergency thermometer, pair of scissors, disposable gloves, sterile non-woven gauze, instant ice pack, band-aid, cotton swabs, alcohol pads, and elastic bandage. Plus, it comes with a dog blanket.
The topnotch dog first aid kit is designed with the assistance of a veterinary doctor. It is useful for treating wounds, ranging from minor scratches to deep cuts.
The kit contains almost every item you need to treat your dog's injuries. It is equipped with saline wash for cleaning wounds/cuts and a styptic pen for arresting bleeding.
Other medical supplies contained in the kit include antibiotic ointment, antiseptic wipes, gauze pads, a pair of surgical gloves and elastic wrap.
This kit provides the pet owner with the precise tools that they need to do first aid treatments. It includes helpful tools that come handy in giving first aid treatment to your pet in emergencies until you are ready to take your injured pet to the vet.
The water-resistant kit comes with two gauge rolls, elastic bandage roll, two small gauze pads, patch adhesives designed for wound dressing, a pair of examination gloves, angled scissors, tweezers, first-aid tape and two wooden tongue depressors among other medical supplies.
The dog first aid kit is specially designed for all pet emergencies. The kit has three spacious compartments designed to carry a wide array of medical items.
This portable and stylish kit comes with a parachute cord, tweezers, cotton swabs, instant cold pack, thermal foil emergency blanket, trauma pad, gauze pads, and cotton swabs.
This is a must-have first aid kit for every pet parent. The dustproof first aid kit can be used anywhere that your pet experiences injuries. The kit is perfect for pet owners who choose to take their pets for skiing, camping, and hiking.
It is equipped with stainless steel tweezers, a pair of scissors, elastic bandage, adhesive tape, gauze pads, cotton balls, safety razor, insect sting wipe, and antibiotic cream.
Plus, it comes with an emergency collar, a thermometer, a 6" mini pouch, and a tick remover.
The first aid kit is equipped with a host of medical supplies that are handy for any emergency. The kit doubles up as a travel kit, so every dog owner shouldn't hesitate to carry it for their upcoming tour.
Besides being equipped with medical supplies, the kit comes with toys, a collar, and a leash. Some of the items in this kit include an antibiotic ointment, grooming wipes, pet blanket, pair of surgical gloves, and hydrogen peroxide.
The pet emergency kit is designed for all emergencies that your pet might experience. Whether you experience emergencies while you are camping, hiking, or riding with your furry friend, this kit is well equipped to serve you well.
The kit includes a pair of exam gloves, absorbent gauze pads, gauze roll, first-aid tape, sterile sponges, and elastic tape.
The pet first aid kit is tailored to giving you the ability to provide emergency assistance for your furry friend. Its extended zipper is designed to enable you to open it with ease. Its CF signature label, coupled with piping makes it easy to locate it, particularly in low light.
The kit includes a pair of scissors, gauze pads, adhesive bandage, reusable triangle bandage, first-aid tape, and a pair of exam gloves.
The medical kit offers concrete first aid answers to virtually all emergencies that your furry friend might encounter. The small-sized equipment is designed to keep your furry friend safe on all adventures.
It includes a wide array of medical items ranging from an adhesive bandage, surgical razor, a pair of exam gloves, anti-septic gauze, and elastic bandage, among many other medical supplies.
This first aid kit is suitable for sporting dogs. The water-resistant package is ideal for any emergencies that may occur during hunting, hiking, or camping with your dog. It can save your pet from both minor and serious injuries.
The kit comes with hydrogen peroxide, 3-ply towel, cotton swabs, cotton balls, saline solution, first-aid ointment, a pair of scissors, syringe, alcohol prep pads, and antiseptic cream.
Conclusion
Hopefully, now you have a list of kits to add to your hunting supplies so that you can take good care of your hunting partner whenever the unexpected occurs. The kits will help you make your hunting buddy as comfortable as possible until you get him home or take him to a local vet.
Last Updated on August 29, 2020 by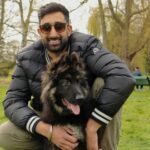 Sable McNeil is a canine chef, professional pet blogger, and proud owner of two male dogs. I have been an animal lover all my life, with dogs holding a special place in my heart. Initially, I created this blog to share recipes, tips, and any relevant information on healthy homemade dog treats. But because of my unrelenting passion to make a difference in the world of dogs, I have expanded the blog's scope to include the best information and recommendations about everything dog lovers need to know about their canine friends' health and wellbeing. My mission now is to find the most helpful content on anything related to dogs and share it with fellow hardworking hound lovers. While everything I share is in line with the latest evidence-based veterinarian health guidelines, nothing should be construed as veterinary advice. Please contact your vet in all matters regarding your Fido's health.