As an Amazon Associate, we may receive a small commission from qualifying purchases but at no extra cost to you. Learn more.
Taking your dog out for a walk is always fun and exhilarating for both of you. But the fun walk can quickly turn into a sour experience if your dog is uncomfortable because of a tight collar or one that's uncomfortable in some other way.
Not all collars work for all dog breeds. Some might be too small and others might be too big. This is why every pet parent must take the time to choose the perfect collar.
Before you even start shopping, know the measurements of your pup's neck. You will need the measurements to know the proper dimensions to look for in a collar.
Which Dogs Need 3 Inch Wide Dog Collars?
I. Dogs with Comparatively Wider Necks than Heads
Typically, most dogs cannot get out of their collars easily because they have narrower necks compared to their heads.
However, breeds like Whippets and Greyhounds have quite wide necks than their heads.
If you use a regular collar on these breeds, there are high chances that they can slip out.
This is where a 3 inches wide collar comes in handy—it makes it difficult for these dogs to get the collars over their heads.
II. Strong Pullers
Large dog breeds like PitBulls, Mastiffs, and Great Danes have considerably large necks. If you use narrow collars on them, the collars are likely to dig dip into their necks if they yank or pull on a leash.
With a 3 inches wide collar, the pull force gets distributed over a larger surface area, preventing injury and protecting your pup's neck.
III. Dogs That Like To Roughhouse
3 wide inches dog collar offers better and effective control to manage larger dogs. So, if your pup likes to roughhouse, these collars will offer him better protection, especially from potential injuries to his neck.
IV. Fashion-conscious Dogs
Most wide dog collars come in amazing designs and vibrant colors. They also feature wide surface areas, which offer more room for fashion-conscious dog parents to show off their Fido's styles.
Pro Tip:
Since every dog is different, 3 inches wide collars are not suitable for all dogs. Small dog breeds, for instance, may get agitated with the weight and size of these collars, especially if they cannot tolerate the sensation of having something heavy on their necks.
Dogs that are prone to tracheal damage such as toy and miniature breeds may also benefit from special types of collars—and not wide collars.
Best 3 Inch Wide Dog Collars: Our Top 5 Picks
Just like buying shoes, shopping for a great wide collar is anything but easy. There are so many options on the market that you will easily be spoilt for choice.
But with the right information at your disposal, the process will be smooth and easy.
To make your work easier, here are the 5 best 3 inch wide dog collars in the market right now:
Just as the name suggests, this collar is made from genuine leather which makes it very versatile but still comfy for your furry friend.
It has a specialized lining to give the furry friend maximum comfort.
The collar comes in 6 different sizes, so you can use it on lots of breeds of different neck sizes.
This is the perfect collar for dachshund, greyhound, deerhound, saluki, whippet, and lurcher. However, it's still great for any other breeds so don't be afraid to experiment.
Owners of American Staffordshire Terriers and similar breeds will love this collar.
It fits great on stiff necks and it's adjustable to make sure your puppy doesn't choke on it.
It has 5 adjustment holes and can fit an overall length of 24 inches. So, if your dog has a thick neck, this would be a great pick.
It's made from heavy-duty genuine leather which makes it a durable collar so you don't have to worry about having to replace it too quickly
The Dogs Kingdom is a strong, versatile, and fashion-forward collar that is embellished with rows of black spikes.
Adorning your pup with a collar that is decorated with spikes gives him a studded appearance that will make every head turn at the park.
Even if you have a lovely and sweet puppy, this spiked collar will make him appear fierce to every onlooker.
The collar is recommended for a neck size of 18-20 inches, so remember to take the measurements before hitting the buy button.
Because of its aesthetic value, the Dogs Kingdom Collar would also be a great gift for a friend.
This would be the perfect collar for those who have an insatiable appetite for gothic designs.
It's made of genuine leather and comes fitted with rows of black spikes all around it. But to give it an authentic gothic look, it also has a cool skull symbol.
The spikes are quite sharp but since they face outward, they pose no danger to the dog. On the contrary, they will provide some security for your dog.
Remember to remove the collar when the dog is playing with children because they could easily get pricked by the sharp rivets.
You may also want to secure your dog when taking a walk to prevent him from harming other pets with the collar.
If you are shopping for a collar that is made from vegan leather, this is the product for you.
The faux leather collar also extremely long-lasting and comes with five adjustment holes to make it fix different sizes in the 17-24 inches range.
Depending on your pup, you can either order the medium size (17-20"), the large size (19-22"), or the extra-large size (21-24").
You can also choose from a variety of colors including white, hot pink, pink leopard, gold brown, and black.
Important Factors to Consider When Shopping For 3 Inches Wide Dog Collars
High-Quality Fabric
The fabric used in the construction of the dog collar you plan to purchase should be high quality.
When it comes to durability, nylon tops the list of the longest-lasting fabrics that are also readily available. You'll find nylon fabrics in a wide range of colors, sizes, and styles in most local and online pet stores.
Leather is also durable and quite common but styles can be a bit limited.
Comfort
Choosing the right size collar for your pup is key. And the proper collar size often boils down to what your fur baby feels most comfortable with.
One of the best ways to figure out the best wide dog collar that will work best for your dog is to take measurements of his neck.
While at it, consider potential fluctuations in his fur length. After grooming, for instance, your pup's neck can be skinnier, leaving the collar a bit loose. On the flip side, a collar can begin to become tight and a bit uncomfortable for your dog with extra hair growth.
To be on the safe side, go for an adjustable option that can accommodate varying neck sizes.
We recommend choosing a wide collar that works for dogs that have small and bigger necks than your dog. If you own a dog with 19 inches neck, for instance, consider choosing a collar between 17 and 21 inches.
Sturdy Connectors
Clips, buckles, clasps, D-ring, and other connectors should not only be made of durable materials but also attached or securely stitched to the collar.
Cheap connectors will completely compromise the integrity of your wide dog collar.
Washability
Your wide collar will get dirty from time to time, so going for one that is easy to clean or machine-washable will make maintenance stress-free.
Is It Safe For Dogs To Sleep With 3 Inch Wide Dog Collars?
The short answer is: it depends on what's comfortable for your dog.
Generally, it is always advisable to remove a dog collar to allow your pup extra room to breathe freely.
However, if your dog is comfortable or if you prefer to keep his ID tag on the collar at all times in case he escapes, then allowing him to sleep with a collar on still makes sense.
Conclusion
So, there you have it – our top five picks of the best 3 inches wide dog collars.
Whichever product you chose, make sure you experiment with your dog to see how they like it.
If they are not used to putting on a collar, they might feel uncomfortable and resist at first.
But as long as you have the right size, they should get used to it with time and you can start enjoying your walks without any trouble.
Last Updated on July 2, 2021 by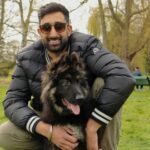 Sable McNeil is a canine chef, professional pet blogger, and proud owner of two male dogs. I have been an animal lover all my life, with dogs holding a special place in my heart. Initially, I created this blog to share recipes, tips, and any relevant information on healthy homemade dog treats. But because of my unrelenting passion to make a difference in the world of dogs, I have expanded the blog's scope to include the best information and recommendations about everything dog lovers need to know about their canine friends' health and wellbeing. My mission now is to find the most helpful content on anything related to dogs and share it with fellow hardworking hound lovers. While everything I share is in line with the latest evidence-based veterinarian health guidelines, nothing should be construed as veterinary advice. Please contact your vet in all matters regarding your Fido's health.