As an Amazon Associate, we may receive a small commission from qualifying purchases but at no extra cost to you. Learn more.
Seeing your dog itch, bite certain hot spots of his body, sneeze incessantly, and lose hair can be quite unsettling.
Perhaps you've tried medications such as cortisone, antihistamines, and hydrocortisone to alleviate the allergy but the problem doesn't seem to go away.
Here's a fact: prescribed medications offer temporary relief to allergies without really getting to the root cause.
Probiotics, on the other hand, address a dog's gut health and his overall wellbeing. They offer the necessary bacteria that help maintain an appropriate balance of the good and bad bacteria in the tummy.
An imbalance of these two bacteria is responsible for a plethora of illnesses including skin allergies, chronic ear infections, and irritable bowel syndrome.
If you are looking for a wholesome solution for allergies in dogs, try probiotics.
Can Probiotics Really Help Treat Dog Allergies?
Your dog's gastrointestinal system needs 'good' bacteria for proper food digestion and release of nutrients to the body.
Good gut bacteria also ward off potential pathogens, helping your dog maintain a healthy immune system.
In other words, the presence of good bacteria colonies in your dog's system keeps pathogen-laden 'bad' bacteria at bay.
However, when there is an imbalance between good and bad bacteria (a condition commonly referred to as dysbiosis), your dog is likely to suffer from a wide range of illnesses, including inflammatory bowel diseases, diarrhea, tooth decay, and allergies.
So how can probiotics help? Well, let's find out.
Food allergies are often caused by immune responses and incomplete processing of nutrients.
Since good bacteria are known to facilitate these two actions, it is not hard to see why there could be a link between gut bacteria and allergies.
Past studies have also confirmed that there could be some correlation.
In this 2012 study, for instance, it was shown that the presence of bacterial family Lactobacillus rhamnosus decreased the levels of Immunoglobulin E (IgE), an antibody which the body releases in response to allergens. As a result, clinical signs of allergy didn't develop over a follow-up period of 2 years.
Another 2015 study also indicated that the severity of canine atopic dermatitis reduced in dogs that were given Lactobacillus sakei (a bacterial strain) for 2 months.
Finally, in a 2017 study done by the University of Florida, participants who were given probiotics suffered fewer allergy-related symptoms.
Although these studies have a few limitations, one thing is certain from the findings: gut bacteria has far-reaching effects on allergies. So, adding probiotics to your dog's diet can help him fight food allergies.
For starters, dog probiotics are strains of live bacteria that are carefully formulated to bring your pooch's GI system into a state of microbial balance, and ultimately aid digestion and boost immunity.
Like any other product out there, however, not all probiotics are the same.
The best probiotics that can help your dog with allergies should contain bacterial strains that play key roles in digestion and keeping your dog's gut environment conducive for the growth of more good bacteria.
Some of the recommended bacterial strains to look out for include:
Lactobacillus Acidophilus
Best Probiotic for Dogs with Allergies
To make your work easier, I have rounded up a list of the 12 leading probiotics for dog allergies in the market.
Let's dive in.
This all-natural allergy immune supplement from Zesty is the first entry on our list.
It is made with fantastic ingredients that will give your dog's immune system a remarkable boost.
To begin with, it features a five-strain blend of probiotics and a prebiotic filled with a ton of bacteria for better gut health and improved immunity.
Each chew is also enriched with EpiCor, which is a combination of fiber, protein, vitamins, and antioxidants that work together to keep your mutt generally healthy and happy.
That's not all: Zesty Paws include other nature's goodies such as Hemp seed and oil, Omega 3 and fatty acids, apple cider vinegar, turmeric curcumin, coconut glycerin, flaxseed, powdered cellulose, and licorice root among others.
Each of these components will bring nutrition and value to your dog.
And if you are worried about whether he will like the probiotic or not, rest easy. Flavored with peanut butter, your dog will love his savory treat.
PetVitaityPRO is carefully formulated to offer digestive health and immunity benefits to your pup.
If your fur baby suffers from skin allergies as well as gastrointestinal disorders (such as constipation, diarrhea or vomiting), order this probiotic formula.
It combines effective ingredients such as minerals, natural digestive enzymes, vitamins, antioxidants, and phytonutrients to boost your dog's immune system, gut health, and complete health.
It also helps to know that this tasty treat is made in the USA, inside an FDA-approved facility.
With 5 billion microorganisms in each capsule derived from natural sources, Vetriscience Laboratories Mega Probiotic is another awesome product for a dog with allergies.
The dairy-free probiotics range from Streptococcus thermophiles, Lactobacilli, Bifidobacteria, and Fructooligosaccharides (FOS).
All these are effective in protecting your dog's stomach lining from toxic material, promoting regularity, and fighting disease.
The probiotic is great for canines with allergies and those with food intolerances.
The package comes with 120 capsules and can be used for both dogs and cats.
NUSENTIA Miracle is another leading probiotic currently in the market.
In totality, the jar boasts 360 billion healthy microorganisms that make about 360 servings.
This means that one serving adds one billion microorganisms to your dog's gut.
This is not only enough to keep allergies at bay but also to kick digestive problems, gas, foul body odor, and bad breath at bay.
The brand claims that the NUSENTIA Miracle may protect your dog against abnormal growth and availability of fungal species, which is a major plus.
The ingredients used to make this product are all safe and free from fillers and toxic flavorings. Talk about a true miracle!
What Makes PetHonesty Probiotics amazing is the premium ingredients utilized in the formula as well as the number of bacteria per serving it contains.
Essentially, one chew is loaded with six billion healing natural probiotics. Compared to other brands in the market, this is quite impressive.
This specific product combines six enzymes to take your dog's gut health to a whole new level.
The chews have zero fillers meaning they don't have soy, corn, grains, sugar and preservatives.
The taste is divine as well. If you have a picky dog, rest assured he will have a hard time saying no to this.
Whether you have a small dog or a bigger breed with more needs, this probiotic is an awesome product to have around.
Dr. Mecola Complete Probiotics gives your dog the best life by supporting his immunity and gastrointestinal health.
One serving of this formula contains 38 million bacteria.
The amazing fact is that this probiotic uses 14 different strains of good bacteria that a dog's gut will find very resourceful.
The other advantage is that it is gluten-free, organic, and soy-free for optimal benefit and safety for your furry friend.
Sneak one serving into your dog's food and accord him a comfortable, quality life he deserves.
Dr. Mecola is so confident of this probiotic that he offers a 30-day money-back guarantee on this one. If you are displeased, simply ask for a refund.
These soft and chewable treats consist of a blend of six digestive enzymes that are GMP-compliant and FDA-approved.
The special formula is crafted to alleviate allergies by readjusting the bacteria imbalance in your pet's tummy.
In addition, these probiotics will ensure that your dog digests and absorbs food better and enjoys good immunity against allergens.
The pack comes with 120 chews and features a total of four billion CFUs, all made with high-quality ingredients.
It has zero flavorings and artificial colors making it a safe bet for your dog.
Giving dogs good probiotics and enzymes carefully formulated to boost immunity, gut health, and overall health, PREMIUM CARE Probiotics for Dogs is a product to watch out.
The chews are soft and tasty, thanks to the delightful chicken flavor infused in them.
They contain natural and effective ingredients that not only restore the bacteria in your dog's gut but also support brain function, keep his immune system in optimum function and help with the assimilation of vitamins.
The supplement is ideal for dogs of all sizes.
If you are wondering if it has artificial colors, dairy, soy, or corn, the answer is a thundering no!
A bigger percentage of allergy issues in dogs are often associated with gut problems, so it makes a lot of sense to ensure that your pup has a healthy gut.
Doggie Dailies Advanced Digestive Dog Probiotics combines a blend of five prebiotics and probiotics (called fructooligosaccharides) to promote both immune and gut health.
For starters, fructooligosaccharides are some of the best probiotics that have been proven to work in harmony with other probiotics to support dogs' health and encourage the growth of good bacteria.
The soft, chewy probiotics come in both duck and pumpkin flavors to entice all kinds of dogs, including choosy eaters. Provided that you make it sit nicely, most dogs (irrespective of age, size, or breed) will be happy to take it.
These chews from Dog Dailies are also manufactured through cold-press extrusion, which goes a long way in ensuring maximum potency of the chews and preservation of the overall integrity of the ingredients.
What's more, the probiotic is manufactured with high-quality US-based ingredients and is lab-tested to ensure that you get your money's worth.
It also comes with a 100% money-back guarantee, so you can always get a refund if you are not completely satisfied with its effectiveness.
If you are looking for a probiotic with more bang for your buck, this one certainly fits the description.
One pack can last up to six months if your pup is forty pounds or less and 2-4 months if he's over 40lbs.
The powder contains 5 billion healthy and functional bacteria that work to create a perfect balance in your best friend's tummy.
This perfect formula contains the five essential microorganisms found in the gut that improve bowel function, reduce bad breath, improve skin health, and prevent scratching and shredding.
Since it is in powder form, you can expertly include it in your dog's meals and treats.
Glandex supplement was born when a group of top vets did a scientific study to find a solution for gland problems. The probiotic now treats more than gland issues among pets.
It features an incredible blend of probiotics, prebiotics, digestive enzymes, fiber, and omega fatty acids.
Whether you are looking for a product that can combat skin allergies, boost gut health, improve immunity, and alleviate anal gland problems, Glandex will make your dreams come true.
Every ingredient used is organic and safe for your canine best friend.
The supplement is made into a delicious beef liver powder that can be thrown into your dog's treats and meals.
It is easy on the wallet too. If you have a small dog breed (20 pounds or less), one pack will last for more than 7 months.
PlanoPaws Probiotic Treats is a product containing five strains of probiotics and four billion CFUs per serving.
It is also enriched with six essential digestive enzymes and prebiotics made specifically for canines.
This rich formula is approved by the FDA as an effective relief for a range of dog allergies.
It also helps deal with stomach upsets, bad breath, diarrhea, IBS, bloating, and gas.
If your dog suffers from negative side effects of antibiotics, this can be a great product to provide him the needed relief.
The good bacteria will help your canine friend fight germs, allergies, and other diseases better.
Like most entries on this list, PlanoPaws Probiotic Treats is all-natural and safe for your pet. This means it is free from the bad stuff – soy, corn, wheat, grain, salt, sugar, dairy, and grains.
Plus, it has that chicken flavor that dogs seem to be attracted to so much.
Fur Belly Dog Probiotics is a popular and respected supplement in the dog world.
It is more like a one-stop solution for the myriad problems experienced by dogs.
The chews combine the power of prebiotics, enzymes, and probiotics to promote healthy balance bacteria in your dog's gut.
This doesn't only reduce allergies but eliminates itchy skin, alleviates diarrhea, controls yeast infections and UTI, reduces gas/bloating, and keeps bad breath at bay.
It is also enriched with nutrients, vitamins, and minerals for better nutrition.
As you might have guessed, all the ingredients are natural and safe for your fur baby.
Final Thoughts
When your lovely pup is having bouts of skin allergies, an effective probiotic can take care of his gut health in real-time.
Whether he suffers from occasional tummy upsets, itching, or biting, probiotics are a natural and healthy way to alter his GI tract.
Last Updated on December 14, 2021 by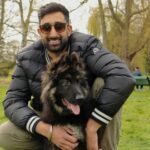 Sable McNeil is a canine chef, professional pet blogger, and proud owner of two male dogs. I have been an animal lover all my life, with dogs holding a special place in my heart. Initially, I created this blog to share recipes, tips, and any relevant information on healthy homemade dog treats. But because of my unrelenting passion to make a difference in the world of dogs, I have expanded the blog's scope to include the best information and recommendations about everything dog lovers need to know about their canine friends' health and wellbeing. My mission now is to find the most helpful content on anything related to dogs and share it with fellow hardworking hound lovers. While everything I share is in line with the latest evidence-based veterinarian health guidelines, nothing should be construed as veterinary advice. Please contact your vet in all matters regarding your Fido's health.