A standard square dog bed is boring. Granted, it gets the job done but does very little to add spice to life. Pet owners looking to push things a little and give their fur babies a little flame find cute bed designs highly beneficial. Fortunately, the market is full of them. From cute dog tents to unique fruit designs, here's a list of 25 funny dog beds.
If you have a toy breed and a big sense of humor, the TORDES Washable Shark Pet House will surely put a smile on your face. Sure, the shark mouth bed is scary but it is insanely cozy and funny-looking. It is easy to assemble, clean, and uses a self-warming technology that is effective at fighting cold safely. Plus, the bed is also impressively inexpensive!
The second dog bed that is guaranteed to crack you up is the Hot Dog Design Pet Bed. The name sells this one out. With a huge hot dog design of nothing but a soft polyester interior and quality suede exterior, this bed is the real definition of comfort. Having said that, prepare to have a laugh every time you watch your pup cozy up in it.
Cute banana, what a unique and funny bed design! This semi-open bed complete with its lid is guaranteed to spark conversations around the table. Don't be mistaken though, this adorable bed design is made of PP, cotton, and coral fleece, meaning it is both cozy and comfortable.
The Best Friends by Sheri Novetly is a small pet hutmade to hide your friend away from the noise. It comes with 360-degree coverage which means he can retreat and spend quality time by himself. The bed features a micro plush fabric and is cozy as can be. It is also easy to clean and maintain.
Here's another dog design that has secured a spot in the funny bed category. Amazingly, this little pineapple cave is both fun and effective. It makes up for a unique décor piece around the house. The exterior material is long-lasting while the filing at the bottom keeps it comfortable and stable.
The Pet Life Slip-On Slipper Dog Bed is a huge dog shoe bed that is bound to give you a good laugh. Luckily, it is quite effective when it comes to comfort and warmth. The Faux-Fur plush cotton on the inside coupled with its tough Nylon exterior makes it a good hideaway for your furry friend.
This colorful pet bed is best reserved for car enthusiasts. It is particularly a great fit if you have a young boy who can't get enough of toy cars. It may look funny but the materials used are premium and comfortable. It is cute, soft, and can be machine-washed. Please note that the INN design pet bed can only handle small to medium-sized dogs.
YESBEARS Ultra-Soft Memory Foam is a cute paw-design dog bed with many features to offer to a small to medium dog. With an ultra-soft pure memory foam material, you bet your dog will enjoy cuddling inside it. The bed also boasts a tear resistance of up to 30 lbs, which means it is super durable and safe for your canine buddy.
JOYELF is one of the best bolster dog beds out there. If you are looking for a comfortable bed for your aged or ailing pup that still packs a punch in the looks department, this one certainly fits the bill. The materials used are premium and will ensure your doggie is super warm and comfortable.
This cotton duck may seem boring and unappealing but it is one of the most durable and functional pet beds in the market today. Sure, the materials used are not the softest and plushest but that's why it can withstand a lot of wear and tear. The coating is water repellent which means your dog will remain dry no matter what. We also love the baffle used to make the bed's interior as it keeps it stable. What's more, the outer canvas can be easily removed for washing.
Humans love sleeping in beds. Who said dogs can't enjoy the same privileges as well? The MPI Wood Dog Bed is arguably one of the most comfortable beds for small dogs available today. Made from natural Baltic birch, the bed is durable and carries a natural look to it. Go ahead and paint it as you please or leave it like that. Either way, both your guests and dog will be wowed by it.
Luxury car pet beds never disappoint in functionality and the looks department. If you are in the search for a bed that keeps your doggie warm but also looks insanely cute, consider buying this one. It is a true conversation starter both on Instagram and at home.
Roar! Roar! Can someone come get me! How does it feel to get have your pooch snuggle inside a huge roar bear plush bed? From this end, this sounds like a real dream. Well, if you can handle the glances and laughs for your visitors, you will be rewarded with a plush and comfy bed out there. Both your dog and kids will love having one around the house.
Love fruits so much that you'd want them to be a huge part of your home's accessories? How about buying a huge banana, watermelon, or pineapple for a pet bed? Sure, your friends and family members will laugh at you but your pup will enjoy cuddling in his bed. The NANDOG Insta Fun Bed Collection has everything from a banana to pineapple to a milk carton to a tree stump.
The Hollypet Cozy Pet Bed is a really funny tree puppy house that has become a favorite for dog owners. Perhaps it is because it gives a good laugh or the fact that it is actually very comfortable and durable.
All princesses deserve fairy-tale beds complete with luxury accessories. This comfortable and unique bed offers that and more. It is all pink and comes with a candy pillow. Its decoration is unique and fit for a little spoiled brat. Choose from the two sizes available and give your best friend the best that life can give.
The Vistoso Home Felt Cat Cave is a great choice for any dog looking for a break from socialization and some quality "me time". Just a quick glance at the fun design of the bed and you will tell that it is a warm and cozy paradise for a canine. With multiple color options, you should have no problem finding the right for you.
If the idea of using a brickhouse design as a pet bed sounds interesting to you, this product is definitely for you. The dog house comes with good fabric and a cozy cushion that guarantees warmth and comfort all the way. The mat is removable for easy cleaning. We absolutely love the fact that this bed can accommodate more than two pets.
The 3D Print is a cute little pet bed with a dog cartoon design that will crack you up. It features a soft gray color and will easily complement any existing décor. The fleece material used is plush and cozy. Don't be surprised if your pup ditches the sofa and your lap every time he wants to lay his head.
Sometimes a unique dog matt is all your dog needs to enjoy quality sleep and rest. This portable roll-up from Favorite is comfortable and waterproof, the perfect combination for a good pet bed. Like most products on this list, the design is somewhat on the funny side but it is as effective as they come. You can utilize it for your crates, car, carriers, and a plethora of other places. Simply roll it up and move it to the next location and you will be good to go.
Touchdog is an excellent brand with a good reputation for churning good quality materials. Their dual nylon and high-grade polyester pet bed is one of the cutest and durable dog items out there. It is thick and boasts expert stitching for durability reasons. It also features a removable and reversible cushion for flexibility and more practicability.
A dog boat bed is perfect for an adorable and loyal fur baby. Give him the feeling of sailing away into slumberland with a luxurious boat. The bed uses a soft cushion, so he should be fine while on the cruise. It comes with other amazing features such as a non-slip bottom, a non-woven fabric, and a machine-washable material.
Out of all the beds listed here, the Furrytail BOSS Elevated Bed House Chair is a winner in the funny and luxury category. Who said your dog has to sleep on the floor to be comfortable? How about you give him a lift via a cute elevated chair that rotates at 3600 degrees? He will absolutely love being the boss and lying against a comfortable and breathable bed.
NALEDI is an awesome dog tent designed to make your dog feel cozy and warm. This one is excellent for outdoor activities such as camping and other travels. It is made from breathable and waterproof polyester material, meaning it is sturdy and water-resistant. Our favorite part about it is that it is spacious and collapsible.
The last item on our list is the Western Home Round Pet Cuddler. The bun-like design is guaranteed to get people talking and laughing. The good thing is that it is among the plushest pet beds in the market today. The inside is filled with a while velvet cotton material for absolute coziness.
There it is: our favorite funny dog beds. As you might have noticed, all the beds featured on this list are actually very soft and cozy. If you want the best of both worlds, go ahead and take your pick.
Last Updated on September 17, 2020 by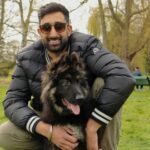 Sable McNeil is a canine chef, professional pet blogger, and proud owner of two male dogs. I have been an animal lover all my life, with dogs holding a special place in my heart. Initially, I created this blog to share recipes, tips, and any relevant information on healthy homemade dog treats. But because of my unrelenting passion to make a difference in the world of dogs, I have expanded the blog's scope to include the best information and recommendations about everything dog lovers need to know about their canine friends' health and wellbeing. My mission now is to find the most helpful content on anything related to dogs and share it with fellow hardworking hound lovers. While everything I share is in line with the latest evidence-based veterinarian health guidelines, nothing should be construed as veterinary advice. Please contact your vet in all matters regarding your Fido's health.