As an Amazon Associate, we may receive a small commission from qualifying purchases but at no extra cost to you. Learn more.
Wound-licking behavior is deeply engraved in a number of animals. They do this to ease the irritation and clean the wound. Unfortunately, the opposite always ends up happening in most cases. When a dog licks on his wound repeatedly, he runs the risk of introducing bacteria and risk further infection. He may also damage the tissue around the wound.
Since dogs lack the intelligence to know right from wrong sometimes, you have to step in and save the day. One of the ways you can do this is using a collar (also known as the Elizabethan collar or "cone of shame") around your pooch's neck. Most vets actually recommend an E-collar after a surgical procedure or when a dog needs time to heal from a wound of sorts.
Granted, an E-collar will make your pup look weird but it will help him stop licking his wound. The best part is that you don't have to hop into a store to get one. How about making one right at home? Follow this guide to know how to make a pool noodle dog collar from scratch.
What Is A Pool Noodle Collar?
As the name suggests, this is an e-collar made from a pool noodle. This specific material is great as it is lightweight while still being thick enough to go around the neck of a medium-sized or large dog. It is porous and thus more comfortable than a traditional plastic collar. A pool noodle is breathable and helps a dog avoid excessive heating or itching. Unlike many other collars out there, your dog will not feel totally punished and depressed from walking around with one for a few days. You can even utilize the pool noddle collar when you go swimming with your pup.
What You'll Need
A Serrated knife or a pair of scissors
Dog collar, rope, string or thick twine
Directions
Measure your pup's neck circumference. Now add an extra 2-3 inches and cut the piece of rope or twine that long. Again if you don't have twine, just grab your dog's collar or a rope (see the video below).
Cut the pool noodle into pieces using a serrated knife or scissors. The thickness of the pieces will be determined by the size of your dog's neck. If he has a small neck, keep the pieces thin. Else, if the neck is larger, make the pieces a little thicker. In addition, the number of pieces needed is also directly proportional to the size of your dog. The bigger the dog, the more the pieces you need. Basically, you want enough pieces to cover the entire length of the twine or your dog's collar. Just leave a little bit of room to space the pool noodles out. Please note that some people like to keep the noodle sizes longer. If this tickles your fancy, please feel free to cut a longer length rather than small sections.
Once you have the twine and the pool noodle pieces, all that's left is to loop the pieces through the collar or twine. Add all the pieces until you end up with a collar that looks like a beaded necklace.
Put it on the dog: the final step is to secure the collar in place on your dog's neck. Buckle the collar or tie the twine until you get a snuggle fit. Then go ahead and cut out any excess twine. Watch how it performs on your dog. Ideally, he should not bend his neck to lick his wounds when wearing it.
If you've missed something from our directions above, check out this helpful video from Pursue with Marissa:
Additional Tips
While a pool noodle is great for getting a dog to stop licking his wounds instinctively, it is not the best material for all dogs. If you have an aggressive chewer at home, you might want to get him another harder material for an e-collar. Otherwise, this may not hold up for too long, not to mention the fact that it might pose a danger to him.
Although a pool noodle is a breathable and comfortable material, your dog will not particularly jump at the idea of wearing one all day long. He will beg you to get it off of him. He will even try to get it out himself. No matter what he does, don't fall for the puppy eyes and remove it. Look at the end goal and let him keep it on him for a few days until his wound has healed completely.
While pool noodle dog collar will allow most dogs to eat normally, it may be problematic to some dogs, especially those with short necks or faces. If your pup falls in the latter category, consider removing the collar during meal times. But remember to monitor your dog as he eats so that he doesn't lick his wound and put the collar back on after he is done eating. And in case he is having difficulty in eating from a deep bowl while the cone is on, you can always help him by getting him a shallow bowl instead as well as steadying the bowl while he eats or drinks. Expect to do some clean up during this period because of the potential mess your dog is likely to cause while trying to eat with the collar on.
If you are looking for a breathable, comfortable, and low-cost cone of shame alternative for your dog, consider using a pool noodle collar. You don't need any previous DIY experience to make one. The tools needed are probably lying around somewhere in your house. You can make one in less than fifteen minutes. Sure, your pup will not like wearing one but in the long run, he will thank you for it.
Image source: 1
Last Updated on December 30, 2020 by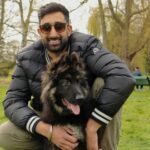 Sable McNeil is a canine chef, professional pet blogger, and proud owner of two male dogs. I have been an animal lover all my life, with dogs holding a special place in my heart. Initially, I created this blog to share recipes, tips, and any relevant information on healthy homemade dog treats. But because of my unrelenting passion to make a difference in the world of dogs, I have expanded the blog's scope to include the best information and recommendations about everything dog lovers need to know about their canine friends' health and wellbeing. My mission now is to find the most helpful content on anything related to dogs and share it with fellow hardworking hound lovers. While everything I share is in line with the latest evidence-based veterinarian health guidelines, nothing should be construed as veterinary advice. Please contact your vet in all matters regarding your Fido's health.