As an Amazon Associate, we may receive a small commission from qualifying purchases but at no extra cost to you. Learn more.
Collars are no longer just beautiful dog accessories. It is now a legal requirement for every dog to have a collar containing an ID badge with your information. This is done to ensure the canine's safety. In case he gets lost roaming the land, at the dog park, or during a family vacation trip, you will be contacted. Since your Fido wears the collar most (if not all day) of the day, you want to buy him one that is comfortable and fitting.
What Is An Agitation Collar?
An agitation collar is essentially a wide (sometimes 2x the width of your standard collar) and flat collar. Its design is intentional as it prevents tension when your dog is actively being trained or when he's simply running around. No matter the pulling, the wide (and sometimes cushioned) collar will not exert too much pressure on the pup's neck. In other words, an agitation collar is designed to actually NOT AGITATE your pup while engaging in agitation or protection training.
For starters, agitation or bitework training entails training a dog to bite, lunge, or attack. Agitation collars allow the dog to remain comfortable as he pulls or lunges because they exert less pressure on the dog's neck. On the contrary, choke chains and narrow collars tend to produce harsh effects during such trainings because they only have small amounts of contact with the dog's skin.
Besides being wide and flat, agitation collars are built with sturdy materials like military-grade nylon or leather and double-stitched to keep them reliably intact. A regular dog collar from your local store is not recommended for agitation or bite work training because they are neither built to endure the extra force of pulling nor designed to distribute pressure away from your pup's neck. Some agitation collars also come with handles for you (the owner or handler) to grip if needed.
Pro Tip: Wearing agitation collars for longer periods can be uncomfortable for some dogs considering that the extra width of the collars can cause chaffing around a dog's neck area or wear down his fur. So, we don't recommend allowing your pup to sleep with an agitation collar or using one as a replacement for a buckle collar.
Best Agitation Dog Collars: Our Top 12 Picks
If you are wondering where you can find the best agitation collars in the market, here's a conservative list of 12 of our absolute favorites:
The Moonpet Soft Padded Dog Collar clinches the number one spot on our list because of a number of reasons. For one, it features a wholesome leather construction. In today's world where getting dog products that utilize genuine leather is an uphill task, this is truly a big deal. Besides looking fashionable, this collar also utilizes soft padding on its interior. This creates a cushion that stops the leather from rubbing and irritating your pup as he moves. The brass hardware used is rust-free unlike plenty of other products that use cheap materials that rust fast. It is also fully adjustable, meaning you can use it for any breed size.
Training is an active time for any dog. There's a lot of running around, pulling and tugging, learning commands, and more. The collar he wears has to be comfortable and able to handle all the excitement and activity without straining the neck. The Signature K9 Agitation Collar is used in law enforcement and military institutions during dog training. This speaks volumes about the quality and efficacy of this product. It is made to expertly spread the weight around your Fido's entire neck and thus ensure an injury-free training session. The leather is double-layered for durability and comfort purposes. It also uses only heavy duty hardware to make it robust.
Another splendid military and police-grade canine product, the OneTigris is an incredible agitation collar. Its features are outstanding and unmatched. It boasts five adaptable points, so users can change the collar based on the size of the animal. As your pup grows, you can keep modifying it to suit his needs. This saves you plenty of cash on purchasing new collars after every few months. The collar is also made from heavyweight nylon webbing and cushioned with a comfy and soft pad on the inside.
The Diezel Pet Products Dog Collar boasts a great rating of 4.5 out of 5 stars on Amazon based on 1649 reviews. No doubt this product has become a real favorite among pet owners far and wide. This one is engineered for the big boys and girls such as German shepherds, Bullmastiffs, Great Danes, and Pit Bulls. Every feature is geared towards providing support and comfort for the massive canine. The buckle is new and improved steel load-bearing type used for tactical purposes. It is also quick-release and takes convenience to the next level. The collar handle is tight enough and uses hook and loop straps to secure it even further. It even has a patch with the American flag on it. If you are a patriot, this is definitely the product to buy for your Fido.
If you are searching for a straightforward, heavy-duty, and no ruffle agitation dog collar for your giant canine friend, the Redline K9 Wide Double Leather with Handle might be a great option for you. Made from double Latigo leather and robust hardware, you bet it is a durable construction. It will take a very long time to break it apart. The collar is actually a hand-made USA fabrication and features excellent quality and sturdiness. Choose either the small or medium option according to your pup's size.
The Besta Aztec Black Genuine Leather is a stylish agitation collar with the same great features as other products on this list. The manufacturer added plenty of decorations including huge silver-plated rivets and tiny brass pyramid rivets. Add that to the cute metal zip and you have yourself a stunning collar for your four-legged friend. Measuring 2.5 inches wide, this accessory is ideal for a massive dog. However, there are other smaller sizes if you own a much smaller breed. Other features include a genuine leather construct, mushy inner padding, and durability benefits.
Keep your pooch safe by letting him adorn the Bully's Pit Bull Collar. It is intended for Pitbulls and includes features that ensure maximum safety, comfort, and durability. It is heavy-duty and can withstand pretty much any force from an aggressive dog. The collar is also rust-free, easy to wash, and fully adjustable. Finally, it looks so adorable around just about any dog's neck.
The Riparo Genuine Leather Collar has all features you could ever desire in an agitation collar. It is durable wide leather made from full-grain genuine Aniline leather. The sturdy material is naturally tanned without using harsh dyes and chemicals. On the inside, you have soft sheepskin padding for the ultimate comfort of your pup. Since it is available in a couple of color options and sizes, you will have an easy time finding the perfect match for your Fido.
The 2-Inch Width Buckle Dog Collars from Caninus Collars is a heavy-duty nylon construction. Its width is suitable for dogs over 50 lb. and especially those with giraffe necks like Great Danes, Greyhounds, and Whippets. This product is handcrafted with superior-quality and robust nylon webbing and powerful metal hardware. Before making the order, measure the circumference of your mutt's neck to get the ideal size for him.
This brown-colored leather agitation collar from ADITYNA is a sleek, elegant, and comfortable product. Forget about those cheap fake leather collars sold in the market today. This one utilizes genuine leather. It is also fitted with all the features of a good agitation collar including a double buckle release system, two metal D-rings, and 6 metallic rivets. It also has soft padding in its interior to protect your dog during training, running, and walking sessions.
Here's yet another exceptional collar for big canines. If you own the likes of a Doberman, Pitbull, or German shepherd, this is worth your consideration. It is a wide collar measuring 25 x 1.75 inches and fits any neck ranging from 18-2 inches. The collar is an actual leather fabrication and it is thus both durable and comfortable. The thick waxed thread stitched on the leather will make your pup appear stylish and fashionable.
Hangshengday is popular for manufacturing some of the most durable, superior, and comfy dog products in the marketplace. This nylon collar ticks all three boxes and more. It is constructed from 1050D nylon with tight stitching and a soft padded lining. As a result, it is easily one of the most long-lasting, sturdy, and soft agitation collars out there. It utilizes a handle that is easy to use, an adjustable VELCRO tough buckle, and a hook and loop panel.
Conclusion
An agitation collar is a necessary dog accessory during training and normal use. It is fitted with safety and comfort features that will give you and your furry friend a fantastic time during intense physical activities. The products detailed here have been tried and tested to be valuable. If you are lost on where to begin shopping for a good agitation collar for your pup, this is a great place to begin.
Last Updated on December 30, 2020 by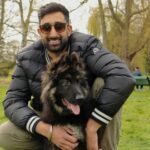 Sable McNeil is a canine chef, professional pet blogger, and proud owner of two male dogs. I have been an animal lover all my life, with dogs holding a special place in my heart. Initially, I created this blog to share recipes, tips, and any relevant information on healthy homemade dog treats. But because of my unrelenting passion to make a difference in the world of dogs, I have expanded the blog's scope to include the best information and recommendations about everything dog lovers need to know about their canine friends' health and wellbeing. My mission now is to find the most helpful content on anything related to dogs and share it with fellow hardworking hound lovers. While everything I share is in line with the latest evidence-based veterinarian health guidelines, nothing should be construed as veterinary advice. Please contact your vet in all matters regarding your Fido's health.