As an Amazon Associate, we may receive a small commission from qualifying purchases but at no extra cost to you. Learn more.
Whether you own a super active canine or a laid-back lazy fur baby at home, he needs an excellent collar. The most important thing is your dog's safety and ultimately your peace of mind. A collar is an invaluable dog accessory that lets you attach IDs and tags containing information about your lovely pup. In the unfortunate event that he gets lost, he may be found and brought back home. No pet parent wants to imagine the possibility of losing their fur babies yet only 20% of dogs that get lost find their way back home.
Besides containing details about your dog, a dog collar may also bear other pieces of information such as immunizations certificates, licenses address identifications, and more. If something happens to you, the dog can get help from someone else.
What is a BioThane Collar?
If you've ever had to purchase a dog collar before, you know there's a plethora of materials to choose from. One of the leading ones is BioThane. This is basically polyester webbing with added PVC and TPU coatings. The coatings make the webbing impermeable, durable, easy to care for, and clean. Besides making collars, BioThane is also utilized for a number of other products for cats and horses. It is also the primary material for making dog leashes. Only one factory located in Ohio manufactures BioThane under the Trademark, BioThane Coated Webbing Corp.
Benefits of BioThane Dog Collars
BioThane collars are truly outstanding in every sense of the word. Here are some of the benefits they can bring to the table:
Durable: As mentioned, BioThane dog collars utilize TPU and PVC coatings making it one of the sturdiest out there. It is chew-proof, can withstand wear and tear, and will generally last for a very long time.
Makes Cleaning Hassle-Free: Your dog could care less if his collar gets dirty or not. He will roll in the mud like his life depends on it. When it is time to dig up something in the backyard, he will throw himself at the exercise without holding anything back. In short, a collar can get dirty and stinky real fast. You don't want to have to scrub the life out of the collar every time it gets dirty. When using a BioThane dog collar, simply wipe the dirt off. It is waterproof meaning it doesn't allow water to sip into its interior. A good wipe will get all the dirt off in seconds.
Mimics the Look of Leather: Let's be honest: leather dog collars look ridiculously cute around a dog's neck. The dried cow skin is aesthetically sound in so many ways. But did you know that you can achieve the same look even with the BioThane collar? It's true. It matches the leather look without all the shortcomings of leather. Give it a try and prove our theory.
They Are Scent-Free: Your dog is not going to choose a filtered spring water to play in. No, most dogs will go for that stinky, bacteria-ridden pool of water. If your pup was using a normal collar, all those foul fluids are going to get absorbed into the collar, making it smelly. BioThane collars don't have this problem because they are waterproof. In other words, no water is going to get inside the BioThane coated webbing, allowing it to remain smell free.
Is BioThane Safe For Dogs?
Yes. The materials used – polyester webbing, polyvinyl, and polyurethane—are non-toxic. They won't cause allergies or harm your dog in any way. Plus, BioThane is chew-proof. If you have an adventurous canine buddy that loves exploring his world with his teeth a little too much, this is the best collar for him.
Best BioThane Dog Collars
If you are looking for BioThane collars for your pup, here is a quick review of the best five in the market today.
Say goodbye to soggy dog collars with the Dogline BioThane Waterproof Dog Collar. With it, you can let your pup run in the rain, swim till his head drops, and play Frisbee in wet conditions without worrying too much about ending up with a wet and stinky collar. This product offers your pup a chance to enjoy being in the water as it remains dry and odor-free no matter the conditions it is put under. All you have to do is wipe the water off and it will go alongside any icky smell. The collar is designed to be durable, easy to clean, functional, and flexible.
Made from Biothane, the Furbaby Products Training Collar is soft yet rugged. It can hold up against all climatic conditions. Whether it is the blazing summer sun, the icy winter chill, or anything in between, expect this collar to maintain its structural integrity through it all. Despite being tough and sturdy, this collar is also soft and comfortable for your dog. He is less likely to complain even if he puts one on round the clock. After he's done playing and having a time of his life on the beach or wherever, simply clean the collar by giving it a quick wipe with a damp cloth. This product comes in various sizes and is suitable for all dog breeds and ages.
The Educator BioThane Collar is popular for its convenience. It is fitted with a high-quality and sturdy metal quick-release system that makes it easy to put it on and take it off. If you are tired of the belt-like collars that are difficult to put on your dog, you might want to give this a try. It also features unbeatable durability – much better compared to other products in the market. The collar is designed to fit both 800 and 1200 model receivers plus RX- 120 as well.
This teal BioThane dog collar from Sparky PetCo measures 2 x 1.5 x 0.75 inches and is ideal for any pet with a neck size diameter of 10-25 inches. With 30 sufficiently-placed holes, getting a good fit is such a breeze no matter the size of your pup. The good thing is that like other BioThane dog collars, it is durable. No matter the weather, rest easy knowing the collar will withstand it. Finally, it is waterproof, flexible, odor-resistant, and easy to clean.
Manufactured in the United States using patented BioThane, the E Collar BioThane Collar Strap is another favorite among dog owners. It is engineered to be used alongside E-collar technologies and fits RX-070, RX-030, and RX-090 receivers – all of which are available on BP-54, 400, 900, and 300 series. The strap is 37 inches long and can fit a majority of medium-large-sized dogs. If you have a toy breed at home, all you have to do is cut the strap to the perfect size for him. The product uses a quick-release metal to make wearing and taking off easy. It is also waterproof, abrasion-resistant, easy to clean, and shock-resistant.
Conclusion
Looking for a durable, stylish, convenient, and water-resistant collar for your pooch? A BioThane dog collar offers more benefits than other standard materials. Plus it is much easier on your wallet. How about that! Pick one of the BioThane collars we've listed and outfit your pup with an excellent collar.
Last Updated on December 30, 2020 by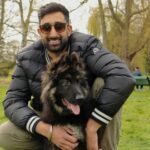 Sable McNeil is a canine chef, professional pet blogger, and proud owner of two male dogs. I have been an animal lover all my life, with dogs holding a special place in my heart. Initially, I created this blog to share recipes, tips, and any relevant information on healthy homemade dog treats. But because of my unrelenting passion to make a difference in the world of dogs, I have expanded the blog's scope to include the best information and recommendations about everything dog lovers need to know about their canine friends' health and wellbeing. My mission now is to find the most helpful content on anything related to dogs and share it with fellow hardworking hound lovers. While everything I share is in line with the latest evidence-based veterinarian health guidelines, nothing should be construed as veterinary advice. Please contact your vet in all matters regarding your Fido's health.