As an Amazon Associate, we may receive a small commission from qualifying purchases but at no extra cost to you. Learn more.
Like humans, dogs suffer from injuries and uncomfortable skin conditions like hot spots and rashes.
However, after treatment, they tend to bite, lick or scratch the injured parts, which can exacerbate the problem and interfere with the healing process.
It is during this time that you will need to show the best love and care possible to your dog by purchasing a recovery suit for it.
So, why should you buy a recovery suit for your dog?
Recovery suits are excellent alternatives to 'cone of shame'. With cones, eating and sleeping become impossible for your dog. Even walking around the house comes with its own risks.
Although some people might enjoy watching a dog wearing a cone bump into everything, it is just plain embarrassing to dogs!
What's more, the plastic material used to make a cone can also rub against your dog's skin, causing painful rashes.
Luckily, surgical recovery suits are designed to make your dog feel comfortable after treatment or a surgical operation while protecting his healing wounds.
Here are more benefits of dog surgery recovery suits:
Besides healing wounds, recovery suits can be used to protect your dog's skin conditions, hot spots, bandages, and ointments from any kind of biting, licking, or scratching.
Protect your dog from other animals and children while he is recovering.
Unlike cones, recovery suits give your dog the flexibility to eat, drink, play, and go about their day-to-day activities normally.
Keeps your dog warm after surgery
Protect your dog from potential incontinence. Some suits come with light-colored panels to help you easily see any form of your discharge from your dog's wounds.
Allow air to circulate freely on your dog's wounds or hot spots while still keeping it dry.
Best Dog Recovery Suits
Like any other time, there are many different recovery suits with varying levels of efficiency and comfort.
Here is a quick review of the best recovery suits for dogs to help you make the right decisions so that your pooch can begin the healing as fast as possible.
One of the best protective clothing for dogs after surgery, the suit is stretchable and fits the body as if it were another skin. The good news is that it does not affect breathing.
Its lightweight quality and the snaps it comes with allow the dog to walk and exercise freely. In the end, your furry friend will take a shorter period to recover.
If your pet has suffered an abdominal injury and is recuperating after treatment, this is the best suit to go for. Remember that dogs have a tendency to lick their wounds, thus worsening them.
The suit not only discourages the habit but also provides optimum protection for skins afflicted by a health condition. It is also elastic enough to allow a perfect fit.
The suit comes in various sizes with buttons for adjustment. Therefore, you don't have to worry about finding a suitable size for your pet no matter how big or small he is.
The suit is famous for a number of great reasons.
To start with, it is American-made. You can, thus, be sure that you are getting the highest quality and worth for your money.
It is also designed by a veterinarian with more than four decades of experience. Among other things, the vet had anxiety alleviation and quick post-surgery healing in mind when inventing the suit.
The recovery suit is recommended for pet owners who want to ensure the health safety of their canine friends during healing.
After wound treatment or surgery, your pet will have to carry bandages around for some time.
However, dogs are active creatures and like to play and roll their bodies. The bandages might come off in the process, exposing the wound.
Fortunately, the Blue Camo recovery suit for dogs is designed to keep the bandages in place and the wounds away from contamination.
It offers optimum protection without any discomforts courtesy of its breathability and lightweight attributes.
This is another protective clothing for dogs that's held in high repute by vets. Its winning qualities include stress reduction, prevention of surgical wound infections, and mobility enhancement.
While you can find a recovery suit for dogs of any size, you are at an advantage if you own a female dog.
There is an opening at the back enabling female pets to urinate. However, you don't have to worry if you own a male dog.
Just remove the suit partially at the back when walking your dog to ensure that he urinates when he needs to.
The polyester and cotton fabric used in making the recovery suit ensures that it is soft on the dogs' skins and bandaged wounds while remaining tough.
While it is stretchable, it is not so tight on the dog. This great alternative to cone helps your pet heal with dignity.
Furthermore, it comes in different sizes including large, medium, and small. You don't have to worry about the gender of your pet. You just need to roll back the rear part of the suit and hold it down with the band to ensure ease of urinating.
The suit is not only a perfect gift for a dog that has just undergone surgery but also a big help to dogs that are afflicted with skin diseases or burns from friction and rashes.
The fact that it comes with a zipper ensures that it easy for the pet to get in and out of it.
Apart from the protection of your pet, the suit is fitted with cold packs and bandage-carrying pockets.
Even when your pet is healthy, you can still purchase the suit to ensure that it stays warm during cold weather.
One of the most endearing qualities of the suit is high elasticity devoid of the tightness that would make the life of a dog healing from surgery or skin conditions uncomfortable. It also ensures that your pet leads a stress-free life during its recuperation period.
In particular, it is designed to prevent harassment by other dogs by chewing, biting, and licking.
You are sure to find a superb fit for your pet from the seven available sizes.
Keep in mind that you should not worry about deformation after washing the suit.
Final Thoughts
For most dogs, the healing period after surgery or wound treatment is the most difficult. There is every chance that the wound will get scratched by something.
Often, the bandages get off, leaving the wound open and exposed to various risks.
Find a recovery suit to ensure that your dog is protected and comfortable.
While at it, ensure that you get only the best. Your canine buddy deserves it.
Last Updated on June 21, 2021 by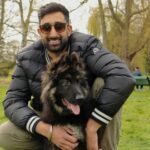 Sable McNeil is a canine chef, professional pet blogger, and proud owner of two male dogs. I have been an animal lover all my life, with dogs holding a special place in my heart. Initially, I created this blog to share recipes, tips, and any relevant information on healthy homemade dog treats. But because of my unrelenting passion to make a difference in the world of dogs, I have expanded the blog's scope to include the best information and recommendations about everything dog lovers need to know about their canine friends' health and wellbeing. My mission now is to find the most helpful content on anything related to dogs and share it with fellow hardworking hound lovers. While everything I share is in line with the latest evidence-based veterinarian health guidelines, nothing should be construed as veterinary advice. Please contact your vet in all matters regarding your Fido's health.