As an Amazon Associate, we may receive a small commission from qualifying purchases but at no extra cost to you. Learn more.
All canines need physical and mental stimulation to be healthy. If they don't get enough of it, boredom, stress, and anxiety are inevitable.
Ultimately, your dog will seek alternative ways to let go of his emotions if he isn't properly stimulated. Often, this translates to the usual destructive behaviors such as chewing, peeing in inappropriate places, and digging.
Thankfully, there are plenty of toys out there that can offer your pet the mental stimulation he needs to live a fulfilling life.
One unique, time-tested toy that can provide hours of fun and excitement for your pup is the jumping activation ball.
For starters, these are interactive balls that are designed to jump up and down randomly, keeping your dog mentally stimulated and entertained for hours.
Check the following video if you are curious about how these types of balls work or look like:
Like any other dog toy, there are different brands of jumping activation balls for dogs in the market, and as a responsible dog parent, it is your duty to ensure that you choose a product that is suitable for your dog.
To help make the right choice, we will review some of the best jumping activation balls in the market right now based on factors such as quality, features, and customer reviews.
But before then…
What Are The Benefits Of A Jumping Activation Ball?
While a good number of available dog toys offer mental stimulation, many of them can't keep your pet entertained for hours on end. A jumping activation ball is designed to jump at random.
Your dog will absolutely love chasing after it and sinking his teeth, nose, and paws to explore it.
Here are a few benefits of a jumping activation ball:
Teeth Cleaning: Made with rubber nubbers, these balls are handy teeth cleaners for canines. As your pup runs and jumps after the ball, he will bite into the protruding bits repeatedly thereby cleaning his tiny canine teeth in the process.
Mental Stimulation: If your dog suffers from boredom when you are way, give a bouncy ball a try. It will excite his brain than most traditional toys out there. A good pet LED jumping activation ball is fitted with flashing lights, vibrating mechanism, and music, so it is bound to keep your furry friend stimulated for long periods of time.
Anxiety Relief: When entertained and happy, your dog is less likely to be anxious and stressed. The ball offers plenty of entertainment and is an awesome stress reliever.
Physical Activity: Granted, an activation jumping ball is not designed with a dog's physical exercise needs in mind. However, because he will be jumping, kicking, and running after the ball, it is safe to say that the ball gives him a good workout.
Best Jumping Activation Ball for Dogs: Our Top 8 Picks
Made with plastic and rubber, the Escolourful LED Jumping Activation Ball promises to revitalize your dog's nose and mind.
The ball's widest point measures 5.12 inches (13.2 cm) and has colored rubber nubbers all over it.
When you press the switch located at the waist section of the ball, it will jump around while giving off some delightful music and lighting.
The dancing and rotation will really get your dog jumping and running. The ball runs on 4AA batteries (not provided with the package). You will have to purchase those on your own.
As per customer reviews of Amazon, this product serves its purpose but it is rather weak. If you have an aggressive breed like a terrier dog, it might come apart in minutes of buying it.
A good dog toy is colorful, dog-safe, and has music and lighting. The Leagway Flash Jumping Bouncing Ball ticks all boxes. The cage of the ball is constructed with a plastic material that is durable, non-toxic, and dog-safe.
When bouncing around, this ball plays amazing tunes that will ensure that both your kids and dogs are entertained and engaged for hours. The sudden jumps, lights, and sounds from the ball will trigger your pup to play and interact with it.
This ball has an elastic bounce that is very inviting both for man and dog. If you have a toddler that's learning to walk, it can help them as well.
To install the batteries, all you have to do is separate the ball into two halves (use your hand to open the buckles of the balls' waist) and place them. Then press the switch button to get the ball jumping and giving off its disco lights and the installed music.
The Kingkun Dog LED Jumping Ball is another popular bumble toy on Amazon.
Like the two jumping balls for dogs we have reviewed, this one is also made from plastic with rubber nubbers. This means it is not only sturdy but also long-lasting and safe.
The rubber nubbers will help clean your mutt's teeth as he explores the ball with his mouth.
This ball is multicolor and gives off short bounces that stimulate a dog's mind as well as his nose.
It is powered by AA batteries which you have to buy separately from the package.
Your pup will love playing with this interactive activation ball from Zooyooart.
It comes with amazing features for exciting a bored or anxious dog.
Once the batteries are installed and the switch button pressed, the ball will immediately bounce all over the place. That alone will get your dog's attention.
The ball also produces good music and lighting that will engage him further.
If small children are nearby, except them to share in the fun and laughter with your pup.
How about a bouncing ball that takes safety to the next level?
The Haktoys ATS Light Up Dog Jumping Ball features a 2-layer protective design. The inner cage is made with plastic that is strong and durable while the exterior cover is all rubber.
Breaking the toy apart or chewing through takes a lot of aggressive chewing. At the press of a button, the ball will bounce and wiggle, giving your pet tons of self-entertainment and mental stimulation.
It plays music and flashes LED lights that are colorful and bright enough.
This product is AA-battery powered and very easy to install.
Leaps and Bounds is known for churning out quality and exceptional toys out there. Their jumping activation ball is no exception.
It is made to steal the attention of your canine buddy and turn him into a happy and active member of the family.
Made with a plastic cage and a tough rubber outer cover, this product is both non-toxic and durable.
If you especially have an aggressive chewer for a canine buddy, this is the ideal toy for him.
It bounces and lights up unexpectedly giving him a reason to chase after it and explore it using his teeth.
The PetDroid Interactive Toy is an exceptional bounce ball with great features for dog's play. This one is automatic, meaning you don't need to press buttons to get it to bounce or stop.
It is completely motion-activated and jumps randomly as long as it is in motion.
The jumpy ball comes with 2 feather toys attached to it to provide more entertainment to your pup.
That's not all; it uses rechargeable batteries which can run for up to 5 hours. Charging them requires only three hours.
Since the product has an automatic turn off, you can conserve energy when your pup is done playing with it.
Sadly, this ball works only on hard floors and not carpets or rugs.
The final product on our list is the disco bumble ball from DidPet.
It is fitted with an LED light that blinks as soon as it is bounced, stimulating your pet to keep playing with it.
The ball is also uneven and goes off in different directions demanding the attention of your dog for hours.
Being water-resistant, this ball can be utilized for various activities, including catching, biting, tossing, and bouncing with the lights off.
The ball is designed using food-grade material that has a milk smell, is elastic, tough, durable, and safe.
Its battery also lasts long and conserves energy
Conclusion
An activation jumping ball for dogs is a wonderful accessory to have. It is designed to really excite his brain and get him to move around.
If you are in search of a good dog toy that will keep your pup's brain locked for hours, an LED jumping ball for dogs fits the bill every time.
Last Updated on July 6, 2021 by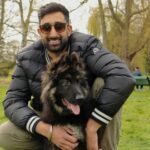 Sable McNeil is a canine chef, professional pet blogger, and proud owner of two male dogs. I have been an animal lover all my life, with dogs holding a special place in my heart. Initially, I created this blog to share recipes, tips, and any relevant information on healthy homemade dog treats. But because of my unrelenting passion to make a difference in the world of dogs, I have expanded the blog's scope to include the best information and recommendations about everything dog lovers need to know about their canine friends' health and wellbeing. My mission now is to find the most helpful content on anything related to dogs and share it with fellow hardworking hound lovers. While everything I share is in line with the latest evidence-based veterinarian health guidelines, nothing should be construed as veterinary advice. Please contact your vet in all matters regarding your Fido's health.