As an Amazon Associate, we may receive a small commission from qualifying purchases but at no extra cost to you. Learn more.
Going on a trip with a dog is fun and games until he makes a huge mess on your truck. Sure, you can cage him in a crate during the trip but the dog will be far away from everyone. You'll also have to deal with a lot of pet hair and claw marks after the trip. Even if you have a dog that doesn't shed much, he can still leave dirt and debris on your truck. Even worse, if he has an accident during the trip, the mess is going to soak through your truck seats and end up making your upholstery smelly. Fortunately, having seat covers solve all these problems once and for all—your truck will stay clean throughout the trip and you will get to have your dog by your side. A seat cover also offers extra insurance for the life of your truck seats against chewing and scratching by your dog.
However, like any other doggie item, buying the right seat cover for your truck is not easy. To make your work easier, we are going to review 10 of the best dog seat covers that most customers agree are great for large trucks.
The dog car seat cover from Winner Outfitters sits at the number one position for all the right reasons. Measuring 56" x 60", it offers good coverage for a large truck. It fits perfectly at the backseat of your car and ensures protection from dog hair, mess, spills, and any other grime. You have the option of using standard bench coverage or the hammock style. Other features include a waterproof and non-slip backing, ease of installation, and ease of cleaning. To increase the comfort of your dog, use the new lightweight material offered by Winners Outfitters.
Vailge Dog Car Seat Covers have both standard and extra-large covers. The latter option measuring 60" x 64" is sufficient for a large truck as it will cover the entire back seat. This way, you can keep the mess created by your dog completely away from your car. The cover has two waterproof layers (one on top and another at the bottom), making it one of the best in its category. In addition, the hammock comes with side flaps that protect your car door from scratches. Your kids can still share the backseat with the dog, thanks to the split zipper hammock.
If you love dog seat covers with side flaps, this design from Honest Luxury will put a smile on your face. With it, your entire backseat including your truck doors will be free from scratches, dog hair, food, smell, and dirt. The cover measures 57" x 60" and is big enough to cover the entire backseat of a large truck. We absolutely love the design of the cover. The front has a pocket and a zipper to allow you to store the dog's essentials or supplies in them. It even comes with a pet seat belt to help you secure your pup in place during the drive. Finally, the non-slip backing helps it stay in place during travel.
4Knines Dog Seat Cover is yet another fantastic product for a large truck. The cover is made from sturdy materials, so it is strong enough to handle a dog of any size. The hammock attachment is useful for protecting the back of the front seats. With Velcro openings attached on the cover, the seatbelts are easily accessible. We also love the non-slip quilted top layer and waterproof backing that keeps things dry at all times. The cover is also impressively easy to install. To clean the cover, all you have to do is wipe it down or throw it in the washer. 4Knines is available in three colors and two sizes.
If you want a product that offers two functions in one, the BarksBar Luxury Pet Car Seat Cover fits the bill. The product allows you to switch between the standard bench covers and hammock style. This kind of flexibility makes the seat cover incredibly versatile. The standard bench style gives you extra coverage than most products in the market. This is because it comes with side flap extensions measuring seven inches.
Made with heavy-duty polyester, you bet this cover is durable, waterproof, and comfortable. If you are worried about stability and your dog's safety, don't be because the cover comes with seat anchors, seat belt openings, and Velcro openings. Not only does this combination protect the cover from slipping, but it also keeps dirt, spills, and hair out of the picture. Finally, the cover has two pockets that act as toys, food, and leash storage.
The Lantoo Dog Seat Cover is unique and comes with impressive features for keeping your truck clean. For one, the hammock is convertible and has a front middle zipper. To protect the entire backseat of your truck, zip the full hammock. Else, zip it down or half if you want to share the backseat with your pet. The cover also comes with a mesh window from where you can communicate with your pet. This is especially beneficial for dogs that tend to get anxious when travelling. The window also allows the free flow of air thereby keeping the dog cool on the road. Lantoo is 100% waterproof, non-slid, and has extra-large side flaps for convenience and protection of your truck.
URPOWER Upgraded Seat Covers will make your large truck mess-free. It provides good coverage for a large truck and makes transportation with a dog easy and convenient. The cover utilizes a number of high-quality materials for construction. The top layer is made of 600D textured oxford cloth known for durability and ease of cleaning. The cover also has a cotton layer, polyester layer, and the slip-proof layer made of PVC. Whether you use it on leather or vinyl, the cover will stay in place while on the road. With quick release clips, you should have a field day installing the cover. The plastic clips secure nicely around both the front and back headrests and are adjustable.
Gorilla Grip Seat Cover offers a 10-year money-back guarantee. If you are looking for a risk-free investment for your pooch, your search ends here. The cover is large enough to protect the backseat of a large truck. It comes with side flaps to both help your dog get out of the car with ease and protect him from scratching your car's doors. It is waterproof, has a seatbelt Velcro closure, and is slip-resistant. Feel free to use the pocket and zipper to store the dog's toys and leases. Finally, the cover comes with a free collapsible bowl for feeding your fur buddy.
Here's another awesome product with a visual window for communication purposes. If your pup suffers from anxiety during transportation, give iBuddy Dog Car Seat Cover a try. The window lets you keep an eye of your pup and he can do the same as well. The hammock design is also great when it comes to the protection of your truck. iBuddy measures 56" x 58" and is a great size for a large truck. It has good coverage of the backseat area of a huge vehicle keeping it safe from mess and dirt. The other great feature of the cover is that it uses an environmentally-friendly material that emits no smell. It is also waterproof, easy to install, durable, and has a hammock backing.
The final product on the list is the Plush Paws Waterproof Cargo Liner. With an extra-large cover measuring 100" x 66" x 20", the liner is perfect for a large truck. It is designed to spread over the entire cargo area of your truck. The cover is also built to withstand scratches, frequent washing, and the usual wear and tear. It comes complete with all the features of a good dog seat cover such as flaps, zippers, and straps. These also make it easy to install the cover on your vehicle. It even has a mat to help ease the anxiety of travel for your pet.
Important Factors to Consider When Buying Dog Seat Covers For Large Trucks
When choosing dog seat covers for large trucks, here are some of the most important factors to keep in mind to avoid picking the wrong product:
Seat Covers Designed for Trucks: Some dog seat covers are designed for bucket seats, some for bench seats while others are made specifically for trucks. Go for the last options because most of their features are tailored to trucks.
Dog's size and pound limits: Check for size and pound recommendations that correspond to your pup. If you have a larger dog breed, for instance, cargo seat covers will make more sense than bucket seat covers.
Durability: Dogs are known to chew and scratch things, so ensure that you choose dog seat material that is durable and can withstand the specific needs of the dog you'll place on it.
Waterproof: Your dog is going to drool everywhere and occasionally have an accident on your truck seats, especially after an intense play in the woods. If your truck seat cover is not waterproof, the mess is going to soak through your seats and end up making your upholstery smell.
Hammock Feature: Some dog seat covers for trucks are designed to act as a seat cover as well as a hammock. They are very handy if you are looking for something that provides complete protection for both your seat and the area around your backseat. Plus, they can also block your dog's access to the front seats, preventing him from distracting your driving.
Ease of Installation: If you don't use the cover frequently, it is important to go for an option that's easy to install and unstill with ease. On the flip side, if you are constantly taking your pup in the truck with you, an option that is extra secure and that doesn't need constant adjustment makes more sense.
Safety and Comfort: Choose a seat cover with non-slip backing if you want your pup to remain comfortable during the entire ride. It is also important to go for a cover with fillings that won't cause allergies or any kind of irritation to your dog.
Extra Features: To ensure that you get your money's worth, consider buying dog seat covers for trucks with extra features like added pockets for doggie supplies, extra flaps to prevent your pup from pawning at the seat, seat belt openings, etc.
Warranty: A great dog seat cover for large trucks should stand up to a great deal of wear and tear. Accordingly, the seat cover that you choose should include some form of warranty that can allow you to replace it if it is not as durable as its manufacturers claim.
Getting a good dog seat cover for a large truck can be quite the task. Most of the available ones in the market are designed for standard vehicles. Lucky for you, this list explores the very best seat covers for large trucks. Buy one depending on your needs and the size of your pocket.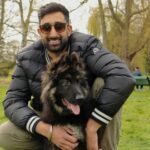 Sable McNeil is a canine chef, professional pet blogger, and proud owner of two male dogs. I have been an animal lover all my life, with dogs holding a special place in my heart. Initially, I created this blog to share recipes, tips, and any relevant information on healthy homemade dog treats. But because of my unrelenting passion to make a difference in the world of dogs, I have expanded the blog's scope to include the best information and recommendations about everything dog lovers need to know about their canine friends' health and wellbeing. My mission now is to find the most helpful content on anything related to dogs and share it with fellow hardworking hound lovers. While everything I share is in line with the latest evidence-based veterinarian health guidelines, nothing should be construed as veterinary advice. Please contact your vet in all matters regarding your Fido's health.