As an Amazon Associate, we may receive a small commission from qualifying purchases but at no extra cost to you. Learn more.
Dogs do so much for us. They protect us from danger, give us endless cuddles when we need them, fight for us in the battle zone, love us fiercely, and put a permanent smile on our faces. It is only fair that we reward them for all that and more. For instance, after a long day, they don't mind having a paradise to retreat to. A warm comfortable bed with an equally soft and warm blanket is the minimum expectation.
The market is full of dog blankets of all shapes and sizes. Choosing the right one can be intimidating. In this guide, we reveal the best material for dog blankets. From coral velvet to Berber fleece to microfiber, here's a rundown of all of them.
Why the Right Material Matters
The material you choose to use for your dog blanket can make or break everything with regards to pet parenting. For one, it needs to be sufficiently comfortable. In addition to comfort, the blanket should be safe for your pup. Sadly, some blankets are plush and warm but can pose danger to a chewer. If he can tear the blanket apart into tiny chewable pieces, it is definitely a hazard. Other things to consider include durability, odor and moisture -resistance, and ease of cleaning.
And now to the list of our favorite materials for dog blankets.
1. Fleece
Fleece is undoubtedly the leading material used to make dog blankets. It ticks all boxes including safety, comfort, and convenience. It is constructed in such a way that it won't unravel or fray like other fabrics in the market. Essentially, fleece is made by combining polyester terephthalate (PET) and other synthetic fibers. The ingredients are reacted at extremely high temperatures to cast a polymer. The polymer then solidifies and forms thick syrup that is passed through a metal disc with tiny holes called a spinneret. As the polymer comes in contact with the air, it forms long strips which are then woven into yarns and converted into a piece of fabric. A shearing device slices the fibers and makes them soft as we know it. Teflon is sometimes added to make the fleece water-resistant.
Fleece is popular for being lightweight and having amazing anti-perspiration qualities. It blocks humidity while still allowing moisture to escape through it. That's not all; fleece is also impressively breathable and dries very fast. Since it doesn't use animal fibers, it is a good vegan option as well.
When it comes to fleece, there are a number of options to choose from.
Coral Fleece: This bears a higher "pile" than a number of other fleece materials and is, therefore, furrier and thicker. Most dog blankets use this type because it is hands down warmer than the rest. Thanks to its furry texture, coral fleece doesn't pill no matter how long it is used and washed. The only shortcoming is that the fibers tend to stick together if you use a fabric softener during washing. If this happens, the fabric will lose its stunning soft textures.
Polar Fleece: As a favorite of sewing projects, polar fleece is less furry than collar fleece. You can get anti-pill or non-anti-pill options. The former is of a higher quality as it doesn't pill or ball-up after a number of washes. The latter is cheaper but can develop pills after washing and wearing. Polar fleece stretches well compared to other options in the market.
Berber Fleece: High-performance fleece fabric with a curly and nubby texture and a flecked appearance. It compares with natural fur when it comes to softness and insulation. It draws moisture from the body and warms it up. It is also strong, stretchy, and versatile.
2. Terry Fabric
The second material used tomanufacture dog blankets is the widely held French Terry fabric. Typically, this is a knitted cloth with one side having loops and yarn piles and the second side a soft, even surface. It is thicker and heavier than your average T-shirt material but lighter than a majority of sweatshirts. This material is prepared from a special type of cotton blend and tiny amounts of spandex and polyester.
The best way to identify the French terry fabric is to take a look at a jersey shirt. Especially the kind that is soft and warm on the inside and then evener on the outside. Terry dog blankets are not only soft but they are warm versatile as well. The only downside is that this fabric doesn't wick moisture as others in the market.
3. Coral Velvet
Coral velvet is made from DTY microfiber. Like most materials here, it is soft to touch and is great for your pup's blanket. It uses a single yarn and a small flexural modulus to make it remarkably soft. The fibers feature high density between each other as well as a large surface area making the coverage of the fabric quite impressive. Thanks to the large surface area, the fabric is very breathable and has great wicking qualities. Coral velvet is also comfortable and will create cozy nights for your pooch. Its biggest con, however, is that it can cause allergies as it breeds static electricity and thereby loses floating air. If your dog has any respiratory illness, it might be best to try other alternatives.
4. Microfiber
Last but not least, the microfiber is a synthetic fiber featuring polyamide and polyester. The former is an elegant name for nylon and the latter a type of plastic. The fibers are split into super fine porous strands that dry fast. The resulting material is durable, absorbent, and soft making it an excellent choice for dog blankets among other uses.
Microfibers utilize a single continuous filament, meaning they are closely lint-free. They don't have hundreds of individual stands and therefore don't pile or get fuzzed during washes. This fabric is bound to maintain its original shape even after long use and washing. Its awesome structural integrity makes it less susceptible to develop creases and wrinkles. Apart from retaining its shape, microfiber blankets are highly durable. The fibers don't fade easily no matter how many times it is washed.
Perhaps the greatest advantage is that it is soft and warm. The fibers are intertwined together tightly to contain heat within the material and thus your pooch's body. When temperatures dip, your dog will be insulated from the adverse weather. The fibers will create a warm cocoon for him to enjoy. Not only does this give him a restful night but it also cuts down on your energy bill as well. Plus, microfiber is fairly inexpensive compared to other options out there. If you are on a budget, this is the best dog blanket material to consider.
Unfortunately, this fabric can be pretty uncomfortable during the summer months as it is super warm. You might want to use another option then. Microfiber is also likely to attract mud, oil, and fluids easily in comparison to other fabrics. To avert this, wash it frequently than other materials. Finally, it also has static electricity and can be rather uncomfortable.
Final Thoughts
The best material for dog blankets is soft to touch, comfortable for all dogs, hypoallergenic, and durable. It also helps if it is easy to clean just to make your life a whole lot easier. Avoid those that can be easily ripped apart in seconds, uncomfortable, and not warm.
Last Updated on December 30, 2020 by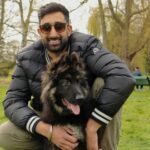 Sable McNeil is a canine chef, professional pet blogger, and proud owner of two male dogs. I have been an animal lover all my life, with dogs holding a special place in my heart. Initially, I created this blog to share recipes, tips, and any relevant information on healthy homemade dog treats. But because of my unrelenting passion to make a difference in the world of dogs, I have expanded the blog's scope to include the best information and recommendations about everything dog lovers need to know about their canine friends' health and wellbeing. My mission now is to find the most helpful content on anything related to dogs and share it with fellow hardworking hound lovers. While everything I share is in line with the latest evidence-based veterinarian health guidelines, nothing should be construed as veterinary advice. Please contact your vet in all matters regarding your Fido's health.