As an Amazon Associate, we may receive a small commission from qualifying purchases but at no extra cost to you. Learn more.
Kirkland Dog Food Overview
Owned By: Costco
Manufactured By: Diamond Pet Foods
Place of Manufacture: Missouri, South Carolina, and California
Product Range: Dry and canned Foods
Main Ingredients: Fresh meats, healthy fats, whole grain carbohydrates, vegetables, and fresh fruits.
There's a lot of confusion as to who exactly manufactures Kirkland dog food.
Many people believe that the brand is produced and sold exclusively by Costco.
Well, that is not entirely true…
Kirkland dog food is essentially a white label dog food brand that's made for Costco by Diamond Pet foods. Diamond Pet Food produces a variety of brands of its own such as Premium Edge, Taste of the Wild, and Solid Gold. It also manufactures pet food for various other brands, one of which is the Kirkland Signature Dog Food.
Diamond Pet Foods, in turn, works with Schell & Klumpeter – a privately owned corporation with headquarters in Meta, Missouri.
The company has six plants located in Missouri, South Carolina, and California. This is where all the Diamond pet foods are manufactured. Consequently, Kirkland dog food is also made in these same facilities.
With that said, the Kirkland dog food is made for Costco and sold exclusively in Costco.
It is only recently that the chain company allowed the distribution of some of its products through other avenues such as Amazon.
Still, it solely sells most of the Kirkland recipes in its physical and online stores.
See also: Where Is Diamond Dog Food Made?
Where Does Kirkland Get Its Ingredients From?
Most of the ingredients used to make the Kirkland dog food come from the United States.
Local farmers provide the fresh meats, fruits, vegetables, and grains used to make the recipes.
Nonetheless, Diamond Pet Foods also sources some of the ingredients from other countries besides the US.
These are the ingredients that cannot be found locally at the super-high standards the company strives to achieve.
They include potato protein and chicory root both of which are gotten from Germany and Belgium respectively.
The ingredients are tested prior to receipt in Diamond's manufacturing facilities.
The tests vary but include toxic screening and nutritional analyses.
The Kirkland recipes are claimed to meet AAFCO nutrient profile regulations for all life stages.
Does Kirkland Dog Food Come From China?
As mentioned before, Kirkland dog food is made strictly by Diamond Pet Foods in US-based manufacturing facilities.
Its ingredients are also sourced mostly in the US with a few exceptions in Belgium and Germany.
That means that China doesn't feature anywhere as far as making and sourcing Kirkland's ingredients are concerned.
About Kirkland Dog Food
Kirkland dog food is a premium canine food formulated with quality ingredients such as fresh meats, healthy fats, whole grain carbohydrates, vegetables, and fresh fruit.
Many dogs enjoy the different flavors of the diets while staying healthy, fit, and happy.
Kirkland dog food comes in two types – Kirkland Signature and Kirkland Signature Nature's Domain.
The former includes different types of seeds and whole grains while the latter is free from grains.
The Kirkland Signature is specifically made for adult dogs, puppies, mature pups, and dogs that need to lose some weight.
Both types have dry and canned varieties.
Dog owners love Kirkland dog food because it is good quality and affordable.
Most store pet brands are always believed to be of low quality. But Kirkland is one exception that gets you a good product for less money.
It also uses no colors and flavors in its recipes as well as things like corn, wheat, soy, and by-products.
Related: Where Is Zignature Dog Food Made?
Last Updated on October 23, 2023 by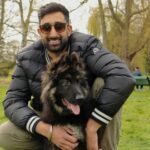 Sable McNeil is a canine chef, professional pet blogger, and proud owner of two male dogs. I have been an animal lover all my life, with dogs holding a special place in my heart. Initially, I created this blog to share recipes, tips, and any relevant information on healthy homemade dog treats. But because of my unrelenting passion to make a difference in the world of dogs, I have expanded the blog's scope to include the best information and recommendations about everything dog lovers need to know about their canine friends' health and wellbeing. My mission now is to find the most helpful content on anything related to dogs and share it with fellow hardworking hound lovers. While everything I share is in line with the latest evidence-based veterinarian health guidelines, nothing should be construed as veterinary advice. Please contact your vet in all matters regarding your Fido's health.