As an Amazon Associate, we may receive a small commission from qualifying purchases but at no extra cost to you. Learn more.
Nutra. Taste of the Wild. Premium Edge. Bright Bites. Professional…
If any of these names ring a bell, you have or want to join the Diamond pet foods bandwagon.
Dog owners looking for commercial foods for their pets almost always come across a product or two from Diamond Pet Company.
The company utilizes a wide range of ingredients including lamb, rice, beef, chicken, fruits, and vegetables to make its endless dog food products.
Their dog foods are formulated using quality ingredients that cater to your pup's health and well-being.
As is the case with any responsible pet parent, the question of where Diamond dog foods is always a thing to be concerned about.
Many pet food brands claim to make quality and safe products only to disappoint.
Is Diamond Pet Company one of them?
Most specifically, where is Diamond dog food made?
Let's find out…
Where Is Diamond Dog Food Made?
Diamond pet foods are made by Schell & Kampeter Incorporated – a pet food company headquartered in Meta, Missouri.
Founded in 1970, the corporation mainly deals with the manufacturing and distribution of animal food products.
It has six plants located in Meta, Missouri, Gaston, South Carolina, Ripon, California, Lathrop, California, Dumas, Arkansas, and Frontenac, Kansas.
Besides manufacturing Diamond dog foods, Schell & Kampeter also offers biscuits as well as dry and canned foods for both dogs and cats.
According to the official Diamond pet Company website, all the aforementioned facilities are state-of-the-art—they employ modern technologies and manufacturing processes to make all the pet foods sold across the country and beyond.
Additionally, the company claims to continually monitor, measure, and track the processes to make sure they are safe and of high quality.
Every recipe essentially goes through an annual Good Manufacturing Practices (GMP) audit done by NSF International.
The GMP guidelines ensure that food products have the identity, composition, strength, and quality they are claimed to possess.
Related: Where Is Kirkland Dog Food Made?
What Company Owns Diamond Dog Food?
Diamond dog food is one of Diamond Pet Company's production lines.
The company is family-owned and privately held.
It is one of the leading pet food manufacturers in the US and makes a long list of dog and cat foods.
Some of the common sub-brands produced by the company include
Diamond Naturals Grain Free
Diamond Pet Company makes its own brands but also produces food for other companies as well.
Diamond Naturals Vs Diamond Dog Food
Both Diamond Naturals and Diamond dog food are sub-brands produced by the Diamond Pet Company.
However, each one is formulated differently for a specific need.
The Diamond dog food is the company's economic kibble consisting of grains (corn, rice, and wheat), and notable meat content.
Diamond refers to it as "no frills dry food sold at an affordable price."
The line has six different recipes all containing a good balance of protein, grains, essential nutrients, fiber, fat, and probiotics to support a healthy body.
Diamond Naturals, on the other hand, is a premium product with more meat and better ingredients compared to Diamond dog foods.
If you are looking for a product with above-average protein, select fruits and veggies, moderate fat, and chelated minerals but one that is slightly more expensive, Diamond Naturals fits the bill. It comes with 13 super recipes.
Where is Diamond Naturals dog food made?
Like Diamond dog foods, Diamond Naturals is made by Schell & Kampeter Inc in one or several of its six manufacturing facilities located in Missouri, South Carolina, and California.
Is Diamond Natural Dog Food Made In China?
The Diamond Pet Company claims that all its products are sourced in the United States under strict regulations by different international bodies.
The official website doesn't include any information about the company getting some of its ingredients from China.
Diamond as a company has, for a while, been rumored to get some of its ingredients from the Asian country.
The rumors haven't been confirmed or denied by the company.
What we know for sure is that the company only uses US state-of-the-art facilities to produce the Diamond Naturals pet line and all its products.
Besides doing GMP audits yearly, the company also employs other safety measures including microbial testing, air quality control, mycotoxin control, water purification, Test and Hold, and on-site product testing.
After the many recalls Diamond Pet Company has had, it is only logical for them to use any available strategy to prove trustworthy to its customers.
Parting Thoughts
There it is – the answer to the question of where the popular Diamond dog food is made.
The canine food line is made exclusively in the United States in different modern and thoroughly monitored facilities.
If you were worried that some of the foods are made in China, don't be.
Everything is manufactured and tested in America.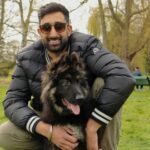 Sable McNeil is a canine chef, professional pet blogger, and proud owner of two male dogs. I have been an animal lover all my life, with dogs holding a special place in my heart. Initially, I created this blog to share recipes, tips, and any relevant information on healthy homemade dog treats. But because of my unrelenting passion to make a difference in the world of dogs, I have expanded the blog's scope to include the best information and recommendations about everything dog lovers need to know about their canine friends' health and wellbeing. My mission now is to find the most helpful content on anything related to dogs and share it with fellow hardworking hound lovers. While everything I share is in line with the latest evidence-based veterinarian health guidelines, nothing should be construed as veterinary advice. Please contact your vet in all matters regarding your Fido's health.