As an Amazon Associate, we may receive a small commission from qualifying purchases but at no extra cost to you. Learn more.
Water buffalo chews are quickly gaining popularity as a nutritious and satisfying option for our furry companions.
Derived from water buffaloes, these chews are a favorite among many dog owners due to their natural composition and durability, making them an excellent choice for dogs that enjoy chewing.
While water buffalo ears may sound strange or uncommon, I assure you that dogs love them, and they are becoming increasingly available in pet stores worldwide.
Now, let's delve into learning more about these amazing chews:
Why should you choose water buffalo ears over cow or pig ears?
The first question you're probably asking yourself is: Why opt for water buffalo ears?
What do they offer that your dog can't get from conventional ear chews like cow or pig ear chews?
Well, here are the key benefits of water buffalo chews that set them apart from the rest:
1. They are low fat but high in protein
Similar to pig and cow ear chews, water buffalo ears are excellent sources of protein, which we know is essential for our pup's muscle development and overall health.
What sets buffalo ears apart as a superior alternative is the fact that they are low in fats, making them a healthier option for dogs that are overweight or have certain underlying health conditions.
2. Hypoallergenic
If your dog has a sensitive stomach or allergies to common protein sources like beef or chicken, you can't risk feeding him conventional ear chews.
A novel protein source like buffalo ear would be an excellent alternative, as it is less likely to cause allergic reactions in your pup.
Novel protein sources are those not typically found in commercial dog foods. Besides buffalo, other examples of novel protein sources include rabbit, kangaroo, duck, lamb, or fish.
3. Long Lasting
Compared to pig and cow ears, water buffalo ears tend to be tougher and last longer. If you have an aggressive chewer or a dog that gets bored easily, these are the perfect ear chews to get him.
4. Other benefits
In addition to the aforementioned benefits, your dog stands to gain the typical advantages that ear chews provide, including:
They satisfy your pup's chewing instincts in a safe manner and can be used to prevent destructive behavior.
They aid in cleaning your dog's teeth, reducing tartar and plaque buildup.
They are rich in chondroitin and glucosamine, which support joint health.
They are more digestible compared to raw hides.
How are Water buffalo ears made?
Water buffalo ears are derived from water buffaloes, which are farmed for meat and dairy.
After they are harvested, they go through a series of steps that involve cleaning, drying, and sometimes dehydration and disinfection.
They are also cut into different sizes to cater to various dogs or according to manufacturer specifications.
The color and texture may also vary depending on the manufacturer's processing steps.
Best Water buffalo ears for dogs
If you decide to try water buffalo ears, here are the best 3 in the market today.
(They are not very expensive, which is great if you want to stock up)
They are high-quality, large enough, and enjoy rave reviews in Amazon. They also come in unique shapes and textures to encourage positive and satisfying chewing.
This is another excellent option to consider. They are slow-roasted to enhance their flavor. The only issue is that the ear sizes are quite small, so your dog is likely to finish an ear in a few hours or less than a day, depending on her chewing strength.
Finally, you can try these crunchy ear chews by QT Dog. I find them to be quite economical, as a pack contains 20 ears, which can last your dog for several days.
Are water buffalo ears safe for dogs?
Yes, water buffalo ears are safe and healthy for dogs.
However, like any other chew out there, it is advisable to give them under supervision to prevent potential choking hazards.
Also, when giving buffalo ears to puppies, ensure that they are the appropriate size (not larger than his mouth) and hardness for your puppy's age or chewing strength.
Before you feed your dog buffalo ears
Consult your vet to ensure that these types of chews are appropriate for your dog's dietary needs and overall health.
Read the label to confirm that you are actually giving your dog water buffalo ears. Some unscrupulous sellers may shape rawhide to look like ear chews.
Last Updated on October 25, 2023 by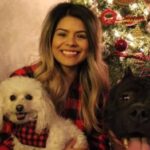 Monique Galindo is a trained Animal Care Specialist and a proud mum of two rescue fur babies: Darcy (a poodle) and Ziggy (a Pitbull). She has dedicated her life to writing about the unique behaviors of dogs, their emotions, and relationships with humans. Through her extensive experiences with dogs, Monique's goal is to share with dog lovers insights into the fascinating world of our four-legged friends. She lives in Lovington, New Mexico with her two sons, husband, and two furry friends.