As an Amazon Associate, we may receive a small commission from qualifying purchases but at no extra cost to you. Learn more.
Like your human baby, your dog is an important member of the family.
He deserves nothing but the very best. That encompasses everything from shelter, clothing, grooming, medical care, and food just to mention a few.
Knowing what to give your pooch is easier said than done.
Dogs need a good balance of several nutrients including proteins, vegetables, fruits, minerals, vitamins, prebiotics, and probiotics.
While there are thousands of dog food brands in the market, getting one that gives your pet all the nutrients while making sure he's safe can be a real challenge.
American Journey is among the leading manufacturers of pet food in the United States.
It has formulas for puppies, adults, and senior dogs.
The recipes are delicious, nutritious, and affordable for most.
It is easy to get sold out to the brand for these reasons and more.
But before you do, you might want to find out where the dog food is made in the first place.
Walk with us as we reveal to you where American Journey dog food is manufactured.
Overview of American Journey Dog Food
Launched in 2017, the American Journey line of pet food is a relatively new player in the market.
Even so, it has already made a name for itself in the industry.
Part of it is the reason that it is a brand owned by the giant online pet company, Chewy.
If you've been a dog parent for a while, you have probably ordered several pet-related products from Chewy already.
The online retailer has been in business since 2011 and has done incredibly well.
In 2017, Chewy birthed its own dog food brand0—the American Journey.
The brand also offers good-quality products to its clients.
Its formulas utilize organic and nutritious ingredients that are great for different dogs.
It sells a variety of formulas for specific needs all made with the highest safety and quality standards.
With no middleman to do production, marketing, or distribution of its products, Chewy is also able to sell its products at competitive prices without compromising on their quality.
The brand makes food that caters to all three canine life stages – Puppy, adult, and senior.
Each recipe is made to target each stage using a blend of high-quality ingredients.
Besides life stages, the American Journey also sells food for special needs such as those with sensitive stomachs.
You can choose grain-inclusive or grain-free options as well as dry or wet food.
Where Is American Journey Dog Food Manufactured?
Chewy produces American Journey dog food in two separate locations – both within the United States.
A majority of the recipes are made in its manufacturing facilities located in Kansas while its limited, grain-free diet is produced in California.
The brand claims that its ingredients are sourced from reputable suppliers in the United States and around the world.
Regardless of the source, the company must ensure that the ingredients meet high safety and quality requirements to give rise to exceptional kibble and wet food that nourishes pets completely.
In case you are wondering, American Journey dog food has never been recalled.
Well, recalls don't necessarily mean a brand is incompetent but the lack of it thereof is quite reassuring to pet owners.
Companies that have enjoyed a recall-free time in business are easily trusted over their counterparts.
Also, keep in mind that American Journey has only been around for about five years.
That's a relatively short period of time to have been recalled.
We hope things stay that way for many years.
You may also want to check out: Who Makes WholeHearted Dog Food?
Is American Journey Dog Food Good For Your Dog?
American Journey dog food has plenty of benefits for dogs. These include the following:
Doesn't contain wheat, soy, or gluten
Has excellent fiber and wholesome grain contents
Contains all-natural protein, omega fatty acids, carrots, cranberries, blueberries, and antioxidants.
Great for building your dog's lean muscle
Doesn't use poultry plant by-products
It is a great choice for dogs of various ages and activity levels
Made in the USA with formulations that exceed the AAFCO guidelines.
Like all pet foods, American Journey comes with its fair share of shortcomings, including:
The company doesn't give enough information on the sourcing of ingredients
Some ingredients are imported from unknown locations
Some of the recipes contain non-meat ingredients to boost protein levels.
It is clear that the benefits of the American Journey dog food are way more than the cons.
That should help you to decide if the food is worth your money or not.
Parting Thoughts
American Journey may be new in the pet food industry but it is already commanding attention.
With its delicious formulas, high-quality ingredients, and affordable price, it is no surprise dog owners love the brand.
Many dog owners also revere the fact that its recipes are made in the United States.
If you want to try any of the company's wide range of formulas, don't hesitate.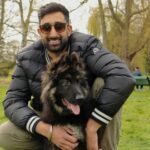 Sable McNeil is a canine chef, professional pet blogger, and proud owner of two male dogs. I have been an animal lover all my life, with dogs holding a special place in my heart. Initially, I created this blog to share recipes, tips, and any relevant information on healthy homemade dog treats. But because of my unrelenting passion to make a difference in the world of dogs, I have expanded the blog's scope to include the best information and recommendations about everything dog lovers need to know about their canine friends' health and wellbeing. My mission now is to find the most helpful content on anything related to dogs and share it with fellow hardworking hound lovers. While everything I share is in line with the latest evidence-based veterinarian health guidelines, nothing should be construed as veterinary advice. Please contact your vet in all matters regarding your Fido's health.