As an Amazon Associate, we may receive a small commission from qualifying purchases but at no extra cost to you. Learn more.
Whether you're an enthusiast of the comics, anime, or manga series, or you simply want a name that mirrors your pup's personality or appearance, Demon Slayer offers a wealth of memorable characters to draw inspiration from.
Choosing the perfect name for your dog is more than just a formality—it can shape their behavior and responsiveness to commands.
That's why reflecting on your favorite Demon Slayer characters and storyline can lead you to a name that harmoniously aligns with your furry companion's personality and traits.
Check out this comprehensive list of Demon Slayer characters below to discover a name that perfectly complements your furry friend's appearance and personality.
Male Dog Names Based On Demon Slayer Characters
Akaza
Aoba
Nagakura
Obanai
Iguro
Doma
Chachamaru
Rui
Rokuta
Asakusa
Hashibira
Enemy
Kamado
Sabito
Saburo
Genya
Sakonji
Gyokko
Hairo
Sumiyoshi
Slasher
Shoichi
Hantengu
Hiroshi
Hisa
Kiyoshi
Giyu
Tomioka
Hotaru
Jigoro
Kagaya
Tanjiro
Uzui
Tecchin
Kokushibo
Yahaba
Yatsu
Toyo
Kozo
Keizo
Female Dog Names Based On Demon Slayer Characters
Aoi
Makio
Koinatsu
Suyako
Sumire
Shigeru
Takeo
Sumi
Akeno
Amane
Omitsu
Ozaki
Kanzaki
Rei
Daki
Fuku
Satoko
Sayo
Ruka
Rengoku
Suma
Hisa
Hinatsuru
Hinaki
Kocho
Nakahara
Kanae
Kanao
Shinobu
Shizu
Kie
Kiyo
Kuina
Tomi
Tokie
Mukago
Makomo
Tamayo
Uta
Naho
Yae
Ubume
Nichika
Nezuko
Dog Names Based On Demon Slayer Animal Characters
Taro
Chachamaru
Ninju
Kasugai Crows
Kaburamaru
Raccoon
Akita
Amur
Hakkaido
Elk
Ussuri
Dog Names Based On Hashira (Pillar)
Jigoro
Giyu
Shinobu
Muichiro
Kanae
Gyomei
Sanemi
Obanai
Kyojura
Shinjuro
Tengen
Sakonji
Jigoro
Dog Names Based On Demons in Demon Slayer
Yahaba
Muzan
Yushiro
Susamaru
Biwa
Doma
Gyutaro
Kyogai
Kamanue
Wakuraba
Rokuro
Divine Dog Names from Demon Slayer
Seishin
Tenshi
Shinto
Amaterasu
Ryuujin
Strength and Bravery Demon Slayer Dog Names
Tatakai
Isamashii
Mugen
Ketsui
Chikara
Geki
Yujin
Kyodaina
Tsuyoi
Kiba
Heroic Dog Names from Demon Slayer
Eiyuu
Senshi
Yusha
Gunshi
Rensha
Kessen
Batoru
Kaizoku
Other Demon Slayer-Inspired Dog Names
Kibo
Hikari
Kirameku
Kirari
Meiyo
Kigayaku
Akarui
Hono'o
Kyofu
Kuro
Yami
Kowai
Warui
Kuroi
Hana
Yuki
Sakura
Last Updated on October 18, 2023 by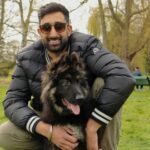 Sable McNeil is a canine chef, professional pet blogger, and proud owner of two male dogs. I have been an animal lover all my life, with dogs holding a special place in my heart. Initially, I created this blog to share recipes, tips, and any relevant information on healthy homemade dog treats. But because of my unrelenting passion to make a difference in the world of dogs, I have expanded the blog's scope to include the best information and recommendations about everything dog lovers need to know about their canine friends' health and wellbeing. My mission now is to find the most helpful content on anything related to dogs and share it with fellow hardworking hound lovers. While everything I share is in line with the latest evidence-based veterinarian health guidelines, nothing should be construed as veterinary advice. Please contact your vet in all matters regarding your Fido's health.