As an Amazon Associate, we may receive a small commission from qualifying purchases but at no extra cost to you. Learn more.
While wet food can be a bit messier for your pup to eat, if he loves the taste, it is worth it—and for many valid reasons. Whether canned, frozen, or fresh, quality wet food is as rich in nutrients as quality dry dog food. Wet food has many other benefits including:
It is high in moisture content, which means that it can help your dog stay hydrated and avoid a wide range of urinary-tract issues.
Wet food has just as much proteins as dry foods but with fewer carbs. Wet food can, therefore, be a big help for overweight dogs or those with sensitive stomachs.
It is easy to chew, making it ideal for pups with missing or misaligned teeth as well as dogs with smaller mouths.
Aroma-rich wet foods are often more appealing to picky eaters.
However, not all automatic feeders are designed to dispense wet dog food. So, if you've figured out that your dog is into wet food, it is important to get him automatic feeders that can dispense wet foods. The good news is that there is a wide range of automatic dog feeder wet food options in the market. Here are our picks of the best 5 options in the market today:
The first automatic dog feeder wet food product that we recommend is this amazing sealed pet bowl from Sure Petcare. With a bowl capacity of 13.5 ounces of wet or dry food as well as Neoprene seal lip, this is the product you need when looking for a feeder that can keep your pup's wet food fresh for longer. In particular, the neoprene lip helps keep your dog's wet food fresh and keep bugs, ants, and other insects away. And as its name suggests, it is motion-activated, which implies that its lid will open while your dog approaches. How cool? It features no-spill design to keep your pup's feeding area mess-free and neat as well as non-skid bottom to prevent it from sliding around while your dog is feeding. The feeder also comes with a 4C alkaline battery with an estimated battery life of up to 6 months depending on how frequently you use it.
The WOPET automatic pet feeder is a sleek device with the ability to feed your dog or cat two meals within a 48-hour window period. It is fitted with a large food bin which can carry food to last your dog for days on end. Technically, the feeder contains two timers on each compartment. When the scheduled meal time is reached, the lids will open and dispense food to the tray.
Thanks to the integrated LCD screen, you can alter the settings on the device to fit the diet preferences of your pup. The programmable timer helps you stay in control of your dog's feeding schedules.
The automatic feeder is relatively easy to install. All you need to do is plug it into a power outlet and follow the instructions on the LCD screen to program it. In case you are worried about a power outage while you are away, you are the perfect candidate for the WOPET feeder. It also runs on batteries, so you can keep a set on standby to ensure your dog eats when the power goes out. Finally, you can record a voice message over the device and schedule it to play during meal times.
The automatic feeder from Home Intuition is also a perfect choice for dog owners looking for an organized and comfortable way of feeding their dogs. Fitted with an automatic programmable functionality, this model gives you a chance of serving your dog up to six meals a day. It comes with a portion control feature to help you prevent obesity or starvation in your dog.
Additionally, you can record a 6-second message and set it to play as your dog feeds. The device runs on batteries (not included in the pack) and has an easy to read LCD display. Since the feeder comes with six different food trays, you can choose the right size for your dog.
If you are looking for an automatic dog feeder that can dispense both dry and wet food, the TDYNASTY Design is certainly worth your consideration. This round, disc-shaped model is created to dispense up to five pre-apportioned meals at a time. Ideally, it has five food trays, each with a capacity of 240ml, so you can program it to serve your dog a specific portion at a certain time of day. The food capacity of this feeder makes it ideal for cats and small or medium-sized dogs. Apart from food, you can fill the feeder with other dog treats and medication.
Additionally, the Tdynasty design feeder comes with a voice recording feature and has an attractive LCD display. It is powered by 4 "C" batteries or a DC adapter. Finally, the food tray is easy to detach and clean and the lid is securely attached to keep the food in the designated area when mealtime hasn't reached.
Cat Mate is known for churning automatic feeders that always surpass customer expectations. First came the Cat Mate C50 with awesome capabilities for establishing feeding routines and educating pets. Now, the new and improved Cat Mate 500 is an even better version with greater capabilities.
The programmable device dispenses up to five meals a day and can serve both wet and dry food without presenting an array of technical issues. It comes with twin ice packs placed under the food tray to keep food fresh for longer. Food is further kept fresh through the close-fitting lid at the top of the feeder.
Other attractive features of the Cat Mate C500 include a digital timer where you can program up to four times, tamper-resistance, and use of batteries to power. The device is also dishwasher-friendly.

Important Factors to consider when shopping for automatic wet food feeders for dogs
Durability: If you have a dog that likes to chew things in his space, he may be tempted to break into the feeder in the early days before he gets used to the device. Choose a feeder with sturdy materials of construction that your pup won't succeed chewing into or breaking and stealing the food before the scheduled time.
Size of the feeding bowl: choose a feeder with a feeding bowl that can hold enough food for your pup. If you are trying to regulate the amount of food to give your dog because of health reasons, smaller feeding bowls are recommended.
Number of meals it can dispense: If you plan to schedule a couple of wet meals for your dog in a day, it is advisable to choose an automatic dog feeder wet food option that can do multiple meals instead of those with the capability to dispense only one meal.
Easy to clean: Keeping your feeder clean all the time can prevent bacteria from growing in your feeder. Accordingly, the best feeders are those that come with parts that are easy to disassemble and clean.
Voice Recorder: If your dog likes to be called in for breakfast or dinner, go for a wet food dog feeder that can allow you to record a customized message for your pup. You can set it to play the pre-recorded message when it is time for your dog to eat.
Anti-jam feature: Since no dog owner wants his or her dog to starve because his food has stuck inside the feeder, it is always advisable to go for feeders with an anti-jam feature. For starters, an anti-jam functionality prevents your dog's food from jamming.
Long-lasting batteries: If your wet food dog feeder is battery-operated, ensure that it has long battery life. Although some high-end feeders have great features, they tend to eat up battery pretty fast, which can be an issue if you want the feeder to open fast. Strive to purchase models that have minimum battery expenditure.
FAQs
Can I use wet food dog feeders with raw food?
You should avoid adding raw food to your automatic wet food dog feeder as they can go bad fast and make your dog sick. However, if you plan to put food just for a few hours or a day and you have a feeder with well-covered compartments, you can get away with it.
Are automatic wet food dog feeders hard to clean or maintain?
No. Cleaning automatic dog feeders is easy as most of them come with easy-to-clean bowls and other removable components. Nonetheless, there are models that are hard to clean, so it is vital to check this aspect when purchasing a feeder.
Conclusion
There you have it; 5 of the best automatic dog feeder wet food options available in the market to help you meet your pup's wet food requirements. Generally, t is a good idea for any dog owner to have one of these smart devices because there are instances when feeding your dog wet food isn't even your choice. For instance, your vet may advise you to give your furbaby wet food for medical reasons. Whatever feeder you choose to buy for your dog from our list, ensure that you pair it with wet food that your dog loves. In other words, always ensure that your dog is used to wet foods before you make a switch or include wet food in his meal plan. This way, you will avoid unnecessary confusion for your dog and make it easier for him to transition from relying on you to seamlessly using his new device.
Last Updated on December 29, 2020 by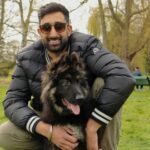 Sable McNeil is a canine chef, professional pet blogger, and proud owner of two male dogs. I have been an animal lover all my life, with dogs holding a special place in my heart. Initially, I created this blog to share recipes, tips, and any relevant information on healthy homemade dog treats. But because of my unrelenting passion to make a difference in the world of dogs, I have expanded the blog's scope to include the best information and recommendations about everything dog lovers need to know about their canine friends' health and wellbeing. My mission now is to find the most helpful content on anything related to dogs and share it with fellow hardworking hound lovers. While everything I share is in line with the latest evidence-based veterinarian health guidelines, nothing should be construed as veterinary advice. Please contact your vet in all matters regarding your Fido's health.