As an Amazon Associate, we may receive a small commission from qualifying purchases but at no extra cost to you. Learn more.
From lubricating joints and body tissues to helping with digestion and maintaining normal body temperature, water is necessary for a dog's overall health. Without water, your pup will become dehydrated and deteriorate quite fast. His organs will damage and eventually shut down. As a rule of thumb, a dog should consume one ounce of water for one pound of his body weight per day. If the environmental temperature is high or if your pup exercises a lot, he will need more water.
Benefits of an Outdoor Step-On Dog Water Fountain with Hose
When it comes to giving your dog a drink, you can use a drinking bowl or a water fountain. Although the former will get the job done, it comes with the challenge of keeping water fresh for long. You have to empty and fill it up every few hours to ensure freshness. Besides, a water bowl demands regular sanitization to keep bacteria, germs, and dirt at bay. A water fountain, on the other hand, ensures constant circulation and flow of clean water. This not only keeps it fresh but also allows it to stay clean for longer without your intervention.
An outdoor step-on dog water fountain with hose takes convenience a notch higher. It is fitted with a dog pedal that squirts a burst of water when a dog steps on it. This means that your canine friend can get a drink wherever he pleases—24/7. As a dog owner, this gives you peace of mind that your friend can access water outdoors at any time. It goes without saying that this type of fountain curbs water wastage to a greater extent.
To help choose the best, here is a quick overview of the best outdoor step-on dog water fountains with hose in the market today.
Metal water fountains are great but when the sun is blazing hot, they can burn your dog's paws. This is why the ALL FOR PAWS water sprinkler utilizes a BPA-free material edge that protects your dog's paws. The fountain is compact, lightweight, and easy to use. You don't need any specialized skill to connect the fountain to a hose and regulate the water pressure as needed (about 3-6 bar). Place the fountain in a shady area and teach your dog how to press it using his paws to get a drink of cold water.
The MATOP Dog Water fountain has a paw-print pad from where your dog will step on to get access to fresh and cold water. Whether you are home or away, you can rest easy knowing your pup will never run out of water. The fountain is made from high-quality steel and brass for durability. It is quite easy to install and similarly easy for your pet to operate. With a little training session, he will be good to go. The package comes with a connecting hose, pet fountain, and a welcome guide to get you started. This outdoor automatic pet fountain is ideal for pets of all sizes.
Made from heavy-gauge steel, the TrioGato Water Sprinkler will last you for generations to come. It is fitted with all the attractive and functional features that a step on water fountain should have. For one, it has a 2-way splitter that makes it easy for you to connect to a water point. The control valve on the splitter will help you adjust the pressure of the water accordingly. The design of the sprinkler is also simple for both you and your pup. He will not need a lot of time to know what to do to get the water flowing. Finally, the rubber friction pads increase friction making the fountain impressively stable. If you are looking for a product to encourage your pup to drink, this one is definitely worth it.
Quirky Pawcet Dog Fountain is a unique creation by one dedicated pet lover by the name Tony Lytle. His daughter's pet kept knocking his drinking bowl over. To counter the challenge, Tony designed this cool step on a sprinkler that measures 12 x 15 x 3 inches and with and weighs only 1.53 pounds. The fountain is made of plastic to ensure that it can withstand the elements. It is also really easy to put together. Simply connect it to a hose and turn on the tap. When your dog gets thirsty, he can access the water simply by lightly pressing the pedal with his paws.
With simple operation and sturdy design, the iMounTEK Hygienic Fountain is one of the leading step on dog water fountains in the market right now. It is a way out of uncomfortable, germ-infested drinking devices. For one, it is made of heavy gauge steel to ensure longevity. This clever device also comes with a 41" hose and a clamp to allow for a hose connection. Your job is to connect it to a supply of water, give it a quick trial to ensure that it is working properly and train your pup to step on it. The advantage of this fountain is that it comes with a 90-day limited warranty. If you are dissatisfied, the manufacturer will be happy to refund your money.
The Scuddles Paw-Activated Dog Water Fountain will ensure that your pooch has water throughout the day. It is a self-serving, innovative fountain attached to a hose to release a constant stream of water. Like other products on this list, the water gushes out when your dog steps on the switch plate. The construction is made from heavy gauge steel with a leak-proof copper valve and rubber friction pads. That makes it durable and stable. No matter the size of your pup, he will have a good experience drinking from this water fountain.
BringerPet Dog Water Dispenser Pet Fountain features a strong and colorful build that adds fun and convenience to your dog's hydration needs. It is made of high-quality iron with a brass valve and a durable hose. Even if your dog is aggressive, it will take him much strength to damage it. The paddle of the fountain has a paw design and can be easily pressed to release a gentle stream of water. If you are not tech-savvy, rest easy; this pet fountain comes with all the installation instructions plus a few tips for training your pet.
GoodBoy Water Fountain for Dogs is another durable and pet-friendly outdoor step-on dog water fountain with hose. This one is made with metal and leak-proof fittings so you can hold on to it for a long time. The package comes with a brilliant fountain, three high-quality connectors, and a hose. To use it, connect it to a hose or faucet and turn on the water supply. The manufacturer has also included a training manual in the package to make it easy for you to show your pet the ropes.
Offer your dog clean and freshwater with the Pet Laugh Water Fountain. This hydration system lets out a gentle flow of water at the press of the paddle. Your dog will absolutely love the flowing water and will be encouraged to drink up. Simply teach him by pushing the pedal using your hand or foot and make sure the pressure is right before letting him try on his own.
If your pup spends most of his time outdoors, consider buying the Synturfmats Dog Step on Water Fountain. With this doggie option, he will have access to clean water whenever he wants. When he steps on the pedal, water will shoot up for him to drink. This fountain comes with a garden hose connector and a regulator and features a quick and easy installation. The best part about it is that it comes with a copper valve to ensure stable flow of water. It is also suitable for all dog sizes and ages.
Bonus Buys
To ensure that your dog always drinks clean and safe water, you will need to clean the fountain reservoir and other parts periodically—at least twice a month. A bleach, vinegar, and cleaning brush will come in handy in such cases. For optimum results, however, we also recommend using the following commercial dog water fountain cleaners at least once every 3 or 6 months:
How to Pick the Best Outdoor Step-On Dog Water Fountain with Hose
With so many dog water fountain step on products available in the market, picking the best water fountain for your dog can be a bit challenging. To make the process easier for you, here are some of the most important considerations you should keep in mind:
Material of construction
Most outdoor step-on water fountains come in three materials: plastic, stainless steel, and porcelain (or ceramic). It is important to understand the strengths and weaknesses of each material to choose what's appropriate for your hound.
Plastic is the most affordable of the three but it is prone to scratching. So, if your dog is aggressive, he can scratch or chew its surface, creating a conducive environment for bacterial growth. Some plastics also contain chemicals that can leach into water, affecting your pet's health in the long term. If you choose a step-on dog water fountain made of plastic, ensure that it is a high-quality plastic that is free from BPA and toxins.
Stainless steel is scratch-proof, so you don't need to worry about bacterial proliferation. There aren't chemical-leaching issues with stainless steel either. However, cheap stainless steel materials are prone to rusting and cannot withstand prolonged exposure to standing water.
Finally, Porcelain (or ceramic) materials are natural, non-toxic, environmentally-friendly, and elegant-looking. They can withstand rusting and are heavy enough to be topped by your dog.
Filtration System
Most dog water fountains come with filters to remove dirt and chemicals from water as well as to make the water tasty for your dog. The best fountain you should go for is one that comes with a more sophisticated filtration system beyond the standard carbon-activated filters. For instance, some models come with additional foam filters for removing dissolved impurities like dust, hair, and sediments. And considering that you will need to replace the filters periodically, we suggest that you choose a model whose filter is not only easy to install and uninstall but also one whose filters are readily available in local stores.
Water Flow
Water fountains that flow fast may make it difficult for small and nervous dogs to drink water. Besides, small dogs may not comfortably drink water at the same heights as bigger breeds. So, the best fountains to go for are those that come with adjustment knobs to allow you to control the flow rate and water level.
Availability of Accessories
Besides the filtration system, a good step-on dog fountain should come with accessories or connecting parts (hose, Y-splitter valves, etc) that are readily available. This will save your time in finding these parts if the device malfunctions. A fountain with parts that are compatible with common garden hoses and faucets will also save you from a lot of compatibility headaches.
Ease of Cleaning
You will need to clean the pump, hose, and filters from time to time to clear any dirt and dissolved impurities. Accordingly, you will need to disassemble many parts of the fountain, which shouldn't be a difficult task. A good step-on fountain for dogs should, therefore, be easy to disassemble and come with parts that are easy to clean.
Noise
A step-on dog water fountain that's too noisy is likely to scare your dog. So, ensure that the fountain you plan to purchase is as silent as possible when operating.
Design
If you care about how a step-on dog water fountain is going to look in your home, choose those with attractive designs.
Final Thoughts
Say no to germs, bacteria, mold, and repeated cleaning by purchasing an outdoor step-on dog water fountain with hose for your furry friend. Both of you will be happy with the decision. As summer rolls around, your pet deserves a constant flow of delicious, fresh, and clean drinking water round the clock.
Last Updated on September 13, 2020 by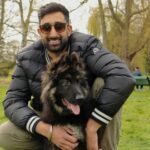 Sable McNeil is a canine chef, professional pet blogger, and proud owner of two male dogs. I have been an animal lover all my life, with dogs holding a special place in my heart. Initially, I created this blog to share recipes, tips, and any relevant information on healthy homemade dog treats. But because of my unrelenting passion to make a difference in the world of dogs, I have expanded the blog's scope to include the best information and recommendations about everything dog lovers need to know about their canine friends' health and wellbeing. My mission now is to find the most helpful content on anything related to dogs and share it with fellow hardworking hound lovers. While everything I share is in line with the latest evidence-based veterinarian health guidelines, nothing should be construed as veterinary advice. Please contact your vet in all matters regarding your Fido's health.