Dog crates provide a secure and reassuring environment where a dog can feel at ease and comfortable, especially when traveling or for brief durations when we cannot supervise them at home. With a dog crate, you are also assured that your dog is calm and safely contained and that he is not likely to get distraught and cause chaos or injure himself.
Crates that come with dividers offer even more benefits. To begin with, when buying a crate for your puppy, you'll definitely opt for an option that will accommodate his full adult size. However, if you choose an option with too much space, your furbaby may decide to do his business in one corner and sleep in the other, which defeats one of the main goals of crate training. This is one instance when crates with dividers come in handy—they give you an opportunity to adjust the interior space depending on the size of your dog. As your puppy grows, you can move the divider accordingly to give him more space to play and nap without encouraging him to eliminate in the crate.
Secondly, crates with dividers are economical in the long run. A puppy can grow fast and if you don't plan well, you may end up buying multiple crates within a short span. A crate with a divider saves you all these hustles. As your puppy grows, all you need to do is adjust the divider at different lengths—without the need to buy another crate.
You can also use a divider to separate two pups if play gets out of hand or if you have two puppies that don't get along well but share the same crate. In the latter case, however, it is advisable to invest in two separate crates. It is also important to remember that a divider will only help with dog segregation if you are dealing with puppies or smaller breeds. This is because it is a bit daunting to find a dog crate that it is big enough to accommodate two medium or larger dog breeds.
Top 15 Best Dog Crates with Dividers
There are different crates with dividers on the market. Getting the right one can be a bit intimidating. But we have got your back; here's a list of 15 best options.
Homes for Pets Dog Crate is made with heavy-duty steel and tight mesh design, making it one of the sturdy crates out there. It is a perfect fit for a brand-new puppy and medium-sized dog breeds. This simple yet effective crate is fitted with a divider panel so that your puppy can grow with it. The mesh design is super strong that your dog will have a hard time chewing on it. Plus, the tight locking and weaving bolts ensure he will not escape no matter how hard he tries. For safety purposes, this crate has rounded corners rather than sharp ones as is the case with other crates in the market. Finally, it is foldable for easy transportation.
Looking for an affordable yet effective dog crate with divider? This beautiful metal crate from Aspen comes with dual crate doors for easy access. Each door has two slide bolts to protect your pooch from escaping. In case of an 'accident', just remove the leak-proof pan and give it a quick rinse. This product also features a free divider panel and is available in blue and pink colors. Aspen Pet Crate is ideal for puppies and small dog breeds of up to 30 lbs. And the best part is it doesn't cost an arm and a leg.
Whether you are looking for a crate for behavior or potty training, the AmazonBasics guarantees value for money. It is fitted with all the safety and comfort features that an adult dog and puppy needs. For one, it features metal construction and rounded doors to keep your pup safe at all times. Its bottom has a divider to block your dog's paws from going through. This crate also takes customization to a whole new level—it not only comes with single and double doors but it is available in six different sizes as well. If you are worried about clean up, don't be. Amazon Basics features a removable plastic pan to make your work easier.
If you fancy stackable dog crates, this one will put a smile on your face. You have plenty of options here. You can decide to raise the crate to three levels, keep it at two levels, or only have a lower level. It is a great product if you are a minimalist and space is an issue. The crate comes with two doors and two ABS removable trays to make cleaning easy. Each door has a stainless-steel feeding bowl for convenience. Other great features of this crate include the improved duty wheels and a removable divider.
Petmate Pro Valu is a fantastic dog crate for puppy training. Measuring 19 x 2 x 14 inches, it can only accommodate puppies and small dog breeds. The crate has two doors to provide an extra entry point for your pup as well as give you another placement option. You can utilize the upper door to slide food and water to the dog. Each of the doors comes with a secure lock system to keep your friend safe. If you have multiple dogs, the divider will let you keep them separated if they don't get along very well. Finally, the crate is small and portable.
If your traditional kennel can't keep your ambitious dog put, give the Precision Pet Great Crate a try. With a five-point locking mechanism, a secure door latch, and heavy-gauge wire mesh, he will find it hard to make a run for it. This crate has additional features such as rounded corners to ensure 100% safety for your fur baby. It also comes with a free divided panel and a removable tray for easy cleaning. The crate is made from a sturdy wire construction coated in Electro-coat finish to protect it against the elements.
Pet Trex Folding Heavy Duty Pet Crate Kennel is a simple metal crate with a lot to offer for your dog. It is made with quality material and coated with Electro-finish for durability purposes. If you don't do well with assembling stuff, this crate is for you. It is very easy to set up and fold down. To make your dog safe, the crate has round edges and slide bolt latches on the doors. It also comes with a divider panel and a removable tray.
This is yet another product in the metal crate category that is stealing its way into the hearts of many pet owners. Made from waterproof metal, Paws and Pals crate is one of the most durable products on the market. The manufacturers of this crate took the trouble to treat the metal to make it wear-resistant. That means you can wash it over and over again without worrying about its longevity. In addition to being waterproof, this metal crate is foldable. You don't need any tool to set it up and break it. It is also pretty small to allow for easy transportation.
The selling point for this crate is its versatile handle that adds to your convenience. When you are in a hurry, just grab the handle located on the top and rush out before your pup knows what's going on. Like other products on this list, this crate is made with heavy-duty metal that can withstand any aggressive chewer. It has two doors each with sliding bolt locks to ensure your pup doesn't escape. The removable tray helps you stay on top of cleaning. Plus, setting the crate up is as straightforward as it can be.
MidWest Homes dog crate is a perfect adjustable and elevated space for puppies. Each playpen features a paw-friendly mesh floor grid that can be raised and lowered. It is also designed with two doors (one at the top and another on the side) for easy access. Each door is fitted with protective bolt latches so your sneaky pup will stay put in her crate. The crate can be folded flat for storage and transportation purposes.
The PayLessHere double cage dog crate is a premium product that is big on durability, functionality, and convenience. The mesh is made from high-quality steel and coated with black electro coats that can withstand the elements. Another attractive feature of this model is two doors with slide bolt latches, ease of assembly, free divider panel, portability, and ease of cleaning.
The Pet Champion Deluxe is an extremely heavy-duty dog crate designed to contain even the most determined dog. It is one of the strongest crates out there and can house a dog of up to 70 pounds. To be able to do that, this crate is made with a high gauge steel frame. It comes with two doors, each with double latches to keep your dog safe and secure. This easy-to-assemble product can fit a pet of up to 34 inches long and 22 inches tall.
Similar to other dog crates, the Dogit 2-Door Wire features a 2-door design and sturdy construction to accommodate different temperaments. The doors, located at the side and front, are equipped with secure sliding latches. No matter how hard your dog tries to escape, his efforts will be futile. One of the attractive features of this crate is its comfortable handle that makes transportation easier. The crate comes with a divider grill and a removable pan for easy cleaning. It is also quite portable and easily foldable.
SportPet Designs dog crate has plenty of features to keep your dog safe at home or during travel. The design is sturdy and spacious not to mention airline-friendly. Although made of plastic, this crate can withstand a lot of pressure from a dog. If you ever need to fly with your pooch, this airline kennel will come in handy. It is easy to assemble and has metal slats to curb chewing behaviors. For extra comfort, the crate comes with a plush pet bed that fits perfectly. This kennel is IATA-certified so you use it when taking a flight with your dog. It is also great for general travel.
Made from high gauge steel, the Bestmart INC dog crate does a great job of giving a dog a safe, comfortable, and spacious shelter. The steel build is coated with a silver coat that makes it stunning. One of the great features of this crate is its four casters installed for stability reasons. Other great features include the double door design and the removable pan that allow for convenience during cleaning.
How to Set Up Puppy Crate Divider
See this video:
The Right Size of a Dog Crate with Divider
When choosing the best dog crates with dividers, you need to keep your dog's size in mind. When using a crate, your pup will stand up, move around, and lie down. So, he will need to have enough space that is comfortable and safe for him, especially when traveling long distances or when you are going to crate him for extended periods. The crate should also be long enough so that the nose and rear of your dog don't get bruised on each end of the crate.
However, crates come in small, medium, and large sizes, which may also vary with brands. So, how do you determine the right size for your dog? The short answer is: take specific measurements, and consider whether your dog is still growing. As a guide, add about 2 inches for the length, width, and height in case you have a small breed and 4-inches for larger breeds. The final measurement should be the minimum size of the right crate for your dog. The additional inches should be enough to keep your pup from getting away with an 'accident'. You should also consider if your dog has elongated ears or taller when seated—he should stand freely without hitting his head or ears. He should also turn around or lie down comfortably.
Other Factors to consider when buying Dog Crates with Dividers
Sturdiness
If you are going to crate a dog that's quite restless inside cages or a large breed like Greyhound, Great Dane, Mastiff, or Wolfhound, you need to a crate that is constructed with strong and durable materials. If the crate is not strong enough, it is likely to get broken a few hours after buying it. On the flip side, if you plan to crate a feisty little dog, you don't need the strongest crate on the market.
Safety
While metallic crates are favored by many dog owners because of their strength, durability, and ability to allow for free flow of air, you need to be careful about the spacing of the rods or poles that they come with. If the spacing is too wide, your dog's paw might slip through, causing injuries. Go for crates with tightly spaced rods and poles to prevent injuries.
Additionally, plastic crates or those constructed with plastic parts may come with materials that are not completely safe for your dog. If your dog chews or licks such plastic surfaces, they are likely to ingest harmful chemicals. As such, when choosing a crate made of plastic, choose brands that are free of harmful chemicals.
Ease of cleaning
You need to clean your dog's crate from time to time, especially if you are going to use it for potty training. So, before you buy a crate, ensure that it is easy to clean and maintain. The best crate designs are those that come with trays or grate floors that slide out because you can easily pull the trays or floor out and clean the poop or urine instead of leaning into the cage to physically remove these substances.
Design
The overall design is critical when it comes to choosing the best dog crates with dividers for your dog. Do you want something simple and straightforward to install or something fancier? Do you want a rigid crate or a collapsible option that you can easily store when it is not needed? Choose what suits your taste and preferences.
Aesthetics
If you are looking for a crate with divider, appearance would probably be the least of your worries. However, it still matters. If you plan to use the crate in your living room, for instance, you may want something that will match your room's décor. You may also want a crate that can double up as movable furniture. Wooden crates may be the best options in such cases because most of them are designed with such functionalities in mind.
When to Remove Crate Divider
If you are using a divider to potty train your dog, you should always keep the space small to encourage your dog to wait until you allow them to go to the bathroom. But puppies grow fast and it is natural that they'll need some more space to stretch out. So, how can you tell that it is the right time to adjust or do away with the divider?
Well, to begin with, your pup needs to be doing a good job of holding himself while in the crate. If you give him too much space, he may think that it is okay to use one corner of the crate to relieve himself. Secondly, you may notice that your puppy is not comfortable or sleeping well at night—constant whining, for instance, is an indication that he is not comfortable. Additionally, you can simply notice that the space looks tight for your dog. If anything, a crate should always be 'spacious' enough to allow your pup to sit, move around, and lay down comfortably.
Put simply, the right time to remove the divider will depend on the progress of your puppy's potty training and your pup's growth pace. You can adjust the divider halfway, about ¾ of the way, or remove it completely once you feel it is the right time. If your puppy is still having his business in the crate, consider going a little slower and keep adjusting it a little each week before you remove the divider completely.
Safety Tips for Using Dog Crates with Dividers
Only use a crate in temperature-controlled environments: When your dog is caged, he cannot move to a more comfortable area in case the crate gets too cold or overheated. So, to ensure that your dog enjoys his time in the crate, put the crate in a draft-free and temperature-controlled environment. Avoid leaving your pooch outdoors as temperatures tend to fluctuate throughout the day and you may not be around all the time to take your dog indoors in case of extreme weather conditions.
Duration: Your dog's crate should be a quiet place that makes him relax and feel comfortable. As such, it is only meant for short durations of confinement. Avoid crating your dog for too long than he can hold his bladder or bowel. Strive to give your dog a lot of potty and play breaks throughout the day.
Check the crate's structural integrity regularly: If your dog is aggressive, the crate may end up with a loose safety latch or ragged edges over time. So, to ensure your dog's safety, inspect the cage regularly to ensure that there are no damaged or sharp edges that may cause injuries to your canine companion.
Remove collars and harnesses before your crate your dog to prevent potential accidents. There is a slight risk of your dog's collar getting stuck on the metal furnishings of the crate. If your dog must have collars, use "break-away" options like Petsafe KeepSafe Collar.
If you plan to leave your dog in the crate for extended durations, don't forget to include food and water bowl in the crate as well as a few toys to help him relax.
If you are using a crate in a car, never leave your dog unsupervised. Dogs are susceptible to heat stroke (even in mild temperatures) and risk harassment from passers-by or even theft.
Don't allow children and strangers to bother your dog while crated. The crate should be a quiet spot for your Fido to rest and it is not fair for people to tease or taunt him—even unintentionally.
Conclusion
Whether you need to transport your dog to the vet or potty train him, good dog crates with dividers can help. The crates reviewed here have durable designs and dividers to control the space according to the size of your pet. Whatever option you choose, remember to consider the size of your pet.
Last Updated on May 21, 2020 by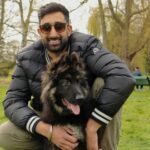 Sable McNeil is a canine chef, professional pet blogger, and proud owner of two male dogs. I have been an animal lover all my life, with dogs holding a special place in my heart. Initially, I created this blog to share recipes, tips, and any relevant information on healthy homemade dog treats. But because of my unrelenting passion to make a difference in the world of dogs, I have expanded the blog's scope to include the best information and recommendations about everything dog lovers need to know about their canine friends' health and wellbeing. My mission now is to find the most helpful content on anything related to dogs and share it with fellow hardworking hound lovers. While everything I share is in line with the latest evidence-based veterinarian health guidelines, nothing should be construed as veterinary advice. Please contact your vet in all matters regarding your Fido's health.