As an Amazon Associate, we may receive a small commission from qualifying purchases but at no extra cost to you. Learn more.
Technology has made it possible to do things that seemed impossible in the past. Who thought that dogs would one day be able to play a game from an iPad screen? Well, if you are wondering if you can let your dog entertain himself on a flat, glass screen, it is now a reality. Some tech companies have already come up with video games for our furry friends, and we couldn't be happier. We went ahead and looked at the leading iPad games for dogs and came up with this list.
1. iSqueek
The first game that is gaining popularity with pet parents is Apple's iSqueek. As the name suggests, this game is all about squeaky toys. If your pup is a huge fan of squeaky toys of any kind, he will absolutely love this app. The game contains 18 toys, all with different sounds and actions. When you touch one of them, it grows bigger or smaller giving interesting sound bursts. It is so realistic that your pup will forget that he's looking at the toy on a screen and not physically. Choose different shapes and colors to make the game mesmerizing and fun for Fido.
2. Game for Dogs
Game for Dogs is another game that is trending in the dog world right now. To play, your pup licks the iPad's screen or hits it using his paw or nose in order to set off certain sounds and get points in the process. As he hears the sounds coming off the device, he will be energized. If you want to help him play, you can do that by touching the screen with your fingers as well. The game doesn't allow competing against each other yet but the idea is definitely in the works. Game for Dogs comes in three levels. The basic one is absolutely free and has fewer features. The other two cost 99 cents each and come with better playing features.
3. Lonely Dog Toy
With plenty of games, teasers, and sounds, the Lonely Dog Toy is another awesome app for a canine. Your dog will enjoy listening to the sounds and shapes of the 6 different interactive toys featured in the app. Each game has an object that moves on the iPad screen. Your pooch uses his paw to catch the object. When he does, it will change its direction and emit a sound. The noises and movements are bound to offer plenty of entertainment to your canine for hours on end.
4. Happy Wings
Happy Wings is designed with cats in mind but dogs love it as well. Like the previous one, this game consists of objects that move around giving off different sounds except in place of objects the game features creatures (moths, hummingbirds, dragonflies, and other creatures). Your dog has to catch as many creatures as possible to hear their sounds and enjoy seeing them fly all over the screen. The game uses your pup's agility to determine the right pace for him. If he plays fast, the game will increase its pace to make it a tad more challenging for him.
5. App for Dog
App for Dog is an amazing video game for a curious dog with some time to kill. This one does more than just entertain him. You have the option of having your dog play the painting game where he will gain some art skills using his paw and nose or go for the Yes/No button game that helps with his vision. The app utilizes large buttons that will offer your pup an easy experience during play. Its buttons are designed to trigger a squeaker toy sound, clicker, or bell sound and excite your mutt.
6. Cat Fishing 2
Like Happy Wings, the Cat Fishing 2 app was made for cats. However, a curious dog that loves a challenge will also find it deeply entertaining. The game has three levels. Level one contains one fish at a time; level two, two fish; and level three, three fish. Your dog's task is to catch as many fish as he can and get points along the way. To entice and capture his furry mind, the game also has special sounds that are released throughout the game.
7. Friskie JitterBug
Friskie JitterBug app has the same principle as Cat Fishing 2 above only that instead of winged creatures, your dog will be chasing after insects. It is designed for a cat, no wonder the idea of using insects. Don't worry; your dog will still find the bugs that crisscross the screen very entertaining. Each game gives your pooch fifteen seconds to grab as many insects as he can. The advanced mode features longer runs and an option of choosing what kind of bug you want on the screen.
8. PetCube
Petcube app was released in 2018 and it has become a staple for families with pets. The app is essentially a pet camera with amazing features. With it, you can watch, talk to, and play with your dog even if you are miles away from him. The app also lets you connect your dog with others around the world, so you can watch each other and play. If you want to give back to animals in shelters, you can do so by engaging them in fun activities via your iPad or smartphone, thanks to Petcube.
9. Dog Boogie
Dog Boogie produces sounds that stimulate a dog's senses. This one is not a game but rather an app that gives you as a pet parent an easy time capturing shots and videos of your pet. The sounds emitted by the app catch the attention of your dog and settles him down so you can take the shots.
10. Pet Tunes Canine Music
Pet Tunes is an app by Pet Acoustics meant to soothe and calm a dog. It features gentle orchestrations that offer therapy for sensitive and anxious dogs. If your pup has trouble sleeping or staying happy, the calming music from Pet Music will help him relax.
A dog needs plenty of mental stimulation for optimal health. A virtual game is made to fulfill this need for him. Get one of the iPad games for dogs we have listed and let your pup have plenty of entertainment right from the comfort of your home.
Last Updated on January 26, 2021 by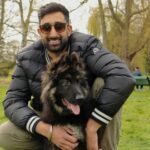 Sable McNeil is a canine chef, professional pet blogger, and proud owner of two male dogs. I have been an animal lover all my life, with dogs holding a special place in my heart. Initially, I created this blog to share recipes, tips, and any relevant information on healthy homemade dog treats. But because of my unrelenting passion to make a difference in the world of dogs, I have expanded the blog's scope to include the best information and recommendations about everything dog lovers need to know about their canine friends' health and wellbeing. My mission now is to find the most helpful content on anything related to dogs and share it with fellow hardworking hound lovers. While everything I share is in line with the latest evidence-based veterinarian health guidelines, nothing should be construed as veterinary advice. Please contact your vet in all matters regarding your Fido's health.