As an Amazon Associate, we may receive a small commission from qualifying purchases but at no extra cost to you. Learn more.
When it comes to pet food, there are a lot of choices out there.
With so many brands and products on the market, it can be hard to know which one is the right fit for your pet.
One important factor to consider when choosing a pet food is where the products are made and sourced from.
Doing some research on this can provide important information on the quality and ethics of the brand, and help you make informed choices for your furry friend.
For example, if a pet food brand sources its products from China, there is a greater risk that the products may not be of high quality or safe for pets.
This is because China has a history of issues with tainted pet food products.
In addition, Chinese manufacturing facilities may not have the same high standards as those in other countries.
As a result, it is important to be aware of where a pet food brand's products are sourced from before making a purchase.
Where Is Purina Dog Food Made?
According to the official company website, 99% of all Purina foods sold in the USA are made in the U.S.A.
Additionally, all of the ingredients used are sourced from American suppliers.
Furthermore, the company does not outsource any of its manufacturing processes to third parties but owns all the manufacturing plants that make its products.
This helps them monitor the entire production process from the time they source the ingredients to the processing of the recipes and packaging for distribution.
As part of the quality control, all the manufacturing facilities have quality assurance staff and laboratories to ensure that the finished products meet strict safety and nutritional standards.
Who Makes Purina Dog Food?
Purina dog food is owned by Nestlé Purina Petcare which is a subsidiary of the Swiss corporation Nestlé—one of the world's leading food and pet care companies.
Headquartered in St. Louis, Missouri, USA, Nestlé Purina Petcare has been dedicated to improving the lives of pets for over 80 years.
They offer a complete range of products and services for dogs, cats, fish, birds, reptiles, and small animals.
The company's brands include Purina Pro Plan, Friskies, Tidy Cats, Fancy Feast, and more.
They are committed to providing products that meet the nutritional needs of pets, as well as their owners' desires for quality and value.
They also offer a variety of pet-related services, including adoptions, training, and boarding.
Nestlé Purina Petcare's goal is to make every pet a happy and healthy member of the family.
Where Does Purina Source Its Meat?
Purina sources 100% of its meat from America.
However, there are some of their ingredients that are both sourced locally and overseas.
For instance, 99% of poultry is sourced in America with 1% sourced overseas.
For the grains used in their recipes, the company sources 96% of them from America, and the rest is gotten from other countries.
However, for soy, just like meat, the company sources 100% of it from the American market.
Purina follows strict guidelines to ensure that all of its ingredients come from ethical and sustainable sources.
They also work closely with farmers and ranchers who raise animals for food in a humane manner and follow responsible environmental practices.
Purina also utilizes by-products, such as chicken and beef meals, in their formulas to reduce waste and make efficient use of resources.
Overall, Purina is committed to providing high-quality ingredients for the health and well-being of pets.
Where is Purina Pro Plan made?
The company website is not very clear on where exactly Purina Pro Plan is made.
However, since we know from the information provided by the company that 99% of all products are made in the U.S.A, we can safely infer that Purina Pro Plan is made in the U.S.A as well.
Additionally, all of the meat used in Purina Pro Plan is sourced from American suppliers.
Does Land O'Lakes own Purina?
Strictly speaking, Land O'lakes doesn't own Purina.
But there is more to the story. Land O'Lakes is a major American food company best known for its butter, cheese, and milk products.
Founded in 1921, the company has a long history of supporting farmers and producing high-quality dairy products.
In 2001, Land O'Lakes acquired Purina Mills for $230 million.
That said, Purina Mills is not to be confused with Purina—the company that makes dog and cat food.
Purina mills primarily focus on making food for horses, cattle, commercial poultry, backyard poultry, swine, goats, sheep, rabbits, fish, birds, and deer.
On the flip side, Purina only makes dog and cat products.
The two outfits were under the same umbrella but following the acquisition, Purina Mills is now owned by Land O'Lakes while Purina is still a subsidiary of Nestle.
Is Purina owned by Koch?
In 1988, Purina Mills was purchased by Koch Industries, which is a privately-held American multinational corporation with diverse interests ranging from oil and gas to consumer goods.
However, this was short-lived because the courts canceled out all the equity that was owned by the company as part of the bankruptcy proceedings.
Following this, the company was purchased by Land O'Lakes in 2001.
However, as we have already established, Purina Mills is run independently from Purina which is a subsidiary of Nestle.
Is Purina and Purina Mills the Same Company?
No, Purina and Purina Mills are not the same company.
While they may have been under the same ownership at one point in time, they now operate as separate entities.
As mentioned above, Purina mainly focuses on making dog and cat food while Purina Mills primarily produces animal feed for horses, cattle, poultry, swine, goats, and more.
Purina Mills is owned by Land O'Lakes and the company has since rebranded to Purina Animal Nutrition.
On the other hand, Purina is owned by Nestlé Purina Petcare, which is a subsidiary of Nestle.
Parting Thoughts
If you are looking for dog food that is made in the USA, Purina dog food is a good pick.
The company not only manufactures all its products in the USA but also sources its raw materials locally.
This coupled with the fact they do the manufacturing in-house helps to ensure the highest quality standards are adhered to in the production process.
Last Updated on October 25, 2022 by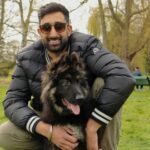 Sable McNeil is a canine chef, professional pet blogger, and proud owner of two male dogs. I have been an animal lover all my life, with dogs holding a special place in my heart. Initially, I created this blog to share recipes, tips, and any relevant information on healthy homemade dog treats. But because of my unrelenting passion to make a difference in the world of dogs, I have expanded the blog's scope to include the best information and recommendations about everything dog lovers need to know about their canine friends' health and wellbeing. My mission now is to find the most helpful content on anything related to dogs and share it with fellow hardworking hound lovers. While everything I share is in line with the latest evidence-based veterinarian health guidelines, nothing should be construed as veterinary advice. Please contact your vet in all matters regarding your Fido's health.