As an Amazon Associate, we may receive a small commission from qualifying purchases but at no extra cost to you. Learn more.
As a pet owner, your furry friend is counting on you to give him nutritious quality food.
This would be easy if it were not for the abundance of toxic and outright low-quality options in the market.
When buying food from other sources, you have to do your due diligence to get only the best for your doggie.
Dr. Marty's Dog Food
Dr. Marty is one of the leading dog food companies in the United States and across the planet.
They make an array of delicious and nutritious food options for all kinds of dogs.
Dr. Marty Pets it is a legit company created by Dr. Martin Goldstein who is a veterinarian.
He got his DVM degree in 1973 from Cornell University.
Besides running a food company, he's also authored a book on animal healing which has been featured in popular talk shows
With over 45 years of experience under his belt, he's mastered the art of taking care of animals.
Dr. Goldstein or Marty is a real practicing vet who's appeared in leading daytime TV channels such as the Oprah Winfrey Network and Good Morning America.
He practices integrative medicine where he combines holistic methods with conventional veterinary medicine.
Dr. Marty's dog foods are great for all pets, especially those with conditions such as aching joints, skin irritation, digestion, and energy challenges.
The recipes are nutrient-dense and made with wholesome, natural ingredients.
Its freeze-dried formula also preserves immunological, nutritional, and probiotic components of the food so pets can receive quality nutrients from it.
Sitejabber.com gives Dr. Marty a rating of 4.77 out of 5 stars from 532 reviews.
This is a pretty big deal as it indicates that most customers are satisfied with whatever they purchase from the company.
Dr. MArty scores well in all areas including value, service, returns, shipping, and quality. The site ranks it at the 10th position among US pet supply companies.
While most of the customers complain about the cost of Dr. Marty's products, they also say that the food is quality and improves the health and well-being of their pets.
The customers claim that their dogs love the flavor of Dr. Marty's food.
The recipes have gotten some dogs out of a low-energy, kind of sickly phase of their lives into a healthy and active lifestyle.
To add to all the points above, Dr. Marty offers a 90-day money-back guarantee on all their products.
That speaks volumes about the integrity of the company.
The manufacturer trusts fully in its recipes and knows they offer value.
If you are not satisfied with any of the food options, simply return it within 90 days of purchasing them and you'll have your money back.
Is Dr. Marty's Dog Food Quality?
Dr. Marty's pet food is revered mainly for one thing: it uses real meat as its main ingredient.
Both dogs and cats need meat to thrive. It contributes to the repair and growth of muscles, transports oxygen throughout the body, and has all 10 essential fatty acids every dog needs.
As such, all pups and cats need high amounts of protein.
Dr. Marty uses meats such as turkey, duck, salmon, beef, turkey liver, beef liver, and turkey heart.
Some of the recipes also use eggs for additional fats and proteins.
Besides proteins, the recipes also have carbs, fiber, fats, vitamins, and minerals.
These include pea flour, flaxseed, apple, sweet potato, blueberry, cranberry, pumpkin seed, dried kelp, spinach, kale, broccoli, and sunflowers.
The best part is that it uses natural preservatives such as mixed tocopherols to keep food fresh for longer.
The formulas are devoid of artificial colorings, flavors, and thickeners. The all-natural recipes are freeze–dried slowly to maintain their nutrition.
DR. Marty sources its ingredients from USA-based trustworthy suppliers.
The exact suppliers are unknown but the company claims that they meet AAFCO standards.
Since its inception, the dog food manufacturer hasn't had a recall. There are only a few customers complaining that their dogs didn't take the food.
A few more reported that their dogs fell sick after indulging in the recipes.
Still, the larger majority have only good things to say about Dr. Marty.
The Verdict
If you are wondering whether to buy Dr. Marty food for your pet or not, the company is legitimate.
Its recipes are also some of the best.
The CEO is a qualified and practicing vet who sources its ingredients from the right sources and avoids artificial and toxic chemicals.
Give the food a try – you may just end up joining the long list of satisfied clients.
Last Updated on June 30, 2023 by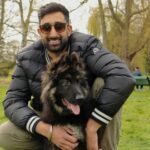 Sable McNeil is a canine chef, professional pet blogger, and proud owner of two male dogs. I have been an animal lover all my life, with dogs holding a special place in my heart. Initially, I created this blog to share recipes, tips, and any relevant information on healthy homemade dog treats. But because of my unrelenting passion to make a difference in the world of dogs, I have expanded the blog's scope to include the best information and recommendations about everything dog lovers need to know about their canine friends' health and wellbeing. My mission now is to find the most helpful content on anything related to dogs and share it with fellow hardworking hound lovers. While everything I share is in line with the latest evidence-based veterinarian health guidelines, nothing should be construed as veterinary advice. Please contact your vet in all matters regarding your Fido's health.