As an Amazon Associate, we may receive a small commission from qualifying purchases but at no extra cost to you. Learn more.
Coyotes are wild animals but these days, they are increasingly moving to urban areas.
If they find a constant source of food in your neighborhood, they will keep coming around for more.
Over time, they will bring more of their members to partake in the feast.
Although these animals rarely attack humans, they can certainly prey on pets including cats and dogs.
Because of their drive to get free food, they can outgrow their fear of people. This is pure trouble for you and your loved ones as the creatures can start being aggressive towards you.
Chasing a coyote from your neighborhood is a difficult task. Once he establishes a den near your home, he will defend it like his life depends on it.
Your only chance is to hunt it down and kill it.
You can do that alone, with a human partner, or with a coyote dog.
We zoom in on the last bit today.
Here's everything you need to know about finding a perfect coyote decoy dog.
What Is A Coyote Decoy Dog?
As the name suggests, a coyote decoy dog is a specially trained pup used to lure a coyote away from the hunter.
During a hunt, such a dog comes in handy as he essentially draws the attention of the coyote away from you so that your location remains sealed.
See, coyotes cannot resist the urge to chase dogs, especially when they are in a group.
When a decoy dog chases down a member of the pack, he will run away towards the pack in the hopes of getting the dog attacked by the group.
The decoy dog, when he sees danger, will run back toward the hunter or caller.
All this while, the hunter will be somewhere hiding from the coyotes.
This cat and mouse game will eventually expose the coyotes so they can be gunned down or captured.
What Is A Tolling Dog?
The term 'tolling' means to pull or entice. In the dog world, a tolling dog is one used by hunters to lure a coyote towards the hunter.
While a coyote decoy dog attracts a coyote away from the hunter, a tolling dog does the opposite and directs the coyote towards the hunter.
Tollers essentially track coyotes for long distances and bring them back to the hunter.
They cover up to 1000 yards of ground, making work easier for the hunter. Once the coyote is near, the hunter can pull a gun on them.
A tolling dog risks its life being out there with coyotes but with sufficient training, he should be able to know when his plate is full and retreat.
Don't confuse a coyote decoy dog with a coydog.
The latter is an offspring of a coyote and a dog. Yes, Coyotes and dogs can produce hybrids!
Learn more here: Can A Coyote Breed With A Dog?
Features of a Good Decoy Dog
Being a decoy dog requires great skill. Without the right dog, things can get messy out there for him.
Coyotes cannot hesitate to attack and kill your dog if they get a chance to.
Some of the features of a good decoy dog include the following:
I. Intelligence
Coyotes are some of the savviest animals. When they are out in the vast space, even a decoy dog sometimes cannot get them to leave the den.
Some will leave for only short distances before retreating. Others have even mastered the art of attacking the dog before it leads them to danger.
All this is to say that a good decoy dog needs to be very smart to be successful with coyote hunting.
He should be able to obey the commands of the caller to the letter, know when to run back, and learn how to defend himself lest he is killed.
II. A Small Amount of Aggression
Aggression at home is never a good thing. However, when a dog is taking on a coyote (or a number of them), putting up an aggressive face displays courage and assertiveness.
The pup should appear intimidating and be ready to fight for his dear life if it comes down to it.
You can find courageous, intimidating, and aggressive dogs from this list: 15 Best Attack Dog Breeds: Alert, Courageous, Energetic, and Devoted in Service
III. Training
Training is everything to a decoy dog. There's a lot at stake for an untrained pooch.
For one, he needs to be able to obey basic commands such as "come", "sit", "go", and "run".
Most importantly, the dog should be able to run back when called no matter the intensity of the chase.
If you can get a dog that has already been started on these commands, you are in luck.
What remains is to expose him to rifles and shotguns and teach him how to operate without being distracted by them.
Best Dog Breeds for Coyote Hunting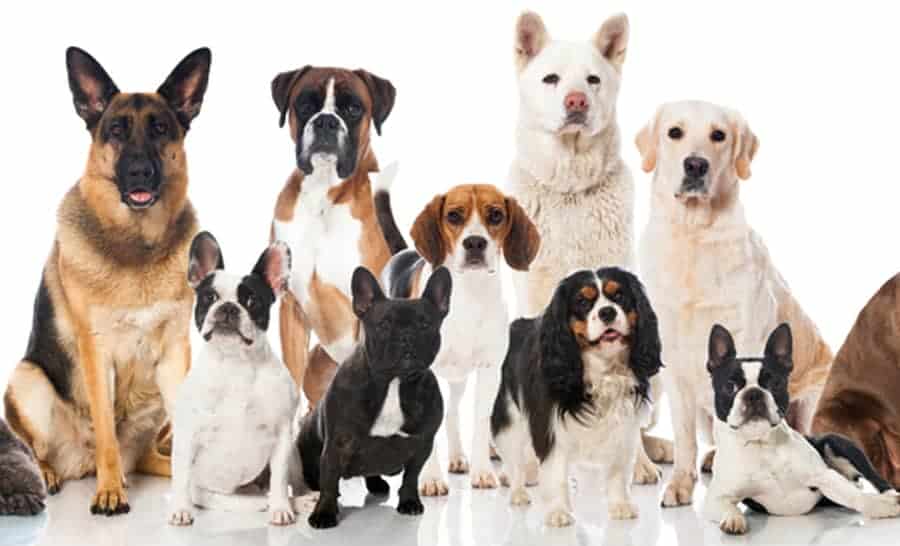 The breed of the dog is much less important if he has the individual characteristics of a good decoy dog.
With that said, some breeds are best fitted for the job for one reason or another.
For instance, toy breeds such as Pugs and miniature Spaniels may not do a great job in the field for obvious reasons. They are no match for coyotes body-wise.
Equally, very bulky dogs that have no endurance and speed aren't a perfect fit either.
Some of the breeds to consider include:
Related Post: 18 Best Bear Hunting Dog Breeds
How to Train a Coyote Decoy Dog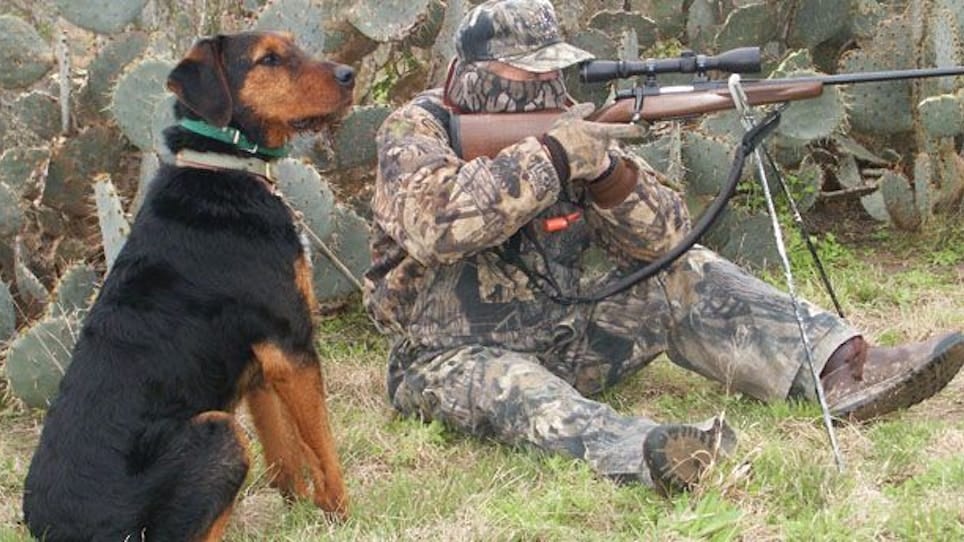 Training a decoy dog begins with teaching them basic commands and how to follow them without fail.
An intelligent dog should be able to grasp these commands without much of a challenge.
Bring the dog with you to the field and test their knowledge of the basic commands until he learns not to question them.
The hardest bit is training the pup to not chase the coyote too long and risk being attacked. He should merely initiate a pursuit.
Next, the dog will need some experience with working in areas with firearms. A great tip is to start with a pellet gun and work your way up.
The dog should be able to remain sober despite hearing live guns. If he is too gun-shy, consider picking up another pup.
Now, you can expose him to small animal hunts and let him learn how to handle the chase. This will take some time but the rewards are sure great.
Praise him when he nails it out there. That goes a long way in reinforcing things.
Finally, let the dog hunt a coyote on a leash to familiarize him with what happens in the wild.
Dispatch a coyote and when it is in range, shoot it down and watch your dog's behavior.
Drag the coyote and let the dog follow the trail.
Do this severally until the pooch learns how to be a good decoy.
Cost of Buying a Coyote Decoy Dog
If you are looking for a Coyote decoy dog for sale, prepare to spend anywhere from $1000 and $5000 for a well-trained (finished) pup.
If you go for a 'started" doggie, you will certainly spend less than a thousand bucks.
A 'started" doggie simply means one that has mastered some commands. This makes training easier.
Like any other dog, source your coyote decoy dog from a reputable seller. Although it may cost you an arm and a leg, it will save you a ton of time and stress.
And if possible opt for dogs with good lineages (whose parents or grandparents were used as decoy dogs).
Pro Tip: Invest In Custom Coyote Calls As Well
Coyote calls are handheld devices that produce a sound equivalent to what a coyote produces.
It is a great tool to have as it increases your odds of a successful kill.
Coyotes are very sneaky and territorial. Even with a decoy, you need a custom coyote call to smoke out a coyote and help you bring a kill.
There are several custom coyote calls in the market but to save you the hassle of choosing the best, here is one that has been tested and proven to deliver satisfactory, loud, long-range sounds: ESH Coyote Call
The call comes in three distinct types of predator calls – a howler call, cottontail rabbit call, and a pup distress call.
The custom call produces realistic coyote sounds bound to expose coyotes in their packs.
This gives you a higher chance of fooling even the most intelligent coyote.
The best part is that the call is mouth-operated, so you can hold your firearm using your hands.
It is incredibly lightweight and doesn't overwhelm your mouth.
Plus, it comes in three bright colors for aesthetics and ease of access.
Bonus Tip:
There is a lot at stake when it comes to coyote hunting.
So, you need to equip yourself with a first aid kit for your hunting buddy so that you can handle any kind of emergency that may arise.
Check out this post for the best options in the market right now: 10 Best Dog First Aid Kits for Hunting & Camping
Parting Thoughts
Hunting coyotes is necessary for the protection of your loved ones.
However, these animals are not easy to gun down or trap.
A good decoy dog can help increase your chance of success.
If you live in coyote country, having such a pup makes all the difference.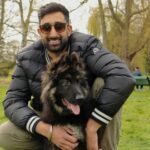 Sable McNeil is a canine chef, professional pet blogger, and proud owner of two male dogs. I have been an animal lover all my life, with dogs holding a special place in my heart. Initially, I created this blog to share recipes, tips, and any relevant information on healthy homemade dog treats. But because of my unrelenting passion to make a difference in the world of dogs, I have expanded the blog's scope to include the best information and recommendations about everything dog lovers need to know about their canine friends' health and wellbeing. My mission now is to find the most helpful content on anything related to dogs and share it with fellow hardworking hound lovers. While everything I share is in line with the latest evidence-based veterinarian health guidelines, nothing should be construed as veterinary advice. Please contact your vet in all matters regarding your Fido's health.