31st October 2020 is around the corner. As the entire family struggles to pick out the perfect Halloween outfit, it is easy to forget about the dog. Yes, this four-legged member of the family deserves to be a part of the fun too. After offering unwavering loyalty, plenty of snuggles, and companionship all year-long, the least you can do is get her a killer outfit for the big day. If you have a German shepherd, you are in luck today. We will be reviewing some of the most popular Halloween costumes for this particular breed. But before then, let's start with a few basics…
How to Choose the Right Halloween Costume for Your German shepherd
While you can let your imagination run wild when it comes to choosing a Halloween costume for your pup, you should always remember that your dog doesn't have the same sense of fashion, excitement, or danger as you do. As such, there are a few factors that you should keep in mind to ensure that your dog remains comfortable and safe while wearing the costume:
Your Dog's Size: Like any other dog clothing, you don't want to choose a costume that's too small or too big for your dog. While smaller dogs will fit in most Halloween costumes, bigger dogs tend to have longer legs and considerably bigger strides. So, keep this in mind when going through the sizing guide for the outfit.
Safety: Considering that it is going to be dark outside (most Halloween events start by 6.30 pm), ensure that your pup can be seen easily. This will allow you to spot her with ease when she tries to escape and will prevent her from being hit by passing traffic. A good costume should, therefore, be constructed with reflective materials or fluorescent accessories. The material should also be made of non-inflammable material to keep your pup safe should she come near anything hot. Finally, avoid costumes with lots of small pieces as they can turn out to be a choking hazard to your canine friend.
Comfort: Your dog's comfort should be a priority when choosing a Halloween costume for her. At no point should she find herself unable to see, walk, lay, sit, or move freely. Most importantly, opt for a costume that doesn't have parts that will obstruct your dog from seeing or hearing.
Your Dog's Personality: If your dog gets anxious or temperamental when certain parts of her body are touched, get her a costume that won't make you touch those parts while you are dressing her. Is your pup funny? Is she sweet? Go for a Halloween costume that will match her personality or an outfit she will actually enjoy wearing.
Appearance: Take your dog's appearance when choosing a costume because it dictates how she will eventually look. A hot dog costume, for instance, will look better on a dachshund than any other dog breed. Fluffy coats may also enhance the beauty of teddy bear or lion mane costume.
Quality: A good Halloween costume should be constructed with high-quality materials that can withstand running, chewing, jumping, and rolling around. You don't want to get your dog a low-quality costume that will get torn up or fall apart even before the party.
To help you choose the best Halloween costumes for German shepherds, we've rounded up 30 of the best options:
Nothing screams "ready to have some Halloween fun" than this black leather Plaque Doctor Bird Mask from Vehomy. It has a long beak, adjustable belt, and most importantly, it is breathable and super comfortable.
Zack & Zoey is made from soft polyester fabric. It is not only warm but the pumpkin color and design will definitely make your pooch stand out. With five different sizes (x-small to x-large), finding the right size for her will be a breeze.
Want to make your German shepherd a little more ferocious and scary like a lion on Halloween? This non-toxic, faux fur, adjustable dog lion mane from Onmygogo will make your dreams a reality.
The AMENON Halloween costume for dogshas a large imprinted skull all over it. With one on her body, your dog will absolutely make a fashion statement that turns heads and drops jaws.
If you are a fan of Star Wars, here's a great outfit to get your German shepherd. It is a black jumpsuit with decorative stuffed arms, a headpiece, and a cape with a belt. Just picture your Fido in one and the Insta-quality photos you will get afterward.
If dressing up your pup as a lion doesn't tickle your fancy, try making him a reindeer instead. With this golden Onmygogo Halloween costume made with 100% polyester, she will be the center of attention everywhere she goes.
Sometimes all a big and beautiful dog like a German shepherd needs to look fashionable is a simple bandana around her neck. This pack comes in three different colors and patterns, so you can switch from one to another.
The California Pet Stegosaurus costume is the kind to get when you want to go all out with your dog. It is made from polyester and covers the entire body in a way that looks amazing and warm.
This multicolor, striped Bettlejuice Halloween pet costume is another great buy for 31st October. The package comes with a striped jacket (with sleeves covering the dog's front legs) and a wig. Throw it on your German shepherd, style it using a comb, and use some hairspray to get it to spike beautifully.
Smiling pumpkins as a Halloween costume for German shepherd always hit the spot. This one is yellow, hugs snuggly around the pup's chest and back areas, and even has a hoodie. Talk about warmth and fashion!
Want your German shepherd to look and feel like a true princess? The kyeese Halloween dog dress has everything she needs to achieve that. It is pink, soft, and has a unicorn design—the perfect combo for a princess outfit.
The Rubie's Moster Pet Costume consists of two matching leg fluffies and a furry collar. Both are made from polyester for warmth. The costume is pink making it perfect for a princess.
Here's another Halloween costume that does justice to a German shepherd dog. It is big enough, scary, and beautiful—all in one!
Zack &Zoey did an amazing job when creating this werewolf dog costume. Everything (the stuffed arms, pants, and plaid shirt) look incredibly cute. Plus, the whole outfit makes your dog appear as if they are standing on their hind legs the entire time!
A German shepherd is a strong, loyal, and hard-working dog. This is the reason she deserves this cute superman outfit from DC Comics. You have the complete package here including a detachable red cape and a blue shirt with the popular Superman symbol.
The next item on our list is the bold and beautiful bumblebee from Rubie's. This comes with an antennae headband complete with mesh wings and yellow pom-poms as well as a bee-striped shirt.
With a bullet belt, polyester body with stuffed arms, a foam gun, headband, and wig, your German shepherd will completely appear as a hero in action while wearing this costume.
The Rubie's Devil Horns costume is certainly perfect for Halloween. It is all red, has a horned hood, point plush tail, and a hoodie. Made with cotton, it is incredibly healthy and warm.
This is another one of the stuffed jumpsuits that cover the entire body of a dog. As the name suggests, the Coppthinktu features a crocodile design and is truly breathtaking. The best part is that it is warm, adjustable, and easy to use.
Let your German shepherd fly away to the land of fun and games with this Legendog Dog Bat Wings Costume. The design is unique and certainly Halloween-friendly. Essentially, the package comes with a gold bat with a buckle at the back, two pumpkin bells and a dog leash.
A German shepherd is a cheerleader in more ways than one. Why not tell the world how much she means to you by dressing her up in this white and blue cheerleader's dress? Besides the dress, you get matching white, blue, and red pom-poms for a complete look.
BOBIBI dog sweaters are classy, trendy, and fashionable. This specific Halloween costume doesn't disappoint. The pumpkin colors and design will make your dog stand out from the crowd. Plus, it is elastic and incredibly warm.
The California Costumes Holy Hound Dog Costume is simply a catholic pope in an outfit. It comes with a red and white printed costume and miter headpiece, and a detachable stole.
Look at this colorful polyester dog costume from Rubie's. Don't you think it will look great on your German shepherd? Well, we certainly do. It is made from polyester, has all the Rasta colors, and even comes with a patterned headpiece.
Marvel Universe's Captain America Dog Costume screams "I love America" as loud as can be. The package comes with a bodysuit and a matching headpiece. If you want to show the world your patriotism this Halloween, let your dog do the talking for you.
A German shepherd on patrol can do his job better if he adorned the right outfit. This is why the Rubie's Patrol Marshall Dog Costume was designed. It comes with everything a Marshall needs including a firefighter hat, red jacket with a flame badge, and a backpack.
We also had to include this Pikakos outfit on our Halloween costumes for German shepherds list. This one is specifically made with a large dog breed in mind. Made from satin fabric, it is lightweight, breathable, durable, and comfortable. Your dog will not only look sleek wearing one, but he will also not struggle to get it out of his body.
The DC Comics Teen Titans Dog Costume comes with a red shirt with green long sleeves, black eye mask, and detachable cape. No doubt your canine buddy will feel like a titan adorning one on Halloween.
Winnie the Pooh lovers are taken care of with this Pet costume from Rubie's. Both the headpiece and shirt feature the signature Winnie colors and design. They are also made from polyester material for both comfort and warmth.
The California Costumes Peacock Dog Costumes is the final German shepherd Halloween costume on our list. The peacock features a colorful headpiece with printed eyes and plush detail. Dress your dog in one and let him grab all the attention in the room.
Spoiler Alert: Train Your Pup to Get Used To Her Costumes Early
Not many dogs are used to wearing clothes. So, it is not advisable to make your dog wear her costume for the first time on the Halloween D-day. If you do, you could run into problems getting your dog to cooperate.
We suggest that you start training your pup a few weeks before Halloween. Consider giving your dog some treats as you dress her up. You can leave the costume on her for 1-2 minutes on the first day. On the second day, consider leaving the costume on her for 5-10 minutes. Increase the duration gradually until she is used to walking or playing with the costume on. Like any other training routine, you have to be patient with your dog.
Some dogs get anxious when they are dressed up and may display the following signs:
Lying down, sitting, or refusing to move
If you notice any of the above signs, take out the outfit and try to figure out the cause of the behavior. Is the costume touching parts that your dog doesn't want to be touched? Is it too tight? Is it too heavy? Is it irritating your dog?
Understanding these things will help you figure out whether or not it is practical to let your dog adorn Halloween costume in the first place. To be honest with you, not all dogs are going to enjoy wearing Halloween costumes.
Final Thoughts
With this long Halloween costumes list, we hope that you and your German shepherd are spoilt for choice. As a rule of thumb, choose the right costume based on your dog's size before anything else. You don't want to be disappointed when your package arrives.
Last Updated on September 12, 2020 by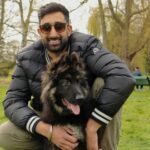 Sable McNeil is a canine chef, professional pet blogger, and proud owner of two male dogs. I have been an animal lover all my life, with dogs holding a special place in my heart. Initially, I created this blog to share recipes, tips, and any relevant information on healthy homemade dog treats. But because of my unrelenting passion to make a difference in the world of dogs, I have expanded the blog's scope to include the best information and recommendations about everything dog lovers need to know about their canine friends' health and wellbeing. My mission now is to find the most helpful content on anything related to dogs and share it with fellow hardworking hound lovers. While everything I share is in line with the latest evidence-based veterinarian health guidelines, nothing should be construed as veterinary advice. Please contact your vet in all matters regarding your Fido's health.