As an Amazon Associate, we may receive a small commission from qualifying purchases but at no extra cost to you. Learn more.
Nutrisource is produced by Tuffy's Pet Foods, a family-owned company located in Perham, Minnesota. They are also the makers of Pure Vita and Natural Planet pet foods, and are recognized as the Nelson family.
The Perham facility is where all the Nutrisource dry kibble is made but the company recently broke ground at Delano where they set up a secondary facility that now produces their wet foods.
The new facility was set up in Delano because there is a sufficient workforce in the region to help the company meet its ambitious goal of 9,000 pounds of pet treats per hour.
Currently, these are the only two manufacturing plants that serve both the domestic and international markets.
Tuff's was founded in 1946 and has been family owned and operated since its inception.
They are committed to providing high-quality and nutritious pet foods for both dogs and cats.
Their recipes contain only the best ingredients sourced from trusted suppliers and are made in their state-of-the-art facilities.
Tuffy's also places a strong emphasis on sustainability and creating a minimal environmental impact through their manufacturing processes.
Overall, you can trust that your pet is getting the best with Nutrisource dog food.
You may also want to check: Where Is Kirkland Dog Food Made?
Is Nutrisource Dog Food Made In China?
China has a history of including ingredients that are harmful to pets in their manufacturing process.
For instance, in 2009, there were reports of dogs that had died after eating food made in China.
It, therefore, makes sense that pet parents are skeptical of any brand that manufactures their products in China.
If you have any concerns about Nutrisource dog food with regards to whether it is made in China, you don't have to worry because it's not.
In fact, all of Tuffy's Pet Foods are made in the United States.
Also, because the company is family-owned, they have a culture of sourcing ingredients from vetted suppliers who are guaranteed to deliver the highest quality of ingredients.
The end result is a nutritious and safe product for your furry friend.
Are There Recalls On Nutrisource Dog Food?
On October 11, 2021, Tuffy's pet foods initiated a voluntary recall of Pure Vita Salmon Dog Food after it emerged that around 1,600 tetra packs of the food had too much vitamin D.
This could potentially lead to vitamin D toxicity in dogs, leading to symptoms such as loss of appetite, diarrhea, vomiting, and weight loss.
While this recall may have caused some concern among pet parents, it's important to note that recalls happen even with the most popular and well-known brands.
What matters is how the company responds to the situation and Tuffy's Pet Foods has proven its dedication to ensuring the safety of pets through its swift actions in this case.
The fact that Tuffy's Pet Foods voluntarily recalled this product shows their commitment to prioritizing the health and safety of pets above all else.
The recall process was fast and the FDA completed and terminated the recall in no time.
Is Nutrisource AAFCO Approved?
Yes, Nutrisource is AAFCO-approved.
The Association of American Feed Control Officials (AAFCO) sets the standards for pet food ingredient definitions and labeling in the US.
To maintain its approval status, a pet food brand must pass stringent testing to ensure that they meet all of the AAFCO's requirements for nutrition and safety.
Nutrisource, along with all of Tuffy's Pet Foods brands, has met these standards and proudly displays the AAFCO seal on its products.
So, pet parents can trust that Nutrisource is a high-quality and nutritious option for their furry friends.
Summary
To sum it up, Nutrisource dog food is not only made in the United States but the company has also gone to great lengths to assure its clientele of the quality and safety of its products.
For instance, the company sources only the best ingredients from trusted suppliers and they do whatever is in their ability to adhere to high-quality standards.
One such move is their AAFCO membership which demonstrates their commitment to quality.
Another clear demonstration of this fact is when the company did a voluntary recall of their product when it emerged that it might contain excessive amounts of vitamin D.
Overall, pet parents can rest assured that Tuffy's Pet Foods takes the health and safety of their pets very seriously.
Related: Where Is Gentle Giants Dog Food Made?
Last Updated on October 25, 2023 by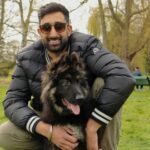 Sable McNeil is a canine chef, professional pet blogger, and proud owner of two male dogs. I have been an animal lover all my life, with dogs holding a special place in my heart. Initially, I created this blog to share recipes, tips, and any relevant information on healthy homemade dog treats. But because of my unrelenting passion to make a difference in the world of dogs, I have expanded the blog's scope to include the best information and recommendations about everything dog lovers need to know about their canine friends' health and wellbeing. My mission now is to find the most helpful content on anything related to dogs and share it with fellow hardworking hound lovers. While everything I share is in line with the latest evidence-based veterinarian health guidelines, nothing should be construed as veterinary advice. Please contact your vet in all matters regarding your Fido's health.